Cal Poly SLO played a fantastic game. It wasn't enough.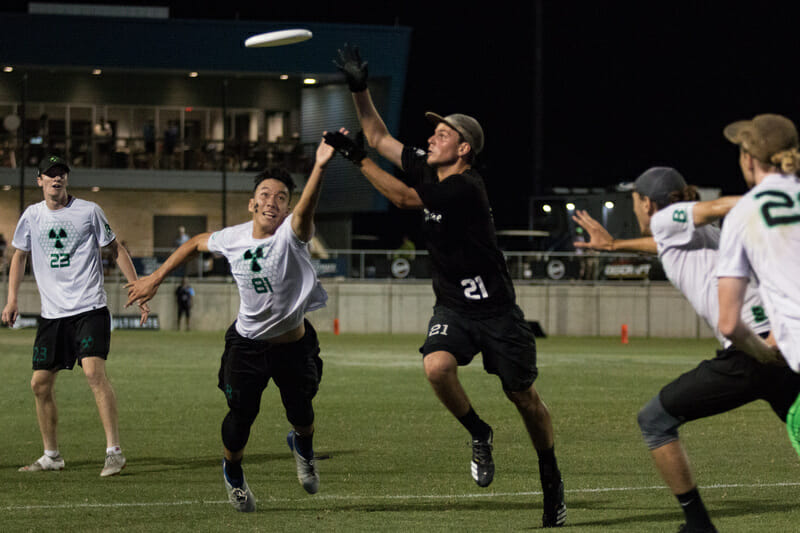 Ultiworld's Men's Division college coverage is presented by Spin Ultimate; all opinions are those of the author. Please support the brands that make Ultiworld possible and shop at Spin Ultimate! 
Sometimes in life, you run your best time and still lose the race. Cal Poly SLO played one of the better games of their season in the semifinals of Nationals, only to fall 15-10 in the face of a historically great North Carolina Darkside. UNC put on one of the better performances of their recent run of dominant success, riding an aggressive Matt Gouchoe-Hanas, a red-hot Liam Searles-Bohs, and a strong deep game to their second consecutive national final. SLO played well enough to beat just about anybody else, but nobody was touching UNC on a night like this.
North Carolina and Cal Poly drew the night slot, pulling off just as the last rays of the hot Texas sun were disappearing across the sprawling field complex. As the wind that had buffeted the tournament faded along with the last rays of sunlight, the teams got to play in some of the best conditions of the weekend.
With the wind calming down, players whose creativity had been shackled by the elements were chomping at the bit to play a more open game. "You could see the wind had died off, and people were more comfortable shooting both ways," said Cal Poly's captain Caleb Merriam. "It definitely felt pretty good out there with less wind."
SLO's identity during their rise the past few seasons has been centered on rangy athleticism and intense matchup defense. Adding coach Cody Mills to the mix the past two seasons has boosted their tactical acumen and focus. "He brings a structure that we hadn't experienced before as a program," said Merriam. "He's definitely a top five coach."
North Carolina's depth has been lauded all season, and was key to Darkside's relatively hassle-free march to the semifinals. No team had reached double figures against Darkside before semis, and there was no point when UNC needed to push their engine into the red. "We're having a lot of fun playing together," said Darkside's super sophomore Liam Searles-Bohs. "That's the key. We're working together really well, we know our roles. It feels good."
Cal Poly were not quite as dominant, but took care of business on their own. They locked up Pool D with a game to spare, and took their only loss in that consequence-free contest in which they rested their top 12 players.
Without all the extra miles in the heat sapping their legs, both teams looked fresh and ready to pour all their energy into the game, and it was a track meet from the start.
North Carolina started on offense, and easily chewed up yards out of a fluid stack. But as they approached the endzone, Cal Poly's Jake Thorne made the first of the game's many electric plays with a huge layout block on an inside look from John McDonnell. SLO's left-handed Callahan nominee Ian Sweeney rocketed a backhand upwind, but head-turning closing speed from Darkside's Elijah Long prevented the break, and Long then went 70 yards the other way and brought in a huck from Kai Marcus.
This breathless, back-and-forth action was emblematic of the first half. SLO immediately responded, moving quickly down the backhand sideline. Nate Pettyjohn put perfect touch on an out shot to Dillon Whited, the first of his three goals, for the hold.
Both teams attacked the vertical space aggressively from the start, answering huck for huck. This certainly suited the aesthetic stylings of Kai Marcus, who had his deep throws dialed in and found his favorite target Alex Davis open all night. Davis's stat line only read two goals and one assist, but the senior terrorized SLO's backline and opened up space all over the field for his team.
Stand out Cal Poly freshman Calvin Brown got in on the high-flying action to tie the game up at 3-3 with one of the best throws of the night. Brown stepped out from the sideline and bent an O/I flick huck into the stride of Conor Schofield, who had gotten a deep block earlier in the point on a shot from Matt Gouchoe-Hanas that didn't quite have enough upwind juice. Cal Poly SLO found success by getting the disc to the rails, and avoiding the churning poaches that Darkside's defense rotates through the middle of the field. Calvin Brown, leading SLO in assists at Nationals, was particularly effective in converting lateral movement into vertical attacks.
Appropriately, the break came on a huck. At 5-4, Cal Poly had a high-stall goal called back on a foul in the dump space, and Taek Lee quickly earned a block on the reset. This time, Gouchoe-Hanas's upwind huck was perfect, and Marc Rovner caught it in a narrow channel between two SLO players for the 6-4 lead. Darkside broke again on the next point when SLO worked upwind against Darkside's zone but a bobble from Whited near the endzone gave UNC the disc. Gouchoe-Hanas worked his way into power position and let another backhand fly. Whited busted back to makeup for his mistake and gained enough ground on Ryan Humphry to establish position, but Humphry elevated for an over-the-top sky that brought the crowd in the stadium to their feet.
The rout was on, as UNC got another break to take half 8-4 and SLO was glad to hear the bell. SLO were still playing well, but Darkside had found a higher gear than anything we had seen on the weekend. Any mistake by SLO, no matter how slight, was swiftly punished by North Carolina. "The way we play, the style we play, is successful no matter who the opponents are," said UNC coach David Allison. "But playing a team like that [an aggressive and athletic team like SLO] can help us play our best because we know what kind of intensity it will take from the beginning of the game to the end."
After a SLO hold to start the second half provided a flicker of hope for a comeback, Carolina promptly snuffed it out. Darkside held on a one-throw score from Elijah Long to Liam Searles-Bohs and from there the onslaught continued. Carolina broke on the next two points to take an 11-5 lead. Searles-Bohs was instrumental in building out Carolina's lead, leading to a four goal, four assist stat line.
Defensively, UNC has undergone much more of a renovation than their O-line following the title season, both in terms of personnel and tactics. Gone is the Nathan Kwan-Norman Archer high/low approach, focused on snuffing out the point of attack. This iteration of Darkside was dead set on locking down side-to-side motion. Once they stopped SLO from changing fields and getting their hucks in motion, the options became seriously limited. "It got congested at points and we weren't playing the cleanest ultimate," said Merriam. "When it got stagnant, UNC really locked us up."
Things went from bad to worse for SLO when Merriam went down for the game with a groin injury while marking Gouchoe-Hanas during another Darkside second half break. Despite the next level play of North Carolina and the misfortune facing them, SLO never stopped trying to find a way back into the game. Trailing 13-7 they were bidding just as hard as when it was 0-0. Nate Pettyjohn got a catch block on a point-saving bid, and tossed a pretty huck to freshman KJ Koo which kept the score within reason. Facing elimination at 14-9, SLO kept their season alive thanks to Ian Sweeney, who picked off a swing and then sent a massive backhand to Whited for SLO's first and only break of the game.
Following the break, Carolina left no room for sentimentality and brought Gouhoe-Hanas over for the Callahan winner's first offensive point of the game. Darkside quickly worked up the forceside, Gouchoe-Hanas proving unstoppable going upline and Searles-Bohs moving the disc laterally. Elijah Long cycled into the handler weave and ran a give-go with Gouchoe-Hanas that put UNC into the final and ended Cal Poly's season.
As the crowd filed away from the field and the flood lights went dark, Carolina reveled in their performance as much as the result. "It was a very fun game," said the freshly-minted Callahan winner Matt Gouchoe-Hanas. "It's always great to play against a team that is that talented, and works that hard, and is that athletic. That was a blast of a game to play in, under the lights. It was one of my favorite games I've played in."
Cal Poly were feeling overwhelmed by the finality of the moment, and wondering what could have been done against such a dominant opponent. "We were looking for weakness essentially," said a wistful Mills. "We probed around for a few things. Making them swing wide, making them shoot deep. They just kept answering." Searching for answers of his own on how you stop this Carolina team, Mills landed on a response that offered little consolation to Cal Poly, but maybe could give Brown a glimmer of hope in the championship game on Monday. "They turn it deep on tape."
Speaks volumes, doesn't it?
Post-Game Press Conferences