We've waited all year and it's finally here.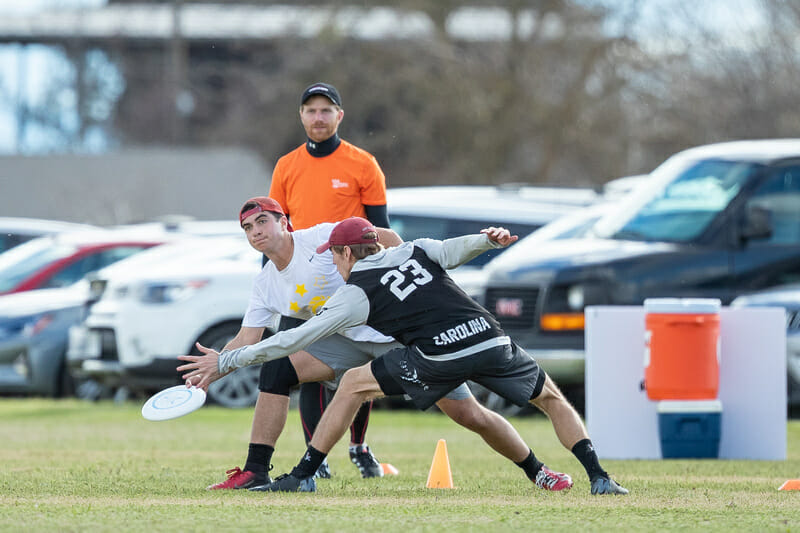 Ultiworld's Men's Division college coverage is presented by Spin Ultimate; all opinions are those of the author. Please support the brands that make Ultiworld possible and shop at Spin Ultimate! 
For as random and chaotic as the college season can be, we've arrived at a climax that makes a surprising amount of sense.
The two best teams all season have navigated the heat, wind, and drama of this Texas Nationals to meet in a championship clash that will forever alter the legacies of the players and programs involved. Brown and North Carolina have collectively won all of the tournaments they've played this season. Darkside went undefeated at Queen City Tune Up and the Stanford Invite, beating Brown in the final 15-10. BMo rolled to a Florida Warm Up title before getting revenge against UNC with their own 15-10 victory en route to an Easterns title. It is fitting then that one of these two will emerge with a final tournament win here in Austin.
Defending champions North Carolina have the chance to win their third title in five years, an unheard of haul in the modern era, and a fairy tale bookend to the careers of Matt Gouchoe-Hanas, Walker Matthews, and the other fifth years who started their college journey with a title. In particular, it would give Gouchoe-Hanas an unassailable college resume. After collecting the Callahan award last night, a third title would put him in the best career of all time conversation.
Brown are coming from the opposite end of the programatic life cycle, a team with rich history but a paltry recent past seeking to reclaim lost glory. Brown won two titles earlier this century, but before Mac Hecht came to campus they were barely a blip on the National radar. Now, the big throwing senior has his team on the precipice of dethroning the premier program of this era. And then of course there is John Randolph, he of the 10 goals in semifinals. Another performance like that in the championship game and we could be looking at our next Callahan winner.
Tactically, the main attraction is seeing how North Carolina's versatile defense reacts to Brown's quick strike handler dominator. Carolina's defense has shown itself to be more than capable of switching quickly against handler movement, and the big question is whether Brown can exploit the sliver of daylight the switches provide. On the other side of the disc Brown is tasked with doing something– anything– to slow down a UNC offense that has run over, around, and through everything in their path thus far.
It's #1 vs. #2. It's the best team of the era vs. the team that's found itself worthy of a powerful legacy. Tune in, it's what the whole season has been taking us to.