After snapping their streak of 20 straight Nationals appearances, Mamabird brough on a new coach with an old legacy to right the ship.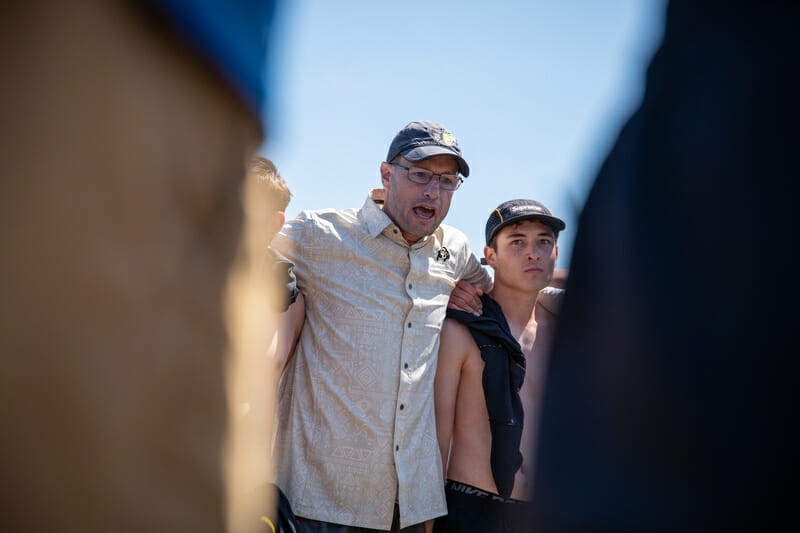 Ultiworld's Men's Division college coverage is presented by Spin Ultimate; all opinions are those of the author. Please support the brands that make Ultiworld possible and shop at Spin Ultimate! 
AUSTIN, TX — From his lonely seat at the booth during the Ultiworld press conference following the loss to Brown that ended his college career, senior Colorado captain Alex Tatum was asked to reflect on his time with the program, specifically the team's surprising elimination at 2018 South Central Regionals, and the changes he and the other members of leadership made to not only return to Nationals in 2019 but to reach the semifinals. His answer was immediate.
"One of the main reasons we made it back here was bringing in one of the best coaches in the nation, I think, Bob Krier…," he said. "He has worked with a lot of the players [on the team] at the club level with Inception, and breaks it down into simple concepts for guys up and down the roster to pick up easily and start applying."
The 2018-19 season was Krier's first as head coach of Mamabird, but you would be hard-pressed to find a "rookie" coach who brings more experience to the table. Krier was an assistant coach for many years with the Colorado program in the 2000s and has since coached Denver-area men's club teams Johnny Bravo and Inception, as well as the United States U23/U24 Men's National teams.
Krier is well-respected in the ultimate community for his thoughtful systems, his ability to run highly efficient practices, and the way he maximizes the value of players under his tutelage. "Bob is probably the most detail-oriented person I've ever met. Every minute of practice has a purpose," said Bravo and Mamabird alumnus Jimmy Mickle. "He breaks down offense and defense into very small pieces and builds them out. As a coach, he has an ability to get everybody incrementally better every single time they go to practice. He treats practices like they're everything, so that when you show up to the game, you feel completely comfortable."
The principles of hard work and growth-focused practice were evident watching the team play all weekend. The Colorado offense was clinical on the big stage against highly-touted opponents like Washington and Pittsburgh, cycling through their options in the vertical stack with the smooth calm of a well-oiled machine.
That appearance belies the staggering progress Colorado has made. Working with assistant coaches Mike Lun, Owen Westbrook, and Kevin Johnson, Krier inherited a team that was dealing with highly unfamiliar territory. In May 2018, for the first time in 20 years, the Mamabird program watched Nationals play out without them, after failing to earn a bid during the regular season and falling to Texas TUFF in the championship game of a one-bid South Central region.
I asked Krier, on the field after the semifinal, how he treats his first year with a new team, and with this team in particular: "First thing is to make sure it's going to be the right fit. I'd known Mikey [Lun], who has been the head coach for a couple of years, and just talked about how it could work. Then, we talked about the principles. These are the things that I believe in, this is how I would coach… if you want to play this way, then I'm a hundred percent in and I will be at everything. We talked through it over a few different nights, and with the captains, and laid out, 'Hey, this is what we're thinking we'll change — is everyone 100% in?' and when they bought in, we just got to work."
The transition was greatly aided by the Mamabird roster's familiarity with Krier from the club scene. A group of nine players comprising much of the backbone of the Colorado team, including seniors Greg Blumer, Sean Chapel, Matthew Loughridge, Chris Larson, and Girish Narayanswamy, had all played for Krier on Denver Inception in the summer of 2018.
"I had coached them, and so they were very familiar and were excited to have that type of work ethic, that type of mindset in practices, and enjoyed that practice style," said Krier. In ESPN's broadcast of the semifinal matchup on Sunday, commentator Evan Lepler recalled a conversation with Krier in which the coach had practically salivated over the things he could do with a college schedule, consisting of three practices per week over the nearly 30-week fall and spring season.
Still, one Krier principle, which drew a heavy focus over the course of the season, was established largely adjacent to the action: "Number one is that it has to be a positive, supportive culture. Without that, winning is…I don't know what it's like, because I wouldn't be a part of a team like that. That's the way it's the most fulfilling. I think that part of the failure last year was that it had gotten negative, so the first step was to figure out how to deal with each other, how do we talk to each other, how do we give feedback."
Though the college season is now completed, Krier's duties will continue this summer with the U24 U.S. Men's National Team, which will compete at the WFDF World Championships in Heidelberg, Germany, in July. "My favorite thing is to be out on a field, running a practice and growing and building skills," Krier said at the end of our conversation. "That's the best way to spend an afternoon or an evening, is to be out with a team that is focused and wants to work hard, and is receptive to that coaching." One of Krier's brightest stars for Mamabird, handler Quinn Finer, will be a member of that U24 team, before returning to Boulder for his senior season at Colorado, a season for which Krier has likely already begun planning the first practice.