The top performers of the year on the offensive side of the disc.
Ultiworld's 2019 Men's College Awards are presented in part by VC Ultimate, outfitting the world's best players since 1998. They are also presented in part by the National Ultimate Training Camp, who can help prepare you to be an All-Star. All opinions are those of the authors. Thanks for supporting the brands that make Ultiworld possible!
Ultiworld is pleased to announced our third annual D-III College Awards. The criteria for each award can be found here — we consider both regular season and postseason performance in our selection of awards. As the overall top performers of the year, players selected as top three in Player of the Year voting are removed from consideration for other individual awards.
Links to all of the 2019 D-III Men's Division awards will be added as awards are announced:
Player of the Year Award
Offensive Player of the Year Award
Defensive Player of the Year Award
Breakout Player of the Year Award
Rookie of the Year Award
Coach of the Year Award (will be announced later this week!)
All American 1st Team (will be announced later this week!)
All American 2nd Team (will be announced later this week!)
D-III Men's 2019 Offensive Player Of The Year
Brendan McCann (Michigan Tech)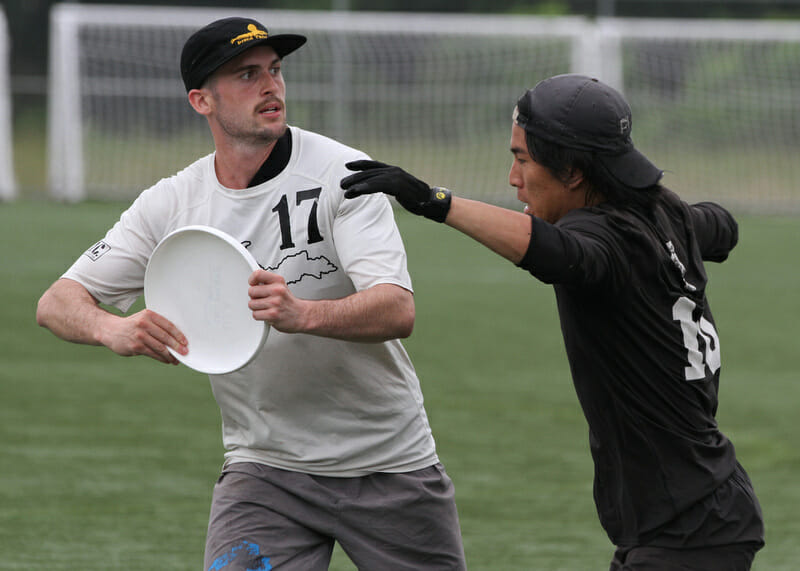 Fans of the NBA will be familiar with the idea of "gravity" as it pertains to Steph Curry. Put simply, the idea is that even when Curry isn't scoring, the threat of his shooting pulls the defense towards him and opens up easier opportunities for his teammates. The Steph Curry of D-III Men's ultimate this season was Brendan McCann from Michigan Tech, and he is the 2019 Offensive Player of the Year.
The best thrower in the division, McCann showed an incredible variety of throws this season that made almost every inch of the field a threat for his teammates to cut into. His scoober clinic in Tech's pool play game against Franciscan has received plenty of attention (for good reason), but the rest of his throws are just as lethal. Despite these scoobers, Franciscan continued to force McCann backhand; imagine giving up those scoobers because you feel like they're the least threatening option.
More than just a thrower, McCann has a lightning-quick first step that makes him difficult to keep away from the disc. His 28 assists were second at Nationals, but even when he wasn't throwing goals, the threat of McCann doing so opened up large spaces for his teammates. Defenses collapsed in on McCann's handler movement, leaving wide open receivers for Tech's other handlers to find.
No other player in the country had as much of an impact on the offensive side of the disc; McCann is a clear winner of Offensive Player of the Year.
1st Runner up: Saul Wildavsky (Carleton GoP)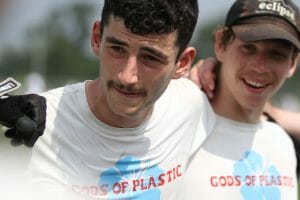 The players in contention for OPOTY tend to lean towards being handlers more than cutters; all three players recognized last year were handlers as were two of three in 2017. Handlers get more touches, and in a division where elite throwers are at a premium, their impact is more noticeable. It's a testament to his efficiency as a cutter, then, that Saul Wildavsky came so close to winning this award.
Wildavsky seemed to spend his entire season perpetually open by five yards or more, initiating the GoP offense with a big under despite every defense knowing what was coming. The threat of his deep cutting kept defenders honest, and Wildavsky is a more than capable thrower once he has the disc. The GoP offense has a daunting task ahead replacing Wildavsky next season.
2nd Runner up: Graydon Cowan (Richmond)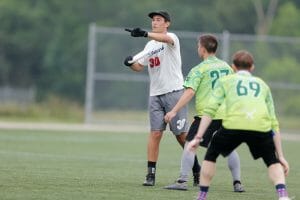 Where McCann shines with Curry-esque flair and gravity, Graydon Cowan's excellence is more comparable to the ruthless efficiency of Kawhi Leonard. Robotically consistent while still flashing big play ability, Cowan led the Spidermonkeys to a semifinal double game point loss to the eventual champions a year after missing the bracket completely.
The Richmond offense ran through Cowan, utilizing his plethora of break throws to initiate with a variety of pull plays. When all else failed, Cowan's big flick huck meant that Richmond always had a bail out when unders weren't working. The straw that stirred the drink on the Spidermonkey O-line will be difficult for Richmond to replace in 2020.