A trio of players to keep an eye on in 2020.
Ultiworld's 2019 Men's College Awards are presented in part by VC Ultimate, a leading supporter of women in ultimate. They are also presented in part by the National Ultimate Training Camp, who can help prepare you to be an All-Star. All opinions are those of the authors. Thanks for supporting the brands that make Ultiworld possible!
Ultiworld is pleased to announced our third annual D-III College Awards. The criteria for each award can be found here — we consider both regular season and postseason performance in our selection of awards. As the overall top performers of the year, players selected as top three in Player of the Year voting are removed from consideration for other individual awards.
Links to all of the 2019 D-III Men's Division awards will be added as awards are announced:
Player of the Year Award
Offensive Player of the Year Award
Defensive Player of the Year Award
Breakout Player of the Year Award
Rookie of the Year Award
Coach of the Year Award (will be announced later this week!)
All American 1st Team (will be announced later this week!)
All American 2nd Team (will be announced later this week!)
D-III Men's 2019 Breakout Player Of The Year
Kevin Strenski (Middlebury)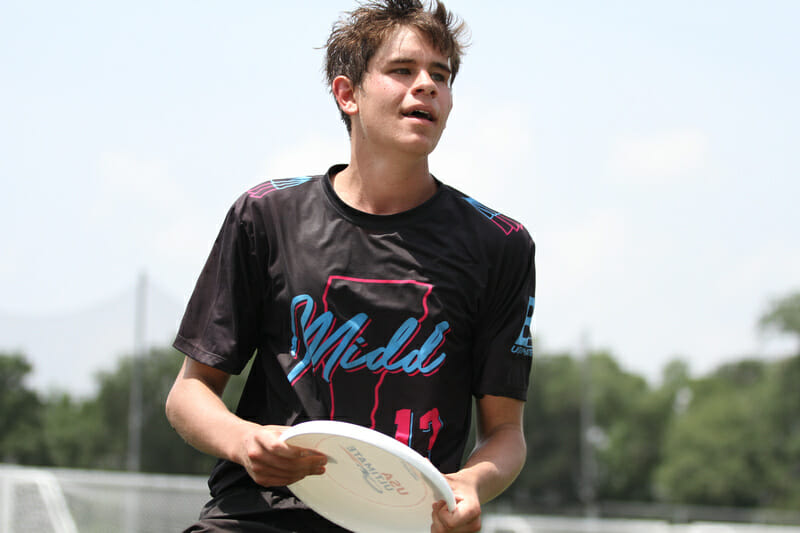 As more and more high schoolers begin playing ultimate, the traditional path of turning athletes from other sports into ultimate players is becoming far less common. However, this process still occurs, especially at the D-III level, and it's resulted in Kevin Strenski from the Middlebury Pranksters winning Breakout Player of the Year.
Last year, Strenski was just another young athlete on the Pranksters D-line. In 2019, the sophomore became reliable on both sides of the disc, matching up with top players on defense and turning into a major goal scoring threat on offense. The trust his teammates had in him on both sides of the disc could be seen in the fact that he was on the line for Middlebury's double game point wins against Air Force at FCS D-III Tune Up and in the semifinals of Nationals against Richmond. The first was a hold, and the second was a break; Strenski caught the goal in the latter.
Strenski led the Pranksters in goals at Nationals with 12, and while in a vacuum that number isn't overwhelmingly impressive, he made his presence felt in the biggest moments. After Kai DeLorenzo went out injured on the first point of the Richmond game, Strenski stepped up, scoring half of Middlebury's goals and finishing a +8 with no turnovers. Strenski added three more goals in the final against Air Force while providing an athletic presence on defense that helped stunt the Air Force offense.
As impressive as Strenski was this season, he still has plenty of room for growth. His improvement this season should tell the rest of the division that Strenski's best is yet to come.
1st Runner up: Matt Sabin (Colby)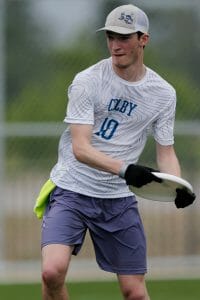 It's only fitting that the breakout team of the season would have a player on this list. The artists formerly known as the Dazzlin' Asses were a pleasant surprise this year, earning a bid for the New England region and defending that bid at Regionals before making prequarters at Nationals. One of the driving forces behind their success was sophomore handler Matt Sabin.
Fearless in the wind, Sabin led Colby in assists at Nationals with his next closest teammate throwing half as many. With at least two more seasons left at Colby, expect Sabin and his teammates to dazzle on the national stage even more in the foreseeable future.
2nd Runner up: Louis Heisler (Franciscan)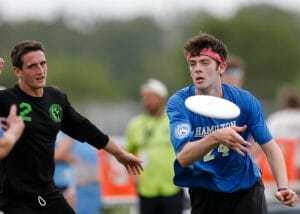 Much was made this season of Dom Schuster's return to Franciscan Fatal for a fifth year, but one player can't win by themselves. Schuster's favorite target this year was junior Louis Heisler, and Fatal wouldn't have made a return to Nationals with Heisler's talents.
An athletic defender and well-rounded cutter, Heisler impacted every game in a variety of ways for Franciscan. His standout performance at Nationals came in the first round of the tournament with a 4 goal, 2 assist, 1 block performance in a one-point loss to eventual champions Middlebury.
Heisler will have a much larger burden to bear next season for Fatal, but our money says he'll be up to the task.