The top performers of the year on the defensive side of the disc.
Ultiworld's 2019 Men's College Awards are presented in part by VC Ultimate, a leading supporter of women in ultimate. They are also presented in part by the National Ultimate Training Camp, who can help prepare you to be an All-Star. All opinions are those of the authors. Thanks for supporting the brands that make Ultiworld possible!
Ultiworld is pleased to announced our third annual D-III College Awards. The criteria for each award can be found here — we consider both regular season and postseason performance in our selection of awards. As the overall top performers of the year, players selected as top three in Player of the Year voting are removed from consideration for other individual awards.
Links to all of the 2019 D-III Men's Division awards will be added as awards are announced:
Player of the Year Award
Offensive Player of the Year Award
Defensive Player of the Year Award
Breakout Player of the Year Award
Rookie of the Year Award
Coach of the Year Award (will be announced later this week!)
All American 1st Team (will be announced later this week!)
All American 2nd Team (will be announced later this week!)
D-III Men's 2019 Defensive Player Of The Year
Noa Chun-Moy (Air Force)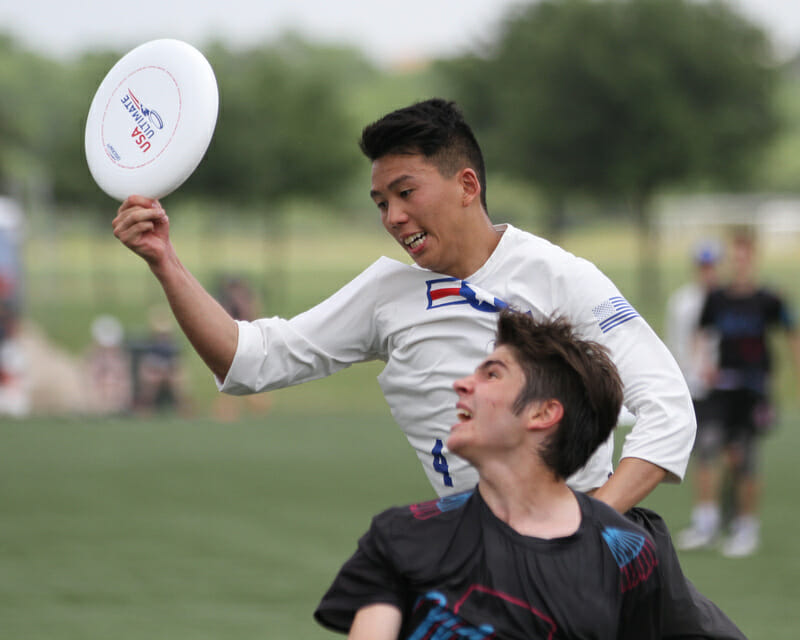 After an impressive 2018 season that saw him take home this same award, Noa Chun-Moy defended his crown in 2019 and is once again the Defensive Player of the Year.
One of the cliché terms used in sports is describing someone as a "gamer" — a player who steps up and competes at the highest level in the big games and moments. Chun-Moy is the prototypical gamer, elevating his play in the crucial moments to notch blocks against the best players in the division. His three blocks in the final all came at critical junctures and were big plays that kept Air Force in the game.
While Chun-Moy won this award last year for his abilities as a lockdown defender and remains more than capable of this role, he was equally impressive this season as a team defender. Chun-Moy excelled in all facets of defending that don't appear on the stat sheet. His quickness and ultimate IQ allowed him to poach and flash lanes as a help defender, and his quick feet and shiftiness give Chun-Moy one of the best marks in the division.
The perfect balance of a shutdown individual defender and intelligent team defender, Chun-Moy's overall impact on defense makes him the DPOTY once again.
1st Runner up: Ian Hanson (Middlebury)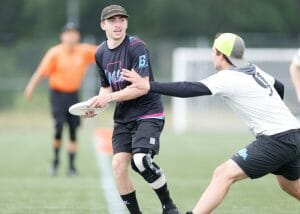 If this were strictly a postseason award, Ian Hanson very likely would have finished ahead of Chun-Moy. Unfortunately, a knee injury prevented Hanson from playing in the regular season, but you wouldn't have known he was coming off an injury by watching his play at Nationals.
Don't let his lack of blocks at Nationals fool you; it's hard to get blocks when the player you're defending is rarely considered as an option to throw to. Hanson's lateral quickness and reflexes made him the best handler defender at the tournament.
A rising junior, Hanson will be back to terrorize opposing handlers next season; hopefully this time it's for the full season.
2nd Runner up: Brendan Carriel (Missouri S&T)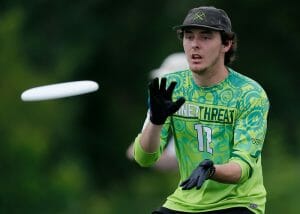 Asked to play in a variety of roles for Missouri S&T, Brendan Carriel showed an ability excel on defense no matter what his team required him to do this season. Whether serving as a wing or a deep in Miner Threat's 2-3-2 zone, or matching up on one of the opposition's top cutters when playing person defense, Carriel delivered.
Carriel was particularly impressive as the wing in S&T's zone, covering a large amount of space and having a keen sense for when to be aggressive and when to contain space.
Returning in 2020 for a fifth year, Carriel will once again anchor S&T's defense next year and look to take the program even further than 2019's high water mark of fifth in the country.