And the Player of the Year is...
Ultiworld's 2019 Men's College Awards are presented by VC Ultimate, a leading supporter of women in ultimate. They are also presented in part by the National Ultimate Training Camp, who can help prepare you to be an All-Star. All opinions are those of the authors.
Ultiworld is pleased to announced our third annual D-III College Awards. The criteria for each award can be found here — we consider both regular season and postseason performance in our selection of awards.
The Player of the Year Award and its runners-up represent the best overall performers of the 2019 season and are our highest award. These three individuals were the most impactful players in the D-III Men's division this spring.
Links to all of the 2019 D-III Men's Division awards will be added as awards are announced:
Offensive Player of the Year Award
Defensive Player of the Year Award
Breakout Player of the Year Award
Rookie of the Year Award
Coach of the Year Award (will be announced later this week!)
All American 1st Team (will be announced later this week!)
All American 2nd Team (will be announced later this week!)
D-III Men's 2019 Player Of The Year
Alan Villanueva (Air Force Academy)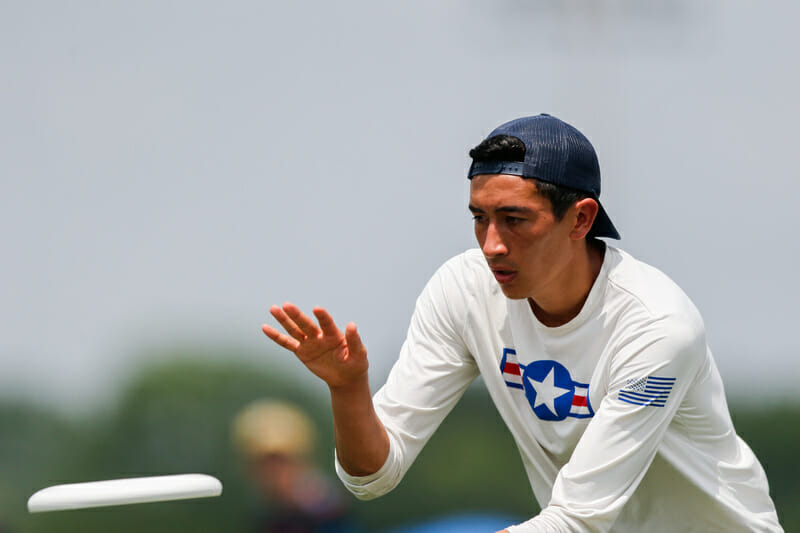 It's one thing in sports to see players make big leaps of improvement in areas where they have obvious weaknesses. Arguably more impressive is seeing elite athletes who are already exceptional at their craft go from being great to being the best. After consecutive seasons finishing as the first runner-up for this award, Alan Villanueva of Air Force Afterburn is the 2019 D-III Men's Player of the Year.
Every team that played Air Force this year entered the game knowing they needed to game plan for Villanueva, and the senior still found ways to be the most influential player on the field. Depending on the matchup, Afterburn's star could be the best thrower, most effective cutter, or most athletic defender in any given game.
Villanueva is known most for his throwing prowess, and he flexed his variety of throws all season long. There was no better showcase of the impact of his throws than in the final round of pool play at Nationals. After struggling against the same defense in last year's National final, Villanueva absolutely shredded the Bryant zone, finding spaces and hitting them with conviction despite stiff winds. Villanueva assisted seven of Air Force's eleven goals in that game and led his team in avenging their loss in Rockford in 2018.
The most improvement in Villanueva's game this season came on the defensive side of the disc. A summer of playing on Johnny Bravo's D-line gave Villanueva reps defending the best cutters in the world, and the result of these reps was one of the strongest downfield defenders in the division. Villanueva reads the field and plays with an awareness that allows him to help teammates all over the field, and his athleticism means that once he's in position, Villanueva more often than not comes through with the block.
Villanueva's individual talents and accolades translated to team success. The 2019 Donovan Award winner led Air Force to a 31-4 record this season, highlighted by a 22-game winning streak, South Central Region Championship, and another second place finish at Nationals. The graduating senior had one of the most successful careers in the history of D-III ultimate, punctuating it with his best season. While Air Force came up just short once again of a National Championship, Villanueva's individual efforts can't be to blame.
Commitments to the Air Force leave Villanueva's short term future in ultimate up in the air, but one thing is certain: he was the best player in the division this year and leaves behind a legacy that won't soon be forgotten.
1st Runner up: Kai DeLorenzo (Middlebury)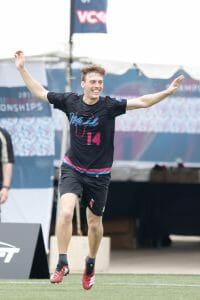 After winning Breakout Player of the Year in 2018, Kai DeLorenzo was already in the spotlight entering this season. We expected a great year from the Middlebury cutter; what we didn't expect was for DeLorenzo to be the best player on a National champion. With the Pranksters missing captain Dylan Salzman for most of the season due to injury, DeLorenzo carried a much heavier workload for Middlebury, and he handled this additional responsibility with aplomb.
Despite functioning primarily as a cutter, DeLorenzo led the Pranksters in assists at Nationals, using his abilities as a deep threat to gain big yardage on unders before throwing continuation goals. A rising senior in 2020, DeLorenzo is a heavy favorite to move one spot up on this list next season.
2nd Runner up: Conor Belfield (Bowdoin)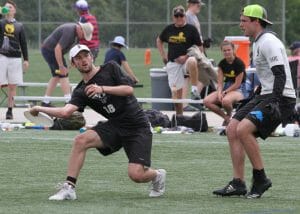 It feels like every season, a player begins on the periphery of our radar and explodes into contention to be considered one of the best players in the country. This season, that player was Conor Belfield.
Bowdoin's star handler led Clown to a strong regular season that included tournament victories at Spring Awakening 8 and Layout Pigout, and their season ended with a second consecutive quarterfinal exit at Nationals. Belfield was incredible in College Station, leading the tournament with 31 assists while also notching 10 blocks. His best performance came in prequarters against Michigan Tech, where he finished with 4 assists and 5 blocks while matching up with Brendan McCann for much of the game. With his college career coming to a close, we'll be hoping to see Belfield appear on the club scene in the near future.