A trio of players to keep an eye on in 2020.
Ultiworld's 2019 Women's College Awards are presented in part by VC Ultimate, a leading supporter of women in ultimate. They are also presented in part by the National Ultimate Training Camp, who can help prepare you to be an All-Star. All opinions are those of the authors. Thanks for supporting the brands that make Ultiworld possible!
Ultiworld is pleased to announced our third annual D-III College Awards. The criteria for each award can be found here — we consider both regular season and postseason performance in our selection of awards. As the overall top performers of the year, players selected as top three in Player of the Year voting are removed from consideration for other individual awards.
Links to all of the 2019 D-III Women's Division awards will be added as awards are announced:
Player of the Year Award
Offensive Player of the Year Award
Defensive Player of the Year Award
Breakout Player of the Year Award
Rookie of the Year Award
Coach of the Year Award (will be announced later this week!)
All American 1st Team (will be announced later this week!)
All American 2nd Team (will be announced later this week!)
D-III Women's 2019 Breakout Player Of The Year
Bethany Llewellyn (Puget Sound)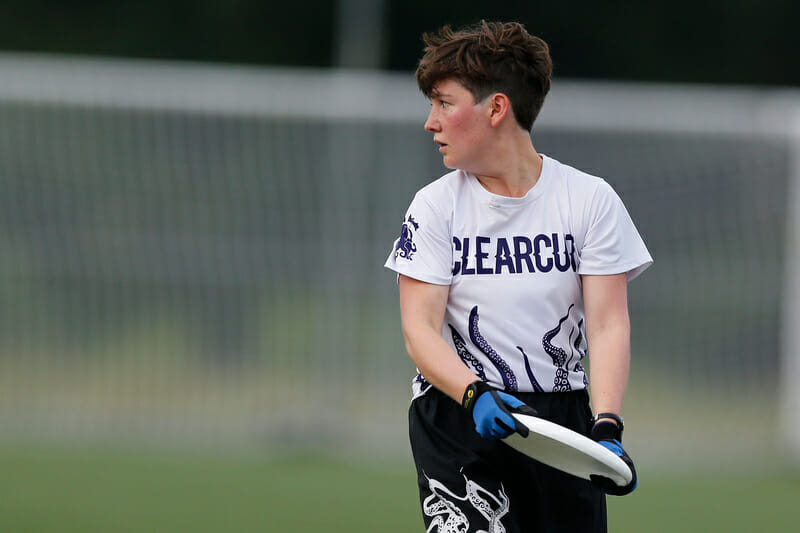 The future is looking bright for Puget Sound Clearcut, in no small part thanks to the strength of play shown by sophomore Bethany Llewellyn. The handler's hands constantly found the disc, bringing motion and momentum to the offense. With a healthy 11 assists and 5 goals at Nationals, the rising junior proved a stability to the Puget Sound offense that will be incredibly dangerous in 2020.
On defense, Llewellyn regularly took matchups against other top players from opponents, using her positioning and speed to put the pressure on the mark or shut down her matchup's viability. Even without great height at her disposal —she stands at just 5'4" — Llewellyn wasn't afraid to hustle hard against opponents of all sizes and make them respect her on both defense and offense.
Llewellyn served as a junior captain in 2019, providing leadership to the team and confidence on the sidelines even when not playing or as Clearcut trailed. In the incredibly talented roster expected to play for Puget Sound in 2020, Llewellyn will be a critical leader and role model for the rest of the squad as they build on the successes of 2019.
1st Runner up: Julianna Kampe (Portland)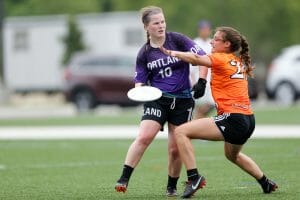 The impressive stats junior Juliana Kampe rocked at Nationals clue spectators in to part of the story — 20 assists, 7 goals, and 9 blocks are hard to ignore. The handler had a knack for working within zones, maintaining possession until finding the right deep cut to hit for the score. Kampe proved a defensive machine as well, generating blocks and putting younger teams on notice with quick and well-positioned matchup defense.
Where 2018 was a building year for UPRoar, 2019 was a culmination of the hard work and talent of key players like Kampe in bringing the program back to Nationals — and fairly successful at that. With many key pieces, including Kampe, back next season, 2020 may be another up year for UPRoar.
2nd Runner up: Sarah Finley (Truman State)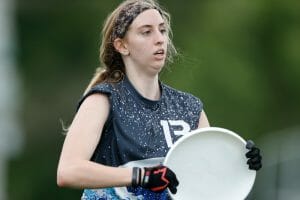 The junior captain for TSUnami is as versatile as they come, and that versatility was frequently called upon by Truman State over the championship weekend. On the field, she provided defensive pressure in the TSUnami zone, head's up and unafraid to chase down a disc; offensively she could be found wherever Truman State needed action and motion.
Off the field, as a captain for the coachless squad, Finley worked well with her co-captains to make adjustments and re-center Truman State to buckle down and focus in, leading by example with grit in the face of the wind and against any opponent. That leadership helped lead TSUnami to an undefeated season prior to arriving in College Station.