Guayota tops the ranking and inclusivity clinics shine in the mixed division at Windmill!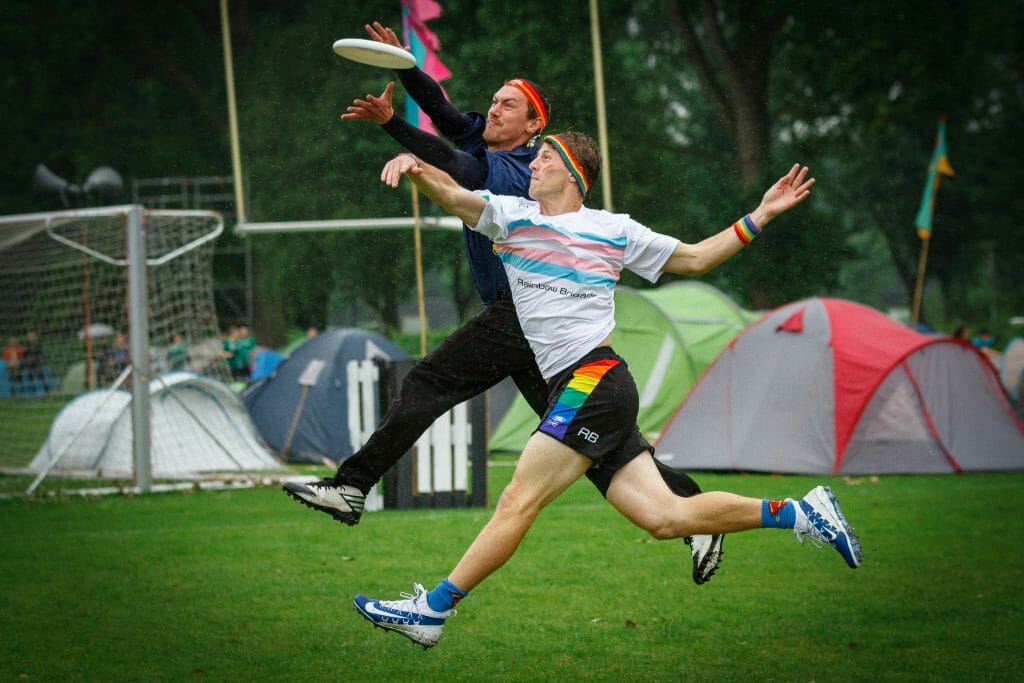 Ultiworld's coverage of Windmill is presented by VC Lookfly; all opinions are those of the author. Please support the brands that make Ultiworld possible and shop at VC Lookfly!
Guayota leading the Swiss Draw. France rises up to the occasion.
After the three rounds of Swiss draw in first day of action at Windmill the top eight spots are equally divided between national and club teams. France met the expectations by beating MSU, Hässliche Erdferkel and then the Germany in the last round, which put them second in the Swiss ranking. The next closest national team is Ireland in 5th place, followed directly by Germany and Austria. The division is led by Guayota who beat Sexicans in the first round, Colorado Karlsruhe in the second, and managed to steal the last game 14-11 from Ireland, who might not have been ready for a tight game after two easy wins. Grut won all their games quite comfortably but the point difference was only enough to make them fourth in the rankings. With two more games coming up tomorrow, nothing is decided. However, Shenanigans seem to have a good chance to stay in the top eight as they are ranked third after today's games.
Enthusiasm and experience from the Canary Islands
Guayota's Diane Davis and Javi Perez gave us a short insight into the team's history and summarized the first day of Windmill.
The team started in 2000 around a group of university students in Tenerife, Canary Islands, joining what at that time was just a handful of Spanish teams. Perez refers to the team as "second generation ultimate" in Spain. Guayota is one of the lucky teams to practice both on beach and grass regularly. Davis adds: "We are especially proud of our new players that have joined the team four or five years ago, who have brought up their level quickly and now have a lot of energy, enthusiasm, and desire to get better. It's great to see our effort finally pay off in terms of team development." Perez explains that coming from a far away place makes it difficult for the team to come to international tournaments as often as other teams. "We usually try to choose one or two outside of Spain and because of that we really want to make sure we use the opportunity and bring our best game."
When asked about today's performance, Davis says: "We've been playing together for many years and basically came here to have fun. All the games were pretty chill but the results are of course lovely and surprising. Our four pick-ups have all played with us before so it didn't create any problems." Regarding the expectations for the rest of the tournament Davis concludes: "With the Swiss draw you never know what's gonna happen. All we know is that our morning game is gonna be tough and we will just wait and see what happens." Guayota plays France in the first round at 9:00 Central European Time tomorrow.
Raising awareness for inclusivity
The Iggy tent witnessed an unusual amount of rainbow tonight. A workshop held by the Rainbow Brigade attracted the attention of many and sparked a great dialogue between the audience and the players.
Cooper Joy says it was a difficult task to put together a high-level and experienced team, but he wanted to create a unique opportunity not only for himself but also for all his teammates. By doing that he says "we wanted to engage the rest of the teams and the rest of the community at this tournament to really spread awareness about why inclusion is important." The presentation focused on gender inclusivity in ultimate and making the sport enjoyable for all athletes, in particular, outside of the gender binary. Joy explains: "We provided some history and context on some of the connected topics and also gave the participants some tangible suggestions that they can implement with their teams even this weekend."
Joy says he felt really encouraged by the number of people who showed up and appreciates the way his teammates handled even the tougher questions from curious audience members by focusing on the bigger picture. "These discussions are most impactful when you actually change somebody's mind, when you actually have the less comfortable discussion," adds Joy. Apparently, the response from the teams has been nothing but positive so far and the rainbow project can already safely be called a success.
Ranking after three rounds of Swiss draw
Swiss points are predictive of the score between the teams so far. For example a team with ten points is predicted to beat a team with eight points by two.
| Rank | Team | Swiss Points |
| --- | --- | --- |
| 1 | Guayota | 10.63 |
| 2 | France | 10.27 |
| 3 | Shenanigans | 9.48 |
| 4 | Grut | 8.04 |
| 5 | Ireland | 8.03 |
| 6 | Germany | 6.01 |
| 7 | Austria | 5.53 |
| 8 | SMOG | 4.82 |
| 9 | Black Sheep | 4.32 |
| 10 | Colorado Karlsruhe | 3.55 |
| 11 | Triple Crown | 3.17 |
| 12 | WuSuoWei | 3.01 |
| 13 | Flow Wroclaw | 2.99 |
| 14 | Sexicans | 2.30 |
| 15 | Glasgow Utimate | 2.10 |
| 16 | The Dalahästs | 1.59 |
| 17 | Sturmflut | 1.49 |
| 18 | Maultaschen | 0.93 |
| 19 | Too many cooks | 0.69 |
| 20 | Kanye 2020 | 0.57 |
| 21 | LoL | -0.22 |
| 22 | Sesquidistus | -0.26 |
| 23 | Czech Republic | -0.40 |
| 24 | Rainbow Brigade | -0.57 |
| 25 | That's My Frank | -1.01 |
| 26 | Belgium | -1.04 |
| 27 | Ah Ouh Puc | -1.62 |
| 28 | Flying Rabbits | -1.67 |
| 29 | Hässliche Erdferkel | -4.35 |
| 30 | McDuff | -5.21 |
| 31 | Ghost | -5.61 |
| 32 | Masala Chai | -5.62 |
| 33 | Belarus | -5.62 |
| 34 | Rusty Bikes | -5.69 |
| 35 | MSU | -5.84 |
| 36 | Rubik's Cube | -6.13 |
| 37 | Quijotes + Dulcineas | -6.34 |
| 38 | Old School | -7.22 |
| 39 | 4hands | -10.96 |
| 40 | Panas Ultimate Dream Team | -14.14 |