An early season look at the top mixed teams in the Mid-Atlantic.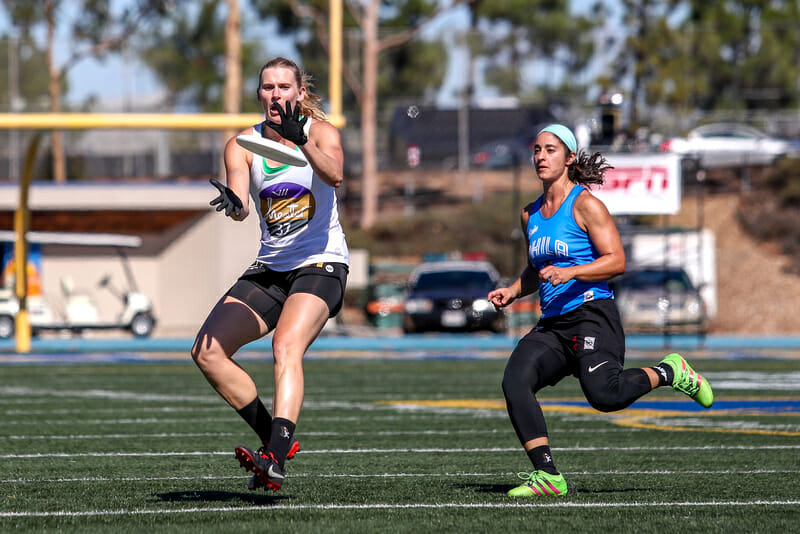 The 2019 AMP Invite was a single-day round robin tournament on June 9th that kicked off the 2019 regular season for the top contenders in the Mid-Atlantic. With three out of the five attending teams having qualified for 2018 Club Nationals, the tournament provided an exciting first look at this season's rosters as well as early sanctioned action to see how the region's best teams stack up.
The windy 60-degree Sunday saw the same five attend teams as last year, all of whom said that they were using the tournament to build chemistry, figure out a few of their remaining roster spots, and see Nationals-level regional competition early in the club season. Here are some short recaps of each team that was in attendance, by finishing order.
Philadelphia AMP (4-0 Record)
The reigning Club Champions have a much different look to them than the last time we saw them. The roster has endured some notable losses this season including Carolyn Normile (joining DC Scandal), Nicky Spiva (also switching to DC by joining Truck Stop), Nico Lake, and Stephen Ng. The return of Michael Ing — who played with Pittsburgh Temper in 2018 after several years with AMP — will be a boost along with the steady leadership of seasoned veterans like Raha Mozaffari and Bobby Roos, as well as what looked like some athletic young college talent trying to round out the roster.
As hosts of the tournament, AMP was out in force along with a carefree vibe and a giant inflatable flamingo pool on their sideline. Of their expected roster, the biggest absence was offensive starter Linda Morse, who was unable to play due to a New York Gridlock game conflict. With a notable amount of turnover from their starting 2018 offensive line, coach Patrick Sherlock saw the tournament as an opportunity to build some chemistry for the group in a new season.
The wind — strong enough to blow over teams' tents several times throughout the day — made for a lot of turns, but when AMP turned the disc, they made plays to get it back. In their first game of the day, Anna Thompson got a layout block and then threw a perfect touch huck for a goal to give AMP a 9-4 lead over Alloy, en route to 13-7 victory. While their second game was a much closer affair with Jughandle, Philadelphia took care of business with a 10-8 win before blowing away Rally in round 3, 15-4. The final round of the day saw AMP versus Space Heater — a rematch from last fall's Club Nationals semifinal. AMP controlled most of the game and held on in hard cap for a 10-8 win, completing a 4-0 day and finishing atop the round robin.
It was clear throughout the day that AMP trusted their teammates in the wind and there were precision shots taken by players like Thompson as well as Natalie Bova and Danielle Walsh. AMP has always been a deep team, so despite the roster turnover, other players were simply stepping up. That's good news for Philadelphia in their quest to remain among the division's top tier.
New Jersey Jughandle (2-2 Record)
With a stellar performance at the 2018 Mid-Atlantic Mixed Regionals, Jughandle secured the third and final bid for the region to make it to Club Nationals for the very first time. This year they are looking to build on that success and were excited to have the opportunity to play some great competition at AMP Invite.
While going 2-2 on the day, there was definitely a lot to be optimistic about. All four of Jughandle's games were decided by two goals or less, including losses to Rally, 11-9, and AMP, 10-8. Most encouragingly, New Jersey managed a double game point victory over last season's national semifinalist Space Heater, to go along with an 11-9 win over Alloy.
Much of the team's success came from trust throws — a perfect example came on double game point against Space Heater, when Jughandle received the disc on offense and Drew Rasmussen took an immediate deep shot to Cara Silvestri who beat Kelly Hyland in a foot race to score and win. Jughandle received contributions up and down their roster; in particular, Natalia De Jesus came up with great blocks at opportune moments.
As far as their roster appears to be shaping up, Jughandle looks to be picking up some young talent from surrounding colleges such as UMass, Princeton, and Rutgers. As with other teams in the region, there is definitely turnover but Jughandle returns key players, and perhaps most importantly their coach, Judy Jarvis, who was credited with a lot of the team's success last year.
Washington DC Space Heater (2-2 Record)
After a highly successful inaugural season culminated in a run to the national semifinals, many were curious if Space Heater was going to return in force for a second season. They are losing major pieces in Claire Desmond, Allison Maddux, Ted Sither, and Joe Freund, but they reload by picking up some young standouts and talent from other local teams such as UNC's Ella Juengst, and former Scandal players Hannah Boone and Theresa Hackett. Even with a small and unfinished roster at AMP Invite, Space Heater looked like they could once again be a national title contender.
While Space Heater lost on double game point to Jughandle and then lost to AMP 10-8, they beat Alloy and Rally with ease. They did this with only seven women (which went down to five after some injuries) and with a lot of their 2019 roster not in attendance.  Boone, Hackett, Georgia Bosscher, and Pat Shriwise were all absent from AMP Invite, and we know they can make a huge difference. The throws of Jenny Fey, Alan Kolick, and Zach Norrbom, and the speed of Kyle Khalifa, Sandy Jorgensen, and Kelly Hyland were huge assets to Space Heater last year, and those six played well at AMP Invite. When Space Heater looked rattled, it was because their handler movement seemed chaotic and downfield movement was stagnant. However, it was clear that this team still has immense talent and if the chemistry grows, they could contend for a title in 2019.
Pittsburgh Alloy (1-3 Record)
Alloy went 1-3 for the day with a close 10-9 win over Rally and a close two-point loss to Jughandle, but with a few veteran players returning plus a lot of college talent flowing it, they have a lot to build on.
Pittsburgh went into AMP Invite without a finalized roster, and haven't even elected their 2019 captains. While there appears to be a sizable amount of turnover, Alloy was led by a strong returners like Christie Lawry, Kelsey Cowles, Joseph Norby, Victoria Rollin, and Jesse Kumer. Alloy also picked up Pittsburgh Men's 2019 Second Team College All-Region player Leo Warren and Pittsburgh Women's 2019 All-Freshman Team player Beth Manturuk; both newcomers were out on the field making big plays for Alloy.
There definitely is a lot of room for growth this season which will keep Mid-Atlantic Mixed Regionals exciting as always.
Washington DC Rally (1-3 Record)
Like the rest of the teams there, Rally was using AMP Invite to finalize a few roster spots and feel out in-region competition. They went 1-3 for the day, with a notable win over Jughandle and a one-point loss to Alloy.
DC was definitely benefiting from some roster additions including Stephen Ng (formally of AMP) — Ng seemed to go almost every other when he was on the field. With agile players like Leo Pierson and Tsuki Hoshijima, the offensive give-gos and quick, high-level throws were hard to stop. In their win against Jughandle, Rally's best point occurred when returner Dane Warner came up with a big block in the end zone and Rally's four women on the field — Sami Smalling, Brittany Taylor, Janie Mockrish, and Maggie Pendelton — worked the disc upfield leading to a Pendelton assist to Smalling, who had quickly gone the whole length of the field after her initial pass to Taylor! This type of offensive flow looks much improved compared to last year's inaugural season. Other notable returners include Anna Wysen, who is coming off of a phenomenal final college season with UC Berkeley's Pie Queens and Xavier Maxstadt. Overall Rally returns much of their roster with a just a few losses.