Four Top 10 teams headline one of the most competitive mixed events of the 2021 regular season.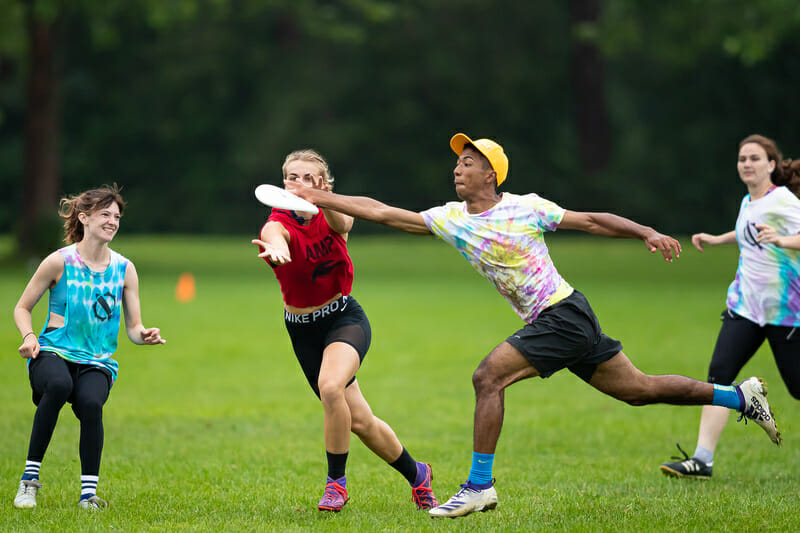 Many of the Northeast and Mid-Atlantic mixed powerhouse programs made a choice to forego the major Triple Crown Tour events this season. Instead, they have focused on local events like Boston Invite and the new AMP Invite, which hosts seven ranked teams and another perpetual Nationals challenger in Norristown, PA this weekend. In addition to seeing the top two teams in the Power Rankings, we'll also witness the season debut for Minneapolis Drag'n Thrust.
Tournament Profile
Date: August 21-22, 2021
Location: Norristown, PA
Weather: Mostly cloudy Saturday in the high 70s into a Sunday threatened by thunderstorms with high humidity in the mid 80s; light wind all weekend
Ranked Teams: 7
How to Watch & Filming Schedule
If you're looking to watch games from the 2021 AMP Invite, stay tuned to Ultiworld's video-on-demand package in the coming weeks. Full and Plus subscribers (and Team Pack holders) will get access to all game footage from the tournament.
Here is the filming schedule:

Tournament Storylines
Will we get a #1 vs #2 battle?
Two-time defending national champs #1 Philadelphia AMP have retooled after some big offseason losses, and already have multiple tournament wins under their belt in 2021. Shorthanded rosters didn't stop AMP from sweeping through both the Boston Invite and a DC Rally-hosted round-robin in July, notching victories against many of the same squads they'll see in Norristown this weekend. Philly stars Natalie Bova, Linda Morse, Raha Mozaffari, Dre Desabato, and Linsdey McKenna are fresh from PUL duty with the New York Gridlock and in good form heading into their home tournament.
Meanwhile, #2 Washington DC Space Heater made quite the splash with their roster announcement earlier this summer and are primed to show they deserve the top spot in our Power Rankings. AMP beat Space Heater 12-10 in the round-robin in late July, but both teams should have a fuller complement of stars this time around. Seeded atop the two pools, they don't have a scheduled rematch set, but fans will be hoping they meet in Sunday's bracket to give us a preview of a likely Mid-Atlantic Regional final.
Is new-look Drag'n Thrust still a top five team?
It has never been a winning strategy to bet against #4 Minneapolis Drag'n Thrust. The North Central juggernaut has proven year after year that it can build a championship-contending roster and has the programmatic continuity to plug new pieces into a formula that works. That said, they've perhaps never lost quite as much firepower in one go as they have this year. Losing pillars like Austin Lien, Erica Baken, and Brian Schoenrock along with 2019 impact rookies Claire Thallon, Leo-Sovell Fernandez, and Becca Ludford is a huge setback, even if there are solid additions to offset those departures. And they still have former Player of the Year Sarah Meckstroth to rely on. History was enough to keep Drag'n near the top of our Power Rankings to this point, but now they will need to back it up with on-field results. Minneapolis will face a stiff challenge from the competition in Norristown to prove they still belong amongst the national contenders this season.
Has the pecking order in Beantown changed since Boston Invite?
Last month in Devens, #8 Slow proved to be at the top of the Northeast pile to start 2021, dispatching all of their regional rivals even while missing a significant chunk of their roster at Masters Nationals. With all those players back — including marquee offseason addition Peter Prial — the 2016 national champs will be eyeing a shot at redemption from their BI final loss to AMP, but just as importantly will want to solidify their position ahead of two crosstown rivals, #16 Sprocket and long-time foil Wild Card, to ensure they head back to Devens for Regionals with the top seed.
Sprocket actually gave AMP the biggest scare at Boston Invite, taking them to a double game point in the semifinals. It was clear that Tannor Johnson remains a terror to deal with on any team he plays with, though the disc movement from Caitlin Go was another reason this team showed significant potential. The new Boston program also played a universe point game against Wild Card, who head to Norristown as the tournament's bottom seed — such is the quality of competition at the event. Wild Card are a proud program that won't be too eager to slip behind the new kids on the block, and will have their chance to level their season series with Sprocket at the end of Saturday. Neither program is guaranteed to get a rematch with Slow, but you better believe they'd both be licking their chops if they meet up with the city's reigning top dog in bracket play.
Are Toro or 'Shine ready to break into the division's top tier?
#7 Durham Toro have played more than most teams so far this season. Some version of this squad kicked off 2021 with a fortune-making tournament victory at Richmond Cup, while their real roster got good reps against elite teams finishing third at the Pro-Elite Challenge. The Triangle crew have definitely earned the no.3 seed for this weekend, but won't be happy settling for it. Durham is ready to be considered amongst the division's best and will have the opportunity to prove they are, with two games against Top 10 opposition in Saturday's pool play. Another tournament win or even podium finish at AMP Invite would put the division on notice.
Looking for a similar boost is #22 Nashville 'Shine. Even getting an invitation to an event of this caliber is a big win for the upstart Southeast program, as the only team headed to Norristown without previous Nationals experience. Jesse Shofner and crew will have their first-round game against regional rival Toro circled to prove they are a genuine threat for the Southeast's lone bid to San Diego.