German zone works in a windy final!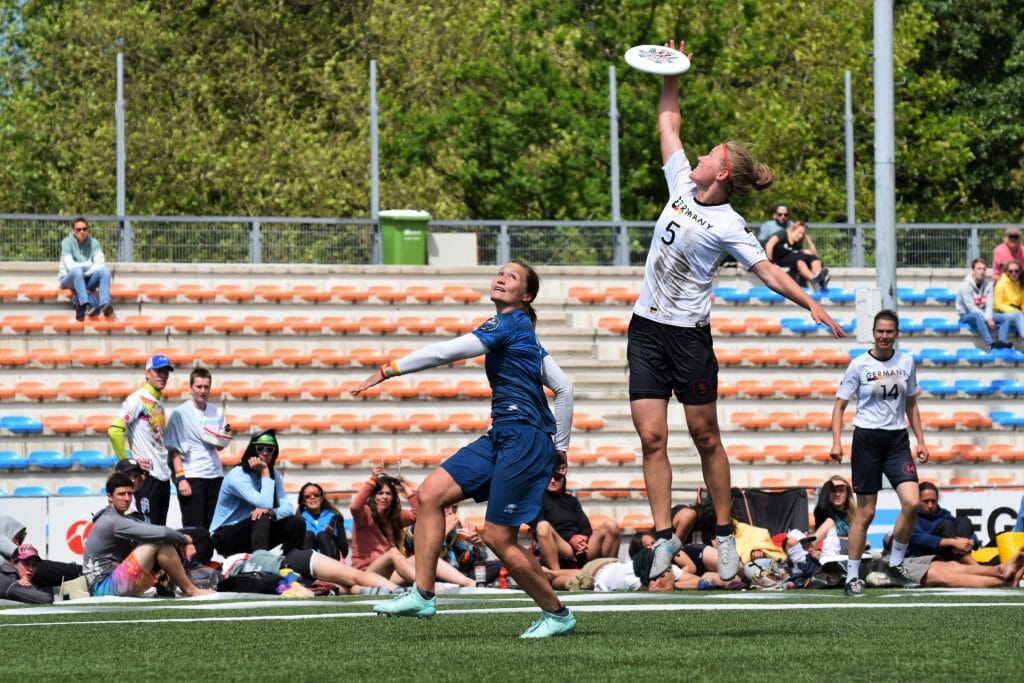 Ultiworld's coverage of Windmill is presented by VC Lookfly; all opinions are those of the author. Please support the brands that make Ultiworld possible and shop at VC Lookfly!
Prior to Windmill, there had been a lot of speculation regarding the leaders of European, women's ultimate. Which teams were looking strong? What was their win/loss record before going into Windmill? Who was going to hit the party the hardest? In the end, all of this was chucked out the window as our final top four came in relatively unknown. We had seen a lot of Italy, Ireland and France in the run-up to Windmill. However, it was time for the powerhouses Finland and Germany to do battle in the final, and long time club favorites, Cosmic Girls, to fight it out against one of the strongest pick up teams we have seen in years, Mermaid Lumberjacks.
Germany's wall is too strong as Finland struggle in a windy final
Finals day is always held on the stadium pitch, which adds an incredible audience atmosphere, but also adds wind. Lots of it. The grandstand tends to cause havoc with wind direction and speed so points are often unpredictable, longer, and zone filled.
For the first few points, Germany and Finland both had faultless upwind offense. The Germans looked comfortable with the big upwind hucks whilst Finland swung the disc back and forth and played small ball. Then came the German zone. Finland struggled to find holes through the middle and opted for the hammer/scoober swing pass over the wall instead. Germany's tall wall saw this coming a mile off and got multiple blocks in Finland's third to level a short playing field for the Germans. Before they knew it, Germany were starting to run away with the game 6-3. A frustrated timeout was called by Finland to try and get their affairs in order, but to no avail. Marieke Sach, who had a fantastic game on defense, got a huge run through block on Essi Inkinen to stop the next Finnish score. Germany's D-line's offense was truly unstoppable and rarely gave the disc back to Finland. Finland were growing frustrated with Germany's zone, but were also experiencing several unforced errors, potentially due to fatigue after a long weekend with such a small roster. Finland trailed Germany 8-3 at the end of the first half and had no answers for their zone.
Finland looked smoother after the half and punched in an easy offensive hold, with Inkinen finding the ever present Kat Rantenen on the open side. Germany's O-line looked undeterred with their very long pitch absence and used their isolation on Kyoko Hosowaka to great effect. Once again the Germans returned with their zone and once again the cup caused chaos as the swing pass from Finland ended up going behind the intended receiver and landing just in front of the German end zone. Germany started to notch up the breaks and as the cap went on it was 12-4 to Germany. However, Finland decided it wasn't game over yet as they managed to clock two breaks on the board, one of them leading to a huge layout grab by Inka Wessman in the end zone to save possession. The German O-line looked flustered for the first time in the game and were unable to find each other on the pitch. Everyone thought it was game over as Sabine Mannherz pulled out a massive layout catch for the win but unfortunately ground stripped herself on landing. After several sloppy turnovers from both sides, Germany finally took their time and calmly swung the disc to the break side for Natalia Mashianova for the win 13-7. You can catch the final game here on YouTube.
Cosmic Girls triumph as hangovers hit Mermaid Lumberjacks hard
If you have never been to Windmill before, firstly, where have you been all your life, and secondly, everyone knows that Windmill is always going to accommodate for the serious high level teams, but also for those who just want to let their hair down a bit. Eyewitnesses report1 that Mermaid Lumberjacks were seen hitting it hard at the silent disco until at least 03:00 AM. 2 There had been a lot of discussion prior to the tournament about their costume get-up, so it was maybe no surprise that some of them were a little worse for wear at their 9:00 game for third place. Only 7-8 ladies made it to the match on time, and had to slog it out against Cosmic Girls who were incredibly disappointed to lose out on a finals spot. Even though reinforcements eventually arrived from Mermaid Lumberjacks, it was too little too late and Cosmic Girls stormed away with the win 15-9 and finished in 3rd place.
Having asked about their semi final loss, Yuliya Akramova said "Of course we were incredibly disappointed to not reach the final, but in a way I'm now glad we didn't. We have a very small roster, and given what we've just seen in the final, I don't think we would have been able to keep up with Germany. I'm glad we had a strong final game instead."
What next?
Windmill is over for another year but now the European Ultimate Championships are coming round the corner. With Windmill being their last opportunity to play together, we have now caught a glimpse of most National teams taking part. Some games went down to the wire. Italy and Ireland had two double game point games over the weekend. Finland and Germany had a much closer game earlier in the tournament. Sweden and Czech Republic had a tight, 14-12 game. Whilst Germany are looking like the team to beat so far, the contest for Top Eight at EUC seems to be wide open. We haven't had the chance to see Russia in full form and GB have not played internationally since the early season Bologna Invite, so this could lead to some exciting surprises at EUC. One thing is for sure though, we will probably see a large group of national teams returning for Windmill 2020 in the most nail biting warm-up tournament for WUGC 2020. See you there.
---
This may or may not have been me ↩

This may have been when I went to bed ↩