Will Great Britain keep their EUC crown?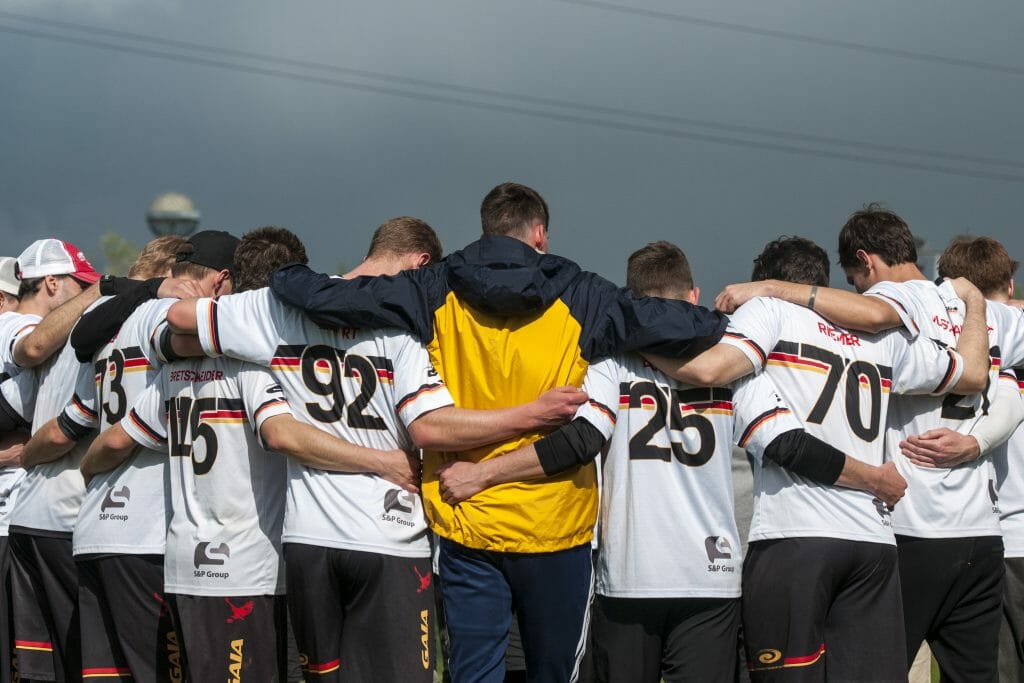 Twenty men's teams will gather in Györ, Hungary next week for the European Ultimate Championships. Four groups of five will eventually give way to two upper and lower pools, before twelve of the twenty will have a chance in bracket play. Europe's best are well-represented, and probably need little introduction. If you want an introduction anyway, or need some potential story lines, read on.
Tournament Profile
June 29th-July 6th
Location: Györ, Hungary
Weather: 20-30 Degrees Celsius, Sunny
Teams: 20
Format: Group stage -> power pools -> bracket play
Possible Favorites
Great Britain, the 2015 EUC champions, probably enter as the tournament favorite, slightly edging out Germany. They left Windmill as champions, putting France, Austria, Condors, and others away in the process. They're led by a core of Clapham players like James Mead, Justin Foord, Josh Briggs, and Tom Abrams. After the final in Amsterdam, captain Briggs said, "It's hard work mentally to play at high-level tournaments like this, and the team has done really well in dealing with that. Compared to other teams I've been with that have come to Windmill and won ahead of week-long summer tournaments, I think we're in a good spot." They will face stiff opposition in the group from Austria and the Czech Republic, but until someone is able to prove otherwise, they should be considered the team to beat. Mead said of the team's offensive style, "Look to see us hopefully making no spectacular plays and just out running and grinding D lines." and the defense, "Defensively we have worked a lot on being able to play many different styles of defense designed to confuse and frustrate O lines."
Depending on whom you ask, Germany might also be considered favorites. So far, they've won Bologna Invite and put up a dominate showing against the Swiss team in a practice weekend with a 15-7 win. They're led by an offensive line of Bad Skid stars like Holger Beuttenmüller and Nico Müller. In Bologna, they were only broken four times across the entire weekend. That said, coaches Mike Nash and Stefan Rekitt stressed that they don't want to have to rely on any key players, saying, "We think we have a well-balanced squad and everybody will contribute to our success. We expect to be able to beat every team in Györ." However, they're not taking anything for granted, and will be conscious of the fact that there's a wealth of talent competing this year. The squad is experienced, and they opted not to take Under-24 players to EUC, instead giving them the chance to focus on the U24 World Championships coming up later in July.
Italy have had a rough preparation for Györ. Between Bologna Invite and Windmill, they probably haven't felt that they've been firing on all cylinders. They had an unexpected loss to Switzerland during a training weekend, and a depleted Italian side lost to Austria and France at Windmill. That said, at their best, this Italian team can compete with every single team in Europe. Because of their seeding in pot two, they're in arguably the most talent-heavy group in the tournament, including the Germans, Russians, and Latvians. The match against the Germans will be an early test, but they should expect to finish second in the group, at minimum. However, they're only one loss against either Russia or Latvia from dropping into a lower pool, and making the bracket much more difficult for themselves.
Switzerland come into the tournament on the back of a successful spring. As I already mentioned, they have beaten Italy 15-11 late in the season at a training weekend. They also spent time preparing with the Germans. Along with the usual cast of suspects like Luca Miglioretto, Dave Moser, Aaron Riedle and Sebastian Gloor, they've added a strong group of players from the Under-24 team, with the aim of bedding them in before the the world championships next year. They've also included a number of other Under-24 players in their practices. Of the twenty-four players on the team, fourteen of them come from either Flying Angels Bern and Freespeed, so the team will know each other very well. In addition, they've been able to hold weekly team trainings, due to Switzerland's size. If the clubs they come from are any indication, it's safe to say that the Swiss will have a very patient and disciplined squad. If they're able to play well when it matters, Switzerland has every chance of playing in the semifinals, or even beyond. Severin Ris acknowledged that the competition will be stiff, but he asserted that the team has the potential to bring medals home. If they can beat France, they have every opportunity of topping their group and getting a favorable draw in the bracket.
Contenders
France come in as one of the more experienced teams, keeping an older roster compared to other teams. They got a bronze medal at EUC 2015. Their results have been mixed in the spring. They managed fifth place at Windmill, but took sixth at Bologna Invite. It should be said that they are without their AUDL stars this season, so are rebuilding the national team. They're in a group that includes Switzerland, Finland, Sweden, and Ukraine, so they should be able to qualify for a higher pool. How they deal with the first two will give us a better indication of where they can be expected to finish. They believe that they have the potential and experience to play for medals.
Ireland enter EUC after an eighth place finish at Windmill in which they lost a number of very close games. The Irish were able to hang with the big boys in Amsterdam, but they ended up losing narrowly to Great Britain, Austria, the Czech Republic, and Italy. However, coach Mark Fanning took a lot of positives from the weekend, calling it an "invaluable experience". If they can turn a couple of those close games their way at EUC, the Irish will be medal contenders. The team has added a lot of youth, and more than half of the roster has changed since WUGC in 2016. Interestingly, the average age of the team is twenty-five, but none of the players are making their Irish debuts, as all of them have played for the senior national team or various Irish youth teams before, and most of them have even played in previous international tournaments together. Fanning stressed that the Irish are a real team, and that the mood in the team is excellent. Conor Hogan went as far as to say that the team is "all about THE LADS", and that simply being around the team was a huge motivator for him to travel to Györ.
A third place finish at Windmill by the Czech Republic caught a lot of people by surprise, especially with the likes of Italy, France, and Austria in the bracket. Vojtěch Prušák is quietly confident in the team. He says that the team is entirely different from previous iterations of the national team. They're better-prepared, more ambitious, better-coached, and more athletic than in previous years. Look for tight, physical defense from captain Ondřej Rydlo, accompanied by Filip Halámka, Patrik Novák, and David Novák. When they generate turns, they will break quickly. They're a team that love to huck the disc, and they trust their receivers downfield. The offense is led by handlers František Fencl and Martin Lipert, and cutters Vojtěch Prušák, Vojtěch Sládek, Petr Hearing, and Jakub Pivec. These guys will undoubtably be one of the most exciting teams to watch at EUC, even if they aren't one of the most well-known. Expect big plays. If they manage to beat Austria in pool play, they'll have a great chance to qualify directly for the quarterfinals.
Speaking of Austria, they enter the tournament in good form too, having taken fourth at Windmill, just behind the Czechs. They'll certainly want to get some revenge on their neighbors, because that game could very likely decide who makes it to a power pool, and who drops to a lower pool. Niko Rapottnig has his sights set on a top four finish. It's an ambitious goal, but not outside the realm of possibility. To do so, they'll have to be very efficient on both sides of the disc. Players like Michael Gaisl, Wolfgang Mitterer, and Sebastian Bauer will need to step up if they want to match their aspirations.
Potential Spoilers
Yes, okay, I like Northern Europe.
Russia missed out on the bracket at Windmill, but they have been steadily improving year by year, and this is the most talented national team they've ever put together. They're hoping that recent success on the beach can translate into some success on grass.1 The core of the team have won medals on the European stage on the beach, so there's plenty of big game experience to go around. They have a nice blend of youth and experience, and a very strong handler core to lead the team through difficult games. Expect Nikolai Nikolaev, Anton Butikov, and Yegor Naumov to set the tempo for the Russians. It's also the most athletic team they've ever put together. Captain Nikolai Nikolaev stressed that, "An important criteria for selection was height and vertical leap. European teams play well on the 'second floor', and we haven't been able to match them in previous years." For that, they have Mikhail 'Bif' Khudobin, Vlad Basov, Alexander Petrenko, and others, many of whom have had great years on the beach.
Latvia has had mixed results this year, and haven't traveled to any large international tournaments, opting for a couple preparation tournaments in Helsinki with Finland and Russia. Their roster for the tournament is very small, but they believe in quality rather than quantity. Salaspils players take up eleven of the seventeen spots on the roster, so chemistry will not be an issue. A lot will come down to whether or not Arvīds Žanis Orlovskis is healthy for the tournament. He's had an injury-plagued 2019, and hasn't really been able to get to full fitness yet. With such a small roster, they'll need to manage him carefully. Fortunately, there are plenty of others capable of huge plays. On offense, handlers Mārtiņš Gusārs and Girts Betmanis will need Igors Minovs, Jānis Bernāns, and Didzis Malderis to do the heavy lifting in front of the disk. On defense, look for Toms Ābeltiņš and Reinis Otisons to be in charge if Orlovskis isn't fit enough to play. Ābeltiņš especially, has had a fantastic year, and has developed into an extremely well-rounded player. If Latvia are going to break into the top eight, his contribution on both sides of the disc will be key.
Finland also have a great chance to upset some of the higher-seeded teams if they can put good performances together. Like Latvia, the Finns have opted for a relatively small roster of just twenty people. Despite the size, assistant coach and player Jarno Sihvo is confident they'll be able to hang with the top teams. They've been preparing since the fall, holding two-day camps every month. About half the team plays for Otso, and the rest are from teams all around Finland. The defensive line is led by Roni Hotari and Elias Päällysaho, while Lassi Kallio and Tomi Sandberg will be the guys making plays on offense. When asked about having France and Switzerland in their group, Sihvo says, "we have a fair chance against everyone. France looked good in Windmill but we should have some weapons against them. Against the Swiss we always have tight games with wins going both ways." Of course, we can't forget that their group also includes Sweden. The teams haven't met since 2007, so national pride will be on the line in Györ.
Denmark might also have the potential to upset the established order, if things go right for them. However, according to coach Jonas Skovgaard, the focus for them has been on development, rather than a certain placement goal. They have a very young team, with a number of players making their national team debuts. It's always hard to predict how young teams will react to the pressure of a tournament like this. If they're hungry enough, they might just be able to take some scalps and finish above their seed.
---
Russia placed second at the EBUC earlier this season ↩