The women's division is quickly approaching power pools!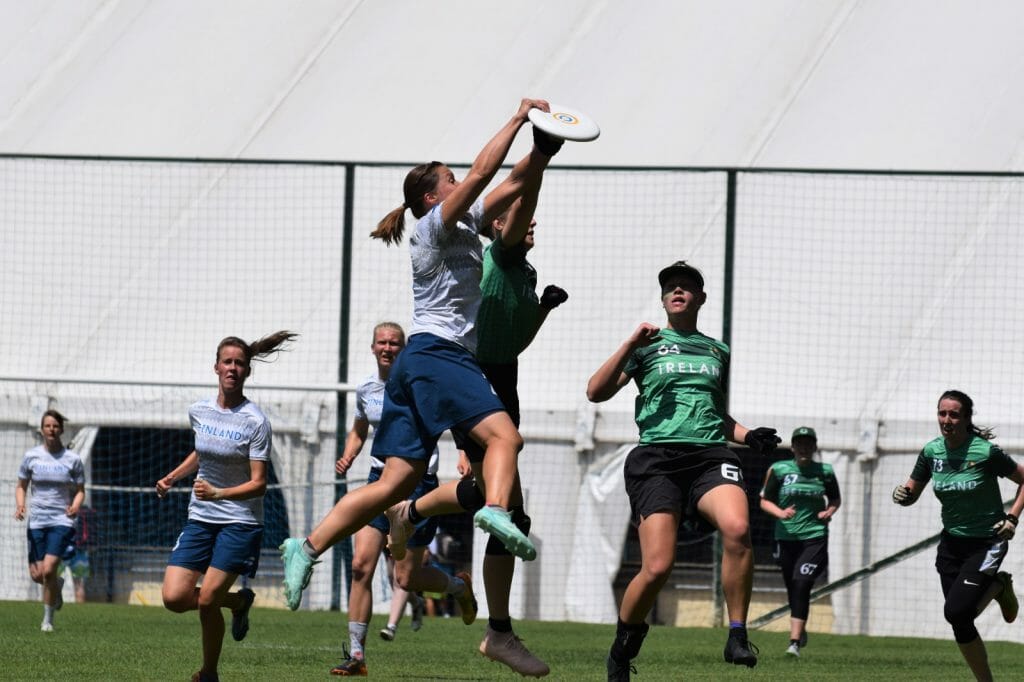 After day one, you can already see how the women's division is shaping up to be the most interesting in terms of upsets and unexpected results.
Pool WA: Finland, Belgium, Ireland, Ukraine
Pool WA has had the least clear outcome so far. Finland matched up against Ireland and Belgium and defeated both of them on double game point. The first of these games between Finland and Ireland resembled the quarterfinal matchup at Windmill last month. Irish captain Sarah Melvin said, "we are rather happy with the outcome, but a little disappointed to come that close and not win." With the game being hotly contested, there were a few calls on both sides that took a while but were solved eventually, sending the disc back to repeat play multiple times. In Melvin's opinion this was caused in part by their quite contentious match at Windmill, but both teams worked on it together, with the spirit captains becoming fast friends as they stepped in to talk through situations.
Finland's game against Belgium was just as intense. Finland took an early lead, but then the Belgians came back before and pushed close but Finland had the lead at 7-6. The second half mirrored this more or less, with Belgium taking Finland to double game point but being unable to get a win against the defending champions. The game between Ireland and Belgium will be the one to watch tomorrow, because it will be essential in determining how this pool will turn out.
Pool WB: Switzerland, Russia, Sweden, Poland
Russia is showing a dominant performance with a young, athletic team in Pool WB. It will be very unlikely for any team to challenge them. Poland defeated Sweden 15-12 and Switzerland defeated Sweden 14-13. The match between Poland and Swtizerland will likely decide who takes second place in this pool and therefore a guaranteed place in power pools.1
Pool WC: Italy, France, The Netherlands, Czech Republic
The Czech Republic did not start their game against France well. For a long time they would get to the end zone but could not convert points, despite winning the disc back on defense over and over. France showed more composure going into the game, but as the wind picked up they struggled to break the mark which resulted in a lot of turnovers in favor of the Czech side. In the end, the two teams played a hotly-contested double game point with quite a few turns, but Czech Republic coming out on top, winning this tight first game 11-10.
Italy had a weak start to the tournament, going down 3-0 against the Netherlands, but eventually they went on a nine point run, winning 13-8. They did similarly in their game against France, winning with a dominant 15-7 score.
The Czech Republic took another win against the Netherlands at the end of the day. After a few clean holds for both teams, they had a great couple of breaks during the first half of the game, finishing with a dominant final score of 15-9. The Netherlands were unable to shut down the Tošnerová sisters' lethal hucks the Czech defense was very punishing to the Dutch offense.
Pool WD: Germany, Great Britain, Austria
Germany dominated the pool of three by winning against Great Britain and Austria with ease. Great Britain struggled with the different zone looks Germany threw at them, whereas Austria had a hard time at the start of the game, but played a great second half. The legs of Katherina Meissl and Melanie Bodensteiner were essential for and Austrian comeback. Watch out for what should be a great game to finish this pool between Great Britain and Austria on day two to decide second place.
---
The top two of each initial pool go to power pools, while the two best third place teams will join them. ↩