We are getting deeper into the power pools at EUC.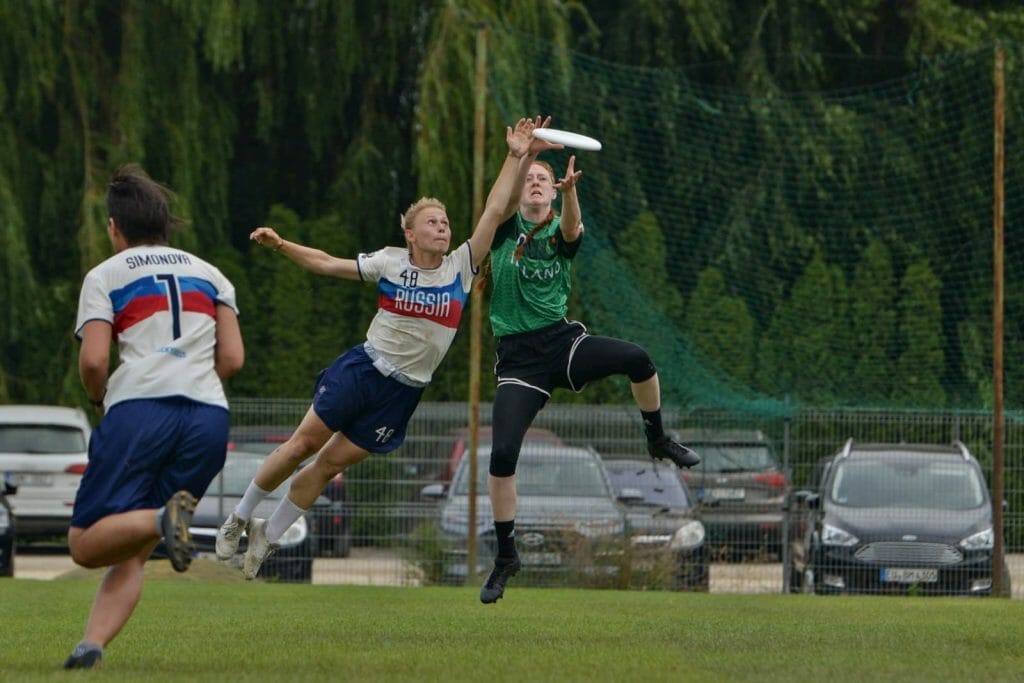 "Are we here to win?" "YES!" – all teams are looking to score as many goals, get as many wins in as possible, already thinking about bracket play and the best way to a great placement in this European Championship. Here is a look at some of the key games that happened today.
Switzerland vs Great Britain
Day two of Power Pool WE leaves behind a three way tie and one dominant performance. The day started with a very tight game between Great Britain and Switzerland. The wind picked up today and both teams came out with some zone looks, which worked out rather well at the start of the game. Great Britain had a few bobbled catches that they could not hold on to, and Switzerland could not convert their opportunities, sending some discs into the ground. Even with errors on both sides, teams traded until 4-4 score. Eventually, due to their calm handler set, GB managed to break upwind the first time and then take a downwind break to go up 7-4. Rupal Ghelani was doing some amazing work for the GB side. While GB mostly alternate their lines, Switzerland was running clear O- and D-lines for this game. Switzerland managed to get a break back, but GB took half 8-6. Switzerland managed to get out of half with a great momentum swing and evened the score at 9-9. The game went back and forth and one could see that both teams really wanted to win this game. Bodies were flying all around to get a disc in hand. In the end, GB came back from a two point deficit to take the game to double game point.  Switzerland eventually took the point with a clean offensive hold, finishing out this game with a score of 14-13.
Finland vs Switzerland
Later today, for the last game of the day, Finland, who previously lost to Great Britain on double game point, played Switzerland on the livestream. The game had a lot of the typical Finnish style of play, with some amazing over the top blades. The Swiss did not seem as focused as in the morning for the start of the game, letting the opposition get an early lead. Olivia Hauser was not playing for this Swiss side, which might have made a difference in the team's focus. They eventually got their heads in the game. After an 8-5 half time lead for Finland, they pushed their defensive pressure to the next level and managed to get a view breaks on their side. The Swiss sideline had a great effect on their game, celebrating every play with huge enthusiasm. As the game approached its end, physicality increased due to tiredness of both teams. There were some discussions about plays for the disc, but they were solved as players talked about it calmly.
Italy vs Belgium
Italy has had a great dominant performance so far. The team has a pattern of testing out their opponents during the first half of their game, maybe even giving up a break, but magically always winning halftime, just as they did in their game against Belgium today. Coach Eva Artoni told me before the match, "The second half is more important. I always expect the first half to be more even and in the second half, maybe something different will happen". The Belgians had a great start to the game. Lisa Celis had a particularly great game for Belgium. Celis made big contributions for the Belgian handling offense and zone defense as a deep defender and often went two or three points in a row. The Italian zone did not do a great job at containing the Belgian quick movement, whereas Italy had some trouble early on with the Belgian fence-like arrowhead zone. Their goal, according to coach Artoni was to "find their focus now that their in power pools, trying to get better and better every point in this wind". Italy did manage to win a close first half 8-7. Italy was more dominant in the second half, with the quick movement of Laura Farolfi and Anna Ceschi, taking on a key role for this Italian women's side on both offense an defense, and finished with a 14-11 win over Belgium. Although Belgium did not manage to win this game, their coach Miguel Martins seemed content with their overall performance.
Russia vs Ireland
Russia and Ireland matched up for this power pool game, both yet to be beaten in this second round of pool play. The Irish coach appears to be rather happy about the windy conditions, since most of their training camps where with a lot of wind influencing their plays. The game started off very evenly, both teams very clinical. Ireland is doing an amazing job of creating a system around their top end players, working with a second row of very athletic young talent that exactly knows what to do to work together as a team. The legs of Sarah Melvin, Kelly Highland and Fiona Mernagh helped Ireland managed to take half on Russia 8-7. After half and during the rest of the game, Russia had some amazing connections and showed why they are considered a title contender, closing off this game with a 15-12 win.
Tomorrow will be the last day of power pools and this will set us up for the start of bracket play on Thursday.