The men's division moves on to power pools.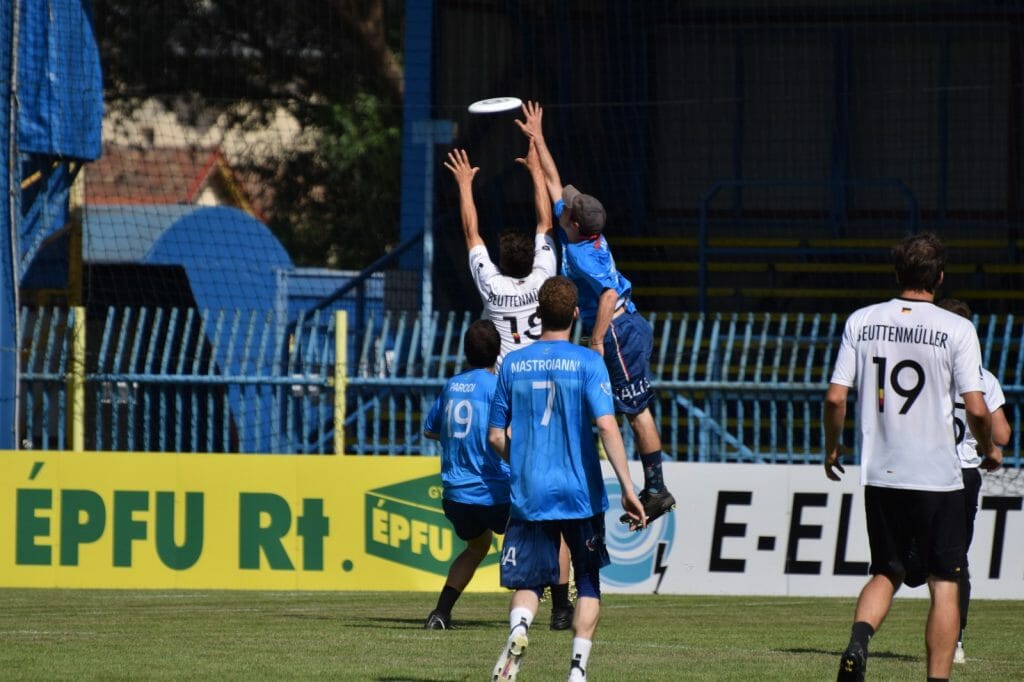 With pool play finished, power pools and the bracket await. The teams are now lined up into power pools. In the two power pools (ME, MF) the top two teams will move to quarters while the bottom two teams will play a pre-quarter against the two top finishers in each lower pool (MG, MH). Here is how the power pools are stacked up and a quick recap on how each initial pool finished out.
| Pool ME | Pool MF | Pool MG | Pool MH |
| --- | --- | --- | --- |
| 1MA Germany | 1MB Great Britain | 3MA Italy | 3MB Czech Republic |
| 1MC Ireland | 1MD France | 4MA Latvia | 4MB Israel |
| 2MB Austria | 2MA Russia | 5MA Slovakia | 5MB The Netherlands |
| 2MD Switzerland | 2MC Denmark | 3MC Belgium | 3MD Finland |
| | | 4MC Spain | 4MD Sweden |
| | | 5MC Poland | 5MD Ukraine |
Pool MA
Germany cruised through Pool MA with scores of 15-8, 15-10, 15-6, and 15-1. They rarely looked to be under too much pressure. The whole team is working hard, and they look well-poised to make a deep run in the bracket. They should be tested a bit more in their power pool, but it's hard to see anyone knocking them off there.
Russia advance in second place after their win against Italy yesterday, their only loss coming at the hands of the Germans. They seem to be getting better and better with every game. They can probably match up physically with just about any team here, but it will be interesting to see how they deal with the challenge of Great Britain and France in their power pool. They're capable of another upset, and it would be one of the surprises of the tournament should they advance straight to the quarter finals.
Italy go down to a lower pool after a series of inconsistent group performances. They have yet to put together a complete performance against quality opposition, but they have had moments where they look able to hang with anybody. Their defense can be absolutely stifling, and their offense can cut through teams in seconds, but they'll need to have both work if they want to make waves in the bracket. Lucky for them, they should have some time to work out their kinks before it's too late.
Latvia advance to a lower pool in fourth place. They too have struggled for consistency, and it seems that their short roster isn't doing them any favors. At times they've looked good. They hung with Italy until half time, but they couldn't convert their defensive opportunities, and the Italian defense eventually overwhelmed them. They'll be disappointed in how they've played so far, but they certainly have it in them to advance to the bracket.
Slovakia had a very tough time in a very strong group. They put up a total of thirteen points in four games. Maybe they'll have a chance to play a couple of closer games in a lower pool, but it's hard to see them beating anyone at this point.
Pool MB
Great Britain advance from Pool MB having given up a total of 21 goals over four games. They're playing very well, and it's hard to see anyone in their power pool beating them. Like Germany, they look well-positioned to make a deep run in the bracket.
Austria recovered from a double game-point win over Israel in the first round to do enough to finish second in the group. They dominated the Czech Republic in the rematch of the third place game at Windmill. They did well to poach off the handlers and make the Czechs resort to long throws which very seldom came off for them. Great Britain beat them 15-9, so it's hard to predict exactly where they'll finish. Their games against Switzerland and Ireland should provide a better idea.
The Czech Republic come out of the group in third place looking very inconsistent. They're certainly a team that can play extremely well or very poorly, depending on the day. Unfortunately for them, their long throws have generally not been coming off for them, and they've struggled to dominate 'weaker' teams. They'll need to cut out their unforced errors if they want to get anywhere in the bracket.
Israel remain one of the big surprises of the tournament. They brought a very young and inexperienced team to the tournament, but they've been able to play evenly with every team bar Great Britain. They almost upset Austria in their first game. Athletically, they can match most teams, but they need to cut out unforced errors if they want to make the bracket. I wouldn't count them out just yet, as they'll be a challenge for every team in their new pool.
The Netherlands came to the tournament with a short roster, and it has showed. They've lost every game so far, but they have played close games with the Czech Republic and Israel. Overall, they're proud of the way they've played
Pool MC
Ireland won Pool MC. They dominated three of their matchups against Denmark, Spain and Poland. Their intense and physical defense gave all of these teams trouble. They were also extremely steady in the handler space and their solid handlers were able to utilize the break space to tremendous effect. They were only really challenged in their matchup with Belgium, which they won on double-game point. The game itself was a major talking-point on day two. The Belgians considered it a very poorly-spirited performance from the Irish. It's perhaps a bit of a surprise, as the Irish are generally known as being a very spirited team. Belgium coach Mike Palmer didn't want to name any names, but he was disappointed by the level of spirit in the game, diplomatically calling it "objectively bad". Ireland had a slightly less harsh interpretation of the game, and felt that calls were consistent throughout the game on both sides. They said that they also addressed the spirit issues in the team meeting and have consciously made efforts to improve in subsequent games. They'll face tough games against Germany, Switzerland and Austria in their power pool.
Denmark advance in second place. They've looked very strong at times, but also very inconsistent. They managed to beat Spain and Belgium 15-12, to take their place in the power pool, but they'll probably be disappointed with how they played against Ireland, losing 13-10. They were given opportunities to win they game, but they ultimately couldn't move the disc up field against the wind effectively. They now face very tough games against Great Britain, Russia, and France.
Belgium will probably be disappointed with how they ended up in pool play, losing very closely contested games to Ireland and Denmark. They probably deserved more from at least one of those games. Coach Mike Palmer remains upbeat about their chances to advance, choosing to look mostly at the positives. They are certainly a favorite to advance to the bracket from the lower pool.
Spain entered the tournament with low expectations, just hoping to break into the top ten. The Spaniards focus more on the beach, so their expectations have been realistic. Ricardo Marquez said before the tournament: "I expect to be 10th-15th position, depending on our mental level. We definitely have the talent and experience to compete with good teams." His prediction looks just about right. They kept most of their games close in the group, and they could advance to the bracket if everything falls their way, but 10 to 15 looks just about right for them.
Poland had a tough time in the group, losing heavily in most games, although their game against Spain was closer. They might snatch a win in the lower group if they play well.
Pool MD
France finish first in Pool MD, playing close games Switzerland and Finland, beating both 15-12. Their game against Switzerland, especially, was a great demonstration of what they're capable of. The wind was strong, but they were able to be more consistent than the Swiss, who struggled quite a bit with execution errors.
Switzerland come second, but they have a point to prove after losing to France. They won the rest of their games relatively comfortably, but they haven't looked at their best yet. They're a team that definitely has the potential to go very far in the bracket. If they want to do so, they'll need to be a bit more consistent.
Finland finished third, which is probably exactly where they should be. They're a very smart team, and they have a lot of experience, but they're not one of the most athletic teams at the tournament, so they understandably struggled against France and Switzerland. Most importantly, they managed to beat Sweden, so regardless of whatever else happens, they can go home happy. That said, they have a great chance of making the bracket.
Sweden finished fourth, beating only Ukraine. They did give Switzerland and Finland close games. It will be very difficult for them to advance to the bracket.
This is the first team from Ukraine to play in the men's division at a European championship, and it showed. They came comfortably last, and it's hard to see them getting a win in one of the lower pools either.