Limited action in all three gender divisions in a relatively quiet club weekend.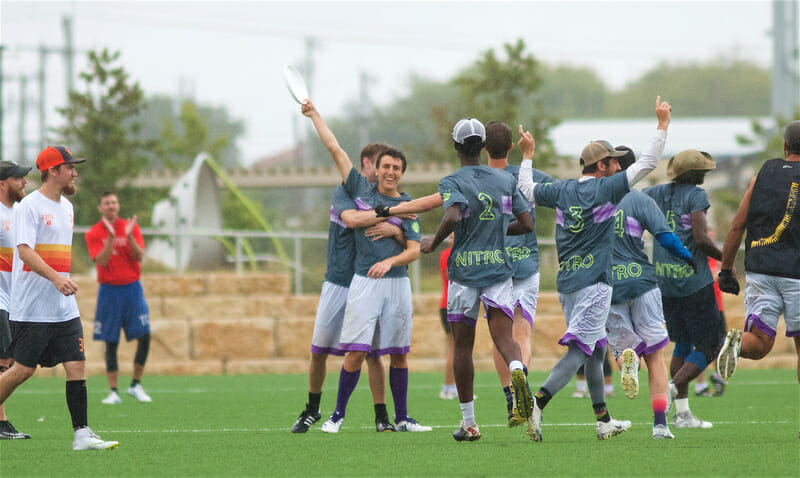 During the 2019 summer and fall season, we will publish a bite-sized weekly recap of the action across the Club Division. This will serve as a supplement to our standard tournament reporting and will offer a high-level look at the latest happenings and the biggest stories of the week. We go through the annals of score reporter so you don't have to!
Want your tournament listed here? Submit a recap of what happened right here. 
—
The final weekend of June passed quietly, with a handful of round robins and smaller local tournaments. As teams start to develop chemistry among their finalized rosters, seasonal trends are starting to develop and solidify. Here's a rundown of some rising stars and regional upsets that we saw this past weekend.
Men's Division
Spirit of the Plains gave the season's first look at Madison Yogosbo, a new team stepping into the void left by the dissolution of Mad Club. Despite the city's success in capturing a first AUDL title in 2018, Yogosbo represents something of a reboot for a divided Madison club scene. Though the team from the ultimate hotbed had a solid first weekend, it was Winnipeg General Strike that made the biggest splash at the tournament in Marion, Iowa. Undefeated pool play followed by dominant wins in the bracket landed the top two seeds in the final, where the Canadians defeated the new Madison squad by a single point. While it remains to be seen how either team will fare against the division's more elite programs, it was a solid start to the season for these two promising looking regional contenders.
A top heavy Texas 2 Finger saw Houston H.I.P., Dallas Nitro, Houston Clutch, and Austin Gamble easily go undefeated in pool play. Dallas Texas United, Houston Harvey Cats and Fayetteville Dreadnought broke seed significantly to advance to quarters, while Austin Riverside upset Gamble to move on to semis. Nitro came away with the title for the second year in a row after H.I.P., playing with a short roster in their first tournament back since 2016, went down early in the game and never recovered.
Quick hits:
Chicago Haymaker went undefeated at Down With The Clown, defeating Normal Satellite by a comfortable 6-point margin in the final.
Minneapolis Mallard defeated St. Paul Swans in the the third place game at Spirit of the Plains, definitively answering the Twin City region's most pressing question: what is the best bird in ultimate? Thankfully, no fowl play was reported.
Mixed Division
Local seeding shake-ups dominated the Truckee River Ultimate Cooldown as four-seed Eugene Garage Sale sailed through the weekend with little competition, besting seven-seed Sacramento Buckwild in a 13-8 final. Chico Platypi came in seeded first and had a disappointing weekend, leaving the bracket in quarters, while second seed San Francisco American Barbeque dropped out of the bracket in semis before also falling to Reno Cutthroat in the third place game.
In the mixed division of Spirit of the Plains, St. Louis Chalice had a dominant showing, rampaging through pool play and winning the final over Winnipeg Pretty Boys and Handsome Girls easily. Chalice appears to be setting itself up to become a regional threat, while Ames Chad Larson Experience came up short against the Canadians in the semis, suggesting some potential regional reorganization in North Central mixed.
Quick hits:
Portland's The Administrators went 4-0 in round robin play at the Rose City Rumble, a significant double game point win against McMinnville Happy Hour giving them the edge over Portland Hive, Portland Choco Ghost House, and Happy Hour's 3-1 records.
Cincinnati Steamboat swept Down With The Clown in an undefeated run, beating Grand Rapids Toast in a 15-8 final.
Women's Division
Houston Crush City had a breakout performance at Texas 2 Finger. In the four game round robin, the first year team from Texas was an unstoppable force, putting up a total of 50 scores and conceding only nine goals. No other team scored more than 3 points on the new collection of Houston powerhouses. In four games, Crush City established themselves a step above their local competition and potentially a rising threat in the South Central region.
At Spirit of the Plains in Marion, IA, regional shake-ups dominated the pool play, with Winnipeg Fusion and St. Louis Stellar both going undefeated in pool play. But Stellar fell in semis to Minneapolis Crackle, resulting in a pool play re-match between Fusion and Crackle for the tournament title. The Winnipeg team opened the game with a three-point run that Minneapolis struggled to find their way back from, and Fusion took home the win comfortably. In the second place game, Crackle bested Chicago Helix 8-4.
Looking Ahead
In another relatively quiet weekend before the club season starts in earnest at the Pro Elite Challenge, a selection of Great Lakes and North Central teams come together for Motown Throwdown in Sylvania, Ohio. On the men's side, we get a look at Lombard Black Market, St. Louis CaSTLe, Cincinnati Omen, and Centerville Babe. In mixed, Ann Arbor Hybrid, Grand Rapids Toast, Buffalo Lake Effect, and Lexington Moonshine battle it out as pool top seeds.
Antlerlock in Burlington, VT is headlined by the intriguing new Men's squad Amherst Sprout, who will be looking to continue their hot start to the season against regional competition. The larger mixed division at the tournament plays host to 16 Sectional-level teams.
Huntsville Huckfest will host all three divisions in Decatur, Alabama; Huntsville Freaks, Huntsville Outlaws, and Birmingham Steel enter as the top seeds in the men's, mixed, and women's divisions, respectively.