Through the power pool stages, no one has yet tested Germany and GB.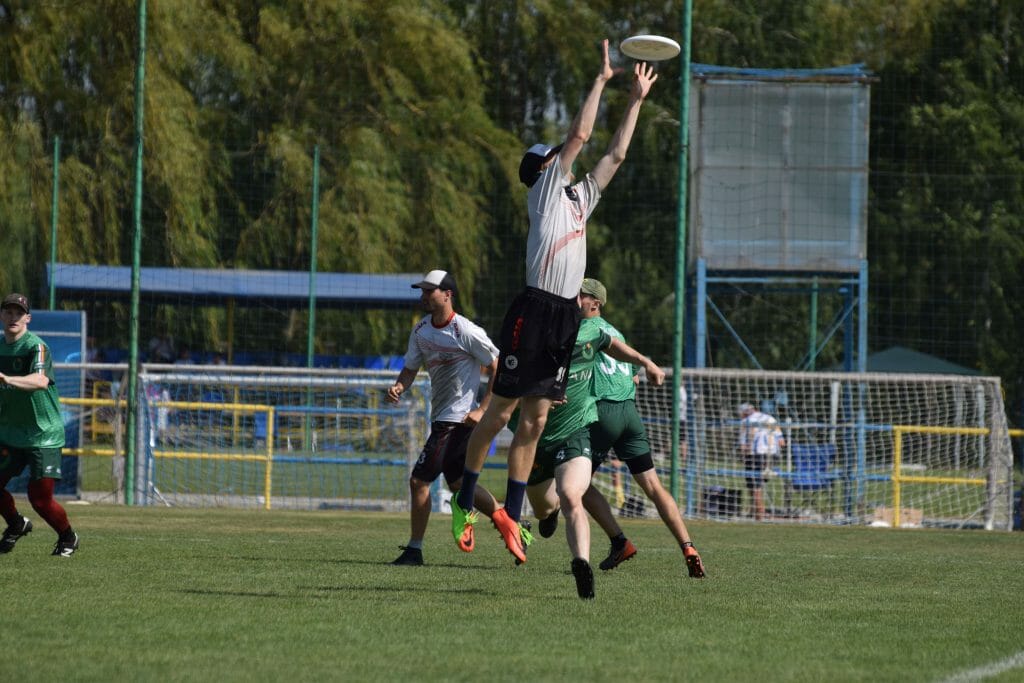 Power pools are over and the bracket is set! Now that the bracket is set, elimination games begin on Thursday morning.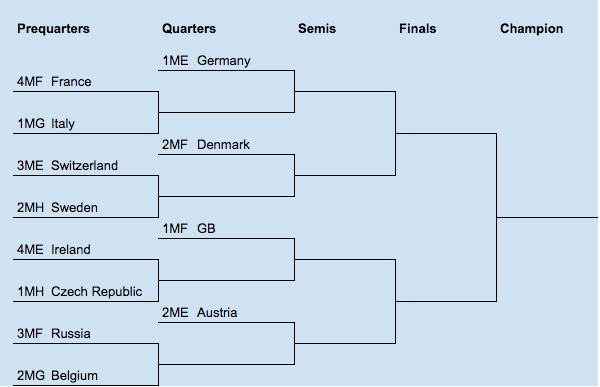 Power Pool ME
Germany cruised through a second pool without any real challenge. They won their games 15-6, 15-5, and 15-9. Both their offense and defense are working very hard to deny teams the opportunity for a close game. They'll face the winner of the game between Italy and France. Asked about their performance in pool play, coach Stefan Rekitt said the games were "hard fought", and that they used the opportunity to improve game by game. He explained, "We continue to make adjustments and are feeling good, but there's a long way to go. We are only thinking about the next game." Finally, he said, "This is only getting started."
The Austrians came through as second in Pool ME, booking a place directly in the quarter finals. They looked imperious in their games against Switzerland and Ireland. In the match against Switzerland, the Austrians did well to take away Swiss deep looks and put a lot of pressure on their under cuts. On the turn, Austria were quick to look deep, and it worked for them more often than not. The Swiss played them evenly until half time, but the Austrians found another gear in the second half. After the game, Austrian head coach Michael Zellinger said that it was important to refocus his team after tough Tuesday games against Great Britain and Germany. He praised his team's effort, nerves, and focus to get back in the correct mindset. They will face the winner of the game between Russia and Belgium in quarters tomorrow.
Switzerland managed a third place finish in the group. They managed to beat Ireland in a very exciting game. They led for most of the game, though not comfortably, and they had to stave off an Irish comeback to see the game out on double game point. Both teams played great offense and defense at times. Severin Ris noted that it was important to deny the Irish any deep looks whenever possible. In the game against Austria, Ris regrets his team's inability to convert their break opportunities, especially one particular chance before half time, which could have changed the complexion of the game. However, Swiss remain optimistic. They still have everything to play for but will start in pre-quarters against Sweden.
Ireland finished fourth in the pool, but they didn't play like it. At times they looked excellent, and their defense really disrupted Switzerland and Austria. Against Switzerland, the Irish did very well to get themselves back in the game after trailing for a most of the second half. Their defense gave absolutely nothing easy away to Switzerland, who often relied on high stall count throws to get themselves out of tight situations. They even had a chance to score on double game point, but couldn't quite put the disc in the end zone. It was a game decided by the finest of margins. Against Austria, they struggled to deal with Austria's physicality and willingness to huck the disc quickly on transitions. They will face the Czech Republic with the chance to set up a quarterfinal game against Great Britain.
Power Pool MF
Like the Germans in Pool ME, Great Britain were dominant in Pool MF, as they took down Russia, France and Denmark comfortably. Captain Josh Briggs remains modest, saying that, "The score lines look like we're in cruise control, but actually what we're doing is setting the tone and pace of the game early. If we can get in the driver's seat early, then we're a tough team to beat." He also noted that their keys to success so far have been a trust in each other and a belief in their systems and game plans. Modesty aside, Great Britain are the team to beat, and it's very difficult to see anyone other than the Germans taking them down. They may have drawn some bad luck, though, as they will face the winner of Ireland and the Czech Republic in quarters and the Irish always bring a little extra when they match up against the Brits.
Denmark were a dark horse pick early on, but they've shown that they can hang with just about any team in Europe. They've been grinding out tough wins all week long, and the experience probably helped them in this group. After going down 5-0 to France on Tuesday afternoon, they started playing zone, and France simply couldn't cope. Eventually, the Danes won the game 14-11. Playing coach Jonas Skovgaard said after the game that his team didn't start the game with the correct mentality. His team have five mental zones, and he felt they were in zone three. He encouraged them to get to zone five, and the entire team stepped up. He heaped praise on youngsters Tobias Gram and Jannik Vestergaard Pedersen, who he felt really came into their own in this game. They followed that up with a double game point comeback win against Russia. Denmark look ready to work hard against anyone put in front of them. They face the winner of Switzerland and Sweden.
Russia will be disappointed to finish third in the group, but they weren't far from finishing fourth either. Both of their Wednesday games ended in double game point, with the Russians winning one and losing the other. Their defense was resolute in both games, but their offense left something to be desired. In both games, their offense committed a number of errors, including a drop on double game point against Denmark on an uncontested catch. The game itself was very stop-start, and it included many long discussions. The game against France was much calmer, and the Russians won, but they showed they still have plenty to iron out if they want to go far in the bracket. At various times, the Russians were up 6-3 and 9-6, but they let the French back into the game with a series of their own errors, in addition to very tight defense from France. They face Belgium on Thursday morning in pre-quarters.
France finished fourth in the pool after three losses, and two particularly disappointing ones against Denmark and Russia. They certainly showed flashes of great play, but they ultimately came up short. After the game against Denmark, Nasser Mbae Vogel was frustrated with the way his team played, but admitted that the Danish zone made the French uncomfortable and forced enough errors to engineer their comeback. They face a tough game against Italy on Thursday morning.
Lower Pool MG
Italy cruised through the lower pool, dispatching Spain, Belgium, and Poland along the way. They'll have a tough test against France tomorrow and have set themselves up for a rematch with Germany in the quarters if they win.
Belgium finished second in their pool after a loss to the Italians. They set up a game with the Russians for the opportunity to play Austria in the quarterfinal. Belgium defeated Russia in their last matchup at Windmill.
Lower Pool MH
The Czech Republic won their pool with wins against Ukraine, Sweden, and Finland. They feel that they've been improving game by game and hope that they'll be able to do enough to take down Ireland on Thursday in a rematch of the double game point thriller that they came out on top of in the Windmill quarterfinal.
Sweden rallied after a tough series of group matches. In this group, they were able to beat the Netherlands and Israel to take second. They will go into a tough rematch against Switzerland, who they were able to play very close in pool play earlier in the week.