Mixed moves to knockout!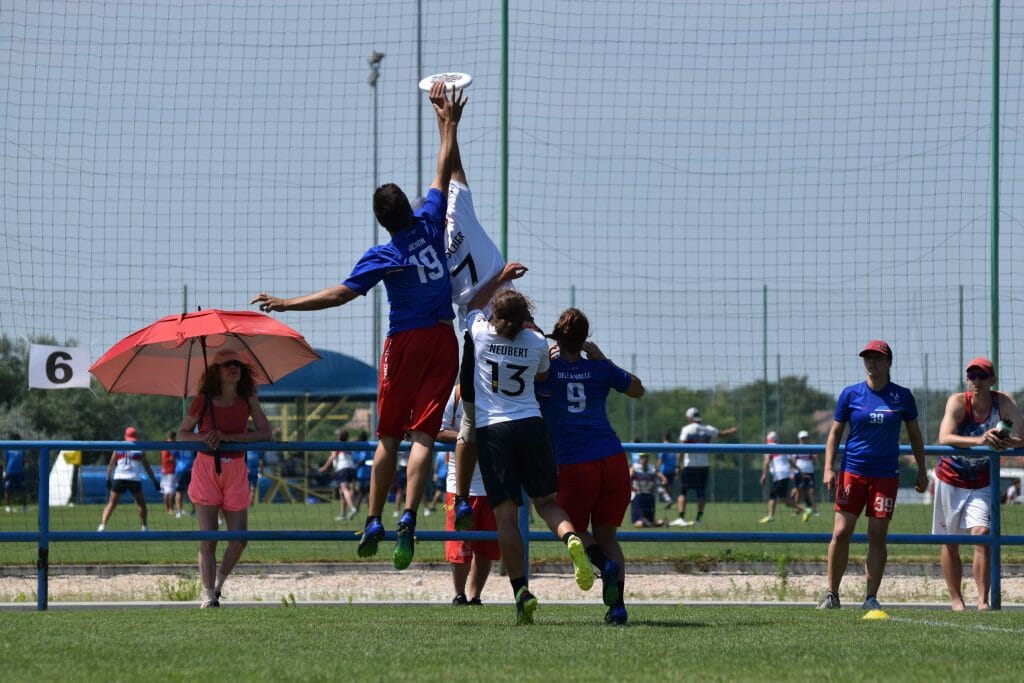 Today power pools concluded. Pre quarters are set and there is a clear picture who are the favorites. Great Britain has not been challenged in this tournament by any team, they met Russia but there was little pushback. Only Lithuania managed to score into the double digits against GB in the very first game of the tournament. France has the top talent and the cohesion to win the gold. Germany dominates weaker opposition but had too many mistakes against Russia and France. Russia might recover some of the magic from the opening game against Germany to get back into that elite circle of favorites. Sweden might still have it in them to be a finals team, their performances against more athletic teams seem to indicate that this time is gone, on the other hand they are masters at doing just enough. Here is what the brackets look like.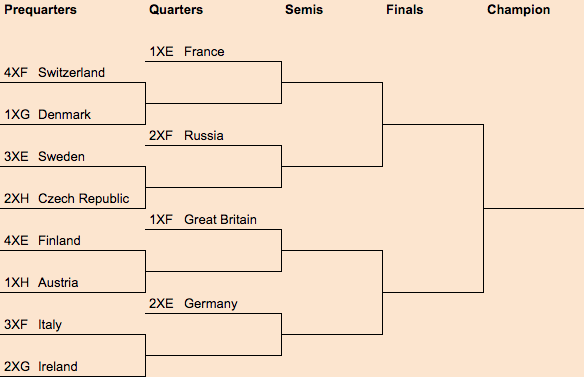 Power pool XE
France and Germany met two times just two weeks ago in Amsterdam so they knew what to expect from each other. France took advantage of execution errors of Germany in the beginning and went ahead 4-1. Germany tried to slow France down with their zone defense but Tifaine Latchy and the team around her were really efficient at moving the disc. Germany tried to find a way back into the game and Ida Dumon put her body on the line against female and male French players but France just shut down all the offensive options downfield and controlled Germany's handlers. France managed to pull away 9-4 before Germany got a grip and started to tighten the point gap. Germany made break after break and after Justin Wallace almost scored a callahan goal for Germany they made it 12-12. Time cap was in effect and at 13 all Ronan Bichon threw a scoober to the endzone to end the game. France's Gaël Ancelin told me after the game that Germany managed to disrupt their rhythm by switching between zone and person defense and throwing odd looks at them like a zone where one French player was covered by a German woman. Ancelin added that France made the adjustment to attack more over the top after Germany flustered them.
Sweden secured the 3rd place by shutting down all the Finland downfield options and scoring very fast after the turn. The game ended in a 15-6 win for Sweden. Anton Främberg and Tomas Erikson were the standouts on defense while Harriet Andersson was moving the disc very fast up the field from the handler position.
Power pool XF
Russia won both their games to advance straight to the quarterfinals but the team is visibly not satisfied with their performance up until now in this tournament. Spacing and timing seems to be off and their female stars can not dominate like the did on the beaches of Praia da Rocha in EBUC. In their game against Italy they got the better start but struggled with Italy's variations on defense. In Italy's zone defense Giulia Nones and Francesca Arnelli were working very hard. Russia had to take a lot off passes and after some miscues, Toly Vasiliev switched over to the O-line in an effort to steady the ship. Eventually, Italy received the disc for double game point and true to their run and gun style they tried for the huck but could not connect. Russia won by working the disc up the field. According to Italy's coach Francesco Dongo they tried to take away one thing at a time and switched their defensive focus a lot which enabled them to control the flow of Russia's offense.
This tight scoreline and the double game point loss to Italy on Tuesday meant that Switzerland only had to win by two to go straight to quarters. In the beginning the Swiss played like they believed in their chance but after some athletic defense late in the second half Russia pulled away to win in convincing fashion, 15-8, and advanced to the quarter finals.
GB kept on crushing teams today. Switzerland only scored one point Italy, who were sitting some starters, lost 15-6.
Pre-quarters
Switzerland's double game point loss to Italy in power pools leads to them facing the strongest team out of the lower pools, Denmark. Denmark is only been beaten once at EUC. Switzerland will have trouble dealing with Denmark's athleticism. This pairing has the greatest potential of a team from the lower pools advancing to the quarter finals. Undefeated France awaits the winner.
Sweden, notorious for finding another gear in elimination rounds, will try to build on their performance against Finland. The time for preserving energy is over their experience should help them. Judging on performances up until now Czech Republic should be another tuneup for Sweden for a potential quarter against Russia.
Finland will meet a Austrian team that won their pool XH without problems. This should be a close affair. Who ever wins meets Great Britain who have yet to be challenged all tournament.
Italy meets Ireland in their pre quarter. The Irish snuck in there with a losing record over the course of the tournament. Italy should be energized by almost beating Russia on Wednesday. They rested some players against GB and should be fresh for a potential meeting with Germany.