14 teams are still alive this morning, only 4 will remain by the end!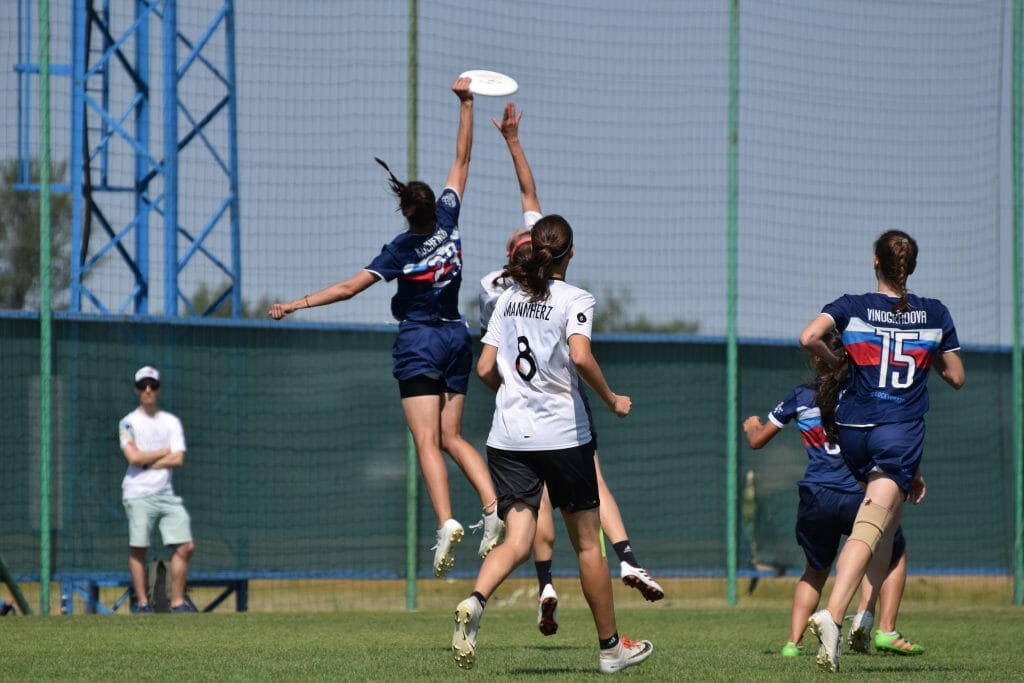 Great upsets on the las day of power pools, mixing up positions on the way into pre-quarters, from now on, we can only call Russia an undefeated team in the women's division. With power pools the bracket is set. Pre-quarters will happen in the morning and quarters in the afternoon. Here is what the matchups will look like and how teams got there: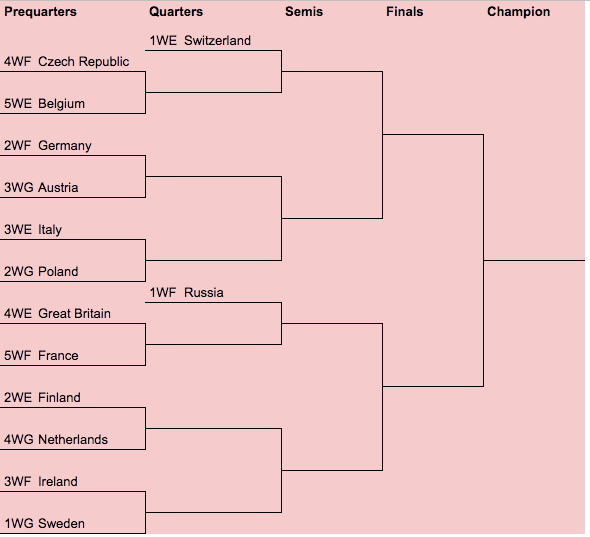 Power Pool WE: Switzerland, Finland, Italy, Great Britain, Belgium
Italy – Switzerland
After their close loss to EUC 2015 winner Finland in the morning, Italy met Switzerland in their last game of power pool play. They started off trading with Switzerland showing a clear structured offense and athletic person defense. The wind was once again an eighth defender in the Swiss squad's favor for this match up and Switzerland took half 8-7. Italy is known for their one of a kind playing style that relies on their athleticism and their great connections among their whole squad. Uncharacteristically, Italy did not manage to connect on a lot out of the half and Switzerland finished the game out with a 15-11 lead. While Italy did not click during the game, Switzerland did a great job of converting every opportunity they where handed by mistakes on the Italian side. Swiss coach Derek Gottlieb talked about how he knew the team was strong enough to get the Italian squad, and how all the mistakes they had made matching up with Italy in previous games this season were gone in this game. The Italian side was rather disappointed with their performance today, but will hopefully find their fire back come bracket play tomorrow.
Power Pool of Death
This power pool WE has certainly been good for some controversy and upsets. Switzerland, top of the pool, lost in close game to Finland, who also won against Italy. Italy won over Great Britain, who managed to get the better of Finland in a double game point. Finland was slated to still com top of their pool but lost to last place finisher Belgium by two points, which gave Switzerland the top spot in the power pool.
Power Pool WF: Russia, Germany, Ireland, Czech Republic, France
Russia – Germany
As their morning power pool game, Russia took on Germany in an exciting close game. Germany started on offense but looked a little uncoordinated on their first point and they did not quite connect. Russia showed some great D-line offense and Inga Sulimova made an amazing layout grab to get the first break of the game. At 2-1, Russia worked it up the field until their opponents end zone, but did not manage to connect on the last pass, and Germany worked all the way up the field to get back their break. The game formed a rhythm of holds from both teams, just clinical offensive plays from both sides. German player Lena Trautmann played a big role in the German offensive flow as she managed to be everywhere on the field when needed and outran the Russian opponents with her great athleticism.
This trading went on until a score of 5-4, when Russia looked a slight bit of troubled with Germany's defensive pressure. Russia eventually turned it over and Germany got another break off the Russian squad, making the score 6-4. Russia answered with an immediate long throw on the next point. To try and secure half the Germans ran their aggressive four person cup, but after they got a turn out from under the Russian offense, they turned it on the first pass, letting Russia get another goal due to blown coverage after the quick turn. They eventually managed to secure a half time lead of 8-6 as the EuroStars player Anna Gerner took a great long shot.
At the beginning of the second half Germany managed to break on Russia's first offensive possession,  fired up by their half time lead. While Germany's D-lines looked clinical and efficient, their normally structured offensive line struggled a lot, turning it over and giving Russia two easy breaks. In contrast to the German handlers, who had to take a lot of risks, the Russian handler core looked calm and collected, and the Russians tied the game at 9-9. At this stage of the game both teams looked more and more shaken up. Both converted their offense, but had to work hard and the system of both powerhouses where not working well for them anymore, until Germany gave up a few turns to Russia, who managed to do better at converting them. Russia closed out the game 15-13 for a huge upset on the German side, whom a lot of people have picked to be the unbeatable title contender at EUC 2019. German Coach Marco Müller said their offense had an off game, making uncharacteristic mistakes. When asked wether he felt that the unknown close Russian defense was the cause of the power pool upset, he talked about being very well prepared as a team and having worked against mental influence by an equally strong team. With this win, Russia claimed a quarterfinal spot and Germany will have to work their way through pre-quarters tomorrow.
Final Standings
Pool WF was much more straight forward to figure out than Pool WE. Russia is first in their pool as they went undefeated. Germany came a close second with the two point loss. Ireland, Czech Republic and France are line up finished in that order and will all play in the pre-quarters tomorrow.