The semis have two favorites, but expect close games!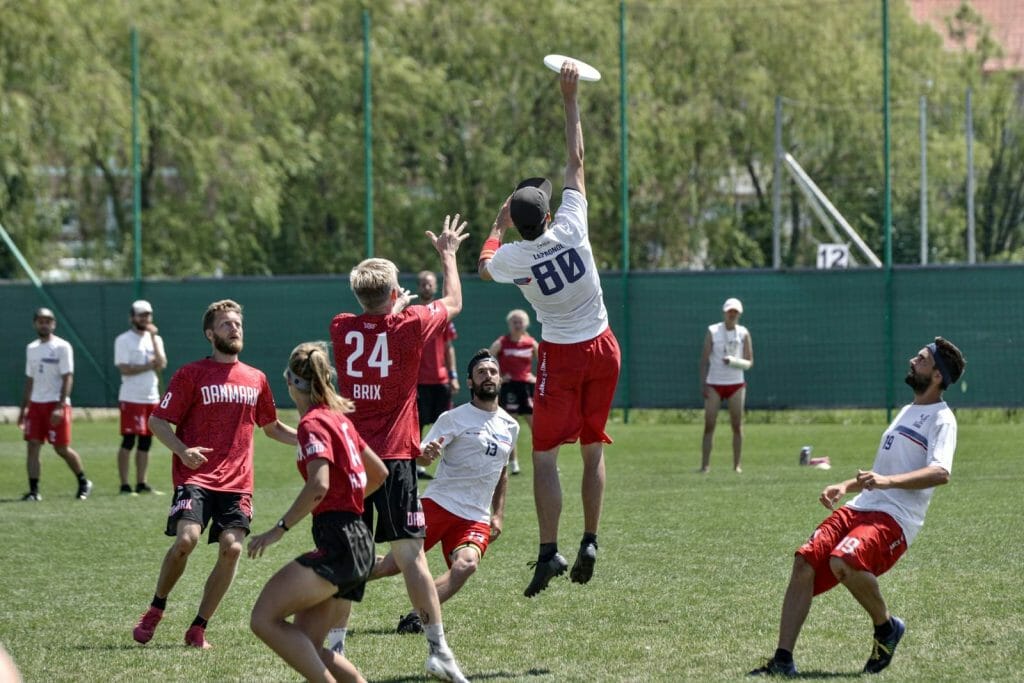 There are no surprise teams in semi finals in mixed. Many called Sweden to make it before the tournament, but Germany took their place as they showed themselves the stronger side throughout the week. Both pairings have a clear favorite but the underdogs seem to have the quality to get an upset. Take a look at what these two semis should look like today as they will both be streamed at 14:00 CET.
France – Russia
Before the tournament it was known France would be the team to beat in Györ with their dominant win at Windmill. After a somewhat slow start France was at their best in the last days of this tournament. They had a little scare against fiery Italians who went up 5-1 and took half 8-4 in pool play. Italy was able to stop the disc from flowing by forcing middle and a good zone. In the second half the French male stars Ronan Bichon and Gaël Ancelin took control of the game and lead them to a 14-12 comeback win.
The second test for France came in power pool play against Germany. With their defense dominating France pulled away 9-4. In this phase they were able to shut down all the deep options and forced the Germans to throw into tiny windows. The French team lost their rhythm when Germany's defense threw everything but the kitchen sink at them. France's throwing capability got them out of this pickle and in the end they held off the surging Germans to secure the win.
During the week, the before mentioned Bichon and Ancelin were standouts. Bichon is often taking the top defensive matchup and with his throws he gives them a quick strike capability on their D-line. Elise Becker was dominant on defense and Jeanne Della Valle spread the disc as she often playing at the central position in France's O-line handling.
Russia came without any preparation tournament beforehand to EUC. It did not show in their first game when they beat Germany in convincing fashion 15-12. Toly Vasiliev showed that he is one of the best players in this division. In their second game Russia was upset by Denmark. The Danish women could control they counterparts and the Danish strategy of hucking to their top male athletes was enough to get a clear 15-9 win. The game showed that Russia's chemistry from EBUC1 might not carry over in a way that makes them elite on grass. Denmark also showed that Russia might have troubles with depth on their male roster side. Russia lost in power pools to favorite GB and had another close one against Italy where they won in double game point after Vasiliev switched over to the oline to help them against Italy's aggressive defense.
Russia still avoided to play an extra game in pre quarters, a game that maybe could have benefited them to increase their chemistry. In the quarterfinal against Sweden, Russia look improved. Their long game started clicking and Ilya Dannenberg was more visible then he was up until this point. Dina Dumanskaia was targeted more often. The Russian team had a hard time taking advantage of her skill set and height. When Dumanskaia has the disc in her hands she can throw people open with her amazing touch passes. Sasha Pustovaya managed to throw some long passes against Sweden the rest of the week she mainly kept to spreading the disc. Sweden did trouble Russia late in the game and made it difficult for Russia to punch in the last point, but Russia held them off in the end.
France is the favorite in this matchup. They were able to execute on a high level and when they were challenged they found a way to get wins. France is the deeper team here and Russia's way to an upset could be if they can establish a deep game targeting their female receivers like Maria Stryokova and Inna Pavliuchenko. Russia was at times visibly frustrated with their performances but has the potential to put it together when it counts.
Great Britain – Germany
No team has been able to get close to GB. Steve Kolthammer is the most dominant male receiver at the tournament and on their female side Alice Beeching and Rachel Turton are playing an excellent tournament. GB's opponents are struggling with the athleticism of a team that has 28 players they can plug in without losing a lot of quality. In the very first game Lithuania scored 10 points on GB and they were the only team to get to double digits up to this point. Russia played played GB to 14:9. Sam Vile, part of the four man committee that leads GB told me they tried to simulate tough competition in training sessions by adding a virtual third team to scrimmages that gets a point for every turnover. He said their biggest strength is the trust every team member has in all the other 27. The committee does not convene to discuss decisions during the game, every one of them has responsibilities and decides by himself.
Germany did not have a perfect tournament. They lost twice. Their first loss was against Russia in their opener. They also lost on double game point against France in power pools. In both games they looked good but could not produce a complete game. Mistakes in handling lead to big deficits which Germany could not recover from. Ida Dumon and Joana Erdman are playing excellent tournaments and on the male side Justin Wallace seems to have a chance to get a callahan goal in every game. Sebastian Spiegel showed that he is one of the best throwers in the mixed division. Philipp Hartmann, coach of Germany's Under 24 team and assistant to Heiko Walldorf at this tournament, told me that they want to get out to a hot start and surprise GB. Hartmann also mentioned the lack of close games for GB is advantageous to Germany.
Germany has all the tools to challenge Britain. Athletic dominance against Germany won't be so easy and the German coaching seems to have endless tactical variations that they can throw at the opponents. Germany might find something that forces GB to turn the disc over, which no team has been able to do so far. For the game to be a close contest Germany's offensive line has to keep their throwing mistakes to a minimum.
---
The majority of the team did get a gold medal there ↩