Get to know the biggest stars, the new faces, and the pivotal stories of this club season.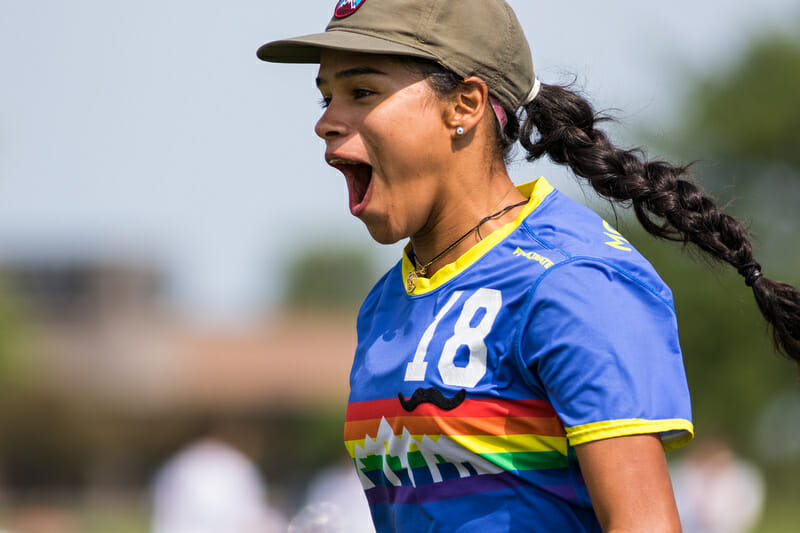 The 2019 club season is upon us! Teams have made their offseason changes and the quest for the title has already begun. Whether you're looking for a brush up on the main contenders or a hint at which players and teams to keep an eye on, here's the big picture view of what you need to know to be a responsible fan this season!
If you want to follow along with the top teams, players, and games this season, support Ultiworld's club season coverage and grab a subscription.
Major Storylines
Is A Shakeup of the Top Tier Finally Here?
We've talked about a potential reshaping of the top tier of the women's division — the so-called 'Big Four' — for the last several seasons, but as yet, San Francisco Fury, Boston Brute Squad, Seattle Riot, and Denver Molly Brown have thwarted all challenges1 to their seats atop the mountain. But this year it feels like the power shift could finally, actually be here.
Molly Brown, the most recent team to ascend to Big Four status by cementing their clasp in 2015, underwent major roster turnover during the offseason. Eleven players from last year's team are gone, and eight new recruits join the team. Most of their biggest contributors are back, and they add some supremely talented newcomers as well, but that kind of roster change is always liable to cause some turbulence, which could open the door for a new team to work their way into a national semifinal spot.
After winning back-to-back titles in 2013 and 2014, Washington DC Scandal saw a dip in form and have been clawing to get back into the top tier since. The club has been building their resurgence for the last few seasons and looks to be markedly stronger this season as well. Scandal had the splashiest offseason in the division, adding several major pieces for their 2019 roster. 2018 Offensive Player of the Year Robyn Fennig tops that list, but Fennig's former Madison Heist teammate Austin Prucha and former Philadelphia AMP star Carolyn Normile are big additions, too. Even beyond those three, Scandal adds several reliable veterans. They're the most intriguing challenger to the division's power structure that's been in place in the last four years.
Not far behind them are the Toronto 6ixers. Toronto has gotten increasingly better in each season of the team's existence. They also added a few notable players from surrounding Canadian teams, and with the continued growth of many of their budding young stars, it wouldn't be a surprise to see them take another leap from being a quarterfinals team to being a semifinals one.
While the battle for that fourth spot will be the fiercest it's been in years, it'll be worth watching to see how close that fourth team is to the top three of Fury, Brute Squad, and Riot. Molly Brown was the only team of the top four to not make an appearance in a national final in their four seasons of sweeping nearly every semifinal slot. Was there really just a big three, with Molly being the fourth team? Does that gap widen this season? Or is there really a top two, with Fury and Brute Squad destined to square off in the final for a third straight season, and Riot lined up as the best team beyond them?
There are fun, interesting questions galore when it comes to the top of the division this season, and that feels like a new development. For years we've asked if anyone could rise up to challenge the division's uppermost elite. This year, we know that there almost certainly are teams capable of doing so, and the door feels more open than ever before.
Commuting Players Changing the Landscape
The women's division is no stranger to commuting players. With such a high concentration of talent in only a few cities, many women have crossed state or regional lines to play at the highest level possible. More often than not, we simply brush this aside, as it's hard to tell whether a player is making a permanent move or just commuting for the club season. This year there are just too many high-profile players committed to commuting for us to turn a blind eye. As rosters announcements have rolled in over the past few weeks, the amount of elite players that are playing for teams hundreds of miles away is notable. Kaela Helton, Chip Chang, Rena Kawabata, Robyn Fennig, and many others are making the trek to play with the teams they've chosen for 2019. Some, like Kaede Yoshida and the Cardenas Twins, come from even further afield to compete at the highest level of women's ultimate.
As previously stated, commuting players is no new trend, but the increased movement this season does seem to go a bit deeper. For a start, it appears many players are willing to travel longer distances and pay more to play on teams that they feel are a good culture fit. More so than ever, elite players are making sacrifices to play alongside teammates whose spirit and competitive identity match their own. Many of the best teams in the division have built a brand around their team culture, which is evidently inviting other elite players to flock to them.
This builds to a larger question: if these commuters find success with their new teams, will we continue to see an increase in players who are willing to travel vast distances just to play with a team that matches their style? We've already seen that the teams in question are more than happy to accept these players, and even help raise funds for them to make this season-long commitment. With travel costs decreasing, it's not unthinkable that dedicated ultimate players may consider the hassle worth it for a chance at a fulfilling club season with like-minded friends (or just a run at a championship, perhaps). If this trend continues to grow, the women's division could stratify even further in the coming years.
The Faces of College Asserting Themselves in Club
It feels as if, following this college season, there is a cohort of players who either just finished or are still in the midst of their college careers and are ready to start becoming well known club names. Some of those players could make the leap from unknowns to big contributors, while others might be rising from solid contributors to All-Club caliber stars.
In the first category are players like Anne Worth, Julia Kwasnick, and Margaret Walker. Worth tore up college defenses on the way to an Offensive Player of the Year award with the University of North Carolina, and kept the momentum going with an impressive season with the Premier Ultimate League's Raleigh Radiance. Her rapid evolution should benefit a Raleigh Phoenix team with big aspirations. Kwasnick, the reigning Defensive Player of the Year with UC Santa Barbara, joins San Francisco Nightlock. Walker, the Breakout Player of the Year for Wisconsin, has the chance to take on a prominent role for Heist with their departures.
From the latter group, it feels like they could become some of the best players on their teams and in the division. Jack Verzuh and Claire Trop flashed their ability to take over at WUCC in 2018 and could ascend to the heights of the club division with Seattle Riot and Brute Squad, respectively, the way they did in college at Dartmouth. Their oft-compared college counterpart, Player of the Year Dena Elimelech, was strong for Wildfire last year, and has only grown in the time since, leading UC San Diego to a remarkable national championship. Along with Trop in Boston, Yuge Xiao and Caitlyn Lee both are cleating up for Brute Squad; Ella Hansen is back with Portland Schwa; and DIII star Abby Cheng, is a BENT captain. All could have notable impacts this club season.
Potential New Nationals Contenders
It feels almost criminal to say it, but the women's division has been stagnant over the past five years. That's not a criticism of the standard of ultimate or the enjoyability of the division as a whole — if anything, both of those have improved greatly. No, the women's division has remained stagnant because, despite a considerable level of roster turnover, the same teams make Nationals every year.
Since 2014, some combination of only 23 teams have qualified for Nationals, and only two of those (BENT and Tabby Rosa) haven't had multiple Nationals appearances. To narrow that even further, in the past three years, there are only three teams that qualified for Nationals one year and didn't have subsequent appearances (Iris, Underground, and Green Means Go). That's a decisive lack of parity in the women's division, and can make the season feel inevitable at times. The questions aren't about which teams will do well: it's about the order in which those teams will do well.
2019 has a lot of potential to change that. There has been a significant amount of turnover across the division, and it's become the least predictable preseason in memory. Many of the teams that earned the last few bids for Nationals in 2018 have undergone facelifts over the offseason. Wildfire, Heist, and Pop all lost significant contributors along with a large portion of their entire roster. It's a long season, but if they come out flat, it leaves the door open to a few new programs to make their first Nationals appearance.
Oakland LOL is the first of these contenders. The Bay Area team has been a force in the Southwest since forming as a team in 2017, but often lacked a large enough roster to do real damage in bracket play at tournaments. That seems to have changed in 2019, as the team has filled out their numbers and already earned a preseason victory over Wildfire. The team is filled with veteran talent, including a few ex-Fury players who know exactly what it takes to make Nationals.
Boston Siege has come out the gate firing in 2019. After only one tournament, Siege has already racked up confident wins over Iris and BENT, winning the Boston Invite in the process. Siege has forever been the little sister team of Brute Squad, but they seem to be coming into their own this year. The experience that they earned from last year's US Open and Pro Championships certainly has helped shape the squad for this season, which is important as they reside in one of the toughest regions. Earning a bid is crucial for Siege's Nationals aspirations, as getting past Brute Squad or the 6ixers is unlikely.
Kansas City Wicked is another team knocking on the door of Nationals. While they may not have the same pedigree as other teams on this list, they have an opportunity to take control of their fate in a shaky North Central region. Their two in-region rivals, Minneapolis Pop and Madison Heist, have fairly new rosters filled with unproven talent. Even if Wicked cannot do enough to earn themselves a bid during the regular season, it's entirely possible that they can storm into Nationals with a strong postseason performance.
Washington DC Grit had their best season as a program in 2018, with wins over teams like Showdown, Siege, and Schwa, but came just shy of earning a bid and couldn't get past Scandal for a chance at Nationals. If they can carry that momentum into 2019, it's not inconceivable that they could earn a bid themselves this year. Unfortunately, their 2019 roster is significantly different from the one that performed so well by the end of last season. For Grit to go the distance, they have to enter the season with their weapons drawn. It's not enough for them to grow their cohesion as a team in anticipation of the postseason — a refueled Scandal awaits them there. Still, Grit has shown themselves to be a Nationals caliber team before, so they've earned their spot on this list.
The Premier Ultimate League Impact
Everyone expected Medellin Revolution, Atlanta Soul, and the Raleigh Radiance to perform well in the inaugural season of the Premier Ultimate League. But one surprisingly strong team came out of left field — New York Gridlock, with a star-studded roster of athletes from all over the Northeast. And while most people expected Revolution to win, many were pleasantly surprised by the parity the semifinals put on display. The two overtime games thrilled the crowd both in person and online, and all four teams left Championship Weekend feeling quite accomplished.
While many semi-pro teams over the years have correlated strongly with the quality of their closest club team,2 this is the first season with a women's semi-pro league. As a result, it is unclear how the PUL will impact the many women's club teams who were fully or tangentially involved. Will the benefits of additional time working together, integrating new parts, testing new strategies, and seeing solid competition outweigh the costs of additional wear, tear, and mental and emotional expenditures?
For areas historically lacking a strong women's club presence, the PUL gave many near-elite level athletes a chance to play on the same team with people from elite club teams against whom they would normally be competing. As a result, the PUL may serve as a rising tide that lifts all boats around its eight American cities. That change may be most felt in places like Nashville and Indianapolis. This tide doesn't just affect current seasoned female athletes, either — by increasing visibility of women's ultimate and running youth clinics, PUL hopes to increase the depth of the talent pool in these areas over time.
Players Who Could Define This Season
Claire Desmond (San Francisco Fury)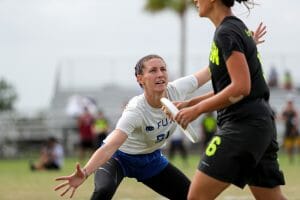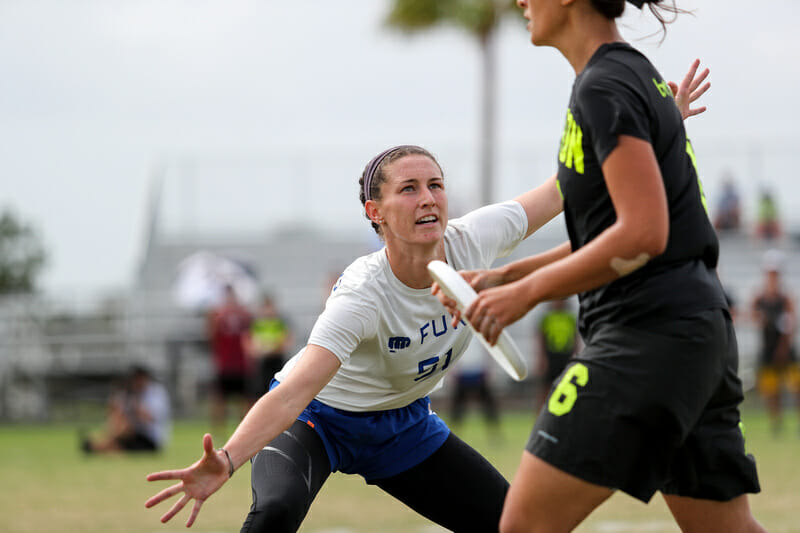 Claire Desmond is returning to San Francisco Fury, and if you're not excited about that, you're just wrong. This star athlete has represented the U.S. in multiple international tournaments year after year, including on the 2013 U243 Women's National Team, the 2015 Beach Mixed National Team, and the 2016 U.S. Women's National Team. Most recently, she was part of the mixed team that won the 2017 World Games. She is an incredible handler defender, a dangerous thrower, and an intelligent player thanks to her years of elite women's and mixed ultimate. Her primary role as a cutter is where she is one of the division's top threats, and will be almost guaranteed to fit right back in to Fury's system.
During Desmond's most recent season on Fury, San Francisco toppled Brute Squad to win the 2017 national championship and Desmond took home second runner-up honors for Player of the Year and Defensive Player of the Year. She had been competing with them since 2011 — winning two additional National Championships with the team while being selected to three All-Club First Teams and one Second Team — but this past year she instead chose to compete with Washington D.C. Space Heater, an all-star mixed team in its inaugural season. The team made it all the way to the semifinals of Club Nationals but lost to Philadelphia AMP in a very close game. Make no mistake: Desmond was a big part of the first-year team's success and they'll be worse for losing her. But Space Heater's loss is Fury's gain. San Francisco is already full of world-renowned athletes, but Desmond is truly one of the game's current greats and will be a welcome addition to her old squad.
Ronnie Eder (Denver Molly Brown)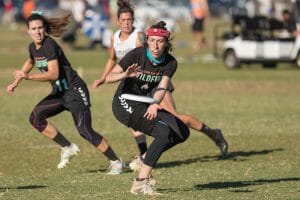 It's a new day dawning for Molly Brown, and with it comes a host of new players. A staggering 11 players from last year's semifinalist team will not be returning to Denver's premier squad, leaving plenty of room for new additions to step up. And while many of these rookies have the potential to be explosive contributors for Molly Brown, it's likely that the most reliable player from the pack will be the one with the most impact. Ronnie Eder doesn't have an oversized personality or ultimate lineage that spans multiple Worlds appearances, but she was quietly one of the best cutters in the women's division last season for San Diego Wildfire. She shines by constantly being in the right place at the right time, and that is a superpower in a sport where timing is so crucial. In some ways, it's Eder's conservative style of ultimate that makes her such a fit on Molly Brown. Denver's roster already has a number of dynamic playmakers to get the offense going. Eder's coming in as a finisher.
By coupling with Lisa Pitcaithley and Liza Minor downfield, Eder provides Molly Brown with one of the largest, most athletic cutting trios in the division. On any given point, Molly Brown should be able to overpower their opponents, forcing defenses to respect their ability as a deep threat to make huge gains with under cuts. Eder might not make the same flashy plays like others on this list, but she'll be a difference-maker because of what she provides for her team. She has plenty of teammates that can make magic happen with a disc. Eder's role will be to turn that magic into goals. For a team like Molly Brown, that's potentially the most valuable skillset a rookie can provide.
Robyn Fennig (Washington DC Scandal)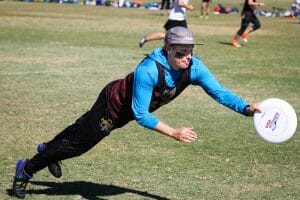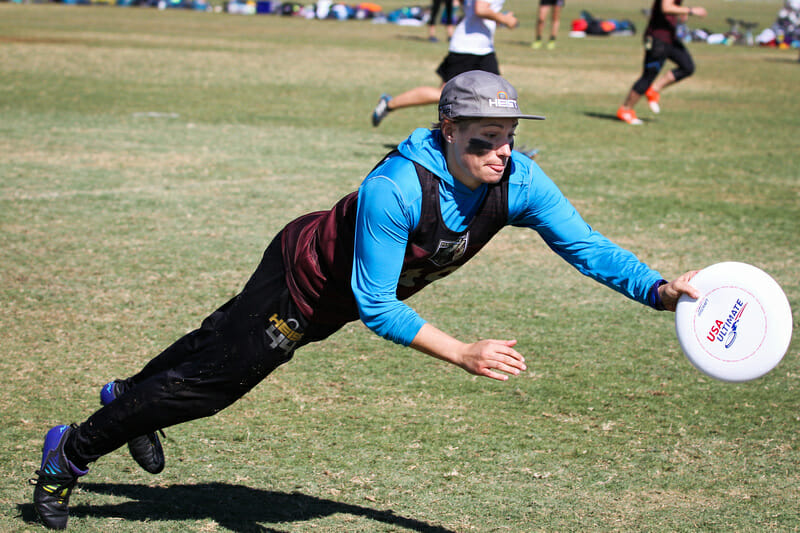 Through a couple of seasons of blistering offensive production now, there have been a lot of questions asked about Fennig's game. Are her massive stat lines the product of her extremely high usage in a Heist offense that was lacking in elite offensive firepower? How should we evaluate her efficiency considering her role and subsequent huge turnover totals?  How would she fit in with one of the best teams in the division where she isn't asked to make all the plays? Could she reshape the division's power structure if she were to join one of them? She's been one of the biggest "what ifs" in the division.
With Fennig's move to Scandal, we will get answers to those questions. Fennig is going to have a great chance of success in Washington. For one, she brings fellow Heist standout Austin Prucha with her for some helpful familiarity. And she'll be playing for a coach in Alex Ghesquiere that has a long, proven history of reshaping winning strategies and working new players into the fold.
Fennig is one of the most talented players in the division, and seeing how she will be implemented into a Scandal team that will have high hopes of making their first national semifinals appearance since 2014 is fascinating. Will the Scandal offense be built around her elite playmaking ability, or will she be a super-powered cog in a more structured system? The way her integration develops will play a massive role in whether Scandal is able to break up the top four that's reigned over the sport for the last several seasons.
Paige Soper (Columbus Rival)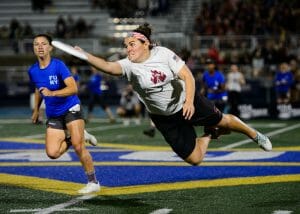 Rival's Sophie Knowles has been one of the game's brightest and fastest rising stars of the last couple of seasons. With Soper's move from Seattle to Columbus, Knowles gets not only a fellow star to help lead the show, but seemingly a perfect complement to the strengths of her own game. Soper is the type of handler that can completely anchor an offense, freeing a player like Knowles to go downfield where she can demolish teams in the air. Any team is always going to be ecstatic to take on a player of Soper's talent, but her potential fit with the other players on the roster make it a particularly intriguing addition. Remember the last time Soper was part of a dynamic duo from Ohio? She won a college championship and Ultiworld Player of the Year honors while her teammate, Cassie Swafford, won the Callahan.
It'll also be compelling to see Soper get to take on a more high usage role in an offense. With Riot, Soper was part of a rotation of talented handlers, but with Rival, she'll be able to be a true ace that the offense is based around. If her obvious talent translates to that kind of role, then Rival could be in for an uptick in success this season. With now a second superstar to take some of the responsibility off of Knowles' shoulders, as well as bring out the best in her game, Soper feels like the perfect player to make Rival a legit quarterfinals contender.
Kaede Yoshida (Seattle Riot)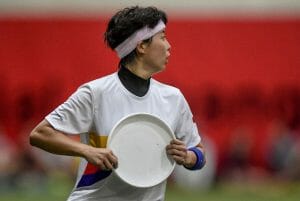 Kaede Yoshida is deserving of all the hype that has surrounded her since being announced on Riot's roster, and yet, she's still a relative unknown to many in the US. Yoshida's perhaps most well-known for her performance with the Japanese U24 national team in Perth last January, where she showcased all the tools necessary to be considered an elite player. While it was her offense that helped carry Team Japan for most of their campaign, Yoshida is an explosive defender, and is unafraid of any assignment.
Even if Riot only gets Yoshida for part of the Series, her contribution will be invaluable. With how often the top teams square off against each other, having a wild card may be the differentiating factor for Seattle in the games that matter. Make no mistake, if Riot figures out how best to use her, Yoshida could be the best weapon they have.
Regional Previews
Great Lakes
The Great Lakes region will likely follow a similar storyline to years past, with two teams that dominate the rest and battle it out continuously against each other: Chicago Nemesis and Columbus Rival. Since Rival's formation in 2015, these teams have continued to meet in the regional final and both earned bids Nationals the past two years. Nemesis is starting the season with a lot less roster turnover (four departures, six additions), but with a big loss in Sara Miller. Rival, on the other hand, lost eleven players and added thirteen new faces, including Paige Soper. How all this will contribute to each team's success later in the season is yet to be seen, but you can certainly count on some competitive games between these two squads as they battle it out to be the top Great Lakes region team.
Aiming to break up the rivalry is the typical cast of Chicago clubs, like Dish and Helix, but perhaps Indy Rogue has the highest ceiling. Kristin Dudley and Jamie Smets were regulars for the Red in Premier Ultimate League play, with the speedy Smets showing off an ability to generate goals. While the loss of Jackie Lai will have an adverse effect, Rogue did go 6-0 at SCINNY in June and could take a step forward from their fourth place finish at Regionals last year.
Bid Prediction: 2
Mid-Atlantic
Since Scandal's first trip to Nationals in 2009, they have maintained a stranglehold on the Mid-Atlantic, and there is no indication that 2019 will be any different. Despite the turnover of some of many of the Scandal stalwarts, the team stands to benefit significantly from the addition of Robyn Fennig, Carolyn Normile, and others.
After Scandal, the question for DC Grit — who has ascended to take the runner-up position in the region in 2018 — focuses less on where they'll finish and more around if their regular season can earn the region a second bid. The Mid-Atlantic has earned a second ticket on and off in years past with Philadelphia Green and Pittsburgh Hot Metal, and Grit has a goal of finishing on the right side of the bid bubble this year with key returners and an infusion of talent from Anne Price (Scandal), Molly Barlow (Rival), Kristie Kelly (PUL's NY Gridlock), and Shirlee Wohl (Siege).
Deeper into the region, Virginia Rebellion retains a powerful core of athletic players and introduces young talent from the top D-III teams in the region, the University of Richmond and University of Mary Washington. Allie Wallace and Hana Choi, two of the captains and critical leaders on the field, will look to hold the gains that Rebellion has steadily made in the last few years. This may be entirely possible, as the teams from Pennsylvania have restructured. Eliza Furnace has added former Hot Metal players to their roster, potentially complicating the battle for supremacy out of Pittsburgh, while Green Means Go folded, leaving Broad City behind to rep Philadelphia. Returning teams Pine Baroness (New Jersey) and Suffrage (D.C.) will welcome new teams Agency (DC), Pick Up Lines (DC) and Oligarchy (Virginia Beach) to the growing Mid-Atlantic region.
Bid Prediction: 1
North Central
It's hard to set any expectations for the state of affairs in the North Central. On the one hand, the region earned two bids last season, and both Pop and Heist had respectable regular seasons with a lot of promise from rising stars. On the other hand, both teams have lost major contributors this year and it's hard to predict either team will reach the same heights they did in 2018. This leaves the door open for another team — let's say Wicked — to sneak in and steal the regional crown, if only the women from Kansas hadn't also lost some of their largest impact players. For now, the only certainty is uncertainty. More and more, it's looking like the Wild Wild Midwest.
If you want to crown a preseason favorite, it should still be Madison Heist. The Madison club made the bracket at Nationals in 2018, saw many of their college-age teammates make quarters with Bella Donna this spring, and have owned the region since their inception as a club in 2012. But to address the giant crater in the room, the team has lost their two best players from last year. Without Robyn Fennig and Austin Prucha, this will be a remarkably different Heist team. Fennig was responsible for 40% of their assists last season. Prucha was similarly responsible for goals on the team, accounting for about one of every four Heist scores. Together, those two players were the team's best defenders, too. The loss of their proven stars gives Heist's young talent a chance to prove themselves. Marge Walker will likely become a focal point on offense, and many of her Bella Donna teammates will step up to join her on the big stage. With Amelia Cuarenta injured and relegated to the sideline, there is an obvious dearth of experience on the team, but Rachel Enyeart and Rose Glinka should help balance it out and take on larger roles this season. Make no mistake, the 2019 version of Heist will be the youngest iteration of the team since its formation.
Heist's big step back should have been the perfect gift for Minneapolis Pop, if they weren't also going through some roster upheaval. The departures of Becca Ludford, Emma Piorier, Chip Chang, and Jenny Gaynor are huge losses. In that group was their 2018 lead goal scorer, best defender, and star handler. Luckily for Minneapolis, they've always been a young team and have navigated large roster turnover in the past. If they can get their chemistry on track, they have a chance to dethrone Heist, a goal that has been years in the making.
Kansas City Wicked is in a similarly tough spot after losing Clare Frantz, but they may be the most stable of the bunch. By returning Christina Baker, Taylor Simpson, Ashley Newson, and Stephanie Rupp, the Kansas City team has all the tools to take on their in-region rivals this season. In 2018, Wicked finished with a 20-6 record, if they can build off that, there's a chance this is finally their season to shine.
Unfortunately for all three teams, the chances are high that they'll all be fighting over a single bid. The region as a whole has lost a considerable amount of talent, and there are plenty of other teams poised to take a shot at Nationals glory. It's all up in the air for the North Central but promises to be very entertaining regardless.
Bid Prediction: 1
Northeast
The Northeast Region is home to one of the most dominant forces in women's ultimate, Boston Brute Squad, meaning the first bid in this region is all but guaranteed. Toronto 6ixers are continuing to perform well and have become a reliable denizen of the Nationals bracket, so you can expect to see them secure a bid again this year, too. The question at the top is whether 6ixers can close the gap between themselves and Boston this year. It's certainly a tall order, with Brute Squad owning a perfect record across all previous matchups, but last month at the NY Warm Up, Toronto played the regional juggernaut to within three. The depth on the 6ixers roster is continuing to develop and they're poised to make a move this year, perhaps finally getting a W against the elite Boston squad.
Of course, these are not the only two strong teams in this region and the real drama in the Northeast surrounds the quest for a third bid. Siege, Iris, and BENT are all programs that can compete at a high level but have little hope of unseating the two powers above them in the regional pecking order. Siege started the season by going undefeated at Boston Invite — including wins over both of their closest regional rivals — proving that bringing in a huge selection of rookies won't hinder their ability to perform early on. Quebec Iris and New York BENT have both done some major roster shuffling with a lot of new faces, though the Canadians came away with victory in their first meeting of 2019. While these three continue to battle intensely against each other, the trio really needs to focus on securing victories against other bid-hungry fringe teams from other regions if they want to avoid the fate of once again all falling just short of the bid cutoff.
Bid Prediction: 2
Northwest
Seattle Riot is coming off of a World Championship and another semifinals appearance at Club Nationals, and the talented team is adding even more firepower with the recruitment of young international stars Valeria Cardenas and Kaede Yoshida. They have started the summer hot, rolling all comers including reigning national champions Fury, at their first sanctioned tournament of 2019, Eugene Summer Solstice. Even as they work in their new talent, expect Seattle to once again claim the region convincingly.
The Northwest's second tier of Portland Schwa and Vancouver Traffic has, at times, proven capable of at least hanging tight with the world champs. Last year, Schwa stayed within three in an early-season matchup as Riot geared up for WUCC, while Traffic played Riot to double game point in a Regionals semifinal. Those games will certainly be on everyone's minds should they face off again at the end of this season in the fight to go to Nationals. Neither Portland nor Vancouver has failed to qualify for Nationals since 2011 and both have the talent and experience to earn and retain a Nationals bid in 2019. That said, Vancouver's tournament schedule this summer is perilously light on top flight competition, potentially jeopardizing their ability to maintain a spot inside the bid cutoff.
Battling in search of a fourth bid — and desperately hoping Traffic also holds up their end of the bargain — are a crew of teams nipping at their heels. Seattle Underground is the early season favorite of that group: they have the strongest history, added Nora Landri (Riot), Jillian Goodreau (Riot), and Grace Noah (Seattle Mixtape), and they gave Riot a close game in two tries at Solstice while beating Traffic. After a disappointing end to 2018, they could be the bounceback team this year. Salt Lake City Elevate have developed well over the past couple seasons under the tutelage of coach Bryce Merrill and came within a point of upsetting Traffic last fall at Regionals, but a 1-6 performance at Solstice will dampen expectations of this being the year they break through. Vancouver Sneaky House Hippos is another second team that could find themselves in the mix if a fourth bid were attained, though they too have slim odds of pulling off enough consecutive upsets to find their way to Nationals.
Bid Prediction: 3
South Central
Denver Molly Brown, despite their roster turnover, is the unquestioned top team in the region. They survived a real scare in what was the de facto game-to-go against Showdown last year, but Molly was one of the top four teams in the division all season, while Showdown ended up on the outside of the bid cutoff and Nationals for the first time since the formation of the South Central Region. Showdown should be back in the conversation for a Nationals bid again, but may not get a better chance to knock off Denver than they scuffled last year.
The question for Molly Brown is where they will fall in the national hierarchy. Will they be able to hold onto their spot as a regular semifinalist, or will they slide back behind the likes of Washington DC Scandal and Toronto 6ixers? They're a team whose season could play out in a lot of different ways, and will be one of the more interesting teams to follow this season.
The battle for Texas Showdown is all about getting back to Nationals. The roster is largely the same as last year, with the departures of some role players and the addition of some Texas Melee players making up the majority of changes. But Sharon Tsao, who was a standout for the PUL's Austin Torch, could add some real firepower to the team's offense. Showdown will likely perform close to the bid cutoff once again, and in a battle for a bid towards the end of the season, but with the roster stability and potential star power from Tsao, they should have a good chance of making it back to the big dance.
It's tough to see any other team making a real push to disrupt the top two, but Small Batch, the number two team out of Denver, was in our Top 25 for much of last season, and projects to be once again. Their 2-6 record at Eugene Summer Solstice, despite the fact that most of those losses came to Nationals mainstays, doesn't inspire much confidence in them being ready to take a leap up this season, though.
Bid Prediction: 2
Southeast
Atlanta Ozone has won the Southeast region five seasons running but lost some of their most important contributors from recent seasons — Kate Travaglini and Paula Seville — this offseason. They also see the departure of a number of younger players —half of their additions from last season didn't return. Ozone won't be in danger of missing out on Nationals, but as a team that feels like they're in a state of transition, their two year run of making quarterfinals is definitely in question.
Raleigh Phoenix, on the other hand, is on the rise. After putting together a strong regular season in 2018, Phoenix went to Nationals as a borderline quarters contender. Their Nationals campaign didn't go as they'd hoped — they went 2-5 on the weekend — but their additions should make them stronger candidates for a quarterfinals appearance this year. The North Carolina club has added a number of key players such as Lindsay Soo and Lyra Olson — both now captains — along with Katie Backus, Claire Revere, and Bridget Mizener. Beyond their additions, Phoenix has given heavy playing time to a lot of young players over the last couple of seasons, and they should be expected to improve as well. Chief among them is Anne Worth, following up strong college and PUL seasons. Either way, the stronger roster for Phoenix and depleted roster for Ozone sets up for a potential power struggle at the top of the region.
Below the top two, Florida Tabby Rosa has bolstered their status as the third team in the region. Ozone's loss in Travaglini is Tabby's gain, and the addition of a true star player gives Florida's top squad a real spark. It's unlikely that they'll earn a third bid for the region, but they'll have their strongest chance of pulling off an upset of the top two at Regionals since they did it in 2014, back when Travaglini was on the roster n her first go with the team.
Bid Prediction: 2
Southwest
Home to the two-time defending national champs, another squad that has firmly ensconced themselves in the division's top 10, and a couple challengers constantly battling to earn a third bid and beat out each other, it would be easy to look at the Southwest as predictably stratified. But there's reason to believe that the gaps may be narrowing.
Let's get this out of the way: yes, San Francisco Fury will still certainly earn and take the first bid for themselves. Also, there's no reason to believe that San Francisco Nightlock, fresh with an influx of young talent from the mixed division, won't be heavy favorites to earn and keep a second bid, beating back Wildfire and LOL to do so. That isn't to say that none of the match-ups will be exciting. San Diego Wildfire had lots of roster turnover this year, but they retained a core of talented handlers and their contingent from UCSD are coming off a College Championship together – watch out for the individual impacts that players such as Dena Elimelech can have when the games are close.
Additionally, while Oakland LOL being a fun team full of veteran talent is nothing new, this season's rumor has it that they are attempting to take practices and tournaments more seriously.  Having played neck-and-neck with each other splitting two early season matchups, it is impossible to guarantee that either of the two will win a third bid for the Southwest region this early in the season. But if they play to their potential, they may both manage tighter games with Nightlock and potentially push for not just a third but maybe even a fourth bid for the region.
For teams outside of those four, the outlook seems relatively bleak. Very few teams have ever beaten out Fury for a regional bid, and Nightlock has become more and more consistent each season. The Bay Area duo should have bids one and two safely under control. LOL is rich with talent and Wildfire has the athleticism to take down any teams that show a sign of inconsistency or weakness. The battle to earn and then win a third bid is sure to be a ferocious one.
Bid Prediction: 3
Follow along with all the action in the 2019 club season with an Ultiworld subscription!
---
Save a national quarterfinal upset of Riot at the hands of Atlanta Ozone in 2017. ↩

San Francisco FlameThrowers & Revolver in 2017, New York Empire & PoNY in 2018 ↩

Then U23 ↩