With the nation's top young players away at U24 Worlds, older generations gathered for a midsummer national championship event.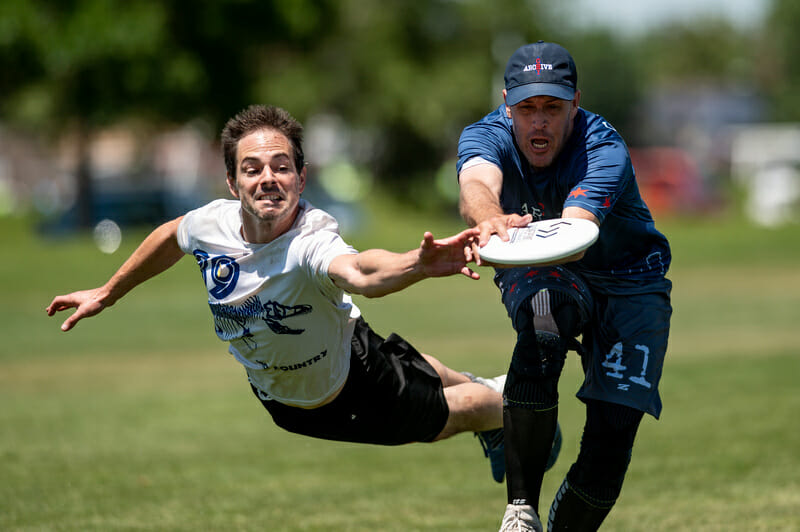 During the 2019 summer and fall season, we will publish a bite-sized weekly recap of the action across the Club Division. This will serve as a supplement to our standard tournament reporting and will offer a high-level look at the latest happenings and the biggest stories of the week. We go through the annals of score reporter so you don't have to!
Want your tournament listed here? Submit a recap of what happened right here. 
—
The club scene was quiet this weekend with only a handful of tournaments across the country and no major Triple Crown Tour events. As we enter the hottest weeks of the summer, high temperatures were a factor at several of these tournaments but teams persevered through the adverse conditions. Let's run down all the action, though we start with a special section for a division that doesn't often get press on this site.
Master's Division
The 2019 Masters Championships were held this past weekend in Aurora, CO with teams competing across six separate divisions. With national titles on the line as well as the right to represent the US as a national team at the World Masters Ultimate Championships1 in Gold Coast, Australia next fall, many of the game's legends from previous generations took to the fields to renew old rivalries.
Men's Division
No top men's teams competed this weekend, but plenty of mid-level teams attended regional tournaments that will likely have more to say about Sectional bids to Regionals than bids to Nationals.
In Glen Allen, VA at Stonewalled, #23 Virginia Vault took the top spot over Brooklyn Blueprint 13-11 in their only close game of the weekend for the ranked new squad. New Boston team Lantern took third.
The Royal Experience brought together eleven teams in Kansas City, MO, where things did not follow the original seedings whatsoever — top seeded St. Louis CaSTLe went 2-4 on the weekend, falling in the quarters to Saint Paul Swans, the eventual winners who beat Omaha Scythe 15-13 in the final. No.5 seed Fayetteville Dreadnought locked up third place with a tight win over Des Moines DeMo.
Quick Hits:
Club Terminus in East Point, GA, also saw the no.1 seed, Tennessee Tanasi, fall early in the quarters, opening the bracket for a lower seed to sneak their way in. The final saw no.2 Atlanta Bullet crush no.5 Greenville Space Cowboys. Youth outfit Atlanta ATLiens took the bronze as they tune up for YCCs.
Vacationland attracted teams from New England and one international squad, Halifax Madhouse, to compete in Portland, Maine. Temperatures topped out at over 100°F leading to shortened games and mandatory heat breaks. Needham Deathsquad was victorious over Southington Colt in the final, while Somerville BAG defeated the home team Portland Red Tide for third.
Mixed Division
Mixed teams gathered for several local tournaments, many of which included a lot of seed shuffling. At Club Terminus, #18 Florida Weird couldn't be touched, stomping their way through every matchup, culminating in an easy 13-3 win in the final over Chicago Shakedown.
On the West Coast, 24 teams converged on San Francisco for Revolution with hometown team San Francisco Classy taking the top spot. Phoenix Pivot held seed and came second, while previously-ranked Los Angeles Lotus finished third but tumbled out of the top 25 after suffering losses to both finalists. In  tournament format with tiered pools, San Diego Burrito was the only program from a lower to successfully advance to the top 8 championship bracket, after entering the tournament seeded 14th.
Quick Hits:
Women's Division
Top women's teams rested this weekend in preparation for the long season ahead as there was very little action in this division. Club Terminus hosted five teams who each finished in line with their original seeding. Birmingham Steel easily plowed through the competition, while Houston Crush City continues to make a name for itself and finished second. New Orleans Queen Cake rounded out the podium with a tight win over Huntsville Laika.
Looking Ahead
Looking forward, the East installment of the Select Flight Invite series is happening in Columbus, Ohio this weekend. Mens, Womens, and Mixed teams will gather, some for their second SFI this month, to show their strength at the midway point of the season and to jockey for algorithm points in the all-important race for strength bids.
In the women's division, #9 Columbus Rival is the hometown favorite as the no. 1 seed, facing a field of Nationals hopefuls, many of whom harbor dreams of absconding from the regular season with a strength bid.
In the men's division, #8 Toronto GOAT is the no. 2 seed behind #10 Vancouver Furious George, but is coming off of an impressive Pro-Elite Challenge. In addition to the Canadian powers, #13 Pittsburgh Temper is set to make their 2019 debut, while #22 Cleveland Smokestack already won Select Flight Invite West.
In the mixed division, #11 Boston Wild Card and #14 Columbus Cocktails at the top clubs entering the tournament. The rest of the field is composed of teams on the fringe of the Nationals picture, giving them a prime stage to breakout. Southeast squads like #19 Atlanta Bucket and #20 Charlotte Storm could fit the bill.
Elsewhere:
PB&J in Bryan, TX is the only other two-day tournament on the docket. #25 Houston H.I.P.  is the top seed in the men's division while Austin Waterloo occupies the same slot in the mixed division. Nearly all of the 16 teams are from within the state, primarily Austin, so expect a lot of familiarity.
Four men's teams are meeting up for a little skirmish at Angel City Shootout. Santa Barbara Sundowners, San Diego Streetgang, Los Angeles DOGGPOUND, and Fullerton OC Crows each have three games slated.
Not far away, three women's team have an engagement of their own at The Friend Zone. Los Angeles Viva, Bay Area Ultraviolet, and Bay Area Tempo will get some sanctioned reps in.
---
Formerly held in conjunction with WUGC, but split out for the first time in order to accommodate two new divisions. ↩