What might be the most popular offensive structure this season in elite mixed division play?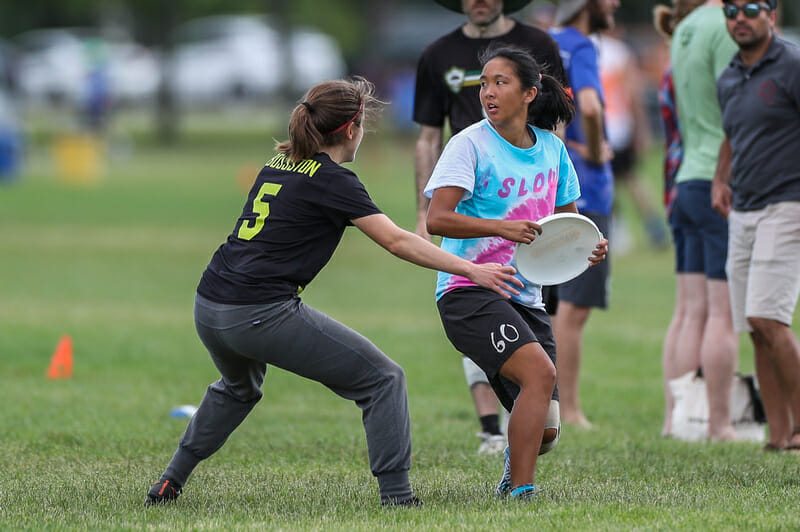 Ultiworld's reporting on the Club Mixed division is presented by Universe Point cleats. All opinions are those of the authors. Please support the brands that make Ultiworld possible and shop at Universe Point!
2018 was the year of the sidestack isolation play in the mixed division, and rightly so. It is an effective way to start a team's offense, and with as many dynamic cutters as there are in the mixed division, it makes total sense to give them as much room as possible to work with. And honestly, who wouldn't want to see players like Mac Taylor and Lexi Zalk have room to run? Aside from their defenders, of course.
That being said, the mixed division went overboard in its adoption of the sidestack isolation offense as the weapon of choice last year. By the time Nationals rolled around, defenses were keyed in on those isolation plays and were adept at shutting them down. Combinations of poachers in the open space, active flat marks shading towards the stack, and help defenders off of the back of the stack when initiating cuts started from the middle all help shut down sidestack pull plays. It was clear that something needed to give.
You won't find a better testing ground than the Pro-Elite Challenge. It's a tournament that lands early enough in the year to not have a huge bearing on the bid picture, but still draws many of the top teams from around the country. In other words, the right place to workshop some new offenses.
Shifting Offensive Strategy In the Mixed Division is only available to Ultiworld Subscribers
Already have a subscription? Log in
Whether you visit Ultiworld for our reporting, our podcasts, or our video coverage, you can help us continue to provide high quality content with a subscription. By becoming a subscriber, not only do you receive benefits like exclusive articles and full article RSS feeds, you also help fund all of Ultiworld's coverage in general. We appreciate your support!