Some impressive teams didn't even make quarters.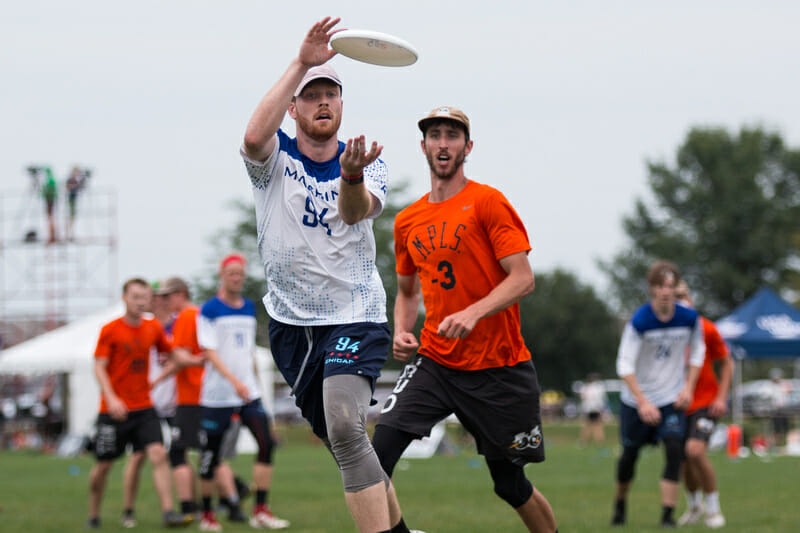 BLAINE, Minn. — The first day of the US Open delivered the top tier matchups that we've come to expect at the mid-season tournament. The new abbreviated pool play format meant that every team made the bracket, and just four of the twelve teams were eliminated from the championship in a late-afternoon pre-quarterfinal round. That number includes Chicago Machine, who found themselves out of the tournament after they ended up on the wrong end of two very close games. Sockeye and Truck Stop, so far, are the same world-beaters we saw last month in Colorado (more writing on them coming in the Day 2 recap tomorrow). In the other major developments of the day, Ring of Fire looked good (and then bad), PoNY's early struggles continued, and the new tournament formatting led to potential administrative drama in one of the pools.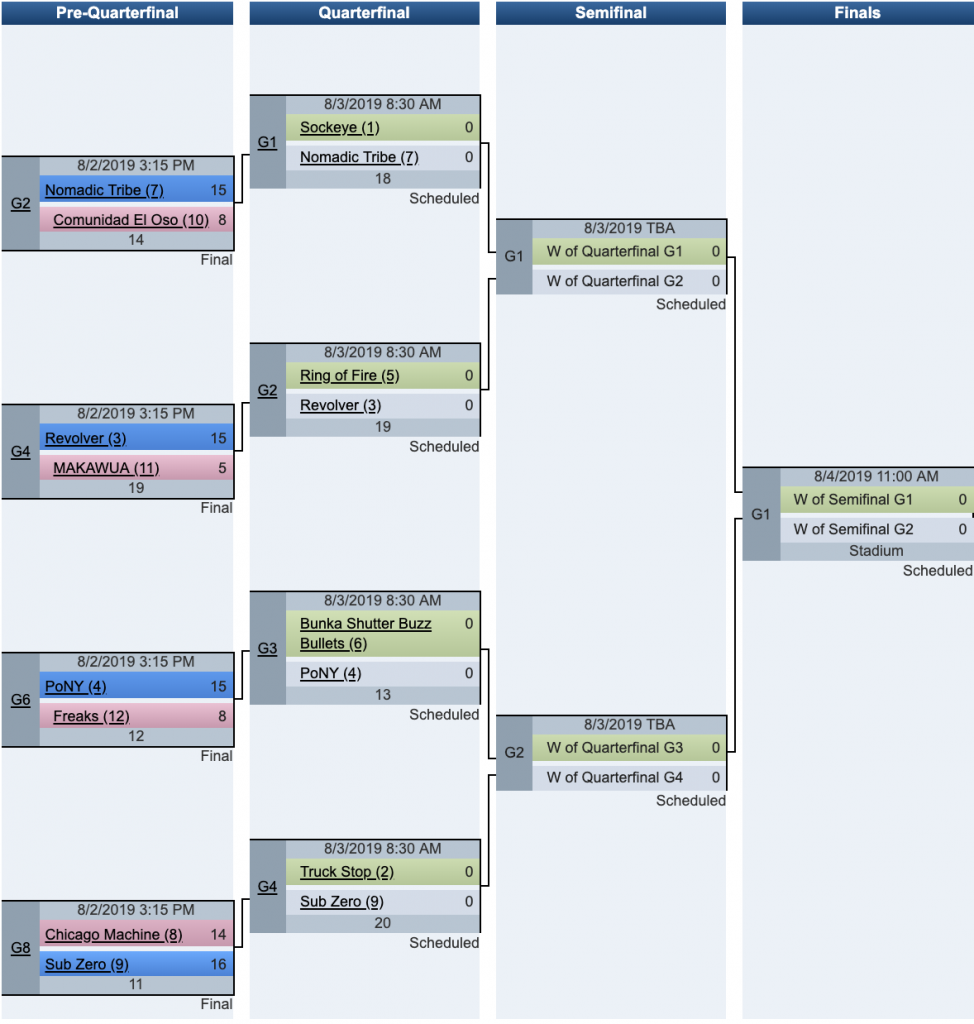 Impressive, Eliminated Machine
#5 Chicago Machine took lumps and turned heads with an impressive performance that, unfortunately for them, wasn't quite solid enough to overcome the efforts of two other strong sides. First, #1 Seattle Sockeye broke them on double game point in the game that would decide the pool. Then, in the prequarters, they faced a #10 Minneapolis Sub Zero looking to turn the tables on the team that had eliminated them in the same round a few weeks ago at Pro-Elite Challenge.
The game against Sub was heavy on good offense and light on breaks, as Machine rode the play of transfers Zane Rankin, Joe White, and Paul Arters to a mostly clean set of offensive possessions. Machine looked good all the way around, but White, in particular, stood out. The rising college senior got just what he wanted from the Sub Zero defense. White, a complete package of drive, speed, length, and throwing prowess, is poised to break out as one of the best players in club as early as this season. In an effective Machine offense, he was the most effective piece.
Effective: yes; perfect: no. With Sub Zero playing an offensive game to match Machine's, their few miscues proved costly. White dropped a pass in the end zone that would have tied the score at 15-15, and Sub Zero's ensuing counter won the game.
As good as the offense was, a few breaks to give them some breathing room might have made all the difference. Machine put some pressure on Sub Zero, but they didn't end up with very many chances for blocks. "People were over-pursuing to some not dangerous spaces. We'd have great downfield pressure and then get beat upline," said coach Andy Nielsen, who also credited the precision of Sub Zero's throws. When they got a couple of opportunities late, luck got in their way: Alex Evangelides accidentally fouled Nick Vogt in pursuit of a dying hammer, and Nate Goff got a big piece of a deep shot, but ended up tipping it 10 yards farther down the field, where it found Vogt in the end zone.
Shortfalls or no, it was not a bad day at all for the men from Chicago. Their reward? More reps tomorrow in consolation play.
For Ring of Fire, Good Debut, Late Stumble
#6 Raleigh Ring of Fire, idle this season up until today, impressed in their first game of the summer — a convincing 14-10 defeat of New York PoNY that effectively secured Pool D for them from the jump. Noah Saul, Eric Taylor, and Henry Fisher were excellent on an offensive line that looks like it could prove full of matchup problems. They were hucking and resetting like a mid-season unit, and they only rarely had to lean on superstar Jack Williams to make a play.
But Ring made their bones on defense. It was a coordinated and imposing effort. They forced PoNY into uncomfortable reset schemes, put pressure on deep shots, and even managed to shut down Chris Kocher in isolation a couple of times. Matt Gouchoe-Hanas and Sol Yanuck earned blocks and led the charge after turnovers with confidence. Rumor has it that Ring has hardly practiced so far in 2019 — if that's true, their first effort couldn't have gone better.
They paid for their early success in their late seeding crossover game against #2 Washington DC Truck Stop, missing several passes on miscommunication and failing to get many good looks at blocks. It was a poor performance with an asterisk: this Ring of Fire team is still getting going. All the pieces are there, however, for them to put together more complete days of play when the games count more later in the season.
A Wacky Day in Pool C
Three of the best-performing teams on Day 1 were grouped together in Pool C, which resulted in a tight three-way tie. #4 San Francisco Revolver beat Sub Zero 15-11, then Tokyo Buzz Bullets dispatched Revolver by the same score. Sub Zero completed the triangle with a 15-13 win over the Buzz Bullets. The new tournament format nearly left the results in a terrible mess.
From the tournament captains' packet:
"If the first two games of any three-team pool end with the exact same score (but different winners), one additional point will be played after the second game. The pulling team and the sides should be the same as at the beginning of the second half. This point will only count in the case of an otherwise unbreakable three-way tie, where each game results in the exact same score."
Revolver captain Sawyer Thompson suddenly remembered this rule after their loss to Buzz Bullets and informed an observer that the teams had to play another point. Revolver held and kept that "parenthetical" point in their back pocket in case Sub finished out a perfect three way tie with a 15-11 win.
Outside of the tiebreak dilemma, the ultimate in Pool C was top-notch. Revolver, still running three lines in rotation like they did at Pro-Elite Challenge, easily handled Sub Zero in the first round. 2019 addition Adam Rees is settling in well with his new team, showcasing his speed, his hops, and his good reads on downfield cutting progressions. Nick Stuart was a force on defense — but he was only the brightest star in a bright sky. Constant downfield pressure from Revolver bullied a number of early-possession turnover from Sub Zero.
Buzz Bullets ran their typically unique defensive sets and managed to play good offense while weathering a torrent of (justified) travel calls. The defensive switching systems they run are a sight to behold — they execute many more switches, a greater variety of switches, and much faster switches than the most sophisticated North American teams. They cover so much more of the field as a unit than any of them could cover individually. The coverage forces a lot of high-stall throws, and turnovers are the logical conclusion. Daredevil thrower Masashi Kurono is a big factor in converting them into breaks. It was enough to take down Revolver comfortably in pool play and push Sockeye to the brink in the crossover round.
Sub Zero, however, beat them with a blend of precision throwing and offensive focus. It starts with duo Ryan Osgar and Nick Simonelli — the Sub Zero offense depends on them right now. Through today's three games, Osgar tallied 14 assists and seven goals, and Simonelli put up seven and seven. But those two don't own the dynamic: Nick Vogt proved effective as a deep cutter, as well as flashing a lot of technical footwork at the front of the stack or in tight strike spaces. Kevin Brown can hammer his way out of any kind of trouble.
They aren't as strong on defense as they could be, but when they get turns they are ruthless. Codi Wood and Tristan Van de Moortele continue to keep possession and throw goals with efficiency. Cole Jurek, meanwhile, adds a vertical element to the attack that they would otherwise lack — his hucks were crucial to their prequarterfinal win over Machine. With that win, all three of the Pool C teams push through to quarters in the morning.
PoNY Struggle to Get Back on the Horse
PoNY's new pink-numbered jerseys look great, full-stop. But if they're going to look great on ESPN2 on Sunday, they will need to play a lot better. The offense struggled against Ring of Fire's defensive schemes even when it worked: a late-stall blade down the sideline isn't going to hit often enough to make it a pillar of their strategy. Jimmy Mickle and Chris Kocher, so dominant last season, have not found the same magic yet in 2019. This year's problems are not limited to those two, just as the success of 2018 was not all their doing. The mistakes are more general — drops, overthrows, underthrows, blown switches, floaty resets — raining down like a series of plagues.
The good news for PoNY is that they're still playing in quarters tomorrow, and they still have some of the best players in the world (though a few, including Ben Jagt, are still out until the end of the AUDL season). Sean Keegan might be playing the best ultimate of his life, Sam Little looks healthy and dangerous, and Grant Lindsley is a dream of a receiver. They should be the best. Perhaps tomorrow will be the day they decide to play like it.