Brute Squad won the U.S. Open with another impressive performance against top competition.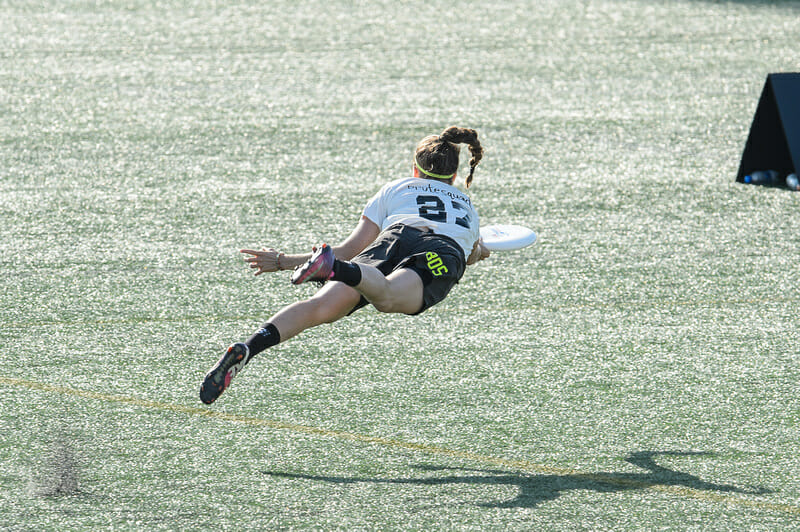 BLAINE, Minn. — #1 Boston Brute Squad took home their second straight U.S. Open title, defeating the 2017 champion, Medellin Revolution, 15-13 on Sunday morning. Both teams had three breaks apiece until the final point of the game, when Brute Squad got one final break to avoid double game point. It was a remarkably well played game, with just 15 turnovers between the two sides, despite the game featuring two of the best, most athletic defenses in the sport. Both teams' offenses showed they could take it to those elite defenses, but it was Brute Squad that managed to have fewer decisive turnovers.
The offenses, though, did take a bit to find their rhythm. After a one turnover hold, Brute Squad then got the first break of the game on their first defensive point. Valeria Cardenas had a huck turnover badly, which was easily blocked in the middle of the field. Julianna Werffeli dropped a backhand in beyond a pair of defenders, finding Kami Groom in the end zone for the goal to break.
The two sides then exchanged clean holds in quick succession as the offenses settled in. But it was Revolution who again suffered the next moment of offensive fallibility. Sophie Hulbert smothered a throw from Maria Santos at the point of release to give Boston a short field, and good closing speed and balance from Nicole Canning got the Brute D-line their second goal of the game to open up a 5-2 lead.
Revolution did get one of the breaks back before halftime when, at 5-3, Cardenas hucked for Elizabeth Mosquera after a Claudia Tajima turnover. But again the offenses reigned for the rest of the half, with only two more O-line turnovers — both from Brute Squad, and both unpunished by Revolution — before the break.
Boston did push their lead back up to three on the first point of the half, when Yina Cartagena was forced into a high stall turnover, and Angela Zhu dominated in the red zone before finding Groom for her second break score of the game. Again holds were traded, as both decided to resume the offensive clinic. It was Mosquera who brought the offensive dominance to a halt. After a couple of near chase down blocks earlier in the game, Mosquera finally got one, beating Elana Scwham to a Claire Trop forehand huck in the end zone.
Revolution was able to go the full field with it to get back within one at 10-9. Two points later they'd tied it up. Tremendous handler defense forced an errant swing that Amber Sinicrope was unable to save, and more lights out redzone offense from Revolution leveled the score at 12-12. It appeared as though Revolution had generated another break chance on the ensuing point, but Hannah Henkin contested Revolution's claimed stall, and on her second chance, the downfield defenders fell asleep, allowing Henkin to find Cassie Wong with a prayer to the middle of the end zone.
Takeover redzone offense from Maddy Frey put the pressure back on the Brute Squad O-line at 13-13, and this time they did turn it over on another missed huck from Trop. Mosquera was point blocked by Malinowski, who'd already beaten her deep twice for a couple of goals earlier in the contest, and Brute Squad immediately retook possession on the Revolution goal line. Claudia Tajima popped it to Brute's most consistent option offensively on the game, Jessie Grignon Tomas, for the hold.
Needing to hold to earn a double game point, Cartagena was forced into a high stall throw to the end zone that went out the back. Brute Squad worked it into the other red zone, where Groom was also caught with the stall count rising. Her pressured throw went into a highly congested part of the end zone, where it looked like Mosquera would win the disc back in the air. But the traffic underneath her prevented from going up as strong as needed to, and the disc fell its way into being a Brute goal. Manuela Cardenas, Groom's mark, called stall on the play, which Groom contested. Cardenas elected to go to the observer, who ruled no stall, ending the game.
Brute Squad did a tremendous job of limiting the impact of Revolution's star players, not letting any one of them take over the game for significant stretches of the game. Players like Mosquera, Cartagena, and the Cardenas twins all had their moments, but they never were able to generate a stretch of points when it really felt like they were dictating the game's terms. According to Boston head coach Ariel Jackson, that was a result of Brute Squad simply playing well as a team, and sticking to their systems.
"We started to run our systems quite well, and when we're executing at a high level on our systems, that should, in theory, limit the impact of a player," said Jackson. "If we're playing team defense in such a way that we're generating pressure across the board, then that helps. And offensively, if we just move the disc really quickly, that's gonna make it hard to play help D."
The win over Revolution was Boston's second of the weekend, after coming from behind to win 16-15 in pool winner crossover player earlier in the tournament. Brute Squad missed out on playing a few of the teams they are likely to have to contend with for a national championship come October, but Jackson felt the tests they faced against Revolution should still be valuable in the quest for the club's third national title in five years.
"The thing that does matter is that they're a good team and so they're going to challenge us," said Jackson. "So even if they're going to challenge us in a different ways than Riot, Fury, Molly Brown, Scandal, 6ixers, any of them might, it's still gonna make us better…But even so, it's a great team that's going to challenge you and to challenge you to step up on defense to be able to generate the pressure we need to and to execute on offense to possess the disc."
Revolution certainly was able to challenge Brute Squad in those ways, and forced them to play a great game. Brute Squad was able to rise to that challenge, and were able to defend their U.S. Open crown as a result.
All-Tournament Line
Jack Verzuh (Seattle Riot)
Robyn Fennig (Washington DC Scandal)
Jesse Grignon Tomas (Boston Brute Squad)
Claire Desmond (San Francisco Fury)
Yina Cartagena (Medellín Revolution)
Reona Oshima (Tokyo HUCK)
Elana Schwam (Boston Brute Squad)