The Sockeye O-line was never broken.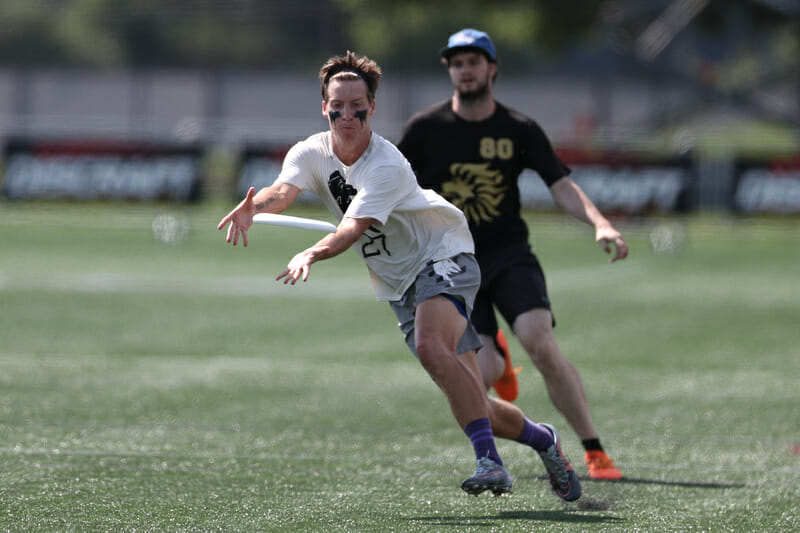 BLAINE, Minn. — #1 Seattle Sockeye defeated #3 New York PoNY 15-12 to win the 2019 US Open Championship and their second straight tournament after taking the crown at the Pro-Elite Challenge in July.
Sockeye, who did not lose a game all weekend, turned in a sterling offensive performance in the final. The Seattle O-line only gave New York the disc on three occasions and did not allow a break.
PoNY's O-line wasn't far off that pace in a game that mostly served as a showcase of elite tier offense. PoNY began the game with a string of five clean, quick holds. They leaned into a strategy of attacking Sockeye deep. With the throws largely well-executed and Sockeye shading the unders, it paid dividends. Hucks came from Grant Lindsley, Alex Thorne, and Sean Keegan — Keegan's upwind hammer for Jimmy Mickle was the pearl of the lot.
Sockeye, playing a much more conservative brand of offense, matched New York point for point during that stretch. They clearly did their homework on PoNY's defense. Operating in a crisp horizontal stack, Seattle showed almost unflinching discipline in throwing to players who were actually open. Time and again, they waited just long enough with the disc for the cunning New York poaches to reveal themselves rather than immediately hitting the first look. "It was extremely well-executed," gushed Sockeye coach Dave Hogan after the game. "We were very willing to make sure what we were throwing was a sure thing and not playing into PoNY's hand."
Jacob Janin was especially effective at opening up spaces with his legs, even after having to re-think cuts against the ever-changing topography of the PoNY defense. He, Matt Russell, and Matt Rehder provided a continually refreshing selection of downfield options. They were no less patient in the red zone. Inside the brick, Simon Montague–operating with an alternating cast that included Phil Murray, Chris Kosednar, and Dylan Freechild–conducted a reset-heavy dominator that New York was unable to check all game.
Sockeye, who had not yet cracked New York's offense, broke on the game's eleventh point when Harper Garvey floated the first downfield pass over Thorne's head. Freechild picked up on the sideline about fifteen yards from PoNY's goal line, and Mickle put on a huge mark. Those of us expecting a red zone set of at least a few throws — myself included — were in for a surprise. Rather than try to create some movement by centering the disc, Freechild decided to challenge Mickle right away. The resulting break backhand was a work of art, an air bounce from just above the turf that rode the sideline without wavering until Trent Dillon chased it down for the goal. Freechild turned back towards Mickle and clapped in celebration.
Unfazed, PoNY used a set play to set up a Mickle-to-Chris Kocher deep connection and reestablish their vertical attack after the previous point's miscue. Sockeye finally played a poor offensive point at 7-7, sending up a huck to no one and missing on a good look to the end zone. The PoNY D-line, however, turned it over on their first throw of both chances — both shocking turfed flicks from Mickle and Lindsley — and Sockeye maintained their one-break lead at halftime.
Both teams began the second half in much the same way they began the first: smart looks on a lot of passes up the field and a disciplined red zone set for Sockeye, a high-percentage huck (Thorne to Mickle) from midfield for PoNY. With Seattle leading 9-8, Freechild made another dazzling play on a long strike cut up the line, this time on the receiving end. A hard step convinced Conrad Schloer to bite under, and Freechild had all the room in the world to catch the pass from Rehder — except that Rehder didn't make it easy on him. The forehand, though it had a slight OI curve, remained out of bounds for its entire flight. Freechild stopped his sprint just inside the sideline, leaned out of bounds, and caught the disc with his toes still down as he fell. His work in the final (3G, 2A) crowned another splendid weekend. It is clear after two 2019 tournaments that Freechild remains one of the quickest and most assertive players in the country. Well-rounded, athletic, and perceptive, he is more than a match for any defender in the game.
Receiving down 10-8, New York erred on a dump attempt, again giving away the disc deep in their own half. Sockeye converted quickly to increase their break advantage to two.
The rest of the game featured more offensive highlights from PoNY, who continued to excel in the deep space. But Sockeye, having given New York scant break opportunities in the first half, gave them none in the second. "I'm not surprised their offense played well," said PoNY coach Bryan Jones. "That's a pretty perfect game from them."
Aside from Freechild's pair of heroic moments, the Seattle offense was more hard-nosed than spectacular. The cutters — Rehder, Janin, Russell, Dillon, Xander Cuizon-Tice — attacked open spaces hard when they had a look, and they kept the famously opportunistic New York defenders busy when the time came to give way to the handlers. For their part, Sockeye's handlers kept their throws taut and (mostly) short. Murray and Kosednar were good; perhaps they were even good enough, with Freechild in the mix from time to time, to man the reset on their own. Montague, however, was a revelation. His early club years on Sub Zero (and early with Sockeye) as a dedicated hucker seem like a distant memory. At the US Open, and particularly in the final, Montague was a whirlwind of throw-and-go dishes and devastating soft breaks. His buttery smooth high-release forehand was the key throw in both of Sockeye's final two scores.
Having failed to score a break during the game, PoNY has a clear agenda moving forward: they must both force more turnovers and make much more of break chances when they arise. According to Jones, getting possession of the disc more often should be a matter of minor adjustments. "There were a couple of areas where we were loose and trying to help, and then we weren't tight in the right areas," he said. "For us, it's a matter of finding where we can be loose and look to poach from and gunk it up."
But PoNY need not come away from the tournament with their heads hung low. The offense, which had looked clunky at the Pro-Elite Challenge, as well as on the first day of the US Open, made a strong return to form. In the bracket, Mickle started completing high percentages of the throws — forehands around the mark, booming stand-still hucks — that have become his calling card in recent years. The team's first looks at Lindsley and Thorne could not have gone much better, as the versatile cutters both made a number of outstanding plays. And Keegan seems to have made it his mission to outshine his more acclaimed teammates — he has been New York's best player so far in 2019.
Sockeye know that PoNY will likely continue to strengthen as the summer turns to fall. They cannot simply deem their performance to date this season good enough to win the championship they crave. But they have proved — twice now — that they have the talent, the depth, and the discipline to be the best team on the field when it counts. Sockeye have the look of a real threat to dethrone New York come October.
All-Tournament Line
Dylan Freechild (Sockeye)
Sean Keegan (PoNY)
Masashi Kurono (Buzz Bullets)
Simon Montague (Sockeye)
Ryan Osgar (Sub Zero)
Eric Taylor (Ring of Fire)
Joe White (Machine)