A midseason test for middle tier teams that should have serious bid implications.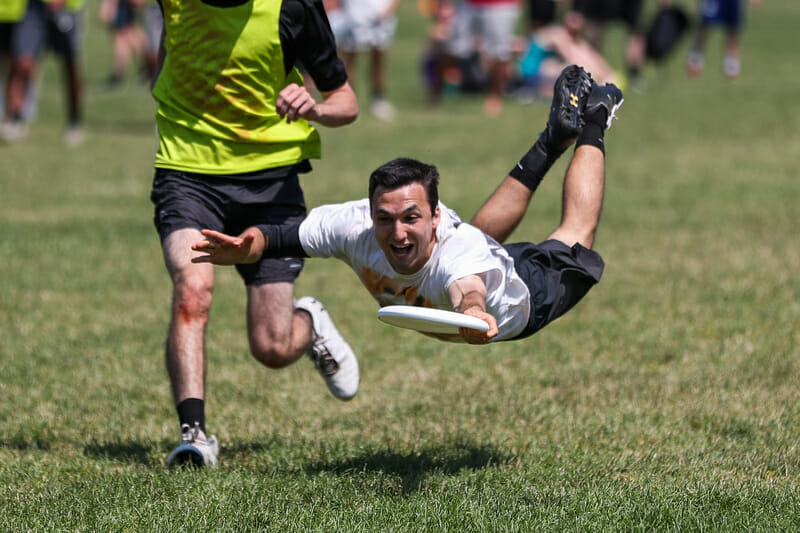 The early season is over, folks. For most teams, the Elite-Select Challenge will be their second or third tournament, though for a few, the level of competition is a step up. While they won't be hitting the same stride they will come the Club Series, the way these teams look in the midseason should be a whole lot more telling for their capacity for long term success. At least, that's what it would seem like. This tournament's end results haven't always proven predictive, but the traits teams displayed have often been present come the do or die of the postseason.
What these results will definitively greatly influence is the bid picture. Teams like Pittburgh Temper, Atlanta Chain Lightning, Portland Rhino Slam!, and Madison Yogosbo are far from safe. And no. 1 seed SoCal Condors don't exactly have a great track record. There's no Sockeye in the field expected to obliterate the competition, giving this year's tournament a different tenor. That vacancy at the top has implications on teams' approaches to trying to become the victor, but consolation games count the same as bracket matchups in the vacant mathematical eyes of the algorithm.
Tournament Profile
Date: August 17-18
Location: Rockford, Illinois
Weather: Temps in mid to low 80s. High humidity and chance of thunderstorms Saturday and Sunday.
Top 25 teams: 11


What Does ESC Mean For The Rest Of The Year?
Two of last year's Elite-Select semifinalists failed to make Nationals. The Condors wound up in a hard-luck one bid Southwest while GOAT lost back to back at Regionals to end their season early. Meanwhile, one of the other semifinalists made it, but managed just a single victory — over a team that went winless — at Nationals.1 And then, Madison Club called it quits.
Prequarters at Nationals was the end of the road for 2017 ESC winner, Michigan High Five. That year's surprise team was Baltimore Medicine Men, who reached the semifinals but failed to qualify for Nationals. 2016 victor, GOAT, missed out on the big show, as well, as did semifinalist Denver Inception. GOAT's semifinal opponent that year, PoNY, flamed out in Club Championship prequarters.
On the other hand, some teams do go on to great seasons. Last year's winner, Sockeye, was a point away from reaching the national title game, while Chain Lightning and Machine both turned in solid performances both at ESC and in the final standings. The team GOAT beat in the final in 2016 was Johnny Bravo, who went on to a National semifinal.
There's no clear sign of whose Elite-Select performance is reflective of how they'll play over the next couple of months. The trick is in discerning which markers are blips and which ones are signs of future success and failure. For example, 2018's GOAT's lack of focus and inability to respond well to adversity was on display at ESC, despite their run to the semifinals, and played a key role in their poor Regionals showing. Teams attributes will be on display and give a glimpse into their 2019 identity. Those insights, aside from the ranking points, are the most valuable prize for spectators and fans.
Condors In Strong Starting Position
If you've been following the division the past few years, you probably know the #13 SoCal Condors' story. Their consistent pursuit of another bid for the Southwest has made them something of a tragedy. Despite an impressive streak of play at this tournament last year, which carried them to the ESC final, they were too far behind the line after a rough start to the season, and couldn't catch up to the bid cutoff.
They might be a little more comfortable this year, thanks to a solid start at Pro-Elite Challenge. Condors currently reside inside of bid-earning range, and while that picture is subject to much change with so few results feeding the algorithm, a close win over Bravo and solid wins over Philadelphia Patrol and Chain are likely to do them favors all year long.
The team's young core has been incubating long enough. Goose Helton has joined their ranks, along with Calvin Brown and Nate Bridges, replacing the production of Hunter Corbett and the other losses. Back are Travis Dunn, Sean Ham, Sean McDougall, Jesse Cohen, and Michael Tran. Expect a clean and confident offense to lead the way for a team that's entering the weekend with a much better chance at finally grabbing the brass ring.
The DiG Debut
There was plenty of buzz around the future of #11 Boston DiG in the wake of significant turnover following a massive last-place flop at Nationals 2018. Elite-Select will gave us our first real chance to assess how the new roster is shaping up, and who is able to fulfill the roles vacated by the like of Ben Sadok, Tannor Johnson, and Jack Hatchett.
There's not a lot of starpower in the team's additions this year, so they'll be leaning into returners making big strides. Mac Hecht, Henry Babcock, and Rocco Linehan are O-line stalwarts who all will have to come up big for Dig. Veterans Jay Clark and Josh Markette can help bring along playmaking youngsters like Ben Field and Ryan Dinger. Newcomers Eric Li, Ethan Bloodworth, and Tyler Chan bring plenty of speed to the roster, with Chan having the experience to meaningfully contribute to the team's offense. New coach Josh McCarthy has an impressive resume and will be tasked with bringing all of these pieces together.
Boston will be in line for a real test in pool play, as the no. 2 seed has perhaps the toughest pool. Bravo rests just below them in Pool B, while Huntsville Freaks just got a big boost of confidence and big game experience as the U.S. Open, where they upset Machine in consolation play. Making it out of Pool B on top will be a big ask for a team in the midst of so many changes, but Dig has shown the capacity to surprise us before, for better or for worse.
Higher Competition and Expectations for Temper
Elite-Select is going to provide a different caliber of opposition for #21 Pittsburgh Temper than what they've faced this season. Their opening tournament, Select Flight Invite East, comprised a shallower field than what they'll face in Rockford.2 Pittsburgh's role as the no. 3 seed is identical, but the caliber of team surrounding them is not.
Following their early success, in line with projections, they fumbled their first significant obstacle in the form of General Strike. The Winnipeg club held to win on double game point, robbing Temper of the chance to face SFI's highest ranked teams. A significant portion of Temper's top end also had to travel to play back to back AUDL matches in an effort to get the Thunderbirds into the playoffs. While they had most of the major pieces in Columbus, it throws into question what Temper's approach to the tournament was.
There's no distractions for Pittsburgh this weekend. A dangerous Brickyard team — with plenty of crossover with the Thunderbird's AUDL rival, the AlleyCats — is on their pool play schedule, as well as a challenging Seattle Voodoo club. At last year's ESC, Temper was the no. 1 seed, coming off of a hot start to the season, only to get upset in their first pool play game, forcing them to miss the semifinal bracket. After finally breaking through to Nationals, there's perhaps less pressure on them, but a poor performance could put them in the crosshairs of various challengers.
A Better Side of Bravo
After getting pegged as the preseason #6, Bravo comes into ESC outside of the top six seeds. Now #14 Denver Johnny Bravo is the no. 7 tournament seed, their standing torpedoed by a 2-4 showing at home tournament, PEC. Anything less than a deep run this weekend is going to stack concerns.
But we are pretty used to seeing this from the Denver side. Consistent game-to-game, tournament-to-tournament performance has eluded them for a few seasons. The ceiling on Bravo still seems to top tier. There are multiple All-Club quality players on the roster, including new additions Joel Schlachet and Jon Nethercutt, and their young first and second year players have high capacity for growth. Their aggressive offensive style invites a bit of variance. The math adds up here.
With a tough pool in front of them and a competitive field, there isn't a lot of room for mistakes. Their talent might be able to survive the low tides, but supporters would be glad to see well timed high points turn into notable wins. It's a big weekend for Bravo's stock.
Elsewhere In The Field
#12 Portland Rhino Slam! had a solid, if unspectacular, Pro-Elite Challenge, earning wins over South Central foes Doublewide and Bravo. The lack of big names on the no. 5 seed's roster invites skepticism, but a good weekend could solidify Portland as a quarterfinals threat and lock in a pivotal third bid in the competitive Northwest.
At the top of Pool D, likely to battle Rhino to win the pool, is #22 Madison Yogosbo. The curious new3 team formed from the remnants of Mad Club holds a sparkling 19-1 record, but they did lose to General Strike, the only top 25 team they've played. It could be a defining weekend of their season.
After serving myself and Charlie Eisenhood some humble pie, #23 Huntsville Freaks has earned a bit of respect. Along with fellow Southeast club #16 Atlanta Chain Lightning, it's imperative to Freaks for a second bid to wind up going to the Southeast if they want to have a clear path to reaching Nationals. Neither is within the cutoff entering the weekend.
---
Pittsburgh Temper, with the win over Boston DiG. ↩

Coincidentally, Pittsburgh defeated both of the other teams that will play both tournaments. ↩

Revived, really. ↩