Every four years, CUCs take on a much bigger importance.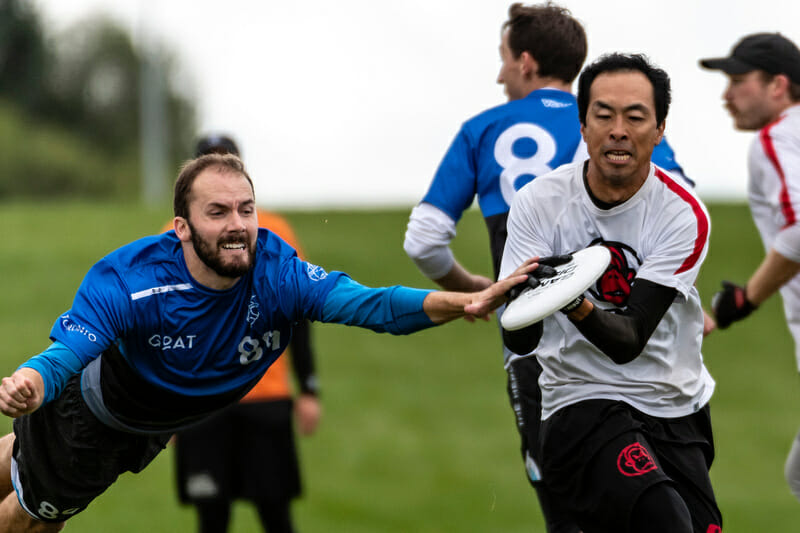 This article was written by Sean Udow, an assistant professor in Neurology at the University of Manitoba and an ultimate fan.
While Elite-Select Challenge played out in Illinois, Canadians were focused in on Edmonton, where teams battled for a Canadian Ultimate Championship and the chance to represent Canada in the 2020 World Ultimate and Guts Championship.
Three of the top 20 teams in the Ultiworld Power Rankings competed in each of the Open and Women's Divisions of CUC 2019: #7 Vancouver Furious George, #8 Toronto GOAT, and #20 Winnipeg General Strike in Open and #6 Toronto 6ixers,  #10 Vancouver Traffic and #19 Quebec Iris in Women's. These teams would all continue to shine as the best teams in Canada, but only one from each division could emerge as the champion.
Veterans Shine in the Open Final
Vancouver Furious George and Toronto GOAT have not faced off at a CUC since 2015 in Winnipeg, when GOAT made history by beating Furious for the first time, winning a Canadian championship and earning the Worlds bid to WUGC 2016.
GOAT started off their 2019 finale strong, collecting some early breaks to take the lead 5-2. Mark Lloyd made plays on the D-line early on with an emphatic layout block on a deep shot and assists on both of the GOAT breaks.
Furious tied the game at five, though, with back-to-back breaks. Morgan Hibbert looked ageless as he chased down a floating huck from Isaiah Masek-Kelly to Cam Harris and smacked it out of the air with authority.
The GOAT D-line took half 8-7 with a break as Lloyd found Toly Vasilyev with a hammer in the back of the endzone.
The teams traded points to 10-9. Tim Tsang (3 assists, 1 goal) anchored the Furious offense and, for GOAT, Jay Boychuk sped past his defenders on deep cuts. The teams traded breaks as well. First, the GOAT defenders forced a late stall throw and converted the score to take the lead 11-9. On a turnover-heavy point, the Vancouver offense scored again to get their defense back out, then Will Vu got a hand block on a forehand by Thomson McKnight to set up the Furious break, tying the game again at 11-11.
The game had the rumblings of a classic. Masek-Kelly arced an outside-in forehand to Lloyd in the endzone and then Brendan Wong made a ridiculous catch over Mike Mackenzie to tie the game again. Wong's catch – one he really had no business making – earned a "we're not worthy" celebration from the entire Furious team as they circled around him, bowing on their knees.
When GOAT took the lead 14-12 with another break, it seemed all of the momentum was in Toronto's favor, but Furious was not done yet. The 'Angry Monkey' has provided a second wind of momentum in Furious' vaunted history, and GOAT seemed to be losing composure; their third team misconduct foul gifted Furious the disc at midfield to start the point and Wong had a chance to make another great grab followed by a hammer to Ty Barbieri, who flipped the disc in for the score.
The crowd, hungry for some excitement, roared as Peter Yu came up with a layout handblock on Adrian Yearwood's intended flick huck and then found Brayden Gee with hammer for the goal, tying the game at 14-14.
GOAT received to start double game point. A rolling pull bounced over Nathan Hirst's hands, but Hirst recovered the disc quickly and dished it off to Harris. Harris shot a curving I-O forehand to a streaking Lloyd. The game seemed within Toronto's grasp as Lloyd went up high for the disc in the endzone, but he jumped too early and did not bring it down. Perhaps Lloyd felt Morgan Hibbert's long strides behind him as the Furious defender rushed to close the gap. The Furious D-line patiently worked the disc up field until Hugh Knapp shot an ambitious deep forehand and Andre Gailitis came up with a huge catch on the goal line. He flipped a high backhand to Brayden Gee, and Vancouver Furious George were the Canadian champions.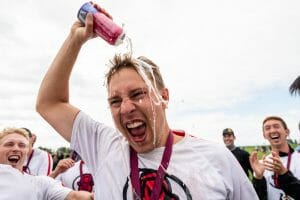 It was clearly a tough loss for GOAT. Veteran players like McKnight (4 assists), Masek-Kelly (3 assists),  and Harris (3 goals) had solid performances, and the GOAT defense looked dangerous with Lloyd and Vasilyev back on the field. For Furious, Brendan Wong (1 goal, 2 assists) was both a spark plug and release valve and Hibbert was ever-present as a deep space defender. Both teams exhibited the talent of their youth, who have truly come in to their prime as well. Mike Mackenzie and Jackie Hau each came up with big blocks for GOAT.  Ty Barbieri (3 goals, 2 assists) may not yet have peaked, continuing his strong play from U24s last month.
After this epic battle, it became clear that Furious George and GOAT remain in a tier above the other Canadian open teams. Furious beat Alberta Flatball Club 15-6 in their semifinal and GOAT beat Winnipeg General Strike 15-6. Strike finished third, beating Alberta 15-8, and will hope to join Furious and GOAT as contenders in the USA Ultimate postseason.
Gritty Play in the Women's Division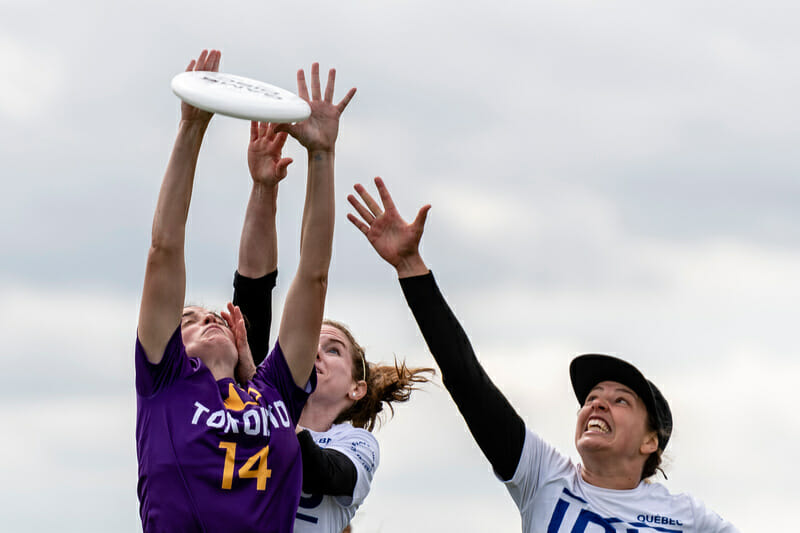 The women's championship game did not feature another Vancouver-Toronto faceoff, as Quebec Iris upset Vancouver Traffic in pool play. Traffic then met Toronto 6ixers in the semifinals and could not keep up with the fast Toronto pace, losing 15-10.
The 6ixers-Iris final did not disappoint as the stars on both sides came to play. 6ixers started the game with a break, which required two defensive blocks from Laura Kinoshita, who eventually caught an Anouchka Beaudry throw for the first goal of the game.
Penelope Robert (2 goals, 1 assist) and Nyna Prevost (3 goals, one assist) were the keys to the Iris offense throughout the game, with Robert using her height and Prevost her speed. 6ixers extended the lead to 4-2 with another break, though it would take their D-line another three possessions before Beaudry found Sarah Bobak on the break side. Iris worked the disc up the field on the next possession, which ended in a layout score by Melissa Dunbar, and then came through with their first, much-needed break of the game to tie it up, 4-4.
As both teams began to clamp down on defense, clean holds became hard to find. 6ixers went up 6-4 and looked poised to take half, but Iris earned a break themselves and tied the game up at 7-7. 6ixers pulled Beaudry and Brit Dos Santos to their O-line to work to take half, but Iris instead scored the point after a 6ixers overthrow and Marie-Eve Beauchemin curved a forehand to Corine Masse in the back of the endzone.
Coming out of half with the game on serve, both Beaudry and Dos Santos came over to bolster the 6ixers offensive line for an important hold. Again, each team had a pair of turnovers – including a layout block from Dos Santos to regain possession – before Cindy Truong led a pass to a Sarah Kidd in space, who dove for the goal. Truong was a consistent receiver and led the team in points with a goal and four assists.
For the most part, the second half belonged to the 6ixers D-line, which came out time and again in a zone that slowed the Iris offense to a crawl. Nyna Prevost marshaled the Iris O-line and worked the disc through the 6ixers zone and, for their part, 6ixers played well in the red zone with patient dumps and swings. At 10-9, Jess Chen got a poach block in the lane and finished up the point with an upline score to put 6ixers up by two, 11-9.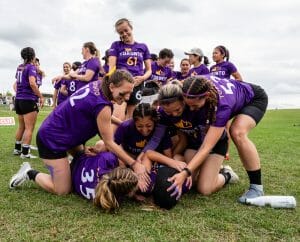 Two offensive holds per team took the game to 13-11 for the 6ixers. Dos Santos, coming off of an impactful U24 performance, made the defensive play of the game. She somehow laid out past a bidding Penelope Robert, who was cutting in to get the disc from Prevost, and earned the 'double happiness' as she immediately picked up the disc and fired it in for the break. Iris turned it over on the ensuing point after more pressure from the 6ixers cup, and Alyssa Mason sent it to Miriam Tingle, who jumped between two defenders and caught the disc with two outstretched hands for the championship.
The 15-11 win for the 6ixers was in fact a much tighter game than the final score indicates, but it was clear that the depth of the 6ixers roster was the difference maker in the end.
A Spirited Dance-Off
While 6ixers and Iris battled it out chasing plastic, Traffic and Winnipeg Fusion entertained their social media followers with a back-and-forth two-day dance-off which culminated in a synchronized face-off during the medal ceremony. Traffic beat Ottawa's Stella for third place and Fusion won the Spirit award. Check out their Instagram accounts (@trafficultimate and @fusionultimate) to learn some sweet dance moves.
Looking Ahead to WUGC 2020
Furious George and 6ixers will look not only to ride their momentum into the USAU postseason but will have the honor of representing Canada at the 2020 World Ultimate Championships in the Netherlands.
With USA Ultimate collecting all their talented players on national all-star teams starting for the last WUGC in 2016, I can't help but wonder, as I have previously, if Canada should abandon their model of having the national champions become the bulk of the national team. Although the winning team does pick up additional talent from other Canadian club teams, I see a Canadian ultimate scene that is getting deeper with talent. There is a pool of great players beyond a few pickups. A Canadian national team would surely benefit from both veteran talent and young players coming into their prime on teams like Iris, Traffic, GOAT, and General Strike.
On the other hand, there is something to be said for the advantage that comes with players having played together on the same team and system (although due to U20 and U24 competition, so many of these players have already played together). Another motivation for allowing the national champion to become the national team is that Canadians are treated to a once-in-four-year GOAT vs Furious George match-up, which always seems to be a classic.