A Condors comeback was just one of the exciting stories from ESC.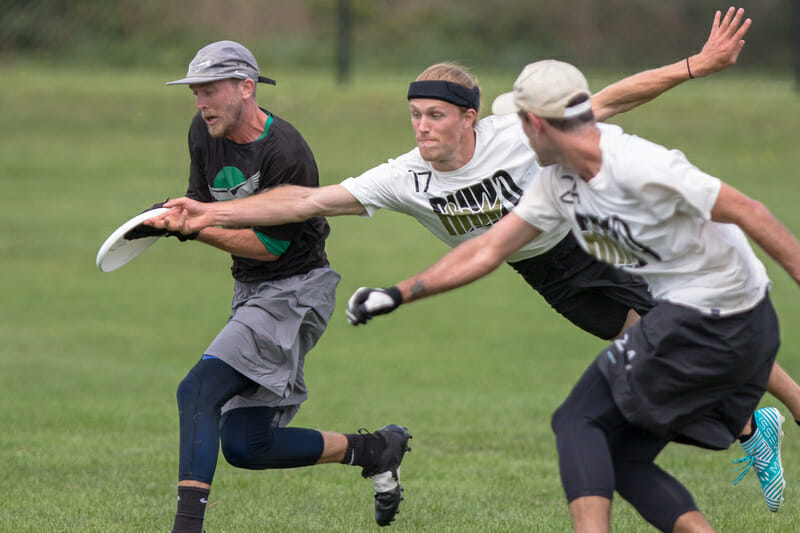 ROCKFORD, IL. — With the regular season winding down, there was plenty to play for at the Elite-Select Challenge. Teams trying to solidify their position in the national conversation, as well as ones trying to butt in, converged in Rockford for a chaotic weekend of ultimate. Through a couple of weather delays, and some shocking twists and turns, a handful of major stories developed.
Condors Pull Off Improbable Comeback to Win ESC Final
#131 SoCal Condors  rallied from 9-5 down for a miraculous 11-10 win over Denver Johnny Bravo to claim the ESC title. In a truly baffling game, the Condors faltered early offensively and couldn't gain much traction defensively. But Johnny Bravo's offense inexplicably imploded down the stretch, and Condors snatched the tournament title away.
The Condors' offense had been clicking all weekend. They suffered through a slump against Chain Lightning after the weather delay on Saturday, and weren't on all cylinders during the windy rounds of Sunday, but getting broken on their first two points of the final did not match with how the rest of their weekend had gone. Down 3-0, Condors righted the ship offensively with a couple of Goose Helton hucks, and their offense rose to their potential for the rest of the half. But their defense offered little resistance to Bravo's methodical offense. They failed to record a first half break, and never looked particularly close to doing so. Coasting through the traded holds after their strong start, Bravo took half up 7-4. The errors returned for the Condors offense to start the second half, and they were broken again to 8-4. The rout was on.
Bravo held that lead to 9-5 before the wheels completely fell of. They suffered their first multi-turn O-point and allowed Condors to finally register a break on a huck from Sam Fontaine to Max Hume to make it 9-7. Bravo followed with another two-turn point, both misconnections involving first year Bravo player Jonathan Nethercutt, and Condors broke again to make it 9-8.
Bravo continued to struggle in the handler space over the next couple of points. An area that had been one of their strengths through much of the game was all of a sudden completely inept. They looked for overly tough resets that didn't come off, but even the simple looks somehow turned into turnovers for the Bravo handlers.
The most baffling mistake came on the first throw of the Bravo possession at 9-9, after Condors had just broken to tie the game up for the first time all day. The pull sailed out of bounds, putting Bravo on the brick mark. Nethercutt started with the disc and, after looking downfield for a few counts, turned to his reset Dylan Salzman. The defense was not trying to take away the reset throw, and there was no real pressure on Salzman either. But Nethercutt inexplicably tried to lead Salzman forward a couple yards from a standstill. Nethercutt put zero urgency on the pass, and Nate Ransom, Nethercutt's mark, stepped over and easily swatted it to the ground.
It was a type of turnover not often seen at this level, and was easily the most egregious of Bravo's errors that led to Condors taking the lead.
Bravo finally did get a hold to make it 10-10, but their defense had no answer for a Condors team with all the momentum on double game point. They held clean to complete the surreal comeback and win the ESC final.
The complete shift in the game was a surprise even to those playing in it. "I've played in a game like that in college and was on the other end of it. But that's a whole different level. In college it's understandable. You've got guys that are gonna kinda just have lapses," said Condors O-line star Travis Dunn. "Out here, with a team that good, to be able to recover against that, that's something totally different. That's huge for us as a group. It really builds our confidence."
Dunn was proud of the way the defense just kept plugging away, and dug the team out of the hole the offense had put them in. "We kept the pressure on and sometimes it just seems, the more you keep the pressure on, you're bound to get something. I don't know about that many 'somethings', but I'm happy about it," he said. "I've played on a lot of teams, and sometimes that's the hardest thing to do. It just is a mental thing when you get down by a certain amount, people start to think 'Shoot, here we go again.' But it's definitely a different story this year. It's like, 'It's go time, we gotta fight.' To reel off four breaks like that in a row, that's incredible."
For Bravo, though the final truly was a shocking meltdown. "I think it's something that we've struggled with, particularly the last couple years, where one mistake, and we kinda fall out of our rhythm and lost a little confidence, and the breaks kinda come in waves," said Bravo captain Ben Lohre.
Co-captain Elliott Erickson credited the Condors' defense for the turnaround. "They keep coming. They know their system. They have a lot of athletic players who know what they're doing," he said. "Almost every game we've played against them the last three years…we go up a couple early and they're just sending wave after wave of very strong, talented lines, and they know what they want to do. That O-line is really strong and the D-line just keeps coming in waves."
While the win in the final was improbable, Condors had an impressive weekend regardless. Calvin Brown broke out as one of the most impressive offensive players at the tournament, and it was his steadiness that helped keep Condors in the game until they went on the run of breaks. The addition of Helton has been big for their offense, and they have an a whole roster of guys who are comfortable going out there and fighting their way to holds and breaks.
For a team that hasn't found a ton of success, they have a lot of confidence, as well. This weekend should only help with that. "We came in here with mindset that we needed to make a statement. If we want to do something, we've got to win a tournament like this," said Dunn. "We had a lot of guys step up to the plate. We really have a roster that can fight with anybody, offensively or defensively it doesn't matter. No matter what position we put our guys in, everybody's gonna keep fighting."
Bravo Bounces Back from Disappointing Colorado Cup
Despite the implosion in the second half against Condors, #14 Denver Johnny Bravo still had a positive weekend. It was a big bounce back from the team's Colorado Cup performance, which fell well short of expectations. They jumped seven spots in the rankings, up to 13th, and looked much closer to the team they were expected to be in the preseason, even without Joel Schlachet.
"Honestly, it was a mentality thing," said Lohre of the team's false start to the season. "At Colorado Cup, people had hyped us a bit, we made some big acquisitions, and we were pretty stoked about how good we were. We were thinking big picture…and we didn't really take it point by point. That was something we emphasized coming into this weekend."
Bravo successfully changed their mindset, and looked like they were going to win the whole tournament before their implosion down the stretch. Despite the rough finish, the team still saw the weekend as a positive turn in their season. "We definitely had a lot of pressure on us coming into this tournament. We were out of bid contention. We needed to play well," said Erickson. "It's really cool to see a younger team step and do the hard things early. At the same time, it's really disappointing to not be able to finish it on as a high a note as we would have liked. It gives us a little motivation, and a lot of room to grow, which is nice."
Bravo shined most in their redzone offense, where their workhorse cutters, Denny Bechis and Matt Jackson, consistently were able to win the front cone. Lohre, Joshua Crane, and Henry Konker all dominated in the redzone handler set when needed, too. They were comfortable where many teams weren't: in the gritty, grindy spaces just outside of the end zone, and when they were patient and clicking in that part of the field was when they looked like the best team at the tournament.
The collapse right at the end of their weekend seemed to come from nowhere, so it remains to be seen exactly what went wrong and what it will mean for their season. But one area of worry for Bravo has to be the play of Nethercutt. The North Carolina import had a nightmarish game against Dig, and Nethercutt's throwaways down the stretch of the final are the mistakes that will be most seared into everyone's memories.
Nethercutt is obviously a very talented player, and he showed signs of that throughout the weekend. But it's clear that he hasn't developed an adequate level of chemistry with his teammates yet. "We are super close. It's mostly about reps," said Lohre after the game against Dig. "Joel [Schlachet] and Jonah [Wisch] have been around a lot, so we are comfortable with them, but [Nethercutt] had to go home for a bit, so he's catching up to speed. That shows, and we understand that that is part of the growing pains. But he's an unreal player, so that'll come."
If it does come, and Nethercutt returns to the level of play we saw from him last year, and Schlachet also carves out a comfortable role for himself, then Bravo's ceiling will rise. They nearly won the tournament without either of those things happening, while looking like the best team in their division for most of their time in Rockford.
Temper, Rhino, Dig Round Out Top Tier
Pittsburgh Temper, Portland Rhino Slam, and Boston Dig rounded out what was the clear top tier at ESC. Temper and Rhino both made semifinals, losing to Bravo and Condors, respectively, and Dig went out in quarters with a 10-8 defeat to Condors.
#21 Pittsburgh Temper was lights out on offense for much of the weekend. Brett Matzuka has slotted in effortlessly with the team's fluid offensive system, and the team got big contributions from other hybrids like Max Sheppard. Temper clearly sought to send handlers downfield as much as possible, and opposing defenses struggled to defend it.
"Something we've lacked is pure handlers," said head coach Andrew Willig. "We adopted kind of a new flow of offense for our O-line this year, and Brett's mentality of how he approaches the game really brings that to another level and helps us drive that offensive system."
Temper's offense only really hit a speed bump against Bravo in semifinals. They got broken a few times in the first half after their D-line had gotten them a lead. Otherwise, the Temper offense was one of the most potent units at the tournament. That potency came with Tyler DeGiralomo on the sidelines, too. DeGiralomo pulled his hamstring in warmups before the first game and missed the duration of the weekend.
It didn't slow down Pittsburgh much this weekend, but if DeGiralomo is able to return, it could bring the Temper offense to an even higher level. "It's been pretty much the last two years where we don't seem to have him," said Willig. "We're working really hard to be able to cope with that, and having Sheppard back on the O-line really helped. But we're trying to adapt and do what we can to make up for a generational player like Ty."
#12 Portland Rhino Slam got to semis with a more grindy style of play. Their offense was rarely efficient, but the whole team played with a gritty, defense-forward demeanor that kept the other side out of the end zone. Raphael Hayes set the tone for the team in that regard, and led the team in blocks. It's no coincidence that when he got banged up against Condors and couldn't play at his usual high level is when Condors pulled away from them in the second half.
Offensively, Rhino struggled in the red zone. Their downfield cutters couldn't find separation in the more compressed field space, and they became over-reliant on their handlers. Under pressure, often a reset mistake or an impatient throw would lead to a turnover. Their defensive intensity was strong enough to win them most of the games they played in, but they'll need to find a way to generate more smooth offensive success to be competitive among other Nationals-quality teams.
#11 Boston Dig missed out on semis, but were still one of the top teams of the tournament. Had they not been broken on a crazy double game point by Johnny Bravo in their final pool play game, they easily could have made the final. Their narrow result over Brickyard will raise a few eyebrows, but the wind conditions made for a lot of fluky play in that round.
Per captain Noah Backer, Dig wasn't all that interested in results this weekend anyway. "We're just collecting data right now. We haven't played since Boston Invite, so we're still collecting data, seeing what works, and we're not really worried about the results of this tournament right now. Of course, when you're out there, you really want to win every single game, every point, every throw," he said. "This is definitely a growth tournament for us. We're still growing."
They certainly showed signs, especially offensively, of a team headed in a positive direction.
Chain A Couple Points Away from Big Weekend
#16 Atlanta Chain Lightning was just a few points short of a breakout weekend. After blowing out Halifax Red Circus and Kansas City Prairie Fire to start their weekend, they fell behind to Condors in the game for the pool. The offense that had been clicking against the lower seeded teams fell apart after the first few points of the game. The loss of John Stubbs to a head injury he sustained in pregame warmups hampered their offense, and they were unable to cope with the improved defensive pressure from the toughest defense they'd played on the day.
Down 8-4 at half, Chain was happy for play come to a stop as a lightning storm rolled through Rockford. Condors held to start the second half to go up 9-5, but then the game flipped on its head. Chain quickly grabbed a couple of breaks to get back to within 9-7. They were broken again to make it 11-7, but then went on another a run to tie the game up at 14-14.
"Sometimes when're you're down by four at half and pulling, sometimes a lightning delay is a good thing. We needed that hard reset," said head coach Miranda Knowles of the team's turnaround. "When we play loose and fun, we always do well." Chain's offense looked much more comfortable after the extended stoppage. Defensively, they adjusted to a transition set to take away Condors' pull plays, and played with a general heightened intensity with their matchup defense downfield. They looked like a completely different team and pulled themselves back into the game.
But they couldn't continue the surge through the end of it. Condors held for 15-14, and then broke after a short field turn from Chain. The comeback represented what Chain can be at their best, with tough defense from players like Paul Lally and and Will Lindquist, and big play offense from guys like Matt Smith, Michael Fairley, and Austin Taylor. But the slow start and the miscue at the very end of the game cost them what would have been a marquee win for their season.
Against Johnny Bravo in quarterfinals, Chain fought through a similar game sequence. They again fell behind early, though this time by just a couple of goals. More alarmingly, they were again poor at the end of halves. They got broken on the final point of the first half to forfeit what would have been a one break lead to start the second half, where they be receiving the first pull. And they were broken on double game point to end the game, once again after a short field turnover. That made for two close games in which Chain had fought their way into a chance to win the game late, only to fumble it away.
The absence of Stubbs in both games clearly hurt. In Knowles' words, "it'll throw your O-line through a loop when your best player gets concussed." And Chain is in a weird spot between feeling good about being close to getting two big wins without their best player and being frustrated with missing out on two opportunities to make their weekend a truly strong one.
How Chain ultimately ends up feeling about their ESC performance, though, will come down to how the final bids shake out. Their weekend moved them into 16th place, and they currently hold a second bid for the Southeast. But it's highly doubtful that there won't movement around them in the rankings over the final two weekends of the season. If they end up without a second bid, then their missed opportunities at ESC will be true heartbreakers.
Brickyard, Voodoo Underwhelm
Coming into the weekend, Brickyard and Voodoo were two teams with an opportunity to prove themselves. They were both on the fringes of the bid picture, and even though Voodoo ended up moving up a couple spots in the rankings ((Brickyard dropped from 16th to 23rd) neither team had the look of a Nationals-caliber squad.
#19 Seattle Voodoo got buried by a potent Temper in their opening round game, before bouncing back with a solid 15-11 win over Brickyard. The result and performance seemed to indicate that Voodoo was back on the right track, and simply got off to a rough start in the first round of play. But then they went down big to Denver Inception as the offense crumbled, just as it had against Temper earlier in the day.
On the other side of the weather delay, they did fight their way back to a more respectable 15-13 final scoreline against Inception, which captured them second place in the pool on goal difference. But the offensive errors, like no-pivot around backhands that constantly popped over their intended target, and being far too aggressive with huck looks that weren't really there, were concerning.
The offensive woes continued in prequarters, as they got smashed by Lombard Black Market, 10-4. The team didn't seem to handle the rough results gracefully, either, with players getting into arguments with each other on the sideline during the game. But they did salvage their weekend with blowout consolation wins over Prairie Fire and Madison Yogosbo, which bore a lot of responsibility for their slight rise up the rankings.
There was no salvaging Indianapolis Brickyard's weekend. Coming into the tournament, they had a chance to put the Great Lakes in a place where they could potentially have three bids. They nearly pulled off a miraculous upset over Dig in the windy chaos of prequarters, but they otherwise struggled to find any positive results.
They started well enough, beating Inception 15-11, but their offensive inconsistencies were exposed against Voodoo and Temper. They suffered another one goal loss in consolation after the defeat to Dig, coming up short to Yogosbo 10-9. And then they claimed their second win of the weekend against Prairie Fire in their final consolation game.
On paper, none of their results stick out as particularly disastrous, except perhaps for the Voodoo game, considering how the rest of their weekend went. But Brickyard simply couldn't find the valuable wins they needed to earn themselves a bid.
All-Tournament Team
Ben Lohre (Denver Johnny Bravo)
Mac Hecht (Boston Dig)
Calvin Brown (SoCal Condors)
Raphael Hayes (Portland Rhino)
Michael Fairley (Atlanta Chain Lightning)
Travis Carpenter (Indianapolis Brickyard)
Max Sheppard (Pittsburgh Temper)
---
Rankings shown are from when the tournament occurred. ↩