Aside from Bad Skid, it is just about anyone's game!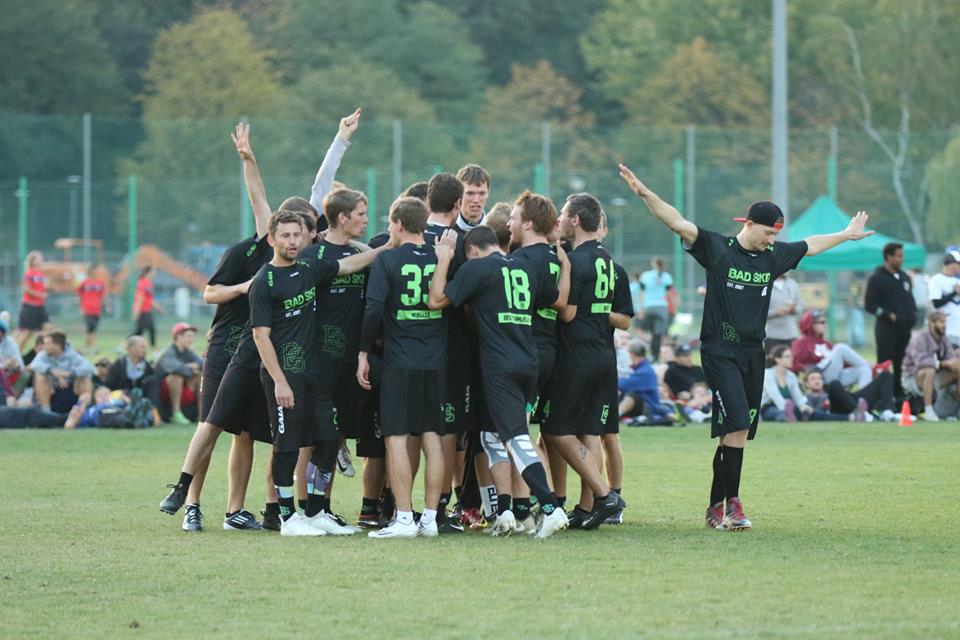 12 teams will descend on the famous Windmill fields in Amsterdam to compete for five spots in the men's division at the EUCF. The Central region brings teams from Germany, Belgium, Denmark and the Netherlands. The format starts with four pools of three with the winners advancing straight to quarters and the other teams playing pre-quarters. If you win your quarter you are in, if you lose you have to win your way to fifth place to qualify. Here is a look at the teams looking to make their mark at the EUCR-Central Men's Division.
Tournament Profile
Number of teams: 12
Number of bids to EUCF: 5
Team breakdown: Germany-6, Belgium-3, Denmark-2, The Netherlands-1
Weather: Partly Cloudy, 21-29 C, 8-13 km/hr wind
Format
| Pool A | Pool B | Pool C | Pool D |
| --- | --- | --- | --- |
| Bad Skid | Ragnarok | MUC | 7 Schwaben |
| Family | Mooncatchers | Force Elektro | Helgtre |
| Gentle | Frank N | KFK | Heidees |
Editor's Note: The position of German teams in the pools have been changed since this article was first written. The pools are now corrected with the updated pools.
Pre-quarters are 2C vs 3D, 2D vs 3C, 2A vs 3B, 2B vs 3A. If pre-quarters go to seed, quarters are then 1A vs 2C, 1B vs 2D, 1C vs 2A, and 1D vs 2B.
The Lock
It's always dangerous to call a team to lock to qualify, but let's face it: Bad Skid (Heilbronn, Germany) are going to the EUCF. They are simply the most talented and athletically dominant team in this region. The offensive line for the silver medal, German men's team was made up almost exclusively of Bad Skid players for a reason. They have, at times, even brought a team of as little as 10 players to the EUCR Central and still won it. It's unclear exactly what team they will bring to Amsterdam, but they have the likes of Holger Beutenmüller, Nico Müller, Marvin Waldvogel all rostered on ultimate central and even if they are missing some of those stars in Amsterdam, they could probably qualify out of this region in their sleep.
The Contenders
After Bad Skid, there are at least six teams that have a realistic chance of taking one of the remaining four bids out of this region. MUC (Munich, Germany) may have the best claim to a qualifying spot. They qualified last year and made quarters at EUCF, and the team is hungry for more. Captains Michael Remy and Dennis Holzer will both make great contributions for Munich, but their talent does not end there. Justin Wallace was very impressive with the German Mixed team at the EUC earlier this season and Florian Muschaweckh was a significant part of the German men's team that got a silver medal. Also look to Yegor Naumov to make some moves after his bronze medal performance with the Russian men's team as well. Munich placed second at the German qualifier for the EUCR but they did have some close calls along the way only defeating Hardfisch and 7 Schwaben on double game point before they were inevitably crushed by Bad Skid in the final.
7 Schwaben (Stuttgart, Germany) seem to be back as a highly competitive side. They were third at that German qualifier and avenged their double game point loss to MUC with a 15-12 victory in the first leg of the German Championships. German standout, Phillip Haas, will be leading this team, but it has definitely taken more than just Haas to get them this far this season. However, they are currently showing a relatively small roster of 16 players on ultimate central, so that may play a significant factor as the grueling tournament reaches its final stages this weekend.
Shifting to Denmark, KFK (Copenhagen, Denmark) and Ragnarok (Copenhagen, Denmark) both have very good chances of qualifying again. KFK will be missing their fiery talisman, Sverre Stütz on the weekend, but they have a lot of other talent to fill in for him. Laurits Hjermitslev seems to have finally finished his stint with CUSB La Fotta and has returned to his home team. Also look to Kristjan Loorits and Casper Børresen to make large contributions on offense. While they are taking the EUC Series very seriously and are surely looking to qualify for the EUCF, they are still most concerned with finally taking the Danish title away from their older brothers on Ragnarok, a feat that they have not been able to do. Stütz has assured me, "I think overall we're better than we've been before. We're also truly, really hoping for this to be the year we win Danish nationals."
Ragnarok did not play the European series in 2018, but whenever they play, they tend to qualify. They still have the same old names on their roster like Mads Bakkegaard and Danil Ocariz. Christopher Svaerke was very impressive for the Denmark men's team this year as well. They will be bolstered by Aarhus standout Emil Christiansen who is joining the team for the European series. There are also some names on the roster such as Jørgen Alsted and Andreas Vinker who have not been very active in recent years but may be coming out of retirement for EUCR. It is tough to say who the team will actually bring to Amsterdam but they definitely have a good shot to qualify.
Moving back to Germany we see the likes of Family (Düsseldorf, Germany) on the list. Family placed fourth at the German qualifier and at the time of writing this article they only have nine players rostered. However, I have been assured that they are actually bringing a larger group, bolstered by friendly club, Disckick. There are a lot of strong players on this team who contributed to the German U24 team this year, but the stars of the team are the Brucklacher brothers, Aaron and Mo. If you are reading this, you probably know the infamous Bruchlachers for one reason or another. If they can keep their heads cool and avoid disqualifying their team for spirit issues1 they will be an extremely hard duo for anyone to stop. With the athletic help they have around them, they are certainly in the conversation to earn a bid here.
Finally for our contenders, we have Mooncatchers (Brussels, Belgium). This team placed third at the EUCF last year, notching a win over Bad Skid in the bronze medal game. The boys from Brussels are creative, athletic and a tough matchup for any team. They will be missing the Brucklachers, who joined up with them on last year's campaign, and while star Rephael Jonkers is rostered, he will almost surely be off the field after a significant injury at U24s earlier this season. However, his brother, Ben Jonkers will be on the squad and is joined by a number of strong, young players, like Merlin Wollast, Kuba Labaszewski, Victor Ouchinsky, Samuel Kinda and Arthur Feller. Benoit Spapens will add some aged experience, and this team still has all the weapons they need to qualify, even if an EUCF bronze medal may be out of reach this year. 54 year old Olivier Cassart is also on the roster, but it is unclear if he will make the trip to Amsterdam to throw a behind the back, half field huck, or if he is just there to make absolutely sure that the EUF isn't secretly testing out Game Advisors at the regional tournament.
The Long Shots
While those are the teams most likely to qualify the remainders still have something to say in Amsterdam. Frank N (Franconia, Germany) and Heidees (Heidelberg, Germany) have been on the lower end of German competition this year, but both tend to bring it at the EUCR and have qualified many times before so they should not be completely counted out. Gentle (Gent, Belgium) have not made the trip to the EUCF in years, but still boast some Belgian national team talent on the team. Newcomers to the EUCR, Helgtre (Helchteren, Belgium) and Force Elektro (Delft, The Netherlands) will be looking to gain some experience, but will likely be falling relatively low in the final rankings of this event.
---
This actually happened when Family played as a mixed squad at the EUCR in 2016 ↩