Much is settled, but not everything!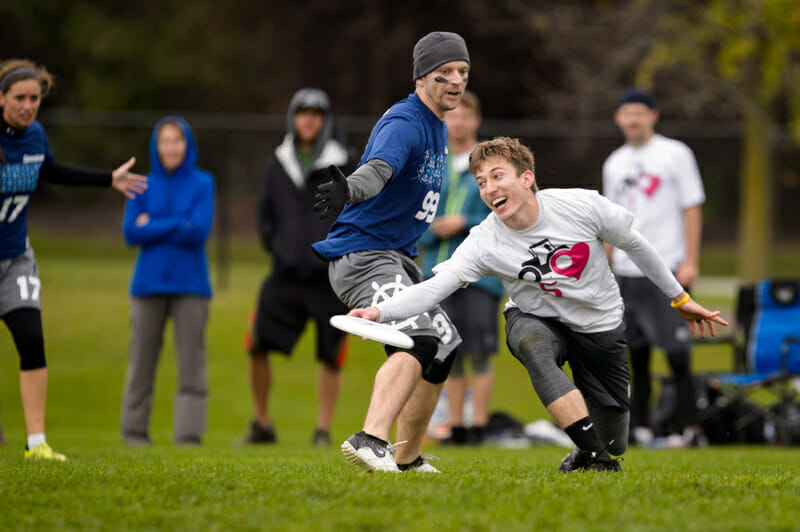 For every team that won't be at this weekend's Pro Championships, the club regular season has come to a close. But there are still bids that could be won and lost at the capstone tournament in Philadelphia. Some surprising swings in the rankings from this past weekend have set up an exciting final tournament before the Regional bids to Nationals are locked in.
Men's Division
What Happened?
Despite the entire top 20 spending the weekend idle, second order effects finally came for Cleveland Smokestack: a 175 point plummet by Durham Turbine, who make up 17% of Smokestack's ranking, tugged Cleveland down to #17, making them the first team out of bid-earning territory. However, despite the unexpected movement, the overall allocation remained unchanged as the beneficiary of Smokestack's drop was their fellow Great Lakes squad Chicago Machine.
What's Next?
The only remaining (sanctioned) tournament left in the season is the Pro Championships in Philadelphia, featuring eight men's teams1 so we have a pretty good idea of what the bid picture will look like. It appears very likely that the status quo will resemble the final results.
Machine, as an active bubble team, will play to maintain their place, but, since they currently hold the Great Lakes auto bid, a drop out of the top 16 wouldn't change much unless somebody else with a strength bid also does. In that case, with a second GL team in Cleveland Smokestack on the cusp of the bubble, a strong weekend by Machine could wind up leading to a second Great Lakes bid.
Chain is #14 and has 15% of their ranking in play through DiG and Machine, but falling 40 points — below Smokestack and in range of Patrol — would require a collapse by DiG and Machine that borders on mathematically impossible.
Philadelphia Patrol only have a moonshot at a bid by way of second order effects if Chain somehow drops and Machine falters: PoNY and Temper comprise 15% of their ranking, so to pick up 25 points and pass Smokestack would require PoNY and Temper collectively raising their ratings by a sum of about 350 (which roughly equates to doing both going no worse than 5-2 on the weekend, probably 6-1).
Doublewide and Ring, despite having seven and five games respectively, are high enough that they would need a catastrophic (nearly winless) weekend to drop out.
Women's Division
What Happened?
Much like in the men's division, despite no activity from the top 25, there was movement near the cutoff line. In an even more obscured illustration of second order effects, a 200 point jump by Albany Rebel Rebel bumped up the collective value of the teams from New York Warm Up and Ow My Knee, which eventually bubbled up to Quebec Iris, sliding them past Nemesis for the final bid spot.
What's Next?
Despite the movement this week, the women's bid picture seems to be settled. None of the ten teams at the Pro Championships have a realistic shot at dropping out of bid-earning territory (the top nine are all in attendance, and all but #3 Toronto 6ixers and #5 Boston Brute Squad have at least 10 games already). Nightlock — the remaining team — currently sits at #12 but should be protected by the weight of 18 games and over 100 points of cushion.
6ixers could technically fall out with an implosion this weekend, but that appears unlikely. Brute Squad is even less likely to fall: they currently have just five games on their slate but two are blowout eligible (wins vs Venus and Stella). The games can't be excluded until Brute has two more results to meet the five-counted-game minimum, but they will get those this weekend: excluding that pair of games will increase their rating by nearly 200 points. So one should expect Brute to trend up on the weekend.
The subtle beneficiary of Brute's blowout exclusions brings the story full circle — it's Iris. Due to blowouts of their own, Brute represents 15% of Iris' ranking, so Brute's 200 point bump will be a 30 point boon for Iris. That functionally shuts the door on idle Nemesis, BENT, and Showdown, who will be hard pressed to net 50+ points in second order effects from the 10 active teams.
Mixed Division
What Happened?
This weekend offered the same story as the other divisions: the top 25 stayed home, but a bid changed hands at the bubble. Florida Weird slipped down two spots to #18 as games against Memphis STAX and other teams from the Southeast tournament circuit lost value, while West Chester Loco was buoyed up by their fellow Mid-Atlantic team Soft Boiled's tournament win and 130 point jump. It put Loco in a dead heat virtual tie with Love Tractor for the final bid spot with Weird trailing by 10 points.
What's Next?
Though the broad strokes of the bid picture are in place, true to the division's mantra, mixed is going to be the most fun this weekend. Several teams in play are not solidified in their spots and a handful will be spinning the second order effect wheel.
Similar to the men's division, since Denver Love Tractor is active at Pro Flight this weekend, they are playing to keep their bid (and widen the minuscule gap between themselves and Loco to be on the safe side). They need to average better than their current average, which means they'll need to be around .500 on the weekend at worst. They control their own destiny. Loco, their prime competitor, will be competing indirectly through Durham Toro. Toro makes up about 14% of Loco's ranking so for every seven points Toro gains, Loco should move up one.
It might seem like Steamboat would be on the hot seat given Loco's proxy horse in the field, but since Steamboat holds the Great Lakes autobid, it doesn't actually matter bid-wise where they end up.
Weird is in a tough place on the weekend, given who they're connected to; they'll have to thread a needle. They have two games against Toro to parlay, but unfortunately so does Loco, the team they're trying to pass on second order effects. They also are connected to Love Tractor, who is active, but obviously need them not to excel either. They're only (long) shot is for Love Tractor to play just bad enough to drop and then for New York Xist to rally and jump about 100 points.
The Southwest is still theoretically in the hunt through San Francisco Polar Bears. PBR are connected to Love Tractor, so they have to hope for a similar outcome as exists for Weird, but they also have a game against Xist and 18% of the ranking made up by Jughandle. Plus, they have a game against Slow White. It sounds promising at first, but they also need to pick up 30+ points. So it's a pretty long shot, but if Jughandle somehow pulls a 5-2 weekend out, PBR could be in the conversation. On the negative longshot side, Blackbird might also be slightly wary since teams that make up 60% of their ranking are in play this weekend. At some point, a ten team tournament is zero sum so they should be fine, but if four of those teams somehow manage to tank without playing each other they could fall victim to the chaos.
Space Heater (eight games, 65 point cushion) and Snake Country (10 games, 50 point cushion) are also active this weekend and, while not complete locks, should be safe as long as they avoid multiple major upsets. Jughandle and Xist — also active at Pro Flight– are too far out and too game-weighted to have shots at jumping in, and Moondog doesn't have enough second order connections to make a big move.
---
some other notable names– Revolver, Sockeye, and five more top 25 teams from the West — will be playing at a Labor Day tournament in Washington that will not count towards the rankings ↩