It all comes down to the Pro Championships.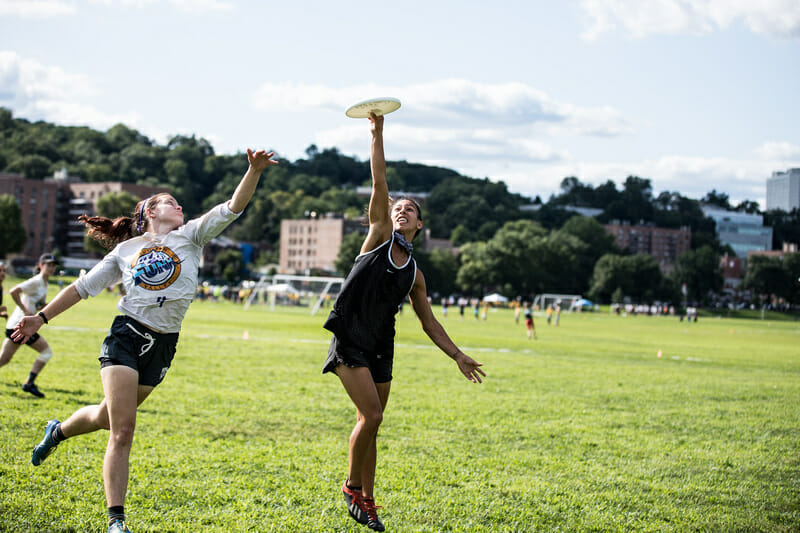 During the 2019 summer and fall season, we will publish a bite-sized weekly recap of the action across the Club Division. This will serve as a supplement to our standard tournament reporting and will offer a high-level look at the latest happenings and the biggest stories of the week. We go through the annals of score reporter so you don't have to!
Want your tournament listed here? Submit a recap of what happened right here. 
—
For every team besides those participating in the Pro Championships this upcoming weekend, August 25th marked the end of the club regular season. Though no top teams participated in sanctioned events on this penultimate weekend, some interesting results from mid-level teams were able to influence end-of-season rankings and alter Sectional, and potentially Regional, bid allocations.
Mixed Division
Bids Continue To Change Hands, Even When The Top Teams Stay Home
The top contenders in the mixed division stayed at home this weekend, but that doesn't mean that everything stayed the same for the elite squads. A late-season tournament win from Philadelphia Soft Boiled created a ripple effect that resulted in #15 West Chester Loco rising up into a virtual tie with #16 Love Tractor for the final bid. At the same time, #14 Florida Weird dropped a little through second-order effects from Memphis STAX, and are now on the outside of the cutoff looking in — but the difference between them and their neighbors is so small that everything will ride on the upcoming weekend's results. What does this wild weekend of mid-level tournaments teach us? That every single point of every game matters and sometimes, even when you're at home for the weekend, you can slip down the slope if you don't give yourself enough of a buffer.
Quebec LAB Seal Canadian Mixed Championship
A week after the men's and women's divisions converged on Edmonton, the second half of the Canadian Ultimate Championships were decided this weekend in Brampton, Ontario. Mixed teams from across the country — some well-established and some built specifically for this tournament — descended on the southern Ontario city to fight for a national title. From the start, upsets and intrigue were the name of the game. No. 1 seed and WUCC 2018 qualifier Halifax Anchor fell out of contention early, losing in the prequarters after finishing third in a difficult pool that pit them against two lower seeds that went on to earn spots in the semis. Quebec LAB — filled with stars from the AUDL's Montreal Royal — took the title by mostly dominating the competition and was the only team that went undefeated through the four-day event, earning them the right to heavily influence the 2020 Canadian WUGC mixed team. No. 3 seed Toronto SOUP locked in second and no. 6 seed Quebec Battleship finished third.
Quick Hits:
Women's Division
Rebel Rebel Causing Chaos Chaos
Though no Top 25 teams took to the fields this weekend, the results of The Incident: Age of Ultimatron in New York, has made an impact to those desperate for a strength bid. Albany Rebel Rebel cruised past their competition in every match, finishing the tournament 6-0 without ever really being tested. Of course this positively impacted their own ranking tremendously, but the implications of their success was felt much further up the chain in a big way, which led to #14 Quebec Iris inching past #18 Nemesis for the final bid spot. As a result, things just got a whole lot more interesting in the Northeast Region with potentially four bids to Nationals up for grabs, assuming the result holds post Pro Championships.
Quick Hits:
Indy Invite in Indianapolis, Indiana showcased five teams with Huntsville Laika winning over Chicago Helix in the final.
In Salt Lake City, the top two teams held seed with no. 1 Seattle Soul finishing first and no. 2 Lost Angeles Rampage finishing second at Ski Town Classic, while no. 6 seed New Orleans Queen Cake took third.
Men's Division
Mid-Level Results Moving the Needle On Bids
In what must sound like a similar refrain at this point, the men's division had very few top squads take the field this weekend. But thanks to a mid-level sanctioned event where Durham Turbine could not hold seed — FCS Invite in North Carolina — #19 Cleveland Smokestack has now dropped from bid territory and been replaced by regional foe #12 Chicago Machine. Of course, since both teams are in the same region, it won't change the equation much for either team as they will need to perform in September to advance to San Diego. Machine has #23 Virginia Vault and Columbia Lost Boys — who came in first and second, respectively at FCS Invite — to thank for the late season boost.
Quick Hits
In Indianapolis, Indiana at Indy Invite (say that five times fast), top seed Ferndale Nain Rouge were triumphant in holding seed, while no.3 Cincinnati Omen grabbed second, and Iowa City Cryptic took third.
At The Incident in New York, things went down exactly as predicted in bracket play, which was aptly called "The Battle of New York" as no. 1 New York Shade, no. 2 Boston Lantern, and no. 3 Hyde Park Log Jam took first, second, and third respectively.
Salt Lake City hosted Ski Town Classic, where no. 1 Livermore OAT not only couldn't get on the podium, but could barely stay in the conversation, finishing eighth and leaving the top spots up for grabs. No. 6 seed Boise Sawtooth secured first, Boulder ISO Atmo took second, and Orem Killjoys was one of the few teams to hold seed and finished third.
Looking Ahead
The last TCT regular season event, Pro Championships, will be held in Philadelphia this weekend. Ten mixed teams, ten women's teams, and eight men's teams will compete to bolster their ranking and secure their bids one last time before the postseason begins.
In mixed competition, eight top 25 teams are lined up to play, with the most pressure on #16 Denver Love Tractor to perform and earn the second bid for the South Central. In pool play, Love Tractor will face two familiar opponents, #6 Boston Slow White and New York XIST, both of whom they've beaten this season, but also two new foes in #1 Minneapolis Drag'N Thrust and #9 Washington DC Space Heater. We'll also get to see a rematch of Drag'N Thrust versus Slow White — in July, Slow White took it to Drag'N Thrust and gave them one of their two losses this season.
On the women's front, the action this weekend is unlikely to impact the current bid allocations and rankings unless things go indescribably amiss. However, all ten teams in attendance are Top 25, so there will still be a lot of excitement as these teams finish their regular seasons and look to get some momentum headed into the fall. #1 Boston Brute Squad will be look to complete an undefeated regular season, but #2 Seattle Riot will be aiming to end Boston's flawless run.
The men's division this weekend features only eight teams, with #3 Washington DC Truck Stop coming in as the top seed and #12 Chicago Machine bringing up the rear at no. 8. Machine undoubtedly wants to perform, but thanks to them holding the Great Lakes autobid, they should be locked in regardless of the outcome. Of course, nothing is guaranteed until the end of the weekend, and if Machine performs well and another club flops, there could be the opportunity for a second Great Lakes bid, which would be an exciting revelation for the region during the last moments of the regular season.