The battle to crown the best in Canada, CUC 2023, starts tomorrow!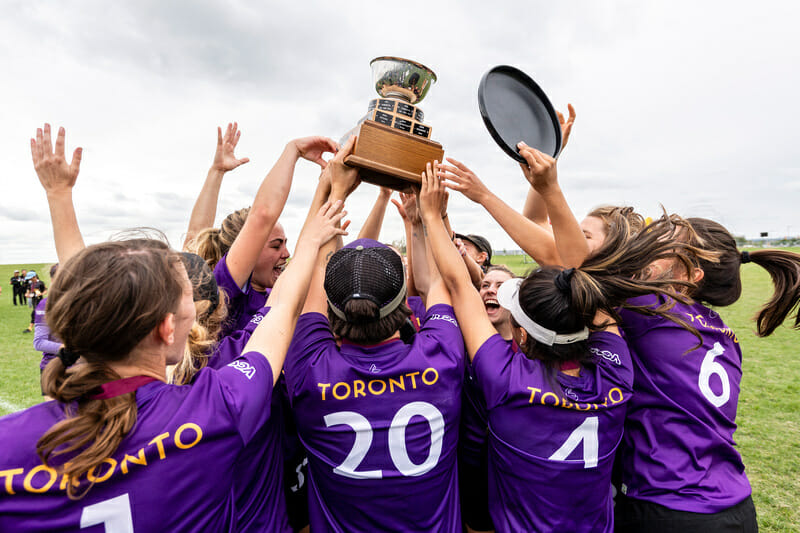 Ultiworld's coverage of the 2023 club ultimate season is presented by Spin Ultimate; all opinions are those of the author(s). Find out how Spin can get you, and your team, looking your best this season.
Additional reporting by Theo Wan, Kelsey Hayden, and Danie Proby.
The Canadian Ultimate Championships are as star studded as ever in 2023, with former champions Toronto 6ixers and Vancouver Furious George returning to the field alongside 2019 finalists Toronto GOAT and the premier Canadian mixed team, Vancouver Red Flag. Read on for our preview of each division, and catch all the action on CUC's official livestream!
Tournament Profile
Location: Surrey, BC

Dates:  Thursday August 17 – Sunday August 20, 2023
Weather: Warm and Sunny, 25 degrees Celsius, 18-20 km/hr wind
Mixed Division

Format
The tournament's largest and most volatile division. The mixed division has four pools of five teams, with the top team from each pool proceeding directly to quarters while the second and third will play a prequarter. The remaining two teams from each pool will fight for placement.
The Favorites
Vancouver Red Flag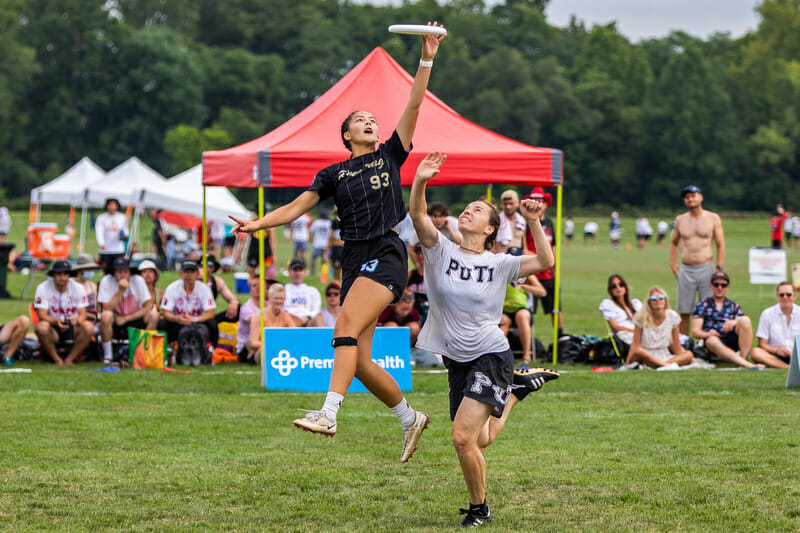 This Vancouver team is returning after their WUCC silver medal to compete on the Canadian stage. They've never lost in Canadian competition, with their single appearance resulting in a 2021 Ultimate Canada Invitational victory. Led by U24 star Mika Kurahashi, Gagan Chatha, and the Mot twins, this is the most talented roster in the division from top to bottom. When Red Flag are in rhythm, expect play like at BCUC (BC Regionals), where they breezed past the competition, only allowing more than five goals a single time. The tournament favorite, the onus will be on everyone else to prove they can challenge the Vancouver side.
The Challengers
Toronto Union
Toronto Union are the defending 2022 CUC champions . Though they only retain eleven players from last year's roster, Union's impressive consistency saw them go undefeated at OUC (Ontario Regionals) and only drop a pair of games on the year, one to Crash and another to the Canadian U24 Mixed Team. The veterans they lost have been replaced with a number of young dynamic players from the club division and the U24 program. Jessica Gao had a breakout tournament in Nottingham, establishing herself as one of the best U24 players in the country with her patented blend of ankle-breaking cuts and huge hops. They also retained Bryan Yue, consistently one of the steadiest players in the mixed division. Union look poised to grow and develop, but it's difficult to expect a rebuilding program to be competitive with a juggernaut like Red Flag in year one. They'll have difficult tests early in the tournament as they face Danger Noodle and Fight Club in pool play.
Winnipeg PBHG
PBHG has played six Canadian games since their CUC final battle with Union last year, they've won them all. The roster is largely unchanged from last season with only three new additions joining up. While we have more information on PBHG than their Winnipeg compatriots; General Strike, they are still a relatively unproven entity. Thus, it is difficult to predict what the ceiling for this team will look like, although they will have a very high floor.
The Contenders
Vancouver Blaze
Vancouver Blaze are one of the three BC pickup teams appearing for CUC 2023, reuniting a number of players from Goomba Gang (2018 CUC Silver Medalists). They will look to UBC Thunderbirds alumni Naomi Johnson and Delaney Ignatieff as steadying influences on an already very experienced roster. On top of the returners, Blaze made a number of high-profile additions in Ben Burelle, Juli Ohsada, and Cole Keffer. With a slightly different BCUC roster that included the likes of Ty Barbieri, Blaze progressed all the way to the final where they were defeated by Red Flag. The Vancouver pickups also met the other two mixed pickup sides that will be at CUC, Fight Club and Strawberry Kitten Kisses, who they defeated in tight matchups.  If all else fails, they can always pull out the tried-and-true strategy of throwing hucks to Aidan Wiebe, who has emerged from retirement to sky the masses. If Blaze can find their stride early in the tournament, they'll be as dangerous as anyone.
Vancouver Strawberry Kitty Kisses
The second of Vancouver's pickup teams has one of the best names and arguably the best jerseys in the mixed division. Strawberry Kitty Kisses, or SKK, are young, talented and a lot of fun to watch. Chalk full of U20 and U24 stars, SKK could be the most volatile team at CUC. Big hustle plays and big emotions are defining characteristics in young teams, but so are mental lapses, tunnel vision and odd losses, though this may be offset by SKK's wealth of experience. Alicia Zhang has incredible composure and talent beyond her years, Tyler Gunasekera may be the most talented thrower in the mixed division after his second Team Canada experience in as many years, and Neo Debroux was roofing some of the world's best players at WUCC 2022 with Red Flag. After dropping the BCUC semi to Blaze, SKK slid in the rankings, but remain a dark horse to go deep in this tournament.
Vancouver Fight Club
We're going to need to break the first rule of Fight Club, as this young outfit rounds out the pickup teams from Vancouver. Headlined by UBC stars Ada Chang, Emily Chong, and Jessica Liu, alongside U24 captain and standout Oliana Chan and heavyweights on the male-matching side in Daniel Wong and Victor Cheng, this club can punch with anyone. Fight Club also have an incredible social media presence.1 Fight Club will have a chance to land early blows against two 2022 CUC medalists, Danger Noodle and Union, and will look to throw a haymaker and take the top spot in Pool B.
Fredericton Spawn
Spawn are one of the oldest running clubs in the country and experienced the ups and downs that come with age. Recently though, Spawn are undoubtedly on the "up", thanks to the talented east coast roster they pieced together this season. Jennie Korus, Pierre Diegle, and siblings Jessie and Alex Brown provide the strongest of foundations and they're supplemented by an excellent supporting cast. The club attended Mixed Easterns and No Borders – so they're battle-tested against strong teams – but CUCs will be the first time they have every piece of their puzzle together. After losing in quarters last year by just one point, an objectively stronger roster this year, and a low seed giving them something to prove, it'll be exciting to see how high these fish can fly.
Kingston Local 613
Local 613 are young, athletic, and dynamic. Much like other teams in the same category, Local 613 have the potential to punch well above their weight class, but they'll have to be sure their ambitions don't leave them vulnerable in games they should win comfortably. Offensively, they are led by 2014 U20 Gold Medalist Trevor Knechtel, who will be relied upon to make big plays behind the disc. In the air, look for the good-as-advertised young talent in Declan Gainer and Quinton Malec. Katie Sciborski and Team Canada World Ultimate Championship Mixed coach Peter Gailbraith anchor a scrappy defensive line. Their first matchup is with a T.T. squad that finished third at 2022 Nationals, and will dictate how high the ceiling for the squad from the Limestone City truly is.
Ottawa Crank
Crank put together a robust 20-4 record this season, reaching the final in three tournaments and nabbing bronze in the fourth. They play with a high-pace, huck-heavy offense and high-IQ defense. The Ottawa based outfit is yet to find success with their trademark style against top competition, falling to Union in the OUC final. They'll look to find their rhythm early and challenge the perennial powers with a head of steam.
Saint-Jean-Sur-Richelieu Harfang
Quebec's premier mixed program has experienced great runs of form this year, dominating their provincial rivals and cruising all the way to the CQCUC final where they won a universe point contest with QOLD. Unfortunately, they've struggled in their limited experience against out of province competition, dropping a game against PBHG and a pair of games to Crank. They'll have an opportunity to overwrite that narrative in pool play as they take another swing at PBHG, and get their first action against Spawn and Calgary Lit.
Kitchener-Waterloo Crash
Crash have been a rollercoaster ride. They have quality wins over Union, Local 613, and U24 Team Canada Mixed, but these are underwritten by head-scratching losses against Spawn and Big Cat. Only time will tell which version of Crash will arrive in Surrey.
The Field
It's uncommon to see the balance of power shift so significantly that not one but two medalists from a year ago fall out of the top eight, but that's the world we're living in. T.T. and Danger Noodle, along with Lit and Red Fox, have not significantly faltered; they are simply victims of a division that is deeper than ever. Its highly probable that at least one team from this group will find their way to quarters, but they'll need to discover top form to do so.
Open Division

Format
Sixteen teams will compete for the Open Division championship at CUC 2023. Divided into four pools of four, the top two teams in each will progress to a power pool that includes an automatic prequarters bid and byes to quarterfinals for the top three finishers in each of the two pools. The lower power pools will send one team each into a prequarter while the others will fight for placement.
The Favorites
Vancouver Furious George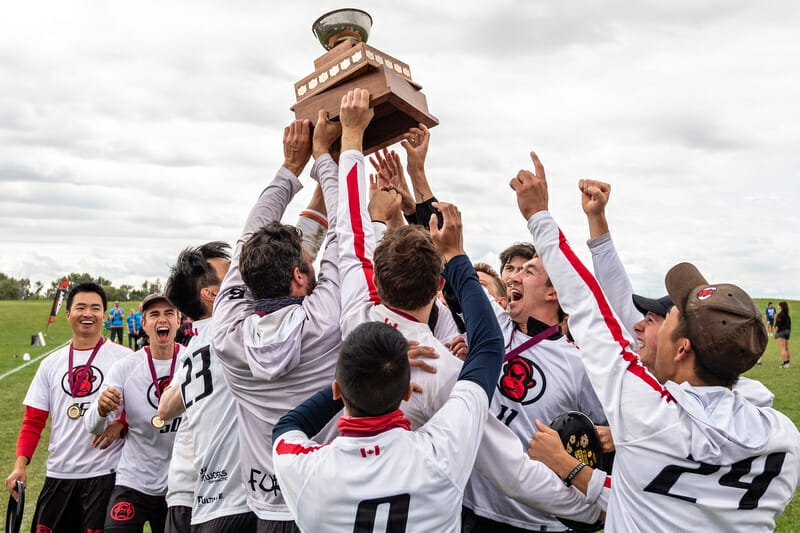 The Vancouver program returns to CUC for the first time since 2019, and bring with them a history of unparalleled dominance. They return a majority of their veteran presence from last year, minus some notable exceptions: the team will be without 2019 CUC MVP Ty Barbieri, as well as now-retired Furious legends Brendan Wong and Fred Lam. As is to be expected from Furious, the core is still star-studded with the usual suspects in Malcolm Bryson, Kevin Underhill, and Tim Tsang among many others. They'll be further aided by dynamic U24 imports Landon Lavoie and Jakob Brissette, who both possess big play ability. Both Quake and Pipe will look to make big statements against Furious, but the first real challenge for the Angry Monkeys looks to be a streaking Phoenix team in power pools Friday afternoon.
Toronto GOAT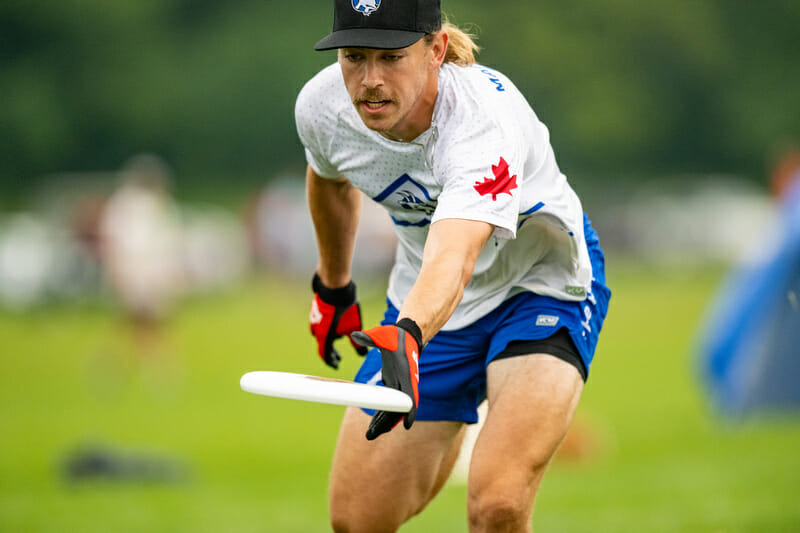 Much like Furious, GOAT make their return to the Canadian Ultimate Championships for the first time since 2019. They'll be looking to avenge their final loss and establish themselves as the premier Open team in Canada. GOAT may be wearing the same logo, but this is a new-look GOAT squad with Michael Kukucska at the helm. Cam Harris, Thompson McKnight, Mark Lloyd, and Adrian Yearwood have all stepped away from the program, providing a chance for a new core to develop – the McKenzie brothers, Lewis brothers, Luc Comire, and Pittsburgh import Thomas Edmonds are excited to write their own chapter for the storied program. The names may be different, but spectators can still expect deep-ball offense and big-play defense. The first big test of the tournament will be against defending CUC silver medalist AFC Rumble on Thursday afternoon.
The Contenders
Ottawa Phoenix
Ottawa has been on the receiving end of some devastating losses on the Canadian stage, the most recent on universe point for the third WUCC bid at the 2021 Ultimate Canada Invitational. These games have raised questions such as "What is the limiting reagent for Phoenix?" and, "What is preventing them from elevating into the same tier as the perennial favorites?" Following another universe point loss at Ontario Regionals, it seemed the question would resurface. That is until the team headed down to Columbus for Select Flight Invite East and beat GOAT for the first time since 2005. The Ottawa roster is undeniably talented, sporting both young talent and experienced veterans, with one striking difference – Cam Harris. The long-time GOAT star switched sides of the Ontario rivalry and provides a new focal point for a team looking to prove they belong in the same conversation as GOAT and Furious George. Red Circus should be the early challengers to push Phoenix, but they'll have their eyes on a Friday matchup against Furious.
Montreal Mephisto
Mephisto have seen significant turnover since their UCI silver medal performance just two years ago. Jakob Brissette and Malik Auger-Semmar departed, among others, leaving significant gaps. The team still has defensive juggernaut Christophe Tremblay-Joncas and a stable of young talent, including eight players from the U24 national team and one of the most opportunistic defenses in the Open division. The ceiling is undeniable for this team, but with youth comes volatility, and there's little room for error to make a run at CUC. Montreal will be tested early by a strong General Strike team, which will serve as a good litmus test to show what form this squad is in and how far they can go in this tournament.
Winnipeg General Strike
The defending CUC champs keep finding ways to get better. They retained the talent that led them to a championship while also adding Malik Auger-Semmar, Quinn Snider, and Mark Lloyd, to name a few. The term "embarrassment of riches" is an apt characterization for the Winnipeg side, but they aren't placed beside Furious and GOAT as we have yet to see how the team will gel. General Strike haven't played a game in Canada since their 2022 national championship, and a significant chunk of their roster was missing while attending the U24 World Championships in Nottingham. Only time will tell if this team is as good on the field as they are on paper, but they'll have a chance to put teams on notice as they play Mephisto on Thursday.
Alberta Rumble
The rebranded Alberta club is returning as the 2022 CUC silver medalists. They have a largely similar look to previous AFC outfits with the timeless duo of David Hochhalter and Jordan Vogel. Two-time U24 selection Alexandre Bedard also returns, and with his huge throwing range and playmaking ability, it's safe to assume he'll conduct the Alberta offense. After struggling to find a foothold in the final last year against General Strike, it will be interesting to see how the Albertans respond to a much deeper CUC field. Like the aforementioned General Strike, Rumble are yet to officially play any Canadian competition, making it difficult to know how the team has evolved under the tutelage of U24 Open Head Coach Chris Artibello. They will be an early candidate on upset alert as they play Toronto GOAT on Thursday, likely to determine the winner of Pool B.
The Field
Halifax Red Circus
Halifax's finest have quietly put together a strong 2023 resume. They were finalists at No Borders, bronze medalists at Jazzfest (while missing most of their O-line), and have only two losses in eleven games. One of those losses, a semifinal loss to Pipe, was avenged later in the season, while the other was a universe point final loss to Quake at No Borders. Red Circus have consistently demonstrated they are a step above the lower tier of competition in the open division, but without head-to-head matchups against any of Canada's elite teams, Red Circus are untested against the country's strongest lines. They'll get a chance to play one of the tournament's strongest rosters in Phoenix on day one, likely for the rights to the first spot in Pool C. Apart from UCI 2021 where Red Circus secured an impressive sixth place finish with wins over Grand Trunk and General Strike, the Halifax crew hasn't been to CUCs since 2018. No doubt this team is poised and ready to turn some heads after a long hiatus from the national stage.
Quebec City Quake
Following a fourth place performance at CUC 2022, a tournament in which Quake came in as the number one seed, Quake remain an enigma. They have flashes of brilliance that allow them to win tournaments – as they did at No Borders – but have also dropped games against NSOM and Grand Trunk. Despite 22 games played this season, only one has resulted in a victory against CUC competition. Quake have a clear pedigree and wealth of experience with this particular group of players, but will have some tough games early, playing both the tournament's one seed in Furious George and a No Borders rematch against Pipe who beat them on universe in their single meeting. Quake will be shooting for an upset against Furious, but the second power pool spot for Pool A will likely come down to a big matchup with Pipe.
Toronto Pipe
A group of young, talented and energetic players, Pipe burst onto the scene with big layouts, huge celebrations, and their trademark PVC pipe. Led by the best hair in ultimate, Oscar Stonehouse, along with a cast of U20 and U24 athletes, they were the clear number three in Ontario this cycle. With such a young team, the highs are high and the lows are low. Tournament victories at TUX and Jazzfest are accompanied by a four-loss weekend at No Borders (Quartz, Red Circus, Grand Trunk, OUT). CUC demands consistency – one loss can derail your tournament – and with such a volatile group, it will be on Pipe to consistently find top form for three days. They will be tested early against Furious George and what will likely be a dogfight for the second power pool spot against Quake.
The Rest
Vancouver Blackfish, St. John's Regiment, Calgary Whiskeyjacks, Winnipeg Streetcar, and Regina RUT comprise the remainder of the traditional Canadian outfits present at CUC 2023. The likely result is these teams battling for placement and a spot in the tournament's prequarter. Some games to watch from this group include Blackfish vs. RUT, Whiskeyjacks vs. Flatballers, Streetcar vs. Pipe, and Regiment vs. Toobad. While unlikely, the only certainty in ultimate is uncertainty, so any of the teams could be a Cinderella story just like Durham Houndd were a year ago.
The Pickups
The Flatballers and TooBad are unique entities in the CUC landscape as primarily pick-up-based teams, with rosters that look largely different than those that got them to CUC at regional tournaments. Both teams will only bring sixteen players to CUC, making it difficult to maintain a consistent level of performance through the entire tournament. Both outfits are in pools with two contending teams and will likely be playing for third in their pool; however, keep your eye on the lower power pools for both teams to be in or very close to the prequarters.
Women's Division

Format
Sixteen teams will compete for the Women's Division championship at CUC 2023. Divided into four pools of four teams, the top two teams in each will progress to a "power pool" that includes an automatic prequarters bid and byes to quarterfinals for the top three finishers in each of the two pools. The lower "power pools" will send one team each into a prequarter while the others will fight for placement.
The Favorites
Toronto 6ixers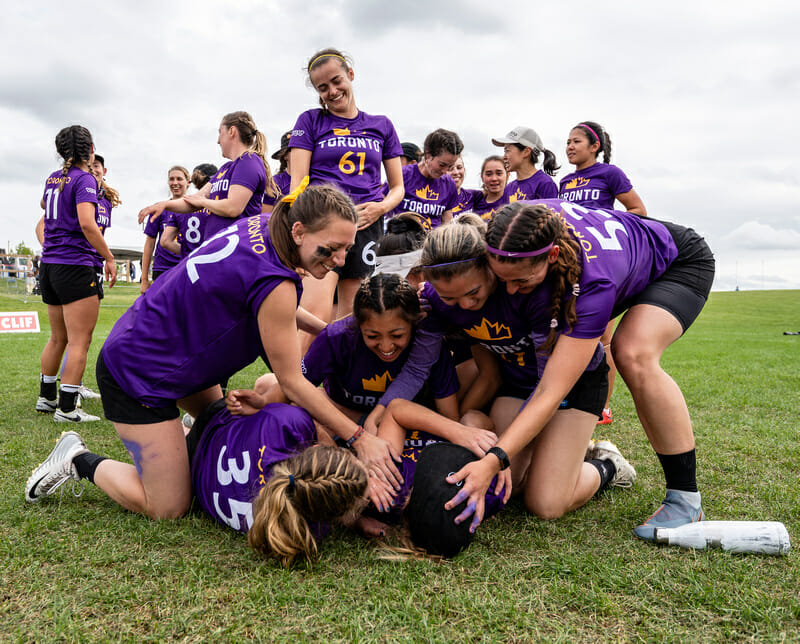 The 6ix squad that has dominated the Canadian ultimate scene in recent years are back and ready to prove themselves once again. Some familiar faces have moved on such as Molly Lewis, Hannah Dawson, Laura Kinoshita, and Lauren Kimura, but this has forced a catalyzation of the young movement in Toronto. Tiffany Zhang has stepped into a primary role alongside Alyssa Mason and Britt Dos Santos, both of whom are already household names. Despite the turnover, 6ixers looked untouchable at Regionals, outscoring opponents 86-26 across six contests, including defending CUC bronze medalist Stella. This team is a title contender every time they come to CUC, but the gap between the leaders and the chase group is as small as it has been in years.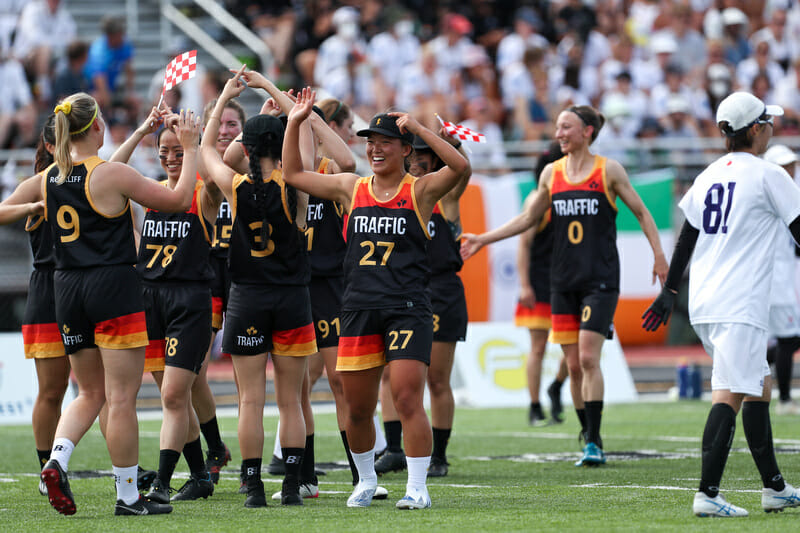 Vancouver has built one of the most efficient pipelines in ultimate, fed by the UBC Thunderbirds and an elite youth scene. Traffic have provided opportunities for a number of Thunderbirds to step further into the spotlight: Catie Akune, Madison Ong, Monica Hsu, and Steph Siu are becoming bonafide stars at the college level and look to transfer that amplified skillset to the club scene. Building on that foundation of home-grown talent, a few elite imports from across Canada are primed to lead Traffic into the upper echelon of Canadian Women's ultimate. Headlined by World Games athletes Marie-Eve Beauchmin and Catherine Menzies, along with one of the most dangerous scorers in the division, Julia Zhang, all lights are looking green for a new CUC champion in Traffic's home province. Traffic should be tested early in the tournament as they face off against a very talented Fusion team in pool play on Thursday, likely for the rights to the top spot in Pool A.
Quebec Iris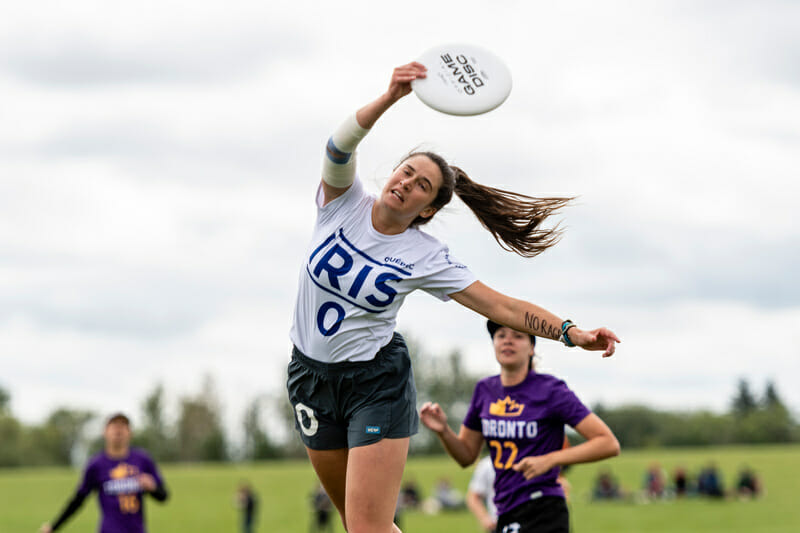 Iris are the defending CUC champion after a dominant performance in Brampton one year ago.2 They will look to Anouchka Beaudry and Florence Dion as focal points with more than a full line of U24 players to support them, most notably standout Pipi Robert. Robert was a game-breaker at U24 World Championships in Nottingham, leading the team with 15 goals across nine contests, including four in the quarterfinal, and was a highlight reel machine. Iris have been stellar this year, with only one loss all season (6ixers). Pair their record with a Regionals tournament where they gave up a total of 13 goals, and it's clear Iris are coming to CUC in great form. With big names and a ton of depth, rivaling both Vancouver and Toronto, Iris will look to prove their title last season was no fluke, regardless of the competition. Iris will have a familiar opponent for the rights to Pool C, QUB, who they eviscerated in their only matchup of the year, 15-2.
The Challengers
Ottawa Stella
Stella return to CUC as the defending bronze medalist. They put up a disappointing performance at Fishbowl in June, but since that tournament have a single loss and notable wins against QUB and Incognito. This iteration of Stella has nine rookies and significant turnover, but this is not inherently negative. The reliance on youth has brought Stella exciting prospects like Emily Kavanaugh and Georgia Cameron, who both bring Team Canada experience to the field. Regardless, there will be a significant burden on the veteran presences like Lana Ramic, Alex Wardill, Elora Wilson, and Lauren Ballantyne, who will need to take charge if Stella are going to find success. Stella will be looking to prove the post-Fishbowl iteration is the true representation of their team and they can still compete with the top tier of Canadian Women's ultimate. Stella enter the tournament as the fourth seed, and they will have their eyes on a pool play matchup with a provincial rival, IncogniTO, with the fate of Pool D in the balance.
Winnipeg Fusion
Fusion are making their return to CUC after a year's absence from the Canadian scene. The Winnipeg side struggled in their only Canadian competition, going 1-5, but the results can be taken with a grain of salt due to the absences of Abba Brudney, Meagan Gillis, and Sarah Jacobsohn. Beyond the trio of Team Canada stars mentioned above, Fusion have also been party to the growth of Caitlin and Emily Cho who played crucial roles in the U24 Mixed Team's semifinal run in Nottingham. Unfortunately, due to geography, Fusion have no games with their full roster, leaving them as a relative unknown. Fusion's last Canadian competition came at UCI in 2021, where they secured wins over Iris, Stella, and QUB en route to a bronze medal. Due to their Fishbowl performance, the Winnipeg outfit will have an early battle against Traffic in pool play where they'll look to avenge their UCI loss from two years ago. If this team can find the right catalyst, they could go nuclear all the way to the medal round.
Quebec QUB
QUB have one of the strongest resumes in the women's division, arriving in Surrey as the defending silver medalists and looking to show their first podium since 2012 was no fluke. They have two tournament golds at Frisbee Fest and Jazzfest, as well as two finals appearances at CQCUC (Quebec Regionals) and No Borders. QUB have amassed 21 wins and only two losses this season; unfortunately, those losses are the only games QUB played against teams in the top 5 at CUC. Consistency is a skill QUB have certainly demonstrated, but to retain last year's silver medal they'll need to find a way to beat the top seeds. They'll look to veterans Leah Morneau and Roxanne Couture-Dube to carry a more significant workload if QUB are to find success.
The Contenders
Toronto IncogniTO
IncogniTO are coming to CUC with a reloaded roster that has added a pair of national champions from the mixed division. A new leadership group brings a plethora of experience headlined by handler Carla Rawson along with Emilija Rudzitis and Sabrina Trung. The turnover from the second-year Toronto side represents what's seen in many new teams – growing pains. The new-look roster dropped four of its last seven contests despite the talent present. Regionals looked to be a tough tournament for the Cogs on the scoreboard, although they showed flashes of brilliance. The Toronto side went blow for blow with an experienced and talented Stella side before falling out of rhythm and giving up a run of breaks in the second half. On paper the potential for Incognito is evident, but they'll need to find their footing quickly to have a chance of actualizing that ceiling.
Montreal Venus
In the same style as their provincial rivals, Venus have been a model of consistency this season. Sporting a record of 10-3, with a universe finals loss against QUB and a third-place finish at CQCUC, Venus have beaten the teams they outclass and their only losses have come against Iris and QUB. In similar fashion to their provincial rivals from Quebec City, Venus are going to require superb runs from their veteran presences, notably Lianne Campbell, Catherine Goulet, and Marie-Hélène Garon, in order to fly above their station. By taking care of business the way they have all season, Venus will put themselves in meaningful games; one they get there, though, they'll need to find a new gear to survive.
Alberta Remix
Remix came together last season, creating a more provincial-wide outfit and are ready to prove they're on the same level as the traditional powers in Canadian Ultimate. Don't be fooled by the new name and logo, this team possesses pedigree. They will look to Amanda Ho and Paula Wong as the beacons of experience and composure to direct the young, athletic talent Alberta produces in every division. Among the young talent are three primary cutters acting as the bulk of their point production, Emily Bennett, Kaja Pedersen, and Megan Ganley. Unfortunately for the Alberta side, they're placed in the "Pool of Death" for the Women's division alongside Winnipeg Fusion and Vancouver Traffic. It's crucial Remix find a way to upset one of the higher seeds to place themselves in an advantageous position in the bracket; otherwise, they will be clawing with three other teams for the right to play in prequarters.
Victoria Hucklebears:
Victoria Hucklebears will be attending CUC for the first time as a program in 2023. The Hucklebears program was founded in 2022 and discovered early success as BCUC (BC Regionals) champions in their first season (Traffic did not attend). They followed last year's success by securing the second BC bid, defeating their presumptive rivals Vancouver Drift 11-9. They'll look to lefty Alex Harned along with dual-threat Claire Remington and striker Amira Maddison to lead their cast of University of Victoria players forward to success. They'll face some stiff competition early with two-seed Toronto 6ixers and the ever-consistent Venus along with new Ottawa side Oz. The most important game of the Pool Play round looks to come in the form of Montreal Venus on Thursday afternoon, likely for the second of two spots in Friday's power pools.
The Best of the Rest
Outside the top ten, the remainder of the field is comprised of teams that have yet to find success at the CUC level, whether due to inexperience or failure to break through, making it difficult to assess the floor and ceiling for any given team. The lower seed in a CUC tournament can be unpredictable, as Durham Houndd and Toronto Danger Noodle can attest after arriving in Brampton in 2022 as the fifteen and nineteenth seeds, respectively, and leaving as CUC Bronze medalists. Any team could be a Cinderella story for CUC 2023. The beauty of sports is watching teams defy the odds to find success, so keep an eye on this group of teams for one to emerge and upset the upper echelon of the tournament.
---
Although it backfired slightly with Alec Francis skying Bryan Kuo so aggressively on camera that he rejoined GOAT. ↩

Note that both 6ixers and Traffic were absent. ↩