10 teams enter.... 7 leave?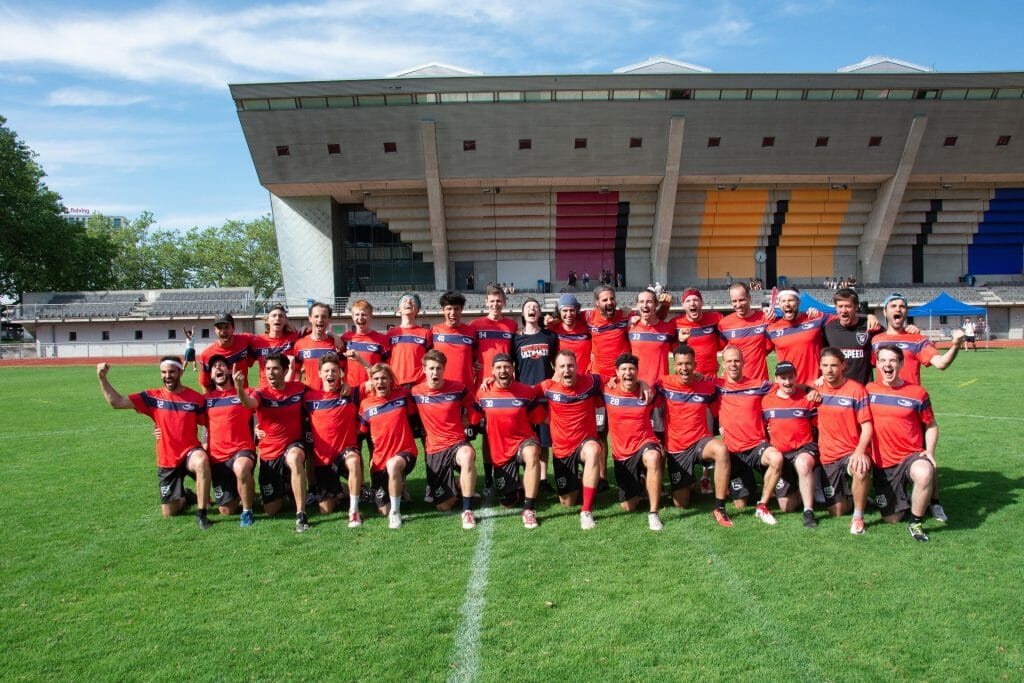 Ten teams from the southern region will make their way to Paris to fight for seven spots at the EUCF. While this seems bizarre, the south was just simply that strong at last years EUCF and earned seven bids while other regions have as little as four bids. While this makes qualification fairly straightforward for the big teams here, it does make for a very competitive battle to take the crown and sets up some great previews of what we will see in Caorle to cap off this club season.
Tournament Profile
Dates: 31 August – 1 September
Location: Noisy-Le-Sec (Paris), France
Weather: Mostly sunny. 32 C on Saturday, 22 C on Sunday. Winds 6-18 km/hr
Number of teams: 10
Number of bids to EUCF: 7
Team Breakdown: Italy-4, Switzerland-4, France-2
Format
| Pool A | Pool B |
| --- | --- |
| CUSB La Fotta | Freespeed |
| Flying Angels Bern | Iznogood |
| Cotarica | Panthers |
| Donkey Divers | CUSB Red Bulls |
| Crazy Dogs | Tchac |
After pool play there is only one ranking game per team. So the pool winners play each other for first, the second place teams play for third, etc. Since there are seven bids, this means that the top three teams from each pool automatically qualify for the EUCF with the two fourth place teams playing in a game to go for seventh place.
Pool A
CUSB La Fotta (Bologna, Italy) should be the strongest team here. They were the silver medalists at EUCF 2018 and are bringing a lot of talent together to represent the strongest ultimate city in Europe. Alongside typical stars like Arturo Laffi, Giovanni Santucci, Luca Tognetti and Simone Gasperini they are adding their trusty Austrian pickup Wolfgang Mitterer and a new addition in the Irish Pádraig Sweeney who will be playing for CUSB for the first time this weekend.1 Perhaps the most interesting aspect of La Fotta's roster is Stefan Rekitt, the German men's national team coach, who will coach in an advisory role for CUSB through the EUC Series. It will be interesting to see what a German mind can do for these Italian athletes.
Flying Angels Bern (Bern, Switzerland) are also sure to qualify. They are bringing just about all of their roster to the EUCR and with players like Sebastian Gloor and at least one of the Schmidt twins2 alongside the older powers like Dominik Odermatt, Jan Tenger, and, of course, Lorenz Stauffer, reaching top seven at this tournament should be a cakewalk for the boys from Bern. They likely have their eyes set higher to try and challenge CUSB, but will not be favorites in that matchup.
Cotarica  (Rimini, Italy) and Crazy Dogs (Stans, Switzerland) will likely be battling for that third spot to guarantee themselves a spot at the EUCF right out of pool play. The loser of this match will likely play the game to go. At the EUCR last year, Crazy Dogs qualified over Cotarica, but Cotarica has been to the EUCF before. They also have a lot of players from the EYUC champion Italian U20 team, but will be missing Sebastian Rossi at this tournament. Also missing is their older firepower in Davide Silvestrini so Men's national team players Fabio Galli and Federico Sapucci will have to take up the mantle if they want to beat the Dogs. The boys from Stans are lead by longtime star Aaron Riedle but also have some big players in Basil Furrer and Daniele Immersi who both played on the Swiss men's team this year. They will also be missing around six or seven players.
This leaves the Donkey Divers (Milan, Italy) as the most likely team to finish the pool at the bottom. The Donkey Divers do not have that much experience on the international scene, but they do have a few national team players and ex-La Fotta player Paolo Prandi on the squad. Also look for star athlete Emmanuel Olayanju who made big moves for the Italian mixed team at the EUC.
Pool B
The two big French teams Iznogood (Noisy-le-Sec, France) and Tchac (Pornichet, France) should both qualify out of this pool on home soil. Iznogood has seen steady growth these past two years and has two of the best athletes in the division in Benjamin Fenrich and Frédéric Brédard. Tchac saw a large exodus of players to Montreal this year, but Quentin Roger is back on the roster. They also have the gunslinging Ronan Bichon and the incredible target of Vincent Lepagnol who both were major contributors to the French mixed team that won Windmill and took silver at the EUC earlier this season.
Next are Freespeed (Basel, Switzerland), this year's Swiss champions. They are another perennial powerhouse, though they had a very low finish at the EUCF last year. They have been known to not bring full rosters to the EUCR in previous years, but they have a huge roster of 30 listed on Ultimate Central at the moment. In addition to their typical powers like Tobias van Baarsen and Robin Brüderlin, they also bring back their big Belgian target, Pieterjan De Meulenaere and he brings Jonas Dewaele with him from the Freezzz Beezzz. If they take their full squad they can certainly place anywhere from 1st to 3rd in their pool, but if a skeleton squad comes to Paris, anything can happen and they may even see themselves on the outside looking in.
The CUSB Red Bulls (Bologna, Italy) are the little brothers to La Fotta. They had a great performance at Tom's Tourney earlier this season and qualified for the EUCF last year. They are young, they are fit and they are hungry and will certainly look to finish in the top four of this group. If they do come out fourth, they are likely favorites to win the crossover game to go to EUCF.
This leaves the Panthers (Bern, Switzerland) as the likely odd team out in this pool. While they had a good Swiss nationals this year, where they placed third over the Crazy Dogs, this particular pool draw does not look favorable for them here. Look to star players Gregor Dickerman and Marc Schwarz to make amazing plays for this team as they try to fight their way up to a qualifying spot.
---
Sweeney could not make it to EUCR-West to play with his home team, PELT, so he decided to come to Southern regionals instead. ↩

one of them may be absent at EUCR ↩