Dublin takes a UK Gold. Scotland on the rise.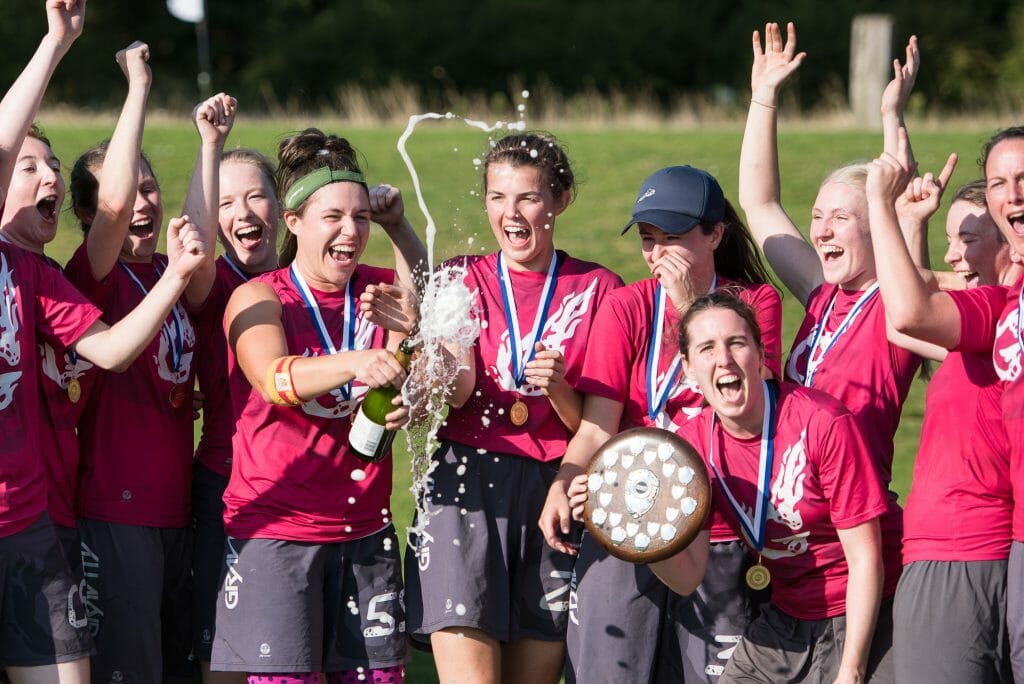 BIRMINGHAM, UK – The EUCR West finished two weeks ago and while it didn't throw up too many huge shocks relative to what was expected, a few teams managed to surprise. When the dust settled the final EUCF qualifiers were:
Men's
Clapham (London)
Chevron Action Flash (Leicester)
Ranelagh (Dublin)
Alba (Glasgow)
Women's
Dublin Gravity (Dublin)
Iceni (London)
Mixed
SMOG (Durham)
Deep Space (London)
SMOG 2 (Durham)
Ireland makes an impact
The men's division went largely as expected, with Clapham (London) and Chevron (Leicester) again contesting the final for the tenth nationals in a row and Clapham winning 15-10 to take their 19th UK title. Ranelagh (Dublin), though, managed to qualify for EUCF for the first time ever after comfortably beating Devon for third place. They were the highest-placed of the four Irish teams, who all made the top eight. Rebel (Cork), PELT (Limerick) and XVI (Dublin) finished sixth, seventh and eighth respectively. All four teams dispatched opponents with ease. Combined, they went 6-3 against non-Irish opposition, with one of those losses being a Ranelagh loss to Clapham in the semi-final and the other two both coming to Alba, who were clearly one of the best teams present.
Meanwhile, in the women's division Gravity (Dublin) took the trophy home with them in somewhat controversial circumstances1. There was nothing controversial about the way they won the tournament, though, as they dispatched every opponent with ease. Gravity defeated Iceni (London) 15-10 in the first game of the weekend, and it was the closest anyone got to them at all – they conceded 33 points in six games on their way to a dominant win. Rebel's women defeated one of the top teams in the UK, SYC (London) in a pre-semi and reached the top four. They finished fourth after conceding their final game to Bristol, but performed well above expectations with a small team in a tough field.
The mixed representative, PELT, came with a very young squad and were missing many of the top players from the squad that won Irish nationals. Still, this was overall a phenomenal showing by the Irish. They showed that the gold medal-winning performance from Ireland women at EUC was no fluke, and that Irish club ultimate may now have reached a point where it's developing more quickly than its UK counterpart.
Scotland rises
Alba (Glasgow) had a tough quarter-final draw where they had to face eventual finalist, Chevron Action Flash. They pushed Chevron harder than they'd been pushed in years2.  Alba lost on double game point in the quarter-final, but they had the lead for most of the game. The Scots then moved to the back-door bracket and, as mentioned before, defeated both XVI and Rebel in order to make the game to go to EUCF against Devon. The game was very close for most of the way until Devon took a 10-9 lead. From there, Alba scored six in a row to take the win and the final Euros spot in their first season as a serious club. They are a relatively young team with very lofty aims, and this was as good a start as they could have hoped for. Alba has given notice that there's a new contender in UK ultimate, and will try to prove themselves among the rest of Europe in September.
The women's team to come of the split of Scottish players from the mixed division, SCRAM (Glasgow) also had a performance that was worth discussing. While they didn't qualify for EUCF, they managed to finish fifth after defeating SYC in their final game. They don't appear to be as far along in their development cycle as Alba, but there are clearly some excellent foundations to build on and they too have had a fantastic first season as a club. It looks like Scottish ultimate is continuing to go from strength to strength, building on the impressive performances of Scottish university teams in recent years.
What's happening in London?
When some teams rise, others must fall. At this event, generally it was teams from London that suffered. While Clapham, Iceni and Deep Space all did impressively, other teams struggled. SYC lost some important games and finished sixth. Two years after making the final and one year after playing at WUCC in Cincinnati, that's a disappointment. Ka-Pow! and Fire, both of whom had good regular season results, finished 11th and 13th in the men's division respectively – though Fire suffered from what was probably the toughest draw in the first two rounds. Teams like Flump and Thundering Herd, meanwhile, didn't even qualify for this event. London has commonly been thought of as the center for ultimate in the UK, but now London could only send one team to EUCF in each division.
SMOG with an impressive first
Ranelagh, as mentioned, qualified for EUCF for the first time, as did Deep Space in mixed. Gravity won the title for the first time, and Alba qualified for EUCF at the first time of asking. The most impressive first, though, may well have been SMOG (Durham). The team has been adding talented young players for several years now and has a geographic reach larger than almost any other team in the UK given the scarcity of opportunity for players in the north of England. SMOG 1 won the national title for the first time with a convincing win over Deep Space, and never truly looked troubled at any point in the weekend. SMOG 2, though, was the real story. They made it to the game to go after defeating Guildford 15-10, and there beat WUCC team and two-time national champions Reading 15-11. This makes SMOG the first club to send two teams to the EUCF in the same division. The strength in depth of SMOG has been known for a long time, but this was a real statement for everyone to hear.
---
a team from outside the UK has never won before, and there's been some discussion about whether they can actually win UK nationals or whether that honor should go to the highest-placed UK team. Gravity, meanwhile, are sitting at home with the trophy so they probably don't care about the debate ↩

Not counting the push they get from Clapham every year ↩