The Minneapolis club has now claimed the first two legs of the 2019 Triple Crown Tour — the only team in any division to do so this season.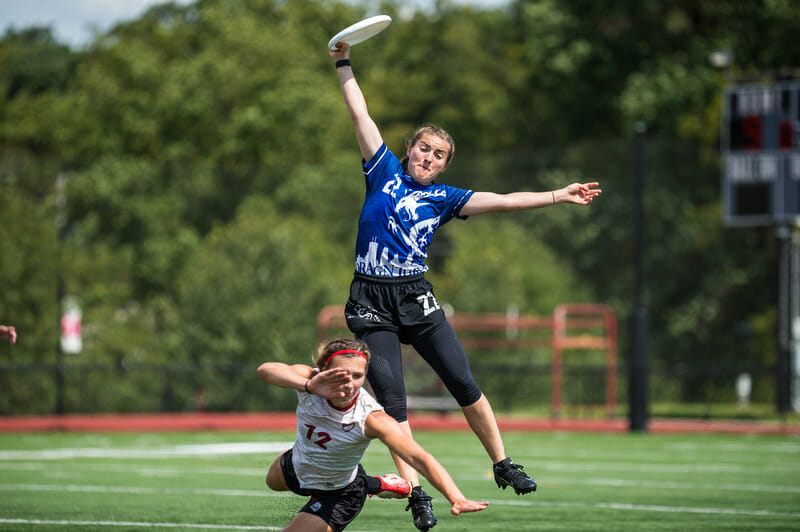 Ultiworld's reporting on the Club Mixed division is presented by Universe Point cleats. All opinions are those of the authors. Please support the brands that make Ultiworld possible and shop at Universe Point!
PHILADELPHIA — Mostly dominant weekends from top seeds #1 Minneapolis Drag'n Thrust and #2 Philadelphia AMP set up an unsurprising final for the mixed division at the Pro Championships. While the play from both teams to this point in the tournament was a testament to their skill, depth, and potential, the final itself was anything but. Despite playing in the best conditions of the day, both squads turned in sloppy performances in the final. A disastrous start from Philadelphia meant this one felt like it was over after the first four points; Drag'n held off a brief second-half rally and slogged their way to a 13-9 victory to claim the 2019 Pro Championships title, now holding the first two legs of the Triple Crown Tour.
Minneapolis started the game on offense, but their first point wasn't clean. A turn gave AMP an early chance to break, but they also fell prey to the gusty and unpredictable winds on the championship field. Drag'n Thrust regained possession and worked efficiently into the end zone on their second attempt.
On AMP's first chance at a hold, a laser of a pull bounced off of Anna Thompson's hands, and Drag'n jumped on the gift of a short field turn. Minneapolis quickly scored then sent another tricky pull back the other direction, nestling it in the back corner of the end zone. The pressure of the field position caused the AMP offense to rush a downwind huck to Linda Morse, and it floated beyond her reach. Drag'n made good on that opportunity as well.
At this point, one has to acknowledge how severely a talented puller really impacts a team: two breaks in the first three points gave Minneapolis a 3-0 lead, and it was all dictated by putting AMP in bad starting positions.
The fourth point found the rattled AMP offense struggling to get their handler flow right. Jacob Lien earned a huge hand block to stifle an around, and Minneapolis widened their lead to a stunning 4-0.
In those first four points, Drag'n Thrust completed 43 passes. AMP managed only one completion.
AMP finally gained a foothold on the fifth point of the game. It was the beginning of a stand-out performance for veteran Raha Mozaffari — her patience and pacing calmed the offense near the goal line, and she sent it into the end zone for rookie Liz Hart. The AMP hold was answered by one from Drag'n to take a 5-1 lead.
In the early going, Philadelphia made a number of big bids trying to coax turnovers from the Minneapolis offense. Instead of creating the desired defensive pressure, they frequently found themselves on the ground, helplessly broken by the elite Drag'n throwers. Down big late in the first half, the aggressive defensive strategy finally started to connect — but even then was thwarted by bad luck. AMP's Linda Morse nabbed a big block on a deep look to Claire Thallon, only to see the tipped disc float right into the Drag'n cutter's arms in the end zone. 6-1, Minneapolis — not exactly the exciting final fans were hoping for from two title contenders.
Paul Owens made a good heads up block for Philadelphia on the next point to get the disc back, then he scooped up a bookends score. By now, the quality of play was digressing for both squads as Philadelphia got a break back after a long, tunrover-fest of a point.
Five holds followed, but not without plenty of changes in possession or chances to break. Drag'n Thrust played a risky — or maybe just appropriately trusting? — deep game that worked to their advantage. Two holds in a row, they sent the disc deep to a thoroughly covered Becca Ludford, only to have Ludford dominate the air space and come down with a score. Drag'n took half 8-4.
Out of half, both teams tried to switch up the defense. Up until then, both had been running an aggressive person defense. After the break, each put together a junky zone. Neither worked. Drag'n held onto the new strategy a heartbeat longer, but both abandoned it after finding it ineffective; each team's throwers were too talented and creative to be hindered much by the zone.
AMP found a better pace in the second half of the game, relying on their veterans to do the heavy lifting. Anna Thomspon, Raha Mozaffari, Sean Mott, and Jordan Rhyne all had solid individual performances as AMP searched for a way back into the game. But even though they found a rhythm and great spacing in their horizontal stack, they couldn't claw their way back. After Philadelphia closed the gap to two at 10-8, Drag'n again pulled away, winning on a break in soft cap, with a decisive 13-9 final score.
Over the full game, the team with the better handler movement won the game. Around swings were Minneapolis' key to opening up the field. Drag'n managed to move the disc the full width of the field with relative frequency, where AMP tended to throw into narrower and narrower windows as they got rushed. In the middle of that vital Drag'n backfield distribution was young star Leo Sovell-Hernandez, a confident and patient 20 year old who played like a veteran handler. The club scene has been waking up to the impact of this young player, and this was his most impressive performance yet this season.
Drag'n Thrust team veteran Austin Lien gave a shout out to the young handler, calling him vital to their offense. He also expressed that AMP's first half was just riddled with uncharacteristic mistakes. His take on the game was that AMP got themselves into a rut they just couldn't come back from with unusual short field turns. But his team's win was more than that.
"We are lucky to have such a deep defense this year," said Lien. "And Ludford really bailed us out." With three unbelievable catches deep and under pressure, Becca Ludford's deep cuts were the fulcrum on which the game tipped.
On AMP's side, Andrew "Carl" O'Conner attributed AMP's slow start to a hard adjustment to the windy conditions. "It was almost like a stadium wind without really being in a stadium. The end zones were especially gusty and hucks were much harder to gauge."
This would explain the overthrows and missed communications early in the game that AMP just couldn't recover from. He credited the team's second-half improvement to a concerted effort to bring the energy up. "We realized we weren't just going to get no-turn holds, with the wind and the defensive pressure so high." Once they made that mindset shift and committed themselves to getting possession back, they were able to muscle through the turns. Still, they concentrated a lot of points on their top players — a notable departure for a team that has prided themselves on their depth over the past few seasons.
Drag'n has been on an upward trajectory this season. After falling short at the Pro-Elite Challenge to start the campaign, they bounced back to win the US Open for the first time in their program history. And their dominance has been complete: they haven't lost a game since PEC in June. Drag'n's win in Philadelphia leaves them as the only team across all three divisions still in contention to capture the full Triple Crown this season.
On the other side, AMP will leave the weekend with as many question marks as plaudits, for the second tournament in a row turning in some clunker performances. Despite dominating the first day in Blaine, they flamed out in quarters during the U.S. Open to an energetic Mischief. On home turf, last year's national champs looked unstoppable at moments of this tournament, playing next-level energetic defense that pressured teams to lose confidence in their own systems. But they also dropped a pool play game to Toro at the Pro Champs before their disappointing showing in the final against Drag'n. Though they had glimmers of their previous systematic flow, they moved as rapidly on offense as they do on defense — which wasn't a good thing. They took a little too long to harness that energy into a cohesive offense, and never dug themselves out of the first quarter hole they put themselves into.
Stats Overview
The Ultiworld staff was out in full force on this game, taking not just goals and assist but also yardage, total touches, line staffing, defensive blocks, and throw direction stats. Some of the quick-hit highlights for each team:
Drag'n Thrust
Erica Baken topped the team's play time with 11 points played, followed closely by Tavis Leighton, Sarah Meckstroth, and Leo Sovell-Fernandez at 10.
Leighton and Baken led the team in multiple other dimensions, as well. They each initiated possession nine times to go along with a staggering 33 touches apiece — both tops on the team.
Becca Ludford was the leading goal scorer for Minneapolis in the final, with three goals.
Caleb Denecour led the assists tally with four, nearly throwing for the cycle — he threw a hammer, scoober, and backhand assist, but never delivered a forehand into the end zone — but also led the team with the same number of turnovers.
Jacob Lien accumulated a team-high two blocks.
Jacob's brother Austin was the Minneapolis thrower with the biggest average yardage contribution, whose average throw was around 23 yards. The largest total yardage thrown came from Leighton again, throwing a massive 289 yards in the final.
The player who gained the most yardage as a receiver was Becca Ludford, with 215 yards of cutting advancement.
AMP

Sean Mott, Linda Morse, and Raha Mozaffari each played 10 points to lead Philadelphia.
Like Drag'n the same two players — Mozaffari and Jordan Rhyne — tied for the lead in both initiating possession (7 times) and touches (19).
Mozaffari was the only AMP player to score two goals, while Anna Thompson had the most assists at three.
Spencer DeRoos was the unfortunate turnover leader for Philadelphia with four.
Morse, Rhyne, DeRoos, and Paul Owens were the four players to record a forced block.
The thrower with the biggest average yardage contribution was Steve Rosso, with an average completion of 23 yards. Rhyne advanced the disc the furthest total distance, contributing 137 yards of advancement to the team with his throws.
The player who contributed the most yardage as a cutter was Sean Mott, though his total of 92 yards gained seems paltry compared to Ludford.