Traffic and Schwa nab qualifying spots out of tough region as Underground comes up short.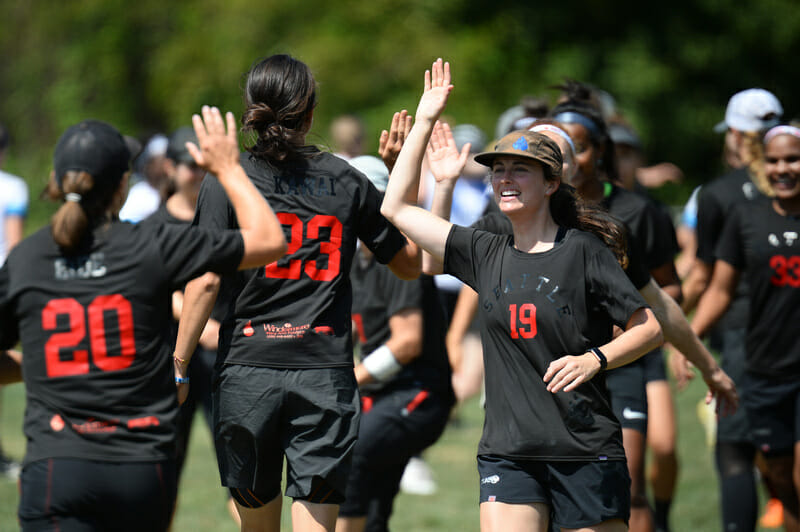 There was more than enough sound and fury in the Salt Lake Valley this weekend in the women's division of Northwest Regionals, but when the dust settled, the top three teams — Seattle Riot, Vancouver Traffic, and Portland Schwa — took the three available bids and will compete at the USA Ultimate Club Championships in San Diego next month.
Riot Rolls
Perhaps it should come as no surprise that #3 Seattle Riot did not struggle much at the regional tournament. With only three losses on the season — one to Medellín Revolution and the other two to #1 San Francisco Fury and #2 Denver Molly Brown — by a total of six goals, Riot has brought its A-game all season long. However, according to Coach Andrew Lovseth this weekend was only a piece of the puzzle.
"The outcomes were pretty good for us but we're still gliding towards peaking," Lovseth said. "We're not trying to peak at Regionals."
The only hiccup of the weekend for Riot came in a hard-capped victory over Traffic in what was a meaningless pool play game for Seattle, as they had all but advanced to the final already. Nonetheless, Traffic broke Riot after the hard cap horn sounded to finish with only a one-point margin between the two teams, perhaps setting up a hotly contested final.
Riot knew better though. Lovseth was disappointed in his team's execution in the pool play game and confident that a rematch would look a little bit different.
"If we had executed all the things we wanted to execute in [the pool play game] the score would not have been what it was," Lovseth said. "[In the final] we had the same gameplan but better execution all around. I feel we had the equal amount of chances in both games but it was about converting them in the final."
Convert those chances is exactly what Riot did. By the time the final rolled around, Seattle was clicking as they would hope they would and ended the tournament with a comfortable 13-6 win.
From here, Riot's focus turns to attempting to win a national title, which Lovseth feels the team will be able to give its best shot at in about a month.
"We're rounding into getting all our people here and healthy," Lovseth said. "I'm really optimistic about our trajectory."
Traffic Bounces Back from a Close Call
#15 Vancouver Traffic's weekend started with a little bit of drama but ended up about as expected. Out of the gate in the 9:00 AM round on Saturday morning, the Canadians were tested by Seattle Underground; pulling to their southern neighbors at 12-12 in a game capped at 13, Traffic needed to break for the win. In a format where the top two teams of a seven-team pool round robin automatically qualify for Nationals, any given loss can seriously complicate a team's weekend. Traffic pulled out the win over Underground and, according to coach Matthew Doyle, showed their true colors in the win.
"We had to break to win it on universe which ended up being a very critical game in retrospect," Doyle said. "It showed really good resilience from the team."
Another part of that resilience was righting the ship and performing to a higher standard for the rest of the weekend. That included a 13-11 win over Portland Schwa that all observers noted as a great performance from Traffic.
"[We had] an excellent game against Schwa," Doyle said. "That was a barnburner for the O-line."
"They played great," Schwa coach Matt Melius said of Vancouver. "It was one of the best games I've seen from them in my time coaching. When they're at their best they're a very, very good team and you can't be disappointed when you get that out of someone."
That bounce-back resilience led to Traffic qualifying out of pool play with a resounding 13-3 victory over Salt Lake City Elevate to cement their spot in the title game.
Vancouver's regular-season schedule hasn't allowed them to see much top competition, so Doyle recognized that the final would be a critical opportunity to test his team in preparation for the Club Championships.
"We hadn't played Riot or any other top teams this season," Doyle said. "It's really good to see where our team is at as this is our last benchmark before Nationals."
Schwa Fends off Challengers to Secure Third Bid
In a deep region like the Northwest, no team is safe to rest on its laurels. #9 Portland Schwa made sure to avoid any traps by playing clean and crisp against their lower-seeded opponents throughout the weekend. Apart from losses to Riot (13-10) and Traffic (13-11), Schwa's next closest game was a capped 9-4 victory over Seattle Underground in pool play.
Nonetheless, Schwa couldn't help but feel that something was left to be desired in its loss to Traffic. "We lost to Traffic which was definitely the game we were looking at coming into weekend," coach Matt Melius said.
However, the overall goal of the weekend, to advance, ran through another team entirely. Schwa came into the tournament as the second overall seed but the loss to Traffic meant that the team had to fight through the backdoor bracket to get the third bid from the region. That meant a game-to-go against #17 Seattle Underground.
That game, the last game of the weekend in the division, was the story of Schwa forcing Underground into some tough spots defensively.
"Underground runs a horizontal stack and they try to run through the middle of the field," Melius said. "Our objective was to get them to the sideline and constrict the field and make them run up and down the sidelines. It was effective in some ways."
Those ways mostly manifested themselves in the second half where, after taking a 7-5 halftime lead, Schwa outscored Seattle 6-3 in the second half to earn a convincing 13-8 victory.
Beyond advancing, Portland felt as if the weekend was successful in terms of developing its team on the road to the Club Championships.
"A lot of what we do is about chemistry," Melius said. "So finding the right combinations of people both in the backfield and downfield is a big focus for the weekend."
Perhaps one of those combinations came in the unexpected form of Kristen Rosenblum and anyone who is holding the disc. Rosenblum, typically found in the Schwa backfield, caught two deep goals right out of halftime to step on the gas and grab some momentum that kickstarted the strong second half for Portland.
"She'll surprise you," Melius said. "It was definitely something that we know she has in her. But something we hadn't used a whole lot of this weekend. If the timing is right and Julia [Sherwood] has the disc then the green light is on with that combo."
Schwa also used this weekend as a way to gauge its state as a team. Something possible because of the competitive level of ultimate played at the tournament.
"Northwest Regionals is one of the best in the country," Melius said. "We've had three or four bids most years I've coached. In terms of preparing for Nationals, we've got things now on mind because we can compete against teams like Traffic, Riot, Undergound, and even Elevate — this weekend was very good."
Underground Takes Shots at Top Teams
The first team out of the National Championship picture from the region was Seattle Underground. Underground, who had the most up-and-down pool play, took Traffic to double game point but also dropped a hotly contested game against #25 Salt Lake City Elevate. However, the coaching staff of the Seattle team looked at this weekend in a different way than most of the other teams at the tournament.
"Our team goal this year wasn't to go to Nationals," coach Nora Carr said. "We're starting with a three-year plan of building this team."
Many teams would love for the first year of their three year plan to involve playing in the game-to-go to Nationals, especially in the region like the Northwest that is so competitive. But Carr and her co-coach, Frank Nam, were focused on a bird's eye view of their team.
"We'll definitely be disappointed," Carr said. "But the big takeaway is how proud we are of our team and what we've accomplished this season."
Part of that pride for Underground came from shoring up its defensive capabilities. While the game-to-go finished with a lopsided score of 13-8, Nam took it as an example of progress for his team.
"One of our things was leveling up on defense this year and disrupting all of the offenses we faced," Nam said. "We don't feel like any offense we played was able to do what they like to do."
"I think this [game-to-go] was great. We were running poachy stuff and I felt they were getting tired and we were not," Nam continued. "We were playing to our depth which is really good. I felt like we were deeper than a lot of teams."