Established names to clash with fresh faces in the EUCF women's division!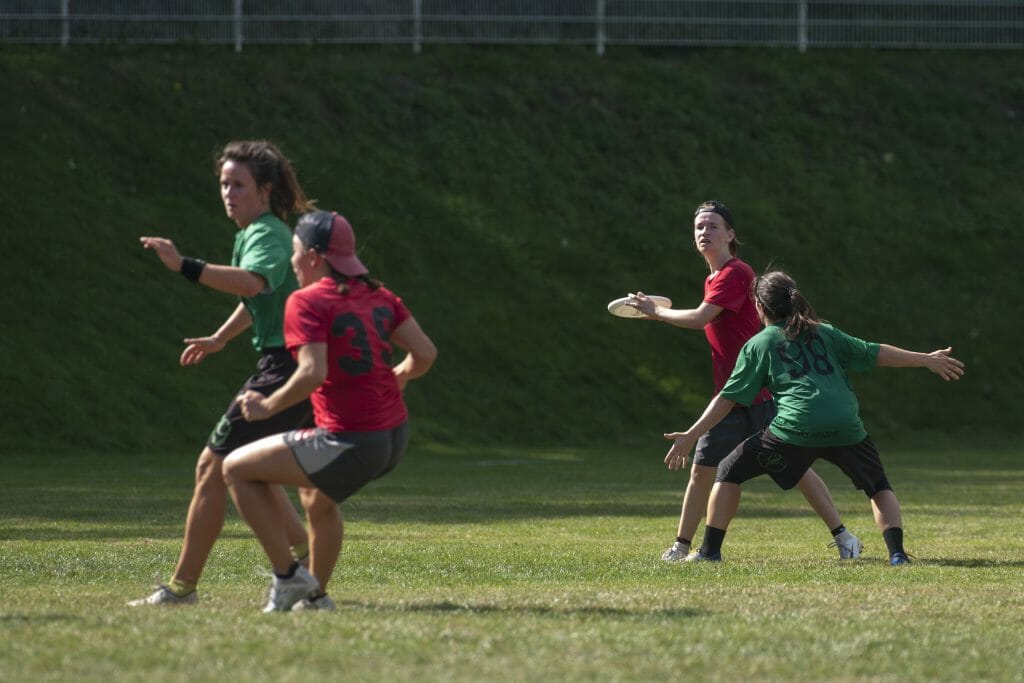 EUCF kicks off this weekend as the grand finale to the 2019 season. In the hotly contested women's division, the top 12 club teams from nine different countries will be hoping to finish off their season by taking home the title of European champions. Many teams were missing at least one key player at EUCR due to the EuroStars tour, so their return and presence at EUCF may see some teams coming out stronger than they showed at regionals. Other teams have added pickup players to their rosters who again, they are hoping will take the team to the next level at EUCF. With only five of the 12 teams from last year returning there will certainly be some exciting match ups and games. Find all the vital tournament information below.
Tournament Profile
Dates: 27th- 29th September
Location: Caorle, Italy
Weather: 22°C, partly sunny with passing showers.
Number of teams: 12
Team breakdown: Belgium-1, Czech republic-2, France-1, Germany-2, Italy-1, Ireland-1, Russia-2, Slovenia-1, United Kingdom-1.
Two pools of six teams have been drawn. The top two teams in each pool will advance to the semi-finals.
| Pool W | Pool X |
| --- | --- |
| Gravity | CUSB Shout |
| Cosmo | 3SB |
| Mainzelmädchen | Cosmic Girls |
| Brilliance | Gentle Ladies |
| Yaka | Iceni |
| Yellow FUJever | Heidelbärchen |
Pool W
Pool W has an interesting mix of new and seasoned EUCF teams. The pool games will be highly competitive and no team can be ruled out from possibly taking one of the top two spots to advance to semifinals.
The first seed in Pool W is Dublin Gravity (Dublin, Ireland), winners of EUCR-West. This is the Irish team's first time competing at EUCF and they are looking forward to "some close games and hopefully some wins". Almost half of their squad consists of experienced national team players who won gold at EUC this year. The remainder of the squad is packed with young talent who represented Ireland at WU24s. They said that having so many players competing at a high level during the summer helped to increase training intensity this year, an intensity they hope to bring onto the pitch at EUCF. With the Gilheany sisters handling and remarkable receivers such as Fiona Mernagh, Sinéad O' Shiel Flemming and, two time EuroStar, Sarah Melvin, on the pitch, Gravity's deep game will be very difficult to shut down.
Another team making their debut is Cosmo Women (Maribor, Slovenia). The team is quite young, boasting many players who represented Slovenia at EYUC this year, where they placed fourth. They are hoping to uphold the focus of an experienced team while playing in their own energetic and youthful style. Cosmo didn't lose a single game at EUCQ or EUCR-East so they are confident they can match up to the more experienced teams in their pool. They're excited to play teams with big reputations such as Brilliance, YAKA, and Gravity and aim to grow as a team and learn a lot from the tournament. They will be bringing pickups Carmen La Gala, Laura Kunzelmann, Linnea Seibert, and EuroStars Levke Walczak and Paulina Dul. Cosmo shouldn't, therefore, be underestimated by any of their competitors.
Mainzelmädchen (Mainz, Germany) also won their qualifying event, EUCR-Central without, arguably, their best player, Kyoko Hosokawa. The German team will be looking to improve on last year's sixth place finish at EUCF. They have had an impressive season so far, taking home the gold and spirit prize at German Nationals and winning the German Frisbee Federation Cup (DFV Pokal) this year. They're excited to play against YAKA and Brilliance who they matched up against last year but haven't met yet this season. You can expect other teams struggling to shut down key players such as Hosokawa and Helen Grosse-Brauckmann.
Brilliance (Moscow, Russia) also attended EUCF last year finishing in eighth place and this year they intend to climb higher. Their roster may be small but it consists of plenty of players who have experience playing at EUCF in previous years. They haven't taken part in many tournaments as a club this summer however it is important to keep in mind that Brilliance finished the highest (eleventh) place out of all the European teams at WUCC last year so they are certainly not to be underestimated. Last year the team struggled to convert double game point chances into wins so they are hoping to do improve in that respect this year.
YAKA (Noisy-le-sec, France) is the next team in Pool W. Lots of their players featured on the Women's and Mixed French teams at EUC this year. They will have EuroStar Aline "Rasta" Mondiot as well as Austria's Annika Wolfsteiner, both of whom picked up on the CUSB Shout team which won the EUCF last year. Paula Baas, a two time EuroStar, will also be playing along with American all-star Robyn Fennig, so a lot of depth and consistency can be expected from this very experienced team. The team showed their intensity at EUCR-South where they lost on double game point to reigning EUCF champions, CUSB Shout. If the teams meet again at EUCF it will make for a very intense game which could go either way.
YellowFUJever (Prague, Czech Republic) are another first time team at EUCF who claimed the last spot at EUCR-East. Their squad boasts a lot of talent with many of their players represented the Czech Republic at EUC this year.
Predicted semi-finalists: Gravity and YAKA.
Pool X
Pool X is also extremely competitive with teams like Iceni and Cosmic Girls expected to shake things up. The initial seeding in this pool is likely to be completely turned around.
The top seeded team in Pool X are last year's EUCF winners, CUSB Shout (Bologna, Italy). The current Italian champions from Bologna are bringing a very large squad to EUCF. New additions to their roster since EUCR-South include 2018 defensive player of the year runner up, Anna Ceschi, who is traveling all the way from North Carolina to play with her home team and Laura Niederhauser who shifted from FABulous when they failed to qualify for the EUCF. Shout played a very intense game against YAKA at EUCR and managed to come out on top. They're looking forward to facing the Russian teams and, of course, Iceni who they beat in the final of EUCF 2018. They certainly will have a large crowd of supporters and said they are aiming to do their best at this high level.
3SB (České Budějovice, Czech Republic) were joint winners of EUCR-East with Cosmo Women when adverse weather got in the way of the final. The Czech ladies have not added any pickup players since regionals but are looking even stronger now with the return of Sarah Tošnerová after the EuroStars tour. 3SB placed ninth in both 2018 and 2017 so will look to improve on these results this year, which means finishing top four out of this pool.
Cosmic Girls (St. Petersburg, Russia) came out on top at EUCR-North. The team placed third at Windmill this year, finishing higher than nine national teams. Exceeding their own expectations gave them a great boost and serious motivation to do well at EUCF. They haven't faced any of the other teams in their pool so far this season. They will have EuroStars Dina Dumanskaia and Inês Bringel on their squad and will likely be a dominant team in this pool.
The majority of Gentle Ladies (Ghent, Belgium) played on a national team this summer. This, however, had a negative impact on the number of international teams the club was able to play against this summer in preparation. The team are excited to play Iceni who they played against last year in advance of WUCC. They are also keen for a rematch against Mainzelmädchen, who they lost to in the intense final of EUCR-Central.
Iceni (London, England) need no introduction on the European ultimate scene. The London based team have placed in the top three at every EUCF since 2006. Out of these 13 years they have taken gold seven times. There's no doubt they will want to add to their outstanding record this year. Iceni lost the final of EUCR-West to Gravity this year so they enter the tournament they have ruled for over a decade at quite a low seeding.1 This will certainly upset the pool play. Since regionals, they have added EuroStars Maja Lindroth and Amelia Kenneth, to their roster who will be players to watch along with Jenna Thomson and captain, Fiona Kwan.
The second German team at EUCF this year is Heidelbärchen (Heidelberg+Karlsruhe, Germany). This team scooped up the last qualifying spot at EUCR-Central. They recently lost to Mainzelmädchen in a close final at German Nationals. This is their first time at EUCF and boast a lot of talented players such as Anja Folberth, Caroline Tisson and, Sabine Mannherz.
Predicted semi-finalists: CUSB Shout and Iceni.
---
This also happened last year when Iceni lost to Bristol in the EUCR-West final. They then still went on to get 2nd at EUCF ↩