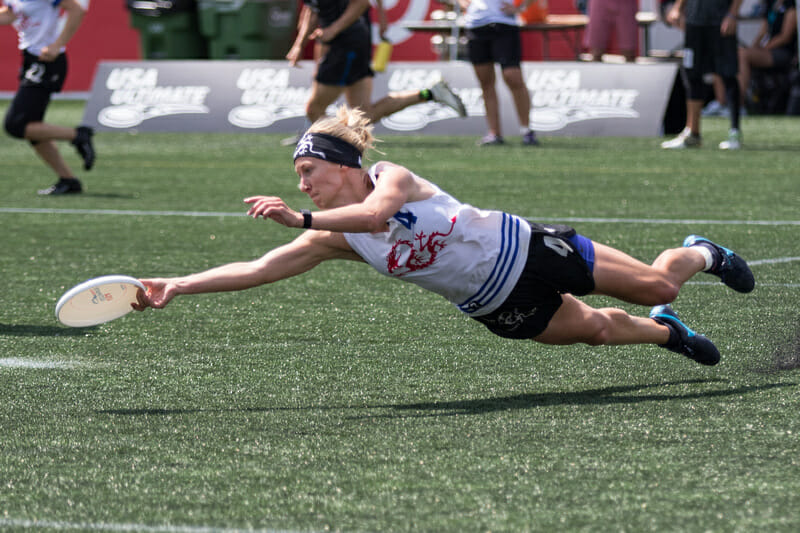 Ultiworld's reporting on the Club Mixed division is presented by Universe Point cleats. All opinions are those of the authors. Please support the brands that make Ultiworld possible and shop at Universe Point!
After an exciting weekend of Regionals, we now have the full field of teams and the post-Regionals rankings update from USA Ultimate. It's time to start thinking about what the seeding and pools might look like for Nationals.
Note that Regionals finish no longer binds seeding at Nationals. We do our best to follow USA Ultimate's guidelines for seeding: USAU's post-Regionals rankings are very heavily weighted, head-to-head wins matter at the margin, and historic success is considered. We do not explicitly try to avoid regional matchups.
Let's kick things off right away with the pools generated by my predicted seeding.
| POOL A | POOL B | POOL C | POOL D |
| --- | --- | --- | --- |
| Drag'N Thrust (1) | Mixtape (2) | AMP (3) | Wild Card (4) |
| BFG (8) | Space Heater (7) | Mischief (6) | Slow White (5) |
| Public Enemy (12) | Toro (11) | Snake Country (10) | shame (9) |
| Cocktails (13) | Polar Bears (14) | MOONDOG (15) | Superlame (16) |
1. Minneapolis Drag'N Thrust
#1 ranked. 2-0 v. Mixtape.
2. Seattle Mixtape
#2 ranked. Never played AMP this season, surprisingly.
3. Philadelphia AMP
Over 130 points higher ranked than #4 Wild Card.
4. Boston Wild Card
#4 ranked and won the tough Northeast region.
5. Boston Slow White
Slow White is #5 ranked. They are 19 points higher than Mischief, the Southwest champs. There's really no reason to move Mischief above them, though, unless you want to avoid that big fat regional rematch in Pool D. I'll admit, it's tempting to talk myself into Mischief getting the #5 seed because they won their region, but the rankings are king, and this is Nationals, not some regular season tournament.
6. San Francisco Mischief
#6 ranked.
7. Washington DC Space Heater
This is an intriguing setup. Space Heater, BFG, and shame are all ranked within 20 points of one another (in that order). None of the three teams won their region. Space Heater lost to BFG. BFG lost to shame. So you could make the case that shame moves up to seed #7. But that feels like a bit of a stretch. It's one thing if shame had beaten Space Heater, but they didn't play each other this season. So what do you do here? I think you just stick with the rankings. Everything else feels a bit tenuous.
8. Seattle BFG
#8 ranked. Has a H2H win over Space Heater but a H2H loss to shame.
9. Fort Collins shame
#9 ranked. They will end up seeded higher than Dallas Public Enemy, I think, because they are about 100 points higher ranked. This is precisely the kind of situation that undoing the Regionals finish rule was designed to accommodate.
10. Boston Snake Country
The next highest ranked team. H2H win over Toro.
11. Durham Toro
#13 ranked, 50 points higher than Public Enemy.
12. Dallas Public Enemy
It will certainly be interesting to see how Public Enemy's seeding is treated by USA Ultimate. They not only won the South Central, but they thumped both shame. and Love Tractor to do so. I am falling back on the rankings, because their regular season results just aren't very impressive. But it's not crazy to think that USAU could give them a reward for winning the region. Right now, there are five teams seeded ahead of them that did not win their region. But….rankings are king!
13. Columbus Cocktails
Though they're ranked just behind the Polar Bears, they have a H2H win over the surprise San Francisco qualifier.
14. San Francisco Polar Bears
Ranked #17.
15. Montana MOONDOG
Moondog! What a story. They originally didn't even qualify for Regionals. They'll (probably) be the #15 seed.
16. Asheville Superlame
Ranked #31. Of course, you could make an argument to move them up because of the pedigree on their roster and the fact that they won the region, but this is why the rankings exist!
Notes
In general, the seeding in the Mixed Division is a lot trickier than the other divisions. With more upsets at Regionals and teams that appear to have peaked at the right time, USAU will have to decide whether to rely a lot on the rankings or to try to do a more holistic seeding (which would move teams like Public Enemy and Superlame up). Usually, they stick to the rankings, so that's what I've tried to follow here. But some deviation from the above rankings would not be a big surprise!