Our best guess at USAU's seeding.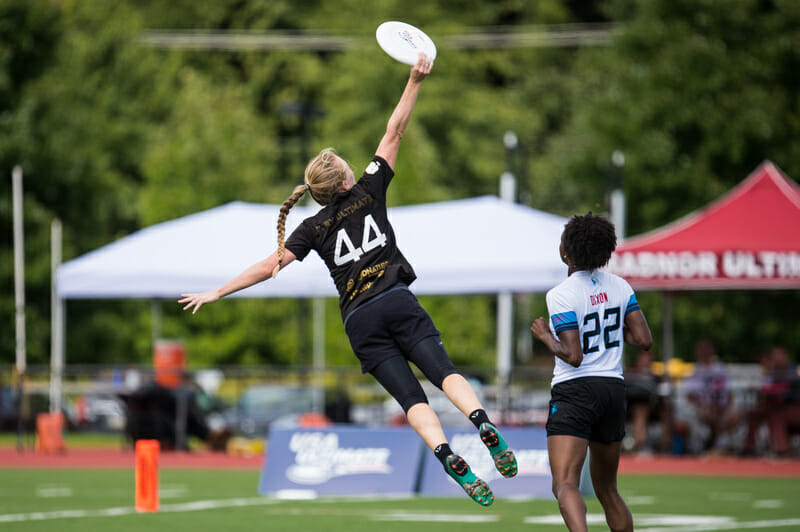 After an exciting weekend of Regionals, we now have the full field of teams and the post-Regionals rankings update from USA Ultimate. It's time to start thinking about what the seeding and pools might look like for Nationals.
Note that Regionals finish no longer binds seeding at Nationals. We do our best to follow USA Ultimate's guidelines for seeding: USAU's post-Regionals rankings are very heavily weighted, head-to-head wins matter at the margin, and historic success is considered. We do not explicitly try to avoid regional matchups.
Let's kick things off right away with the pools generated by my predicted seeding.
| POOL A | POOL B | POOL C | POOL D |
| --- | --- | --- | --- |
| Fury (1) | Molly Brown (2) | Riot (3) | 6ixers (4) |
| Traffic (8) | Phoenix (7) | Scandal (6) | Brute Squad (5) |
| Ozone (12) | Siege (11) | Nightlock (10) | Schwa (9) |
| Nemesis (13) | Wildfire (14) | Iris (15) | Pop (16) |
1. San Francisco Fury
#1 ranked. Defending champs. 140 points higher in the rankings than #2 Molly Brown, against whom they are 2-0. It's a lock.
2. Denver Molly Brown
Molly is #2 ranked and has a H2H win over Riot.
3. Seattle Riot
#3 ranked and has a H2H win over Brute Squad.
4. Toronto 6ixers
It doesn't really matter, as the teams are going to end up in the same pool regardless, but I think it's important that we see 6ixers rewarded for beating Brute Squad twice this season. Yes, 6ixers are ranked 40 points lower, but winning Regionals has to mean something.
5. Boston Brute Squad
Will either be the #4 or #5 seed.
6. Washington DC Scandal
#6 ranked. 0-3 v. Brute. 1-0 v. Phoenix.
7. Raleigh Phoenix
#7 ranked. Beat Schwa.
8. Vancouver Traffic
A two spot jump compared to the rankings for Traffic! There's definitely a case for keeping the original ranking ordering — Schwa / Nightlock / Traffic — but I think you have to reward Traffic for beating Schwa at Regionals. Their loss to Schwa came back in June at Solstice, effectively a preseason tournament. They are only 17 points behind Schwa in the rankings as well, so this isn't drastic. Traffic also has a H2H win over Nightlock, albeit at Solstice.
9. Portland Schwa
#8 ranked. 3-2 v. Nightlock. 1-1 v. Traffic.
10. San Francisco Nightlock
You could put Nightlock in front of Schwa for beating them most recently at Pro Championships, but I think Schwa's higher ranking and overall H2H advantage wins out.
11. Boston Siege
#11 ranked. H2H win over Ozone.
12. Atlanta Ozone
#12 ranked.
13. Chicago Nemesis
#14 ranked (#13 Rival did not qualify).
14. San Diego Wildfire
#15 ranked.
15. Quebec Iris
#16 ranked.
16. Minneapolis Pop
#19 ranked.