Even without SeE6, will the EUCF title stay in the North?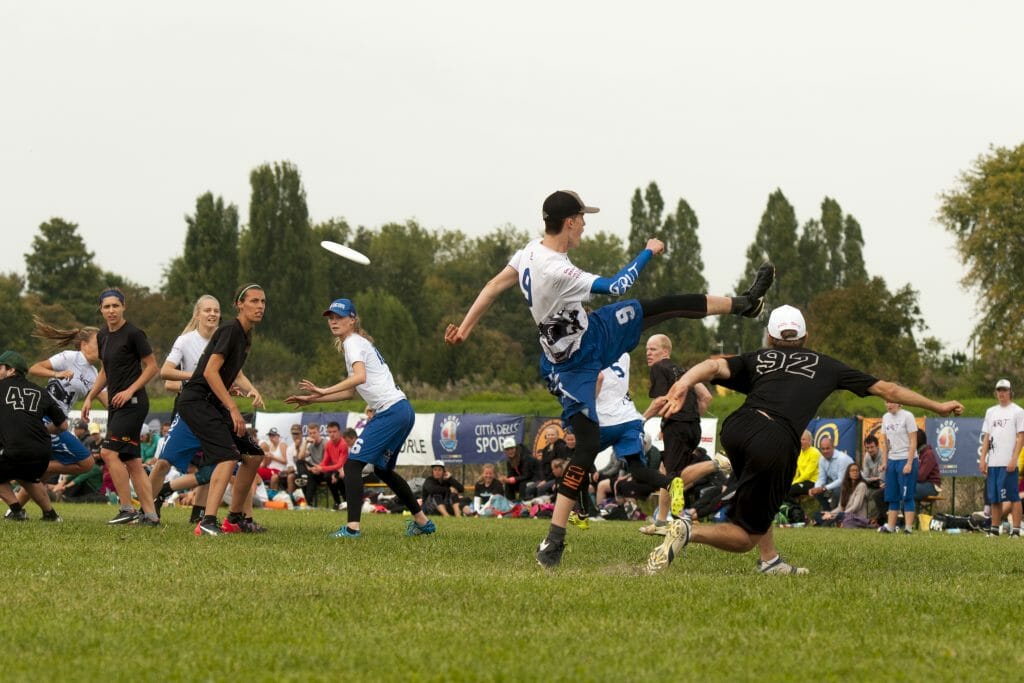 The premier club championship for European teams is just around the corner and the stage has been set for some close match ups. Hosted in the city of Caorle, Italy, the mixed division will showcase 12 teams from nine different countries all competing for the top spot. With only five teams returning from last year's edition it really is anyone's game.
Tournament Profile
Date: September 27 – 29
Location: Caorle, Veneto, Italy
Weather Forecast: Partly cloudy, partly sunny, some passing showers, 22-24 C, 7km/h winds
Total Teams: 12
Countries Represented: France, United Kingdom, Germany, Portugal, Netherlands, Poland, Czech Republic, Finland, Latvia
| Pool M | Pool N |
| --- | --- |
| PuTi | GRUT |
| Disc'over Lisboa | SMOG 1 |
| Left Overs | Die 7 Todsünden |
| Deep Space | Flow |
| SMOG 2 | Salaspils |
| Hässliche Erdferkel | Ah Ouh PUC |
Each team will play seven games, five in pool play and two more to determine their ranking. The top two teams from each pool will progress to the semi-finals with the top team from Pool M playing the second team from Pool N and vice versa.
Pool M
PuTi (Finland) are undoubtedly one of the stand-out teams at this year's tournament. A pickup team at heart, their roster features many Finnish stars from Atletico (Espoo, Finland), Otso (Espoo, Finland), and Helsinki Ultimate (Helsinki, Finland). With players such as Essi Inkinen and Susanna Surakka, their women's side is host to a frightening amount of talent and experience that could help them gain the upper hand in this pool. That being said, their male players are equally as impressive, expect to see Jarno Sihvo and Tomi Sandberg to make a big impact. The only question surrounding PuTi is if they have enough experience as a mixed team to overcome some of the more seasoned contenders. Having gone win for win against Salaspils at regionals expect a close game against these two rival teams if they meet.
One team that may struggle against PuTi's strong female showing are Disc'Over Lisboa (Lisbon, Portugal) who are bringing only five women to Caorle in their bid for gold. However, they are not be underestimated. After a fourth place finish at EUCF 2018 and a gold medal at regionals the Portugeuse team are sure to put up a strong fight to make it into the top four. Be prepared for some unbelievable deep shots with big throws from Ricardo Patrao and Jhonny Zuleta, while Maria Castillo and Alexandra Quintana reel them in.
LeftOvers (Brno, Czech Republic) have been steadily building on their progress at EUCF since their first appearance two years ago. After coming 11th in 2017 and 8th in 2018 they are hoping to raise the bar even higher this time around. This may be a herculean task given the standard of teams they will be facing but they are sure to bring a high level of spirit with them.
Making what seems like an overdue debut is Deep Space (London, UK), a London based team that is seething with talent. Deep Space is raring to prove themselves as one of the top mixed teams in Europe after what they felt to be a disappointing regional final. Deep Space has been "training hard and trying to ramp up the pressure" to prepare themselves for a tough fight this weekend. With strong players such as Leila Denniston, Xenia Shevnina, and Conor Hogan they are sure to leave a lasting impression on their opponents.
After taking second place in last year's EUCF and eighth at WUCC Hässliche Erdferkel (Marburg, Germany) proved they have what it takes to put it up to some of the best teams in the world. Unfortunately, some of their key players have taken the season off to focus on national teams and academia while others simply wanted a break. Even with this somewhat dwindled and younger squad Erdferkel is still a team to be reckoned with. However, the more experienced Germans like Germany men's players Stef Döscher and Lasse Hoogen will have to work hard on this team as many of their younger players will be experiencing their first major international tournament.
Smog 2 (Northern England) is a very interesting addition to the competition. This is the first time a second team has qualified for EUCF which is a true testament to the strength and depth of this English team. Since regionals there have been some interesting additions to their squad. The Thompson sisters: Helen and Becky, Victoria Wilby, and Callum Spiers have all found their way onto the team. Despite these pick ups it is unlikely that Smog 2 will be much of a challenge to some of the stronger teams here, including their own first team.
Predicted semifinalists: PuTi and Deep Space
Pool N
This pool is the tougher pool by far. Pool N boasts three incredibly strong teams in the mix (GRUT, Salaspils, and Smog 1) and Flow hot on their trails. It will prove difficult for the others to get a look in.
GRUT (Amsterdam, The Netherlands), with an average age of 20.5 years are the youngest, but by no means the weakest team in the mix. They established a level of dominance early in the season by making it into the final of Windmill for the third time in a row. While they took home the golden elephant in 2017 and 2018, they placed second to the French national team this year. GRUT did manage to showcase their skills against Ah Ouh Puc and Smog at Windmill, who they beat with relative ease. In addition to those accolades they finished in the top eight of WUCC last year and won the EUCF in 2017, the last time it was in Caorle.
However, at this EUCF they will be without three of their star players. With Lawko van der Weiden (studying abroad), Floor Keulartz (back injury), and Benjamin Oort (ACL injury) all missing, it may prove a little more difficult for them come away with a gold this time. To compensate for these crucial losses1 they have picked up several promising youth players. Their additions may be slightly lacking in experience in Caorle but GRUT has always been a team that thrives due to their youthful energy and athleticism and will surely be able to put up a strong fight against Salaspils and Smog 1. They are eager to "remain the best in Caorle".
As previously mentioned, the strength of Smog (Northern England) is undeniably impressive. Smog 1 contains many solid, experienced players who are comfortable playing together. They have shown how consistent hard work and dedication to and from all players on a team can reap massive rewards. On the pitch they are sure to deliver well practiced, clinical offense. They have picked up Rebecca Palmer and Rachel Naden who played for GB Mixed and GB Women's respectively. They are also gaining a very strong player in Rachel Turton who was injured for Nationals after falling on her arm when making the double-game point winning play for GB Mixed at EUC in Hungary. Hopefully they will keep their controversial clap spikes under control as they push for gold.
Die 7 Todsünden (Paderborn, Germany) are potentially going to have a rough time in this pool. Though this won't be their first time at EUCF it is safe to say that competition will be a lot tougher this year. Coming off a 6th place finish at regionals it will be difficult for the German to challenge the likes of GRUT and Smog.
This has been a slightly developmental season for Flow (Wroclaw, Poland) who wanted to ensure all their newer players could be relied upon as heavily as their top stars. They worked hard, putting the focus on their less experienced players to foster a team that has skill and athleticism in abundance. It seems this hard work has paid off as they dominated the fields at both EUCR-East and their national championships. A fifth place finish at this year's Windmill has also left them brimming with confidence. They have picked up two male players from the Polish National Team and two females from Troubles (Warsaw)2 who will help them prove to be a worthy opponent against all the teams in this pool.
Salaspils (Salaspils, Latvia) are one of the top teams to watch in Caorle. Coming second against PuTi at EUCR-North with only 10 players they have bulked up their roster for EUCF with their younger players coming onboard. Many of those young players turned heads at the U24 championship where Latvia mixed placed fourth. The core players of this Salaspils team managed to take second place at Windmill last year so they are more than qualified to challenge for first place this weekend. Watch out for players such as EuroStar Lasma Kublicka, Toms Abeltins, Santa Mozeika, and many others who are all capable of making big exciting plays.
Ah Ouh Puc (Paris, France) have chosen to rely on their players who consistently train together every week rather than padding out their roster with big names. They certainly have a talented team with Elisa Bruni, Ludo Taveau and Haude Hermand on offense and Clement Giffard and Manon Coyne on defense. However, they may not have the depth to excel against the stronger teams.
Predicted semifinalists: Salaspils and Smog 1
---
And to keep their age average down where they like it ↩

Troubles failed to qualify in the women's division by losing the game to go against Yellow FUJever ↩