Miss any of the action from Day 2's quarterfinal round? Our reporting team has you covered.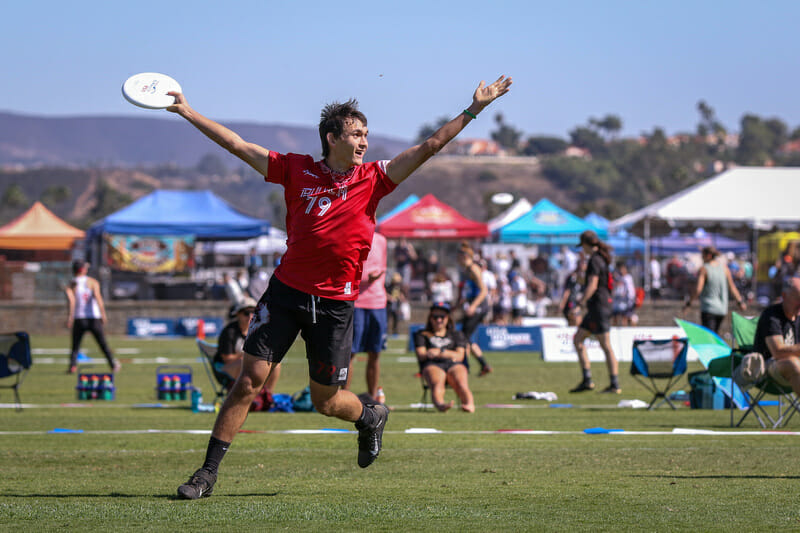 Ultiworld's reporting on the Club Mixed division is presented by Universe Point cleats. All opinions are those of the authors. Please support the brands that make Ultiworld possible and shop at Universe Point!
Catch up on all the action from the quarterfinal round on the second day of the 2019 Club Championships.
Philadelphia AMP 13-12 Seattle BFG
AMP Wins A Double Game Point Thriller Over BFG 
Philadelphia AMP escaped a dialed-in Seattle BFG in what turned into a game of runs. The teams were tightly matched from the get-go, with BFG jumping out to an early lead at 7-5, before AMP went on a run of breaks. AMP stretched the lead to 11-8, but three straight breaks from BFG brought them to the brink of the semifinals. After an AMP hold to make it 12-12, the teams kicked off a marathon double game point. Luke Ryan went down with a calf cramp, and AMP brought Paul Owens on to be a defensive stopper. That move paid off in spades, as he came down with a catch block on a huck to Tommy Li, and placed a perfect cross-field flick of his own to Michael Ing to win it on a break.
Owens had a goal, two assists, and two blocks for the game, as one of the many standouts for AMP. Ing and Linda Morse had two goals and an assist each, and Sean Mott continued his run of excellent play with two goals and two assists. It's a testament to the balanced attack of AMP that the scoresheet from the game does not feature players like Emily Shields, Raha Mozaffari, or Anna Thompson in a tightly fought win. In a common theme for AMP, Anna Thompson called out the team's mentality and ability to respond to adversity. "We work to grow at every tournament and every point. We've faced a lot of adversity, some of which is self-inflicted, and our goal has always been to feel that challenge and respond to it," said Thompson.
Thompson was also effusive in her praise for BFG. "They played how we expected them to play, but executed around what we tried to defend against, which made the game much more of a challenge. They're a great, patient team, hitting open people and not forcing too much. They also brought great energy throughout the entire game, and that was really tough to match, especially at the end when we were waning."
BFG was paced by three goals from standout cutter Kerry Chang, who was constantly on the move throughout the game, and two goals and an assist from Tommy Li. BFG seemed too patient at times, moving the disc laterally based on the openings AMP was providing, but when Li or Chang attacked towards the sidelines, it changed the geometry of the BFG offense and created windows that didn't exist previously.
BFG also brought impressive defensive intensity, always challenging AMP's resets and jumping lanes with that energy Thompson called out. Alissa Soo was particularly impressive here, notching three blocks throughout the game. That energy also helped BFG come up with several 50/50 hucks which put AMP on the back foot. However, AMP's balance and mental strength shone through as they bounced back to make yet another semifinal, this time against Fort Collins shame.
Thompson was excited for the matchup, saying "they're very aggressive deep, and have some very creative throwers. We played them earlier in the season, and so we're excited to take them on again." After a bounce-back performance from AMP today, it should be a great matchup.
Fort Collins shame. 15 – 8 Boston Snake Country
shame. Continues Their Dominance With A Big Win Over Snake Country
shame. continues their rampage through the bracket, stealing point after point from the greats and hardly pausing to count their gold before they rush off to plunder again. Their momentum is up and their energy seems limitless; they reached their peak at the right point in the season. Always a team that can go on game winning streaks, this quarterfinal showcased their ability to defend ferociously and fast break immediately.
Fort Collins controlled the pace of the game from beginning to end. They made the game 3-0 before Snakes got their feet under them. shame.'s deep game was on point today, and thrower Nick Lance made a huge impact as the wind gusted and varied. Kevin Coulter was everywhere for shame., making big plays that infused energy into his team. Kasey Anderson seemed uncoverable, putting three scores on the board. Coulter also shouted out their women applying strong pressure on defense, one example being Alex Daniels. Those stats wont show up on the score sheet, but it was obvious that the women on shame. have mastered the art of shutdown defense.
Coulter spoke on how the team kept their energy up in the important game: "When we were all up late last night, celebrating our first day, we realized that even though we'd spent all evening getting wild, we still had a full twelve hours until our game. And we made our plan right then: we made a plan to always sprint onto the field once we scored, no matter what the score was." That manufactured energy became real energy as they rode runs to victory.
When Snakes had a chance to break, they were playing a similar style, but struggled to connect with their deep cutters. One point stood out as wildly different, and effective: when their handler set, consisting primarily of Brian Garica, and Alex Grin, marched the disc down the field, then broke out of the pattern near the end zone to throw a goal. That seemed to throw shame. for a loop, but Snakes couldn't get settled into that rhythm.
"What are you going to do about it?" said Snake Country spokesperson Jake Herman, "After our outstanding performance at semifinals last year, we had a huge target on our back. I'm talking a really, really big target. Every team looked at us as an example of excellence in the sport of frisbee. I mean, it's exhausting. It's like up and comers fighting Tyson, night after night." They were also missing one of their key goal scorers, Kim Culpin. Though they leaned heavily on the talent of Chelsea Murphy, the roster was stretched a little too far to keep up with the high energy Fort Collins team.
Minneapolis Drag'n Thrust 15 – Seattle Mixtape 12
Drag'n Dials Up Almost Flawless Offense To Take Down Mixtape
In a matchup of the top two seeded teams, Minneapolis Drag'n Thrust played a near perfect game as they beat Seattle Mixtape to advance to a semifinal matchup against San Francisco Mischief. While they came in on opposite trajectories, with Drag'n fighting through a tough prequarters game against Boston Slow White and Mixtape relatively cruising through pool play, Drag'n raised their game against Mixtape. Mixtape played a decent game but were unable to rattle the Drag'n O, and a few mistakes from the Mixtape O-line doomed them when Drag'n converted those opportunities into a lead they never relinquished.
For Drag'n, the key stars were reigning POTY Sarah Meckstroth and young emerging superstar Leo Sovell-Fernandez. Meckstroth did her usual business of anchoring the Drag'n D-line and came up multiple times with key defensive plays or explosive deep cuts that converted Drag'n's break opportunities. On the other side, Sovell-Fernandez played a big role in limiting Mixtape's ability to get back into the game after going down an early break, playing provider for the Drag'n O-line with chilly resets and point-perfect passes.
For Mixtape, they seemed to lack their trademark energy throughout and that showed with their D-line struggling to dictate and generate breaks. "The first half they made very few execution errors, [and] it felt like we were waiting around for them to make an error," said Mixtape handler Jesse Bolton, "[we] got a few more 50-50 balls in the second half, got more turnovers, but, yeah, it's really tough to win a game at this level getting two breaks."
That was stat of the game: only two breaks given up by the Drag'n offense, as they were clinical with the disc. Content to mostly play small ball, Drag'n worked it up and down the field and looked nigh impenetrable going into half without being broken. They opened up a bit more after half and Mixtape made some defensive adjustments, but overall Drag'n played a near perfect game. "It was actually pretty incredible," Drag'n star Caleb Denecour said, "We've been able to bring it all together for this game and just execute, which is really what matters." That execution got them through to semifinals with one of the best performances so far in the Mixed division.
San Francisco Mischief 15 – 8 Columbus Cocktails
Mischief Manages Major Win Over Cocktails 
Mischief had a dominant showing against Columbus Cocktails. Relatively unchallenged so far this tournament, Mischief matches shame. as one of two teams going into semis with an undefeated record. Though this win over the Columbus team wasn't a big surprise to onlookers, their margin of victory was somewhat shocking.
Mischief didn't necessarily consider having just one game today lucky. "I'm always a little nervous when we only have one game in a day," said goal scoring machine Lexi Zalk, "It's hard to get up to speed fast enough, and our warm-ups were a little rough." Despite that, Mischief had a clean start, followed by a rougher stretch in the first half where they lost a little of their offensive precision. On offense, Cody Kirkland controlled the flow of the field, logging four assists. Their dedication to tight, fundamentally perfect defense kept them on track on both O- and D-lines. Even late in the game, with a healthy lead, Mischief's defense continued to pressure and frazzle the Cocktails. Lily Steponaitis shut down her match ups, and kept making big defensive bids that kept the Mischief sideline up and energetic.
Columbus suffered under that incredible pressure. "They had all these poach d's that we didn't see. When we played well this tournament, it was because we adjusted well to most teams. With them, we just kept not adjusting to their poaches." explained Columbus Cocktails captain Jeffery Brauning. Still, he was proud of how far Cocktails went into the bracket. "I set a goal early on to get the team to the semifinals of nationals. I wanted to set the bar high, to help people to play up to their potential." The Cocktails left it all on the field in that quarterfinals, but many of their players looked like they were losing steam by the end of the game. Since they heavily favored their top lines, showcasing stars like Sion Agami, Emily Barrett, and Cara Sieber, the cumulative toll of so many high intensity games began to take away their ability to compete down the stretch.
Going into the next stage, Mischief has a good combination of experience, energy, and intensity that could carry them to title contention. Zalk cited Kevin Smith, a long time veteran of the team, as a rock that helps bring up Mischief's energy. "It was really cool watching him get deep d's, after he's been on the team for more than a decade*" said Zalk. Mischief has the unlucky draw of Drag'n Thrust in the semifinals, which is a large obstacle to the finals, but out of any team in the field, they might have the right pieces to take the powerhouse down.