Miss any of the action from Day 2's quarterfinal round? Our reporting team has you covered.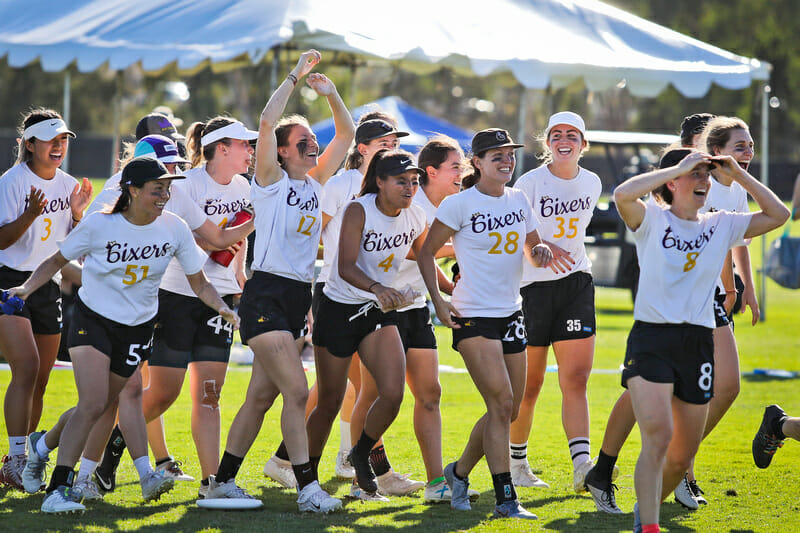 Our coverage of the women's division at the Club Championships is presented by Breakside Strength and Conditioning. Check out Breakside to find out how you can unlock your athletic potential for just $10 a month.
Catch up on all the action from the quarterfinal round on the second day of the 2019 Club Championships.
Boston Brute Squad 15 – 8 Raleigh Phoenix
Brute Squad Snags An Early Lead And Never Relinquishes It
The women's quarterfinal matchup between Boston Brute Squad and Raleigh Phoenix gave us a glimpse into what peak Brute Squad defense looks like once again. Phoenix managed to hang with the Boston team until it was tied at three, and then Brute Squad took off and never looked back. Kami Groom was everywhere on the field and Angela Zhu came down with anything she desired. This was a stark contrast to the last time these two teams matched up; at Pro Championships, their game went to double game point. Coach Ari Jackson was pleased with the difference we saw in his Boston team.
"Obviously we executed much more on offense. That's definitely a big part of it. Even on the defensive side, I think that was one of the most complete defensive games we've played all year. We really just applied pressure top to bottom. We weren't getting a block on every single pass, but we were there on every single pass and the amount of pressure that causes an offense to feel… is gonna lead to either blocks or the offense making mistakes on their own because they're so tight about every being contested. So I think our offense really stepped up and our offense is much improved since Pro Champs."
This win means that one of the semifinal matchups for the women's division is a rematch of the 2018 club championship final: Fury and Brute Squad. After a rocky season that led to some doubt surrounding Boston Brute Squad, they know they have something to prove against the San Francisco powerhouse. Jackson is excited for the upcoming matchup. "I feel against them pretty much the way I've felt against every opponent that we've played this weekend. We need to earn it and we need to take it. I feel like we are well prepared and ready to prove what we're capable of, that we haven't really shown to date this year."
Though the quarterfinal loss means the end of bracket play for Phoenix, the Raleigh crew is happy with their performance, particularly a stellar quarterfinal win over Scandal. Eddie Alcorn, Phoenix coach, notes that despite losing to Brute, the team is still on track to accomplish one of their goals.
"Yesterday, I felt like we built throughout the day. We started at our lowest point against Wildfire and even losing to Molly Brown, outside of a couple of stupid end zone turnovers, we really were able to ramp up our game throughout the day. That was really fortunate for us to be able to carry that momentum into the Scandal game today, and it was so great to be able to see our offense really be able to fire on all cylinders. We were lucky in a couple to come down with the jump balls but really we were relying on our D line to get some breaks and then look to be able to work it up. I would say overall, reflecting on the whole weekend, we wanted to put ourselves in the best position and even though we didn't know it yesterday, but we are in a pretty great spot right now, so we're very excited. One of our goals was just to break or hold seed so we're in a great position to do that."
San Francisco Fury 15 – 8 San Francisco Nightlock
Fury Tops Regional Rivals Nightlock 
Within the first few points, it was clear which way the pendulum was swinging in this game. Nightlock and Fury have played each other many times, and history played out in much the same way. Fury claimed victory in a game that was theirs from the outset, even as Nightlock showed flashes of their true potential.
Yesterday, we speculated that a miraculously strong wind could be the answer for Nightlock in their game against Fury, and while the wind did pick up for the entirety of the game, it was not in a way that helped Nightlock in the slightest. After trading quick holds, Fury immediately struck a devastating blow with an upwind break that was prompted by a layout from Bree Cahn. The Fury rookie may have started the break train, but soon all of Fury hopped on, as the reigning champs took five straight points in a row to go up 6-1. Highlights during those points included a Sharon Lin skying grab, an Opi Payne block and a calculated blady huck from Anna Reed. Needless to say, Fury set the tone early on.
Nightlock would right the ship after that string of breaks, but not in time to prevent Fury from taking half 8-2. The statement was clear from Fury –they're the Bay Area champs, and Nightlock can't take the crown from them just yet.
The second half started off far more promising from Nightlock, and had the game started at half, it would have been a very tight, competitive game. Nightlock's handlers–who had struggled to connect on reset passes–were far more confident in their throws, trusting their cutters to get open under. This trust was integral to their system, as they chose to focus on grinding out unders rather than looking for their deep shots.
Nightlock got their first break of the game early in the second half after an overthrown downwind huck from Fury gave them the entire field to work with. They patiently moved it in minimal increments before slicing a dangerous shot to Michelle McGhee for a goal. It was a shock to see Fury broken after playing so cleanly, and even Fury coach Matty Tsang admitted that Fury let off the gas a bit, "I felt like there was a moment there in the second half where we got a little sloppy," he said with a chuckle.
After locking back in, Fury rode their offense to multiple holds, and let the defense go to work on getting breaks. Their chances were fewer and farther between, but it was still very much the Fury show the entire second half.
Credit where it's due, Fury's players looked fantastic. Opi Payne was a menace on defense, and Carolyn Finney was predictably brilliant on offense. The team was missing Maggie Ruden and Kaela Helton, but had notable performances from other roster playes who stepped up. " Yelena Gorlin has been having a fantastic tournament so far, and Sharon Lin has created a lot of pretty fantastic blocks," noted Tsang. "We can set the table for her to get turnovers for us and make big plays, so she's been pretty phenomenal as well."
For Tsang, this performance was more along the lines of what he was hoping for in a nationals performance from his team. " I thought we did a much better job here as opposed to regionals, in terms of bringing a really high level of defensive intensity and continuing that for the most part in the second half. At regionals we let off the gas a bit and we didn't play a complete game, so we did a much better job."
The Upsets
After spending the evening of Day 1 predicting that The Big Four would now and forever be The Big Four, two legacy programs fell in dramatic fashion during quarterfinals.
The Toronto 6ixers rallied late to stun Seattle Riot 14-12.
READ: The full recap of the Toronto 6ixers exciting takedown of top-seeded Seattle Riot. 
Portland Schwa and Denver Molly Brown traded leads in a blow-for-blow afternoon round.
READ: The full recap of Portland Schwa's stunning upset of Denver Molly Brown.