A look at what's in store for the second to last stage of the bracket.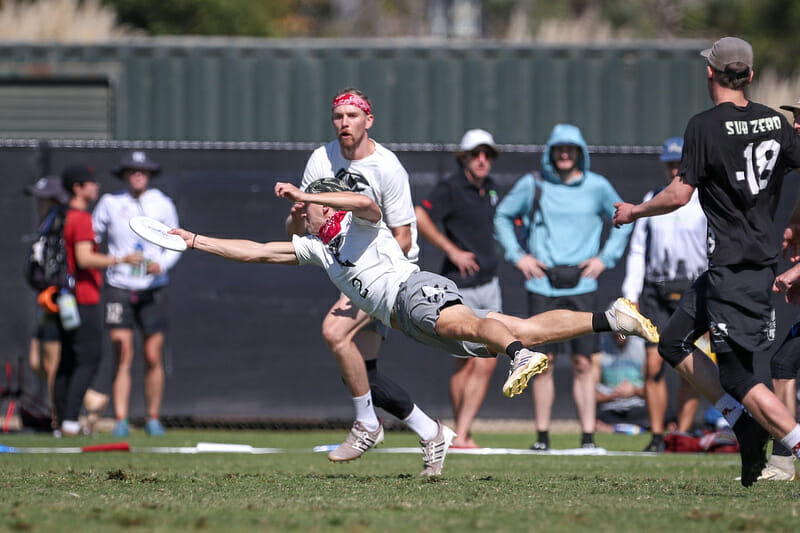 Ultiworld's club men's postseason coverage is presented by Spin Ultimate; all opinions are those of the author. Gear up for your big games, your tournament parties, and everything in between at Spin Ultimate!
Catch up on our full Friday coverage on the Day 2 Liveblog.
The semifinals stage is set. The final four teams in the men's divisions are stocked with talent. The opponents know each other well. Here's a look at how they match up headed into tomorrow evening's games.
No. 2 New York PoNY vs. No. 6 Chicago Machine (8:30 PM Eastern, 5:30 PM Pacific)
PoNY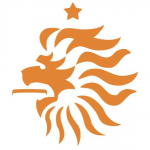 Record: 24-5
Record vs. Machine: 2-1 (two wins at 2019 Pro Championships, one loss at Pro-Elite Challenge)
Statistical Leaders: Jimmy Mickle (5 G, 15A, 1D), Grant Lindsley (6G, 7A), Chris Kocher (7G, 7A)
Path to Semis: 3-0 in Pool B (defeated Pittsburgh Temper, Denver Johnny Bravo, Minneapolis Sub Zero) –> 15-14 over Portland Rhino Slam! in quarterfinals
Machine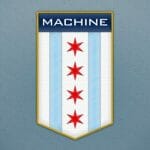 Record: 20-10
Record vs. PoNY: 1-2
Statistical Leaders: Joe White (5G, 13A, 1D), Alex Evangelides (8G, 1A, 1D),
Path to Semis: 2-1 in Pool C (defeated Toronto GOAT, Washington D.C. Truck Stop; loss to Atlanta Chain Lightning) –> 15-13 over San Francisco Revolver in quarterfinals
Reigning champion and preseason title favorite New York PoNY are one step closer to a repeat, but standing in their way are Chicago Machine, a team that by all accounts had last year's PoNY team within their grasp in the 2018 quarterfinals.1. By reaching semifinals Machine has already equaled their best finish in program history (2015) and will look to earn a spot in their first ever national championship game. PoNY, also in the second semi in their program's history will look to defend last year's national title.
While both teams find themselves making deep bracket runs once again, there have been significant upgrades to both rosters since 2018. As has become a norm in the modern era, the rich got richer when PoNY added a handful of big names in defensive aces Jeff Babbit and Jack Hatchett as well as the offensive star power of Grant Lindsley and Alex Thorne. Believe it or not though, Machine added even more talent as the demises of Madison Club and Michigan High Five netted them Joe White, Johnny Bansfield, Paul Arters, Peter Graffy, and Keegan North (not to mention unrelated additions of Zane Rankin and Tim Schoch).
After three meetings in the 2019 season, PoNY hold a 2-1 edge over Chicago, with Machine grabbing an early season win (when New York's roster was fairly depleted) and PoNY besting Machine in two close contests at Pro Championships. The matches were tight, so we can expect a great game regardless, but the X-factor of the semifinal will be Machine star Kurt Gibson, who is playing his first tournament of the year with Chicago due to injury. Joe White remains Machine's offensive lynchpin (pacing the team with 13 assists through quarters), but Gibson is an all-around playmaker who has been instrumental in guiding the D-line to breaks.
Defending national champs PoNY has the privilege of trotting out a (literally) world class O-line, featuring World Games teammates Chris Kocher, Jimmy Mickle, and Grant Lindsley alongside spark plug Sean Keegan. The talented group has handled nearly all comers in match defense, but have shown themselves to be vulnerable to tricky zone looks (like the one Boston DiG used to upset New York in the Northeast regional final). On defense, PoNY's help-match scheme is no longer a novelty but still appears capable of manufacturing enough turns to overcome any opponent in the field.
No. 1 Seattle Sockeye vs. No. 4 Raleigh Ring of Fire (11 PM Eastern, 8 PM Pacific)
Sockeye
Record: 19-3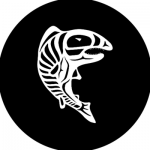 Record against Ring: 1-0 (14-11 at US Open)
Statistical leaders: Matt Rehder (9G, 4A), Dylan Freechild (6G, 7A), Simon Montague (1G, 8A)
Path to semis: 3-0 in Pool A (defeated SoCal Condors, Vancouver Furious George, Boston DiG) –> 15-9 over Minneapolis Sub Zero in quarterfinals
Ring of Fire

Record: 15-5
Record against Sockeye: 0-1
Statistical leaders: Jack Williams (3G, 10A, 4D), Mischa Freystaetter (7G, 2A, 2D), Matt Gouchoe-Hanas (1G, 8A, 2D)
Path to semis: 2-1 in Pool D (defeated San Francisco Revolver, Portland Rhino Slam; loss against Austin Doublewide) –> 15-12 over Washington DC Truck Stop in quarterfinals
When Seattle Sockeye and Raleigh Ring of Fire clash in the semifinals, it will represent a contrast of two season arcs. Sockeye has been dominant wire-to-wire, dropping a pool play game at their first tournament to Sub Zero (recently avenged in the quarterfinal round) and have been perfect since.2 In contrast, Ring of Fire didn't fully set their roster until mid-August and have been adapting to the loss of their hub handler Jon Nethercutt in the offseason.
Despite the divergent approaches to the season, the two teams find themselves in the same place, having taken strikingly similar paths. Both were top pool seeds, both survived double game point scares in pool play, and both handily won their quarterfinal matchups.
The similarities don't end there; these are two of the traditional powerhouses in the men's division. Sockeye has always been a standard bearer of talent and innovation (not to mention multiple national titles) while Ring is playing in their fourth straight semifinal. They even share many on-field traits — both offenses are adept at creating isolation space but, importantly, equally efficient at changing the point of attack to exploit help defense. On the other side of the disc, both teams are known for varying their defensive looks and deploying significant doses of junk sets and switch-heavy matchup sets.
Perhaps the most noticeable difference between the two is the experience factor for the starters on the roster. Sockeye has a large youth contingent, but many of those players are still in the role-playing stage of the development. The contingent of players driving their team are in the mid-twenties primes of their careers: Simon Montague, Dylan Freechild, Trent Dillon, Matt Rehder, and Matty Russell. In contrast, the 21-24 year old players on Ring are the ones who have the keys to their respective lines. The veteran Noah Saul paces the offense, but he's joined by newer faces like Elijah Long and Henry Fisher; on defense recent college graduates Matt Gouche-Hanas and Sol Yanuck are the driving throwers.
RELATED: Looking Back, Moving Forward
Seattle and Raleigh haven't met since the semifinal round of the 2019 US Open, a game that Sockeye won comfortably 14-11. In that contest, Sockeye displayed impressive offensive discipline and denied the Ring D-line chances at conversions through unforced errors. Ring stayed in the game early on by continuing to hit on high difficulty deep shots, but as they regressed to the mean on execution (and continued to be a little loose with the disc) the Sockeye D-line offense punished them to efficiently run the game out of reach. The turning point of the semifinal will certainly rest on the decision making of both teams, a factor that may be especially volatile given the pressure of the moment.
---
Machine led 7-3 at one point but lost when a huck to AJ Nelson at 11-12 resulted in a controversial turnover that opened the door for PoNY to convert the game winning break ↩

At least in sanctioned play ↩