A rematch of last year's epic Nationals semifinal is on deck.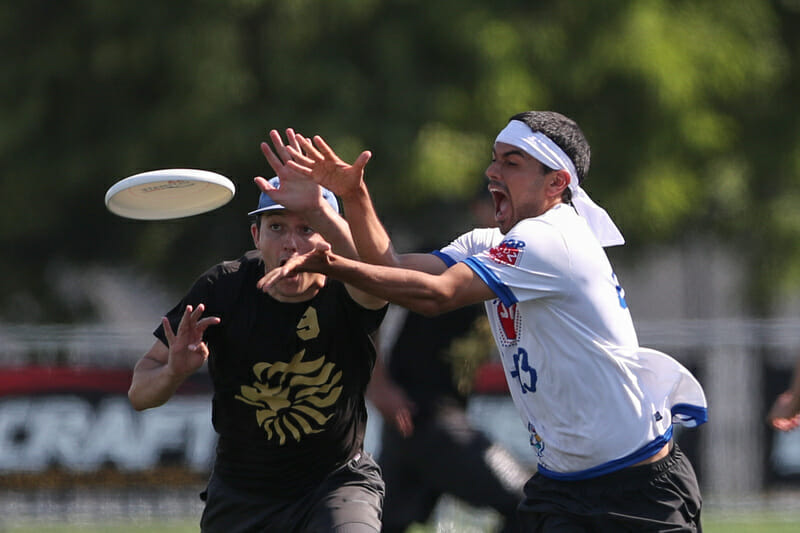 Blaine, Minn. — At the end of two days of competition, PoNY and Sockeye are the only teams remaining with a shot at the US Open title. They will meet tomorrow in the final after handling challenges from Truck Stop and Ring of Fire in the semis, respectively. All three of the teams from yesterday's Pool C standoff fell in the quarterfinal round, alongside Nomadic Tribe, who went on to beat Revolver in consolation.
A Welcome Turnaround for PoNY, at Truck Stop's Expense
#3 New York PoNY bounced back from a disappointing day of pool play yesterday with comfortable wins over Tokyo Buzz Bullets in quarters (15-10) and #2 Washington DC Truck Stop in the semifinal (14-10). They looked much more assertive and controlled on offense today than they did against #5 Raleigh Ring of Fire in pool play or all tournament at Pro-Elite Challenge. Sean Keegan kept up his excellent work in the backfield, and Jimmy Mickle found whatever had been eluding him with his throwing game. Yesterday's not-quites became today's bullseyes. Mickle sprinkled heavy helpings of huge deep throws and unblockable around throws past the Truck Stop defense in the semifinal like it was 2018 again.
With Mickle back in top form, PoNY's offense gained some much-needed breathing room. Chris Kocher pressed into the handler set less often, Grant Lindsley forced fewer shots, and Harper Garvey found a few opportunities to stretch his legs cutting from the stack. Sam Little and Mike Drost anchored a good defensive unit. Everything about the way they played today bodes well for tomorrow and the rest of the season.
Truck Stop played a tight first half against PoNY, giving up a break on their first offensive possession and getting it back just before the half was up. Even though they played well enough to stay on serve, the offense could have used another dynamic threat to pair with Rowan McDonnell downfield. Typically, that role belongs to Tyler Monroe, who sat out the game. Without his partner in the cutting sets, McDonnell tried to carry the load himself. His best moment came in pursuit of a Nate Prior huck. He leapt early and missed, landed out of bounds, and leapt back in bounds in time to make a falling toe-in catch.
But Truck have worked best this year when they spread touches around the whole team, confusing defenses by mixing up their points of attack. Prior, Markham Shofner, Gus Norrbom, and Ted Sither all take turns in the handler set. The offense had tightened up their looks a little bit all game and atrophied after the half, despite some great continue cutting from Christian Boxley. They also had some trouble finishing points in the red zone when PoNY forced them to throw the disc quickly to keep their looks from being covered. "You've got to simulate pressure…We're not putting ourselves in those situations regularly. And so when we get in these moments we're thinking, 'Hey! Hurry, hurry, hurry, score score score, and we make a mistake,'" said Truck Stop coach Darryl Stanley. The combination of offensive woes left the door open for PoNY to run away with the game.
The Truck Stop defense did not have an answer for Mickle, Keegan, and Lindsley. With that caveat, it was a good weekend for the unit. They play extremely fast. Delrico Johnson and Nate Prior regularly dominate bigger matchups, and Troy Holland made a number of huge plays. With Nicky Spiva around the disc after the turn, they have one of the division's best throwers to guide the counter-attacks.
Stanley is optimistic about his team's outlook. "We established a process," he said. After an otherwise dominant tournament, the unfortunate semifinal stumble may have thwarted Truck's ambitions for the weekend, but their earlier run of success should mean more for the season to come.
Sockeye Run through Ring of Fire to the Final
The biggest problem facing PoNY in the near future, now that they've remembered how to play like one of the best teams in the world again, is their opponent in tomorrow's final. #2 Seattle Sockeye have repelled every challenger so far at the US Open. It took them awhile to figure out how to attack Tokyo Nomadic Tribe's spread-out zone during the quarterfinal this morning, but they never really faltered and ran off a few breaks in the second half.
Their semifinal match against Ring of Fire proved to be a different sort of test. Ring kept up their barrage of deep throws. With receivers like Henry Fisher and Jack Williams, Ring could count on winning a good proportion of 50-50 shots; throwers Eric Taylor, Dillon Lanier, Liam Searles-Bohs, and Noah Saul have done their level best to eliminate 50-50 shots altogether. Ring largely hit on their shots in the first half, and they earned an early break to put Sockeye on their back foot.
Sockeye rode their offense to keep the game close. Simon Montague played a consistent game at the center handler position, not that he didn't have plenty of help downfield. Matt Rehder appears to be back to full strength after struggling through some nagging injuries a few weeks ago. With Rehder stretching the field, Jacob Janin has plenty of room to operate.
"I'm going to go out on a limb and say he is technically the best cutter on the team," said coach Mike Caldwell, who went on to list Janin's best qualities at length. "I don't think that's a limb," added coach Dave Hogan. "I never thought about it before, but when [Caldwell] said that, I was like 'Yeah. Absolutely.'" Janin's cutting tends to kick-start the whole offense. When Sockeye reach the red zone, Montague, Chris Kosednar, and Dylan Freechild take over to work horizontally until a scoring look presents itself.
At 7-7, both teams started to lose their composure. Ring of Fire missed three deep shots on consecutive possessions, all thrown out of bounds, but Sockeye responded with errors of their own. Sockeye finally got the disc with a short field when Ring flubbed an under: the disc seemed to travel right between Fisher's hands. Seattle scored quickly on their fourth opportunity to take half on serve.
At the beginning of the second half, Lanier put his stamp on the game. Lanier has been a dual threat all tournament in Ring's huck-friendly offense, throwing and catching scores in more or less equal measure. His best play was a flying chest high layout to snag a near-overthrow from Saul and even the game at 8-8.
Ring took a lead on the ensuing point when Chris Kosednar severely underthrew a lefty backhand in the red zone. In addition to earning the break, Ring may have gotten under Sockeye's scales by calling a phantom foul on a huck thrown beyond the back of the endzone earlier in the point. The observer rightly overruled the call, but the questionable nature of it undermined some of the trust necessary in a self-officiated game.
Sockeye responded as well as possible to losing the lead. They held and tacked on two breaks as Ring fell more and more in love with deep shots that were less and less successful. Freechild connected with Rehder for the second of those breaks — a huck that Rehder casually caught above a frenetic Williams bid — in what would be the last truly impactful point of the game. It was all Sockeye until time ran out. They closed out the game on a 6-2 run that was as dominant as the line suggests.
Ring of Fire captain Noah Saul was sanguine about the loss. "It was a really successful weekend," he said. "Obviously, we would like to get the outcome in this game and go to the final, but I'm proud of the way we played. Even though we didn't get the win, it was a fun game. We played with good energy and accomplished a lot of our goals." Ring will try to build on the strengths and iron out the kinks for Pro Championships on Labor Day weekend.
But the drama was not limited to breaks and holds. The game got chippier and more physical late in the second half. Then it turned truly sour. Freechild, who may have been upset by an earlier call, caught a score on a swing pass and immediately spiked the disc towards Anders Juengst, who had made an attempt to peel away from his matchup and cover the throw but never came close, either to the disc or Freechild. Both sides came away from the point with tempers flaring.
After the game, Sockeye's Trent Dillon approached Ring's Matt Gouchoe-Hanas to organize a spirit circle. It was a classy moment between the two Callahan winners, and the fact that both teams agreed to leave the shade on a hot afternoon after a tiring game is a testament to their willingness to keep lines of communication open.
"Trent just wanted to establish moving forward that that's not the kind of relationship we want to have. We want to be able to play hard and play fiery but be respectful. We wanted to nip [the sour feelings] in the bud before we play them again this year," said Saul.
Hogan agreed with his view. "[Sockeye and Ring] both have similar personalities," he said. "We're chippy and physical. And when those things clash, if you don't check it, things can get out of hand."
"It was absolutely the right instinct [for Trent to call for a spirit circle]," said Caldwell, who took a big picture view of the meeting. "The jumping off point was making sure we maintain a relationship that's positive with each other. None of us [play ultimate] as a job, and we rely on that relationship in order to be able to compete with each other at the highest level. I think both programs know that when relationships get bad, trust erodes. And we wanted to get out ahead of that. There was a lot of mutual respect and a lot of appreciation for the conversation, and people were really engaged. It felt really good."
With goodwill re-established, Sockeye can say they have checked all the boxes for a successful weekend — so far. They get their shot to win a second tournament on the young 2019 season tomorrow.