Philadelphia found just enough success with their hucking game to take down masters of the craft.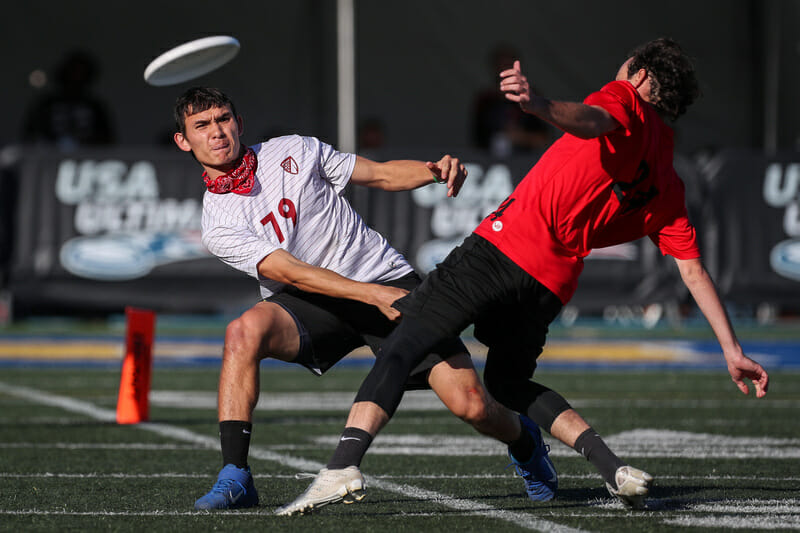 Ultiworld's reporting on the Club Mixed division is presented by Universe Point cleats. All opinions are those of the authors. Please support the brands that make Ultiworld possible and shop at Universe Point!
Ask any fan of the mixed division, and they'll tell you that Fort Collins shame. is looking to throw it deep at any time, from any part of the field. They have incredible throwers like Nick Lance and Owen Westbrook, along with outstanding deep cutters like Aubree Dietrich and Nick Snuszka. Strategy 101 tells you to play to your team's strengths. On top of that, their defenders are very accomplished in the air, since that's what they practice against. So it seems counterintuitive for a team to try and play that game against a team so comfortable with that style in the most important moment of the season. However, that's exactly what Philadelphia AMP did in the semifinal.
"We noticed they were fronting us, and when a team does that, we're not going to be afraid to attack," said AMP's Raha Mozaffari.
It didn't always work, but AMP was able to push the pace and frequently get their offense off the field in a hurry:
Stave Rosso takes advantage of confusion on the turnover to attack to the sideline, and wastes no time in uncorking a massive backhand huck to Luke Ryan, who recognized the movement immediately. Sure, it was a same-third huck that coaches always preach against. But it was an unmarked backhand to a receiver with steps, and at this level you expect a player near the disc to have that throw. That sort of quick strike is what put shame. on the map in the first place. Nick Snuzska gets caught looking, and while he shows some incredible closing speed to catch up, he already lost the position battle and barely had a play. Ryan cuts based on the motion of Rosso, and Rosso is willing to throw deep early. Textbook huck timing.
The same sort of thing happened at 2-2:
Here's Rosso again, this time with even less pressure. shame. is slow to respond to the turn as Eric Nardelli sprints deep, and Rosso picks up the disc with no mark and sends it downfield. AMP ended up missing the final connection, but they were still aggressively attacking weaknesses and players out of position.
However, these early successes may have been the kind of reinforcement that AMP didn't need. As the game progressed and shame. ramped up the pressure, AMP felt the need to keep pushing downfield, even if the option was subpar:
Here, Michael Ing cuts back for a reset and waits patiently for Sean Mott to get open. There was an open cutter coming down the lane to provide the reset, but Ing felt confident in his ability to get the disc downfield. The wind and the mark had other ideas, though. Owen Westbrook's mark was wide and flat, forcing a looping throw instead of something flat. With the height on the throw, the disc was beyond the wind barriers of the stadium, and got pushed five yards deeper than Mott could reach.
With shame. leading 9-7, Mott fell guilty of the same "hold and huck" philosophy that got Ing in trouble:
Mott sits with the disc on the brick, and seems to commit to Spencer DeRoos' cut without checking where the defense was. Vinny Fiacco went step for step with DeRoos, anticipating the deep cut from the middle of the stack and showing a great ability to catch up to a throw trailing over his head. Mott had options opening up, but shame.'s reliance on the deep game lured AMP into a hucking battle.
It very nearly cost them the game, with another big turnover with shame. leading 14-12:
Mozaffari is right to demand more balance on offense moving forward against San Francisco Mischief. AMP was most successful when they followed a huck conversion with aggressive under cuts, taking advantage of the space opened up by teams worried about the deep space. As the game wore on, shame. was playing more honest defense instead of taking away nothing but the unders, and that's where AMP's versatility gave them the edge. AMP was finally able to make good on the deep game at the very end, but it was close.
Looking at the stats, five AMP players averaged incompletion distances over 40 yards, trying to find those home runs when there might not have been one available. Sometimes, what the defense is giving up is exactly what they want you to take, and as the game wore on, it seemed like AMP was falling into that trap. Too often, AMP looked to throw deep cutters open, and that is the core of shame.'s game. With a flat mark and defenders who can outjump the rest of the field, few teams will survive dueling for jump balls against the Fort Collins squad. They have a very clear grasp of their strengths, and know how to pull opponents into that kind of game.
AMP had far more success working the short and medium distances, with average completion gain in the 10-15 yard range for their primary throwers. AMP do such a great job attacking the underneath spaces and setting up cuts to ensure they rarely lose yards. Many teams have a tendency to move backwards on their resets, but AMP always looks like they move forward. This sort of motion, cutting across the front of the stack as it moves downfield to open up easy gains, helps open up the deep space for more open hucks. The Philadelphia team is at its best when they stick to that philosophy. It opened up acres of space against Washington DC Space Heater, and they had success early against shame., but AMP started to rely on that strategy as the only route forward on several offensive points. It took that additional push to the brink to snap out of their funk. AMP started to look deep earlier and off of cutting motion, and it ended up working out in the end despite their midgame failings. Against Mischief, expect AMP to continue to attack fronting defenders, but with a healthier dose of their trademark offensive movement.