AMP earned back-to-back titles behind the strong play of their women.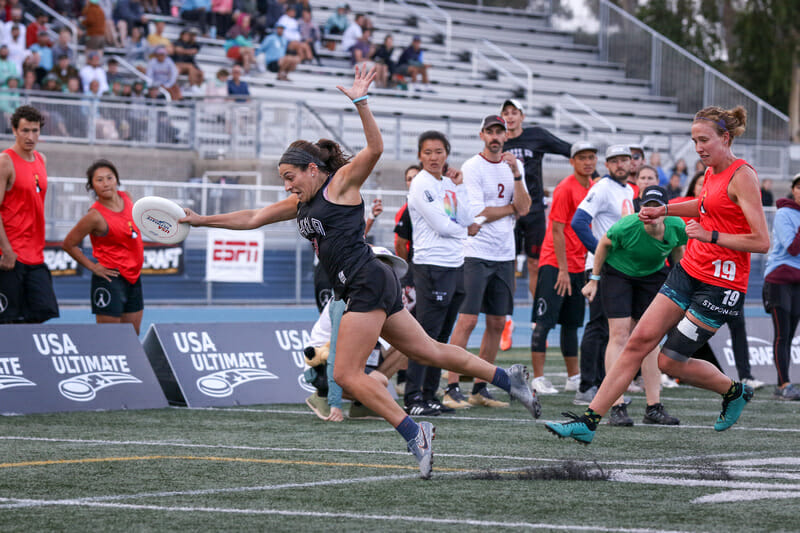 Ultiworld's reporting on the Club Mixed division is presented by Universe Point cleats. All opinions are those of the authors. Please support the brands that make Ultiworld possible and shop at Universe Point!
Philadelphia AMP put together a complete performance against San Francisco Mischief to earn their second title in two years. A back-and-forth game at the beginning, AMP took control in the second half and Mischief hardly had a chance from there as AMP put them away to claim the championship, with a 15-9 final score.
"We executed the game plan pretty much perfectly," AMP coach Patrick Sherlock said after the game. Indeed, AMP only gave up a single break to Mischief and it came on the second to last point, when the result was all but decided.
Going into halftime, AMP had a slim one break 8-6 lead as both teams struggled to complete hucks in the swirling stadium winds. During the third point, the teams combined for four deep incompletions after completed hucks from Matthew Crawford and Anna Thompson gave Mischief and AMP holds respectively to start the game.
Mischief's stars kept up their production in the first half, with Lexi Zalk (4G), Cody Kirkland (2G/1A), and Mia Bladin (2A) filling the stat sheet for San Francisco early. It wasn't entirely comfortable for Mischief, though, as they pushed through some championship final jitters. "I think there was a lot of nerves on our end," said Zalk. "Most of our team has never been in this position before, so I think people were just getting into positions they weren't used to with a level of intensity they weren't used to."
AMP had no such issues with nerves in their third straight appearance in the title game. Anna Thompson (4A), Sean Mott (2G/2A), and rising star Paul Owens (3G/1A) were the primary contributors in the first half for AMP as they took advantage of Mischief's mistakes and made the most of their deep game.
After halftime, AMP held and then went on a string of breaks that blew open the game and left Mischief searching for paths back to contention. A throwaway from Mischief's Gina Schumacher gave AMP their first break opportunity after half and they took full advantage of it, with Sean Mott going up over two Mischief defenders for the goal and AMP's second break of the game.
The next point was crucial for Mischief, down 10-6 and needing a hold to stay in the game. Unfortunately for them, Zalk collided with AMP's Danielle Walsh as she tried to read and follow a floating pass from Kirkland. Walsh called an offensive foul against her, and observer Mitch Dengler upheld the call, took the disc from Zalk, and gave Walsh and AMP another break chance. Walsh immediately hucked it to Luke Ryan, and just like that, instead of being down only three, Mischief trailed by five. AMP had their eyes on the title.
AMP was able to generate two more breaks in the following four points as they continued to apply smart defensive pressure on the Mischief offense. "It helped that we were familiar with them," said AMP captain Linda Morse. "Our coaches did an excellent job scouting, so we knew who we were forcing a different way or being flat on, more around, and we were just ready to run when we got a turn." Founding member Raha Mozafarri (2G/1A) got into the action late as AMP moved closer to their second title, catching a goal from Morse and putting it deep to Natalie Bova (2G) to put AMP on the verge up 14-7.
Zalk made sure that the scoreline was a bit more respectable with two more goals as Mischief picked up their first break of the game. But AMP settled their offense on the final point, playing small ball all the way up the field until Bova caught the winning score for AMP, just toeing the line while doing so. AMP rushed the field as they celebrated back-to-back titles and Mischief was left ruing what could have been had they kept up their consistency from earlier in the weekend.
Reflecting on their game plan against AMP, Mischief captain Kirkland said that the Philadelphia club simply took what Mischief gave them and executed on it: "What they did a good job of was executing hucks from sidelines, which is what we were asking them to do, and they hit them at a really high percentage, and if you're doing that it's going to be hard to stop them," he said. "We picked our battles and kind of died on that stake." In contrast, Mischief could not connect on many of their deep looks as they tried to get back into the game, going 4 out of 11 deep attempts in the contest. They missed on multiple hucks late that AMP took advantage of to extend the lead and fully put the game out of reach.
With questions swirling about the state of gender equity in the mixed division, AMP made it clear where their preferences lay, as five women topped the list in play time and combined for four goals and six assists in the final. Star Anna Thompson threw the opening and closing assists, and while Malti McKinnon did not get on the stats sheet she was still heavily involved in AMP's offensive game. "I think it's really impressive how AMP plays in pressure situations with everyone," said AMP's Max Charles. "I think that's the time you actually see which teams are the most equitable."
Much of the same was true of Mischief, who were led in goals by Zalk; Schumacher was second, while Mia Bladin was fourth in the category. Mischief's Ben Feng pointed out that seven of their first half goals in their semifinal were scored by women. It was clear both the San Francisco squad and AMP had found strength in effectively creating room for their women to succeed.
Coming into the season, Mischief knew they had potential to make a deep run at Nationals and their run to the final likely exceeded expectations after not making a final since 2006. Going forward, captain Cody Kirkland was optimistic about Mischief's outlook. "I feel really good about the future of the team to be honest," he said. "This is my third year on Mischief and I think we've been growing every year, and improving our skills." Continued improvement for Mischief is definitely possible as they learn from this championship game loss, and they'll hope it's not another thirteen years until they can return to a title game.
As back-to-back champions, AMP brought back many of the same faces that were a part of last year's title, but they were without some of 2018's stars. Without Carolyn Normile and Nicky Spiva, returning players were forced to handle a larger volume and to play bigger roles on both sides of the disc. They were quick to point out how different this group was than the one that got it done last time. "I think we don't think of it as repeating," said Charles. "We think of it as a new experience, a new team, a new narrative." It was a new team, but the narrative after the final remains the same: Philadelphia AMP are national champions.