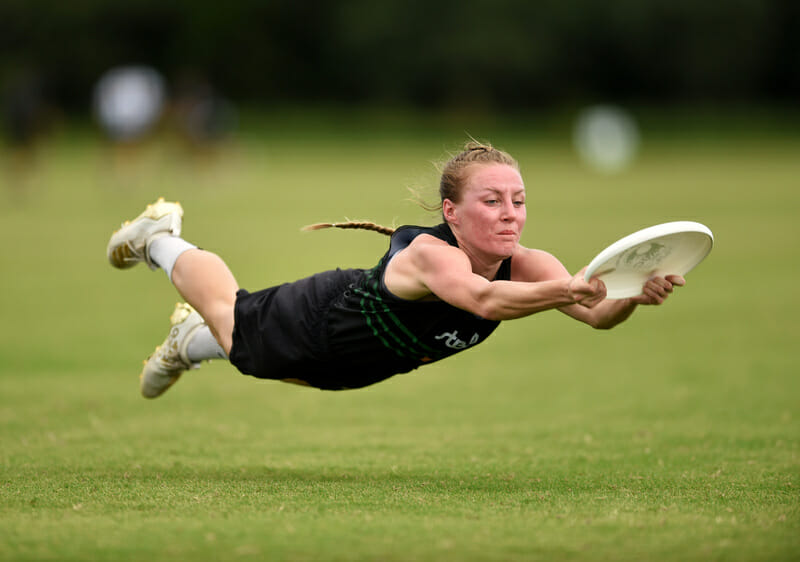 The opening day of PAUC consisted of just two rounds, but a handful of teams across each division seized the opportunity to climb to the top of their various pools. There were also a handful of thrilling games and plenty of action across the polo fields to get caught up on.
Men's Division
Evolution (COL) skyrocketed out to a big lead at the top of pool A with a 2-0 record and +18 goal differential. Only one other team in the pool went undefeated — Alberta Flatball Club (CAN), who played only one game, a 15-13 win over Quake (CAN). Evolution blew out hometown Tampa UpRoar (USA) 15-4 and then outmatched Domino 15-8. The pool is now absolutely Evolution's to lose with the tournament's top seed Euforia (COL) losing to Quake 15-5 in their only game of the day.
The picture in Pool B is less clear after day one. Houndd (CAN), Comunidad el Oso (COL), and Warao (VEN) all sit at 2-0, with Houndd and el Oso holding a big lead on the group in goal differential at +25 and +22, respectively. The pool featured two double point games, including the sixth seed Warao knocking off the pool's top seed Phoenix (CAN) 15-14. The other was an all-Colombian affair between AIRE and Discountry, with AIRE just barely holding on for a 13-12 win over the pool's bottom seed.
Women's Division
In a rematch of the double game point final at the recent Colombian national championships, Revolution (COL) swatted away Bamboo (COL) with a comfortable 15-9 final scoreline. Revo followed up that effort with a 15-7 win over Qub (CAN) to move to 2-0 and grab the lead atop Pool A. It would be a shock to not see Revolution win this tournament, and their performance on the tournament's opening day did nothing to provide any doubt for their ability to do just that. Voltaje (COL) is the only other undefeated team in the pool with an 11-5 win over Spanglish (VEN) and 11-9 win over over Bamboo.
Stella (CAN) was even more dominant in Pool B than Revolution was in Pool A. They beat PPF (CAN) 13-7 and then walloped Thrift Shop (CAN) 15-1. Stella has been one of the top teams in Canada for years, and, bolstered by the return of Hannah Dawson and Alisha Zhao, they look like a favorite to make the final after their impressive start. Wicked (USA) and Aerosoul (COL) are both undefeated below them, but each played just once on Monday. No games in the pool were particularly competitive, with Thrift Shop's 15-10 defeat to La Séptima (COL) the only game in which the loser reached double digits. That should change when Stella, Wicked, and Aerosoul all play each other later in the week.
Mixed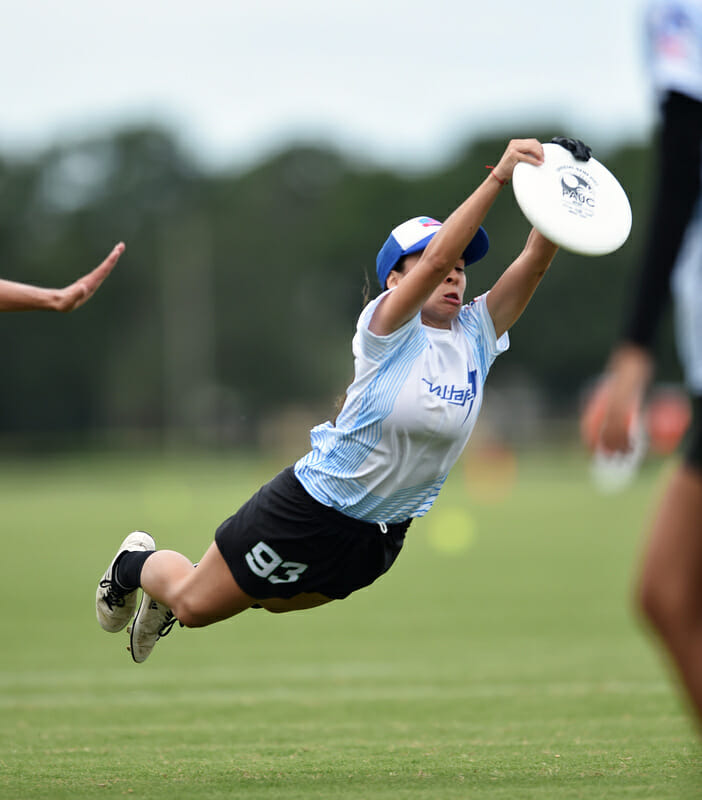 It was the three American teams who all went undefeated in Pool A. Jughandle was the only of the three to play two games, while Steamboat and Mischief both won big in their lone games. One of Jughandle's two victories came in a 14-13 thriller against Bunny Thugs (CAN), but even that was not the most exciting game of the pool. Chile Mixed and Osos Perezosos put on a game overflowing with chaos in the first round of the day on the Ultiworld live stream field1. Osos Perezosos jumped out to a 7-2 lead, with Chile getting back to within 8-7 after half. When Osos went on run a run to earn themselves an 11-7 lead, the game seemed over. Again, when they scored to go up 14-12 after Chile had tied it up at 11-11, it looked over. But Chile had one final run left in them to snatch the 15-14 opening victory.
The American sides topped Pool B as well after day one. Public Enemy (+18) just edged No Touching! (+17) to grab the early tiebreak lead among their 2-0 records. The American clubs are joined by Charrua (URU) at 2-0, but the Uruguayans were much less dominant, just edging Hammers Ultimate Buenos Aires (ARG) 13-12 in their second round matchup.
Master Men's
The master men's division seems destined for a USA vs Canada battle for the top spot. All Bashed Out (USA) and NSOM (CAN) both cruised to 2-0 starts. NSOM was the only of the two to allow double digit goals in a single game when they gave up 10 in their 15-10 win over Yanomami (COL) in their first round game. Stakes are relatively low at the moment as all teams are merely playing for seeding in the power pool that will determine the division's winner, but All Bashed Out and NSOM took a big step out in front of the rest of the pool on the tournament's first day.
Master Mixed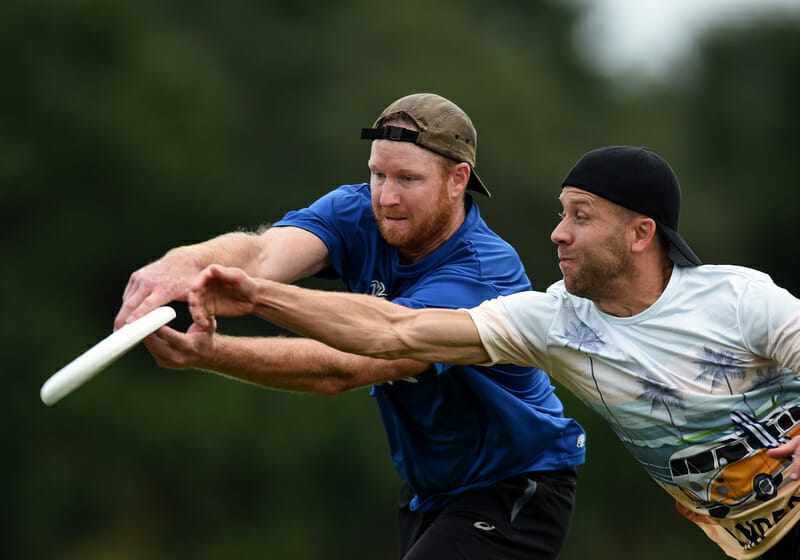 The six American clubs hold the top six spots after day one, with Happy Campers (CAN) and US Virgin Islands rounding out the bottom of the division's lone pool. 512 holds a two goal advantage in goal difference over Unambiguously Grey to claim the top spot of the two 2-0 teams. The opening two rounds of action featured plenty of close games. The Happy Campers' two losses were by a combined four goals, and one of 512's victories was a mere two goal win over San Francisco Bridge Club. The top four finishers in round robin play will advance to the bracket, and if day one is any indication, the top couple of teams to miss out will do so by fine margins.
---
the game is now available to Ultiworld Full and Plus subscribers ↩