South Carolina could still contend in the AC.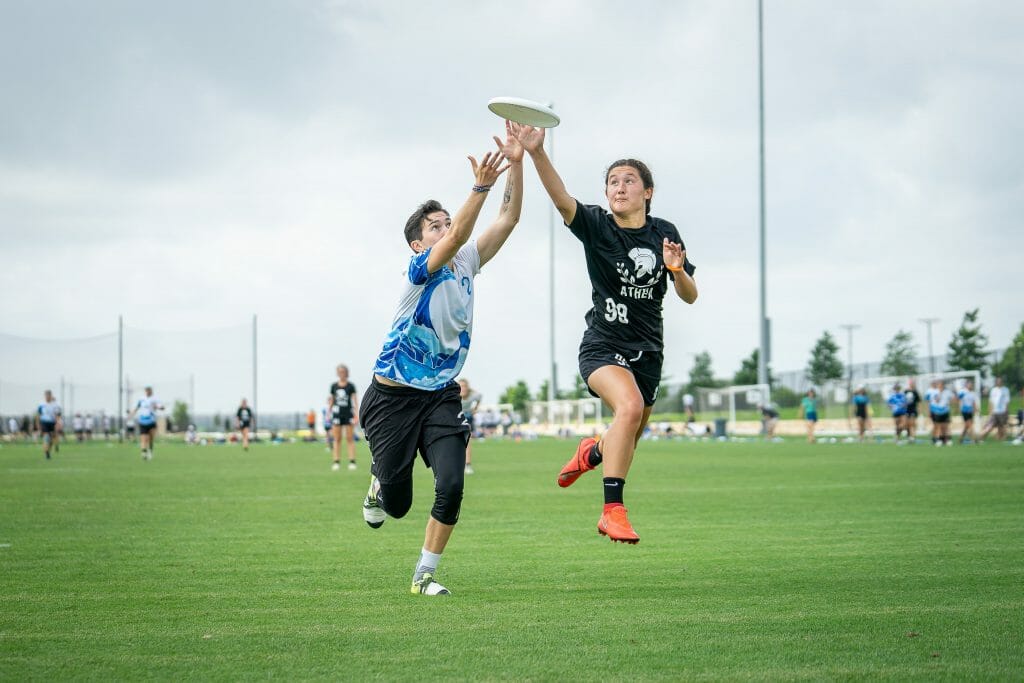 Ultiworld's college fall coverage is presented by Spin Ultimate; all opinions are those of the author. Gear up for your big games, your tournament parties, and everything in between at Spin Ultimate!
ATHENS, GA — Home team Georgia Athena rode an undefeated weekend to their first Classic City Classic title since 2013. Athena played some close games on the way to the final, but once it started, they dispatched an otherwise impressive South Carolina Scorch squad with ease. While Georgia were the only 2019 Nationals qualifier in attendance, Scorch and perhaps one or two others may be in the mix for the big dance in 2020.
Athena Steamroll Talented Scorch in the Final
The defending Southeast regional champions look like a good bet to build on last season's success this spring. With sophomore Martha Wilbur, juniors Josie Veal and Katherine Suarez, senior Amy Strozinsky, and grad student pick-up Anik Regan (an import from the Minnesota mixed club scene), Georgia boast perhaps their strongest collection of talent in at least five years.
The best of the bunch, though, is sophomore phenom Marie Perivier, whose performance this weekend left no doubt that she will continue to drive Georgia's offense after a season in which her relentless playmaking earned a third-place finish in the rookie-of-the-year balloting. Perivier's throwing prowess was the class of the tournament (although Veal and South Carolina's Deanna DeLuca — more about her below — were excellent in that regard, as well). A powerful backhand is her signature look: woe unto the mark who gives her an inch of room on her left side. But she showed off excellent touch when necessary and mixed in a full complement of secondary throws as Athena were forced to pick their way around the many zone looks on display in Athens.
One of the strongest of those zones belonged to Georgia's opponent in the final, South Carolina. The look is deceptively simple: a generously spaced four-person cup to deter easy throws to the middle of the field and put pressure on horizontal resets, two wings a little farther downfield, and a safety with her eyes on the play. The philosophy behind it — force the offense into an uncomfortable position, and then let the athlete's on the defense take care of any dodgy attempts to get out of trouble — proved effective. Four of the teams Scorch played this weekend, semifinalist Florida State included, put up five or fewer points against them.
Shortfield takeaways were common and gave DeLuca a chance to bust out some hammers for one-throw breaks. Scorch were happy to capitalize on their athleticism after turns, too — rightly so, with DeLuca floating big forehands to space for Kayla McClary, Colleen Morton, and company. The personnel are a good fit for the tactics. South Carolina bring above-average speed, height, and hucks. They don't always connect, but then they can just put their smothering zone into position again.
It just didn't work against Georgia, who are at least as athletic as Scorch and brought the best disc skills of any opponent they faced. That meant that Athena could contest deep shots other teams couldn't and get the disc moving quickly enough that South Carolina could not fully reset their zone. With Veal dropping forehands over the front wall and Perivier shooting brilliantly on fast breaks, it was Georgia who remained on the front foot throughout the match. Suarez, one of the team's captains, attributed their success to the team's finally getting a chance to play together for multiple games.
"Playing together on Saturday, we got clicking," she said. "This was our first tournament, so we needed some time playing against other teams. And once we got it, we had it."
South Carolina had not played a game from behind all weekend and were not able to adjust. On top of that, they were showing signs of fatigue, whereas Athena were fresher as a result of having run deeper lines throughout the tournament. The 15-6 final score accurately reflects the way the two teams played in the final.
Scorch, however, played better than that over the course of CCC. They showed every sign of being a contender at Atlantic Coast Regionals last spring. Their undefeated regular season fell short of earning a second bid for the Atlantic Coast last year, though, which will be Scorch's top priority moving forward.
"When we come back in January, it's head down, making a run to the bid. That's kind of the goal this year, to play enough games that matter to the [USAU rankings algorithm]," said coach Andrell Caldwell.
Athena still need to work out some kinks: open-side defense and continue cutting were not bright spots for them. Small concerns aside, it was a great first step for the team who enter the season as Southeast favorites and have a chance to do some real damage at Nationals.
Florida State, Alabama Solid in Semifinal Run
Good showings from Florida State Seminole Ladies and Alabama Ramma Jamma — two of the more colorful names in college ultimate — served to announce their status as Southeast contenders in 2020.
Lindsi Allman and Cami Lamont lead an FSU team that operates somewhat like South Carolina: with a formidable zone and some fearless offense. The Seminole Ladies' zone gave their opponents headaches. They limited Georgia to 10 points in a close loss during pool play, and then outlasted a more-than-game Alabama offense for third place. The concern with this squad has to be their lack of an elite thrower. Lamont and Allman have great chemistry in the backfield the power to hit open receivers, but neither quite have the range of shaped throws or release points necessary to get past the best defenses, a shortcoming that was evident in their 13-5 semifinal loss to Scorch. However, the defense generates enough turnovers that the offense may not have to do too much work in most games.
Alabama employ a fundamental open-side set on offense. They play a lot like the Tufts Ewo or UNC Pleiades teams of recent vintage: hard cuts to the open side, excellent continue timing, and a whole line of players who are equally comfortable on either end of a midfield-to-endzone connection. Corrie LaBelle and Andi Anger stood out as reliable playmakers on both sides of the disc; so did Miranda Pasquarella, the initiating cutter who played nearly every point of their semifinal against Georgia. She was nothing less than excellent in her role, and Alabama clearly have the foundation to build a consistently winning program. They'll have to go it without Pasquarella in the spring, however: according to the team, she's out of eligibility.
Georgia Tech: TBD
If this tournament were played in the spring, there could very well have been another team gunning for the title. Georgia Tech Wreck, however, split their team into X and Y units for CCC. They brought far more players than they can fit on a USAU roster in the spring. According to head coach Lizzie Jones, they won't have official tryouts until next semester. You can be sure the final version will include regional standouts Chupzi Lema and Ollie Petersen. Once they spin off a B-team, Wreck, who disappointed last season, should be one of the best teams in the Southeast.